Flat on the ground? Cushion? Foldable seat? Here are some ideas for staying comfortable while waiting out that strutter
Patience kills turkeys, and sitting comfortably helps. I caught up with our Realtree.com team of contributors — all of whom turkey hunt — to get their thoughts on this subject.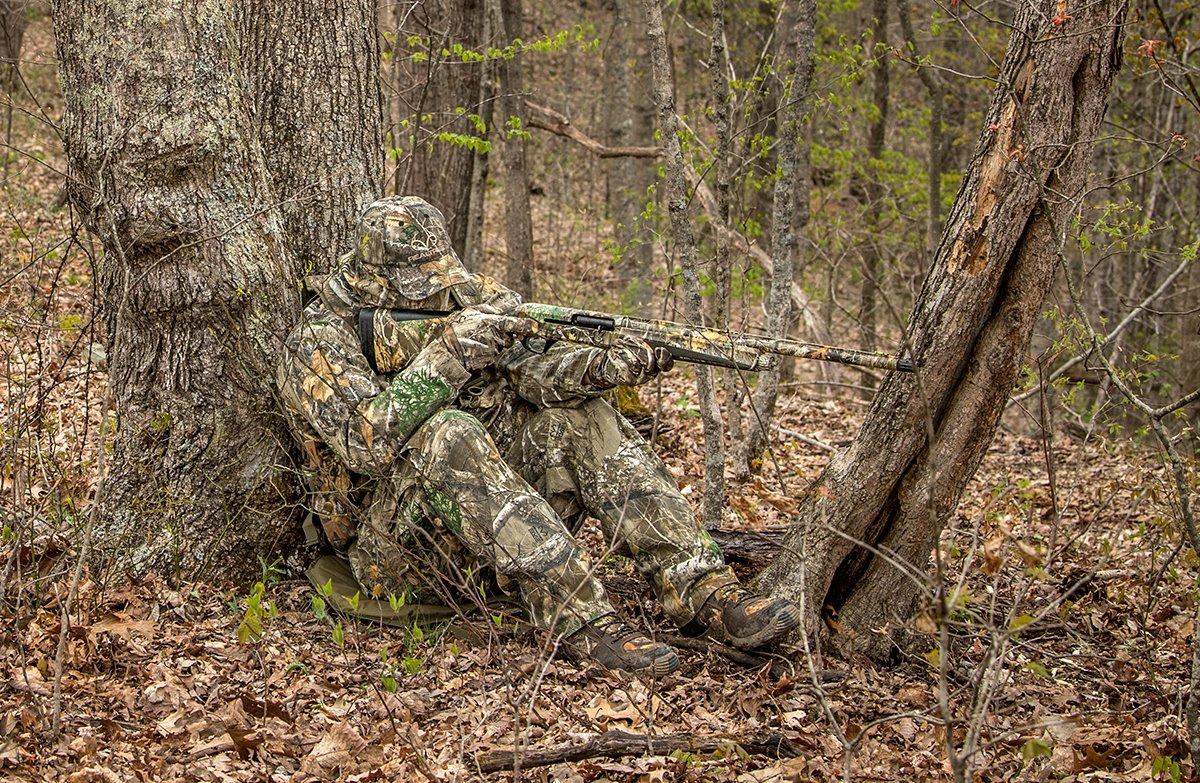 Minimalist Moves
Kentucky's Will Brantley likes to slip up on turkeys, gaining ground on birds mostly with mouth calling, and maybe a turkey fan of some sort to help seal the deal. But he doesn't like to carry much else.
As a result, Brantley says, I sit right on the ground hunting when hunting big public timber, just so I don't have to carry more stuff. But on private ground, where there are fields to watch and I'm not moving as much, I really like a good seat with folding legs.
Bill Konway, who hails from the Midwest, has a similar approach, but he does like a good cusion. When the ground isn't too steep, it holds me in place and offers some comfort to my backside," he says.
But more often than not, I sit right down on the ground and usually won't even use the cushion on my vest. That said, I don't spend all day chasing birds. I'm usually good for a few hours, then I'm out!
A seat cushion isn't a must-have for me, but if it's lightweight, easily stowed, and gets the job done, I might not forget it in the truck! Josh Honeycutt says. As a lover of the run-and-gun tactic, if I've sat still long enough for feet, legs, or butt cheeks to fall asleep, I've sat too long. It's time to get up and reposition on that stubborn sucker.
For Honeycutt, picking a good setup spot is also important. Being comfortable is as much about finding the right tree as anything, says the Kentucky turkey chaser. I like a tree that's shoulder width with just a smidge of backward lean. Then, I make sure there aren't any pesky rocks or roots around the base of it. And if the ground has a shallow bowl shape at the base, well, it was meant to be.
[Don't Miss: 3 Ways to Make a Gobbler Do What You Want]
Cushion Comforts
Wisconsin's Brian Lovett says, I'm fairly mobile, so I typically only use the attached cushion on my vest. If, however, I know a long sit is in the works, I'll tote a cushion and double it up with my vest pad for added comfort. That really helps me remain patient and still while waiting one out.
Alabama's Stephanie Mallory agrees: Yep, cushions are the best. Mallory needs one to hunt, she says, and there's a good reason for this.
I fractured my vertebrae and shifted my spine in a snowboarding accident years ago. So, I have to have something to sit on and lean back on if I'm sitting on the ground for more than 10 or 15 minutes. I like the vests that have the legs with the built-in backrest.
Her dislikes in a seating system? I can't stand the vests that have the seats that are attached by the loud Velcro!
[Don't Miss: Favorite Turkey Decoy Setups of the Pros]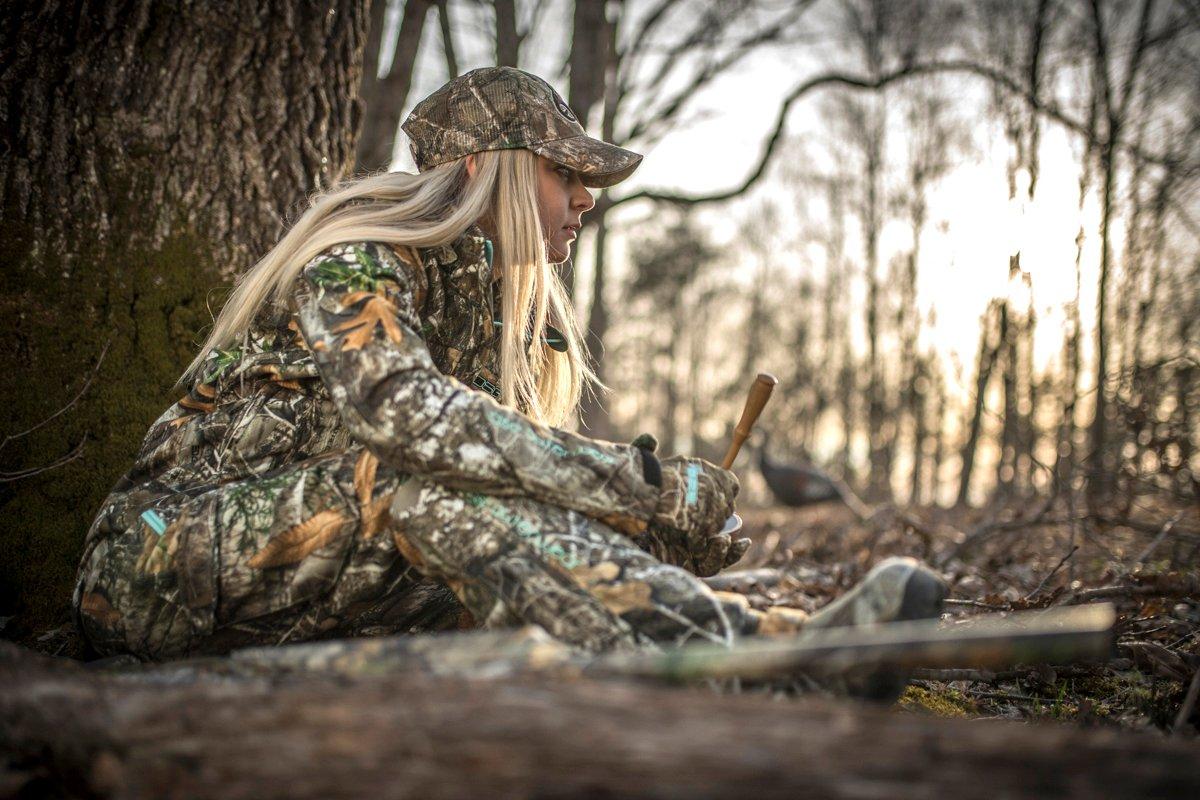 Long Haul / Blind Sits
I'm too old and stove up to sit on the ground anymore, Michael Pendley says. My legs go to sleep almost immediately. Give me a cushion that is at least 6 inches thick and dense enough to hold me up so that my butt is higher than my legs. I'll sacrifice a bit of extra weight to sit comfortably. And he doesn't stop there. I leave the seat cushion of my vest folded up so that I have a bit of padding between my back and the tree.
Pendley, also from the Bluegrass State, sometimes tapes two or three thinner cushions together to get a thicker pad. Sometimes I'll even tote a smaller folding chair with a shoulder strap that I can sit in and use natural cover in front of me to break up my outline.
He's also a studied blind-sitter.
When it comes to blind hunting, I go in all the way for comfort. I have an extra-large, hard-armed folding chair. It has a padded back and dual cupholders big enough to hold my coffee mug and phone. I can drive either my truck or a side-by-side close enough to most of my blind locations to make it easy to get the big chair in and out, Pendley says.
[Don't Miss: Long Distance Turkey Calling]
Vested Interests
Back when I first chased my native Pennsylvania turkeys, well before the 1986 founding of Realtree, dedicated camo hunting patterns didn't exist — let alone turkey vests, chairs, or seat cushions. That said, these days, sitting comfortably in the turkey woods is a top priority.
I'm a big fan of the drop-down seat cushion and have maybe a dozen vests for various conditions, terrain, and spring or fall turkey weather situations (Maine is my home base). I'm almost always running and gunning, so my picks are often based on what cushion comes with each vest. Some are thin, some thick, and detach by plastic release buckle clips or a zipper.
Of course, if the turkey vest has no attached seating system, I carry a cushion in my game pouch, or I shoulder one with a strap. Chances are you employ a sitting system for hunting turkeys too.
What makes Realtree.com the best online resource for turkey hunters? See for yourself. We cover all things turkey right here.