Here's how to dial up a bird and make him gobble from another area code
If you have a turkey gobbling to your calling, but it's far off, my dad used to say, and it shuts up, get ready. It might be on the way. And man, I have thought of that tidbit of wisdom many times since.
My father hunted ridge-running Pennsylvania turkeys, just as I did under his early example. Often, you made contact some distance away — on a rounded hilltop, or deep but rising hollow — and waited. And waited some more.
He once told me about scanning those woods and seeing a little red patch where there was nothing before. Way off. A gobbler. Watching his calling location. Eventually the bird minced in and he killed it.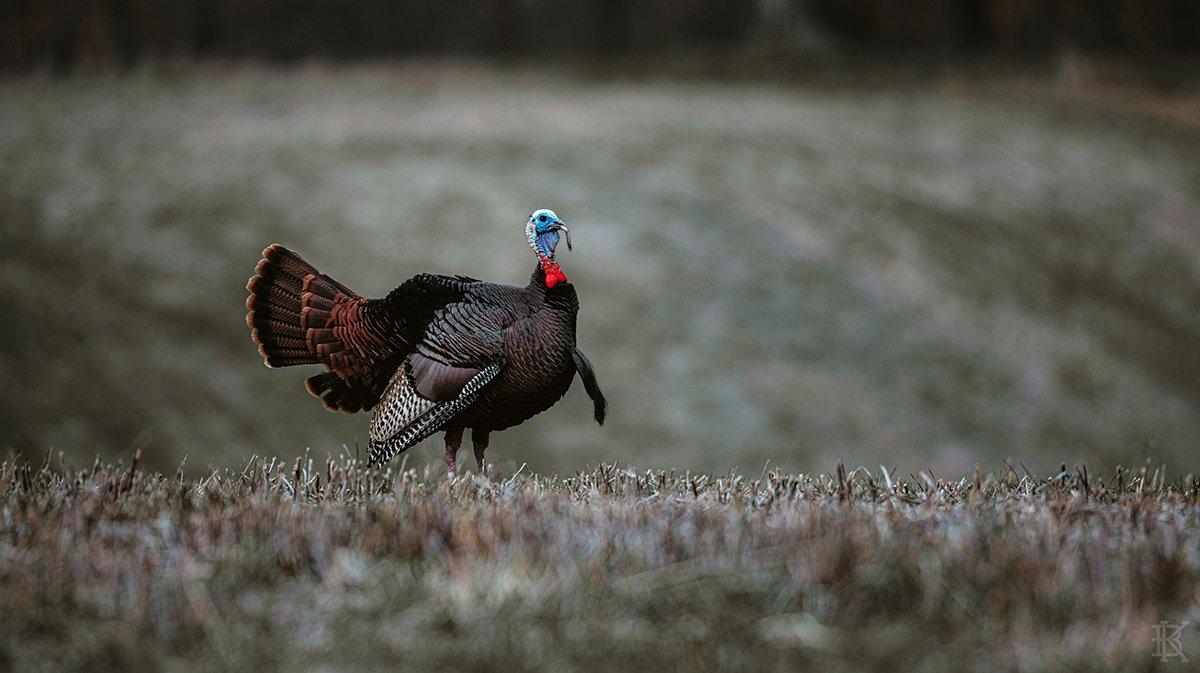 To do this, you rely on faith that the turkey you were working is still interested, even after it shuts up. As always with turkey hunting, a boatload of patience (and trust that the bird is on its way) is a must.
Your ears need to be good at picking out a gobble from all the other wild noises out there — and yes, sometimes the growl of highway traffic, barking dogs, and other prevailing sounds.
Finally, you need to know when to call, and which one to use.
Watch: Michael Waddell's 3 Favorite Mouth Calls
As Michael Waddell says in this how-to video, If I can kind of get aggressive … that's good for locating a turkey, and even working one way off.
Mouth Call Strategies
A mouth-call sequence to locate far-off turkeys is an approach hunters often take, as Waddell pointed out in the Bone Collector video. Fast clucking, aggressive cutting, and lost yelping can help strike birds.
Most times in the spring woods I choose to do a series of cutting sequences, says Realtree pro staffer Anthony Virga. When cutting, I'll listen in-between each call, just like the wild hen will do. If you watch turkeys when they yelp or cutt, they're always listening, constantly turning their heads to hear other birds.
Virga, who builds his own mouth calls, has successfully hunted the four grand-slam subspecies and has some specific approaches to hunting gobblers at a distance. What mouth call reed cut does he use to reach out to long-distance turkeys?
I typically run 3 to 3.5 reeds with a light to medium tension to allow me to reach different volumes in the woods for different occasions, says Virga. That's just preference to me because I can do the entire spectrum of turkey vocabulary on a mouth call.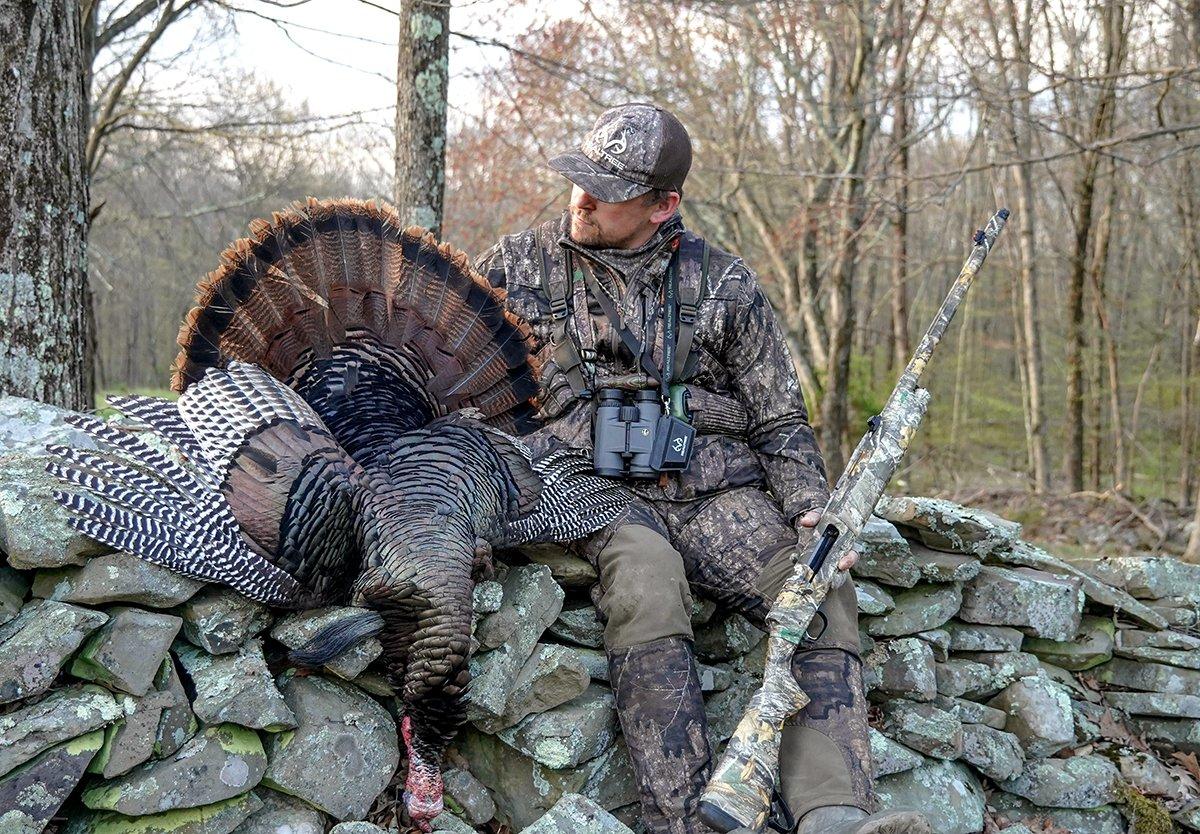 His grand slam required a trip out West for Merriam's, of course. His long-distance calling tactics included using an elk bugle, box calls, and aluminum friction calls, mostly in the rolling hills of Wyoming.
On occasion, I hit the mouth call too, he says, and went right with cutting at birds. Once he gets a gobbler's attention, he likes to lay in some yelping, or standard clucks and purrs mimicking a group of birds.
That will do the trick as the gobbler gets closer to your position, he says. And what about Rios on those big ranch properties?
When cutting, I'll listen in-between each call, just like the wild hen will do. If you watch turkeys when they yelp or cutt, they're always listening, constantly turning their heads to hear other birds.

— Anthony Virga
Hunting Rios, we've had some very vocal and aggressive hens in the past — both in Texas and in Oklahoma — doing a lot of excited yelping, Virga says. When we would locate or even work a gobbler, most times we would do some excited hen yelping. This especially works well when you have a hen or two with that gobbler.
In his experience, turkeys didn't take long to come in after his initial excited hen yelping. What about pressured Eastern and Osceola wild turkeys?
Back East, both on home ground and in other road-trip states, Virga likes to combine a pot-and-peg and mouth call to sound like two hens cutting or yelping back and forth. I also like cutting to a long-distance turkey and reaching out there, trying to get a gobbler's attention, he says.
[Don't Miss: Best Turkey Hunting Road Trips]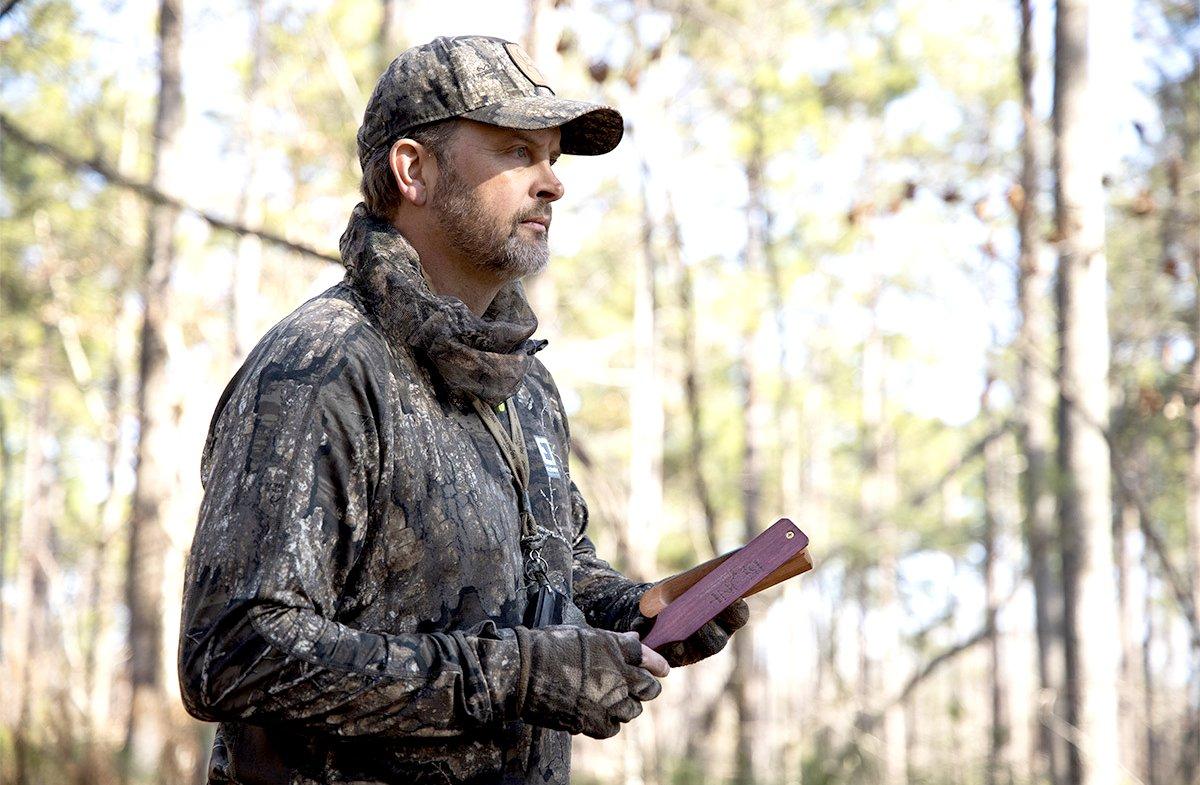 Long-Distance Locators
Turkeys will shock gobble from a distance, too. Classic "locator" calls include barred owl sounds and crow calls. The key for owling is to focus on the window just before dawn to reach out for shock-gobbling birds, while they're still roosted, and then a while after turkeys have just flown down.
In the day, a crow call is great for striking turkeys. And as the saying goes, if you can get a gobbler to sound off during the day with a crow call, it's killable. While that may not always be true, it's a motivator in the moment.
Traditional old-school owl hooters and crow calls still do the job at locating turkeys.
As a rule, setting up on long-distance gobblers requires you to use calls that project great distances, both to locate and call those birds in. Mouth calls work, certainly, and also resonant box calls and high-pitched pots and pegs.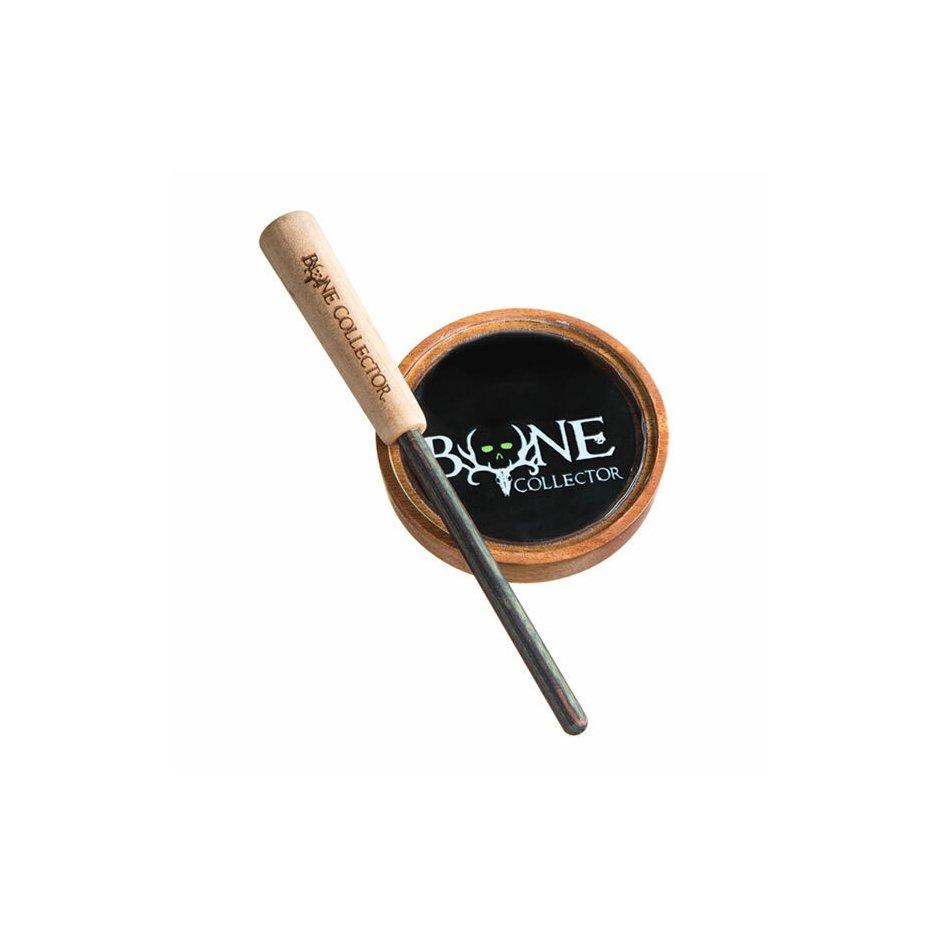 Long boxes are great for both locating and calling birds in from far off, and so are aluminum-faced pot calls. And while some might say neither one sounds all that good up close, they can be magic to far-off gobblers.
More Long-Distance Calling Tips
Thinking back over my years of turkey hunting — filled with long-distance gobblers that never showed, or crafty birds that beat me, and some that didn't — certain tactics come to mind. Here's how you can work these birds in:
If you hunt with a buddy, have them stand away from you a bit as you try to reach out and touch long-distance gobblers. As you run the call, they can listen for a bird's response.
If you raise a long-distance gobbler, stick with it as long as that turkey seems to be moving closer — even if it's gone silent.
If the bird seems to be hung up and strutting, and you can't approach due to property lines or terrain, find another gobbler. That said, re-check the same spot you just left hours later and you might find the gobbler has come in. Turkeys have their own sense of time with these sorts of things and seem to check out spots where they've heard turkey vocalizations, even hours before.
If you typically use just one call, consider working a number of options at your setup. This might just pique a gobbler's interest if the sounds you make seem like a flock of turkeys.
And if you have hearing difficulties, consider some of the high-tech listening devices out there now available to pinpoint sounds — long distance or otherwise.
And as mentioned, I still always remember what my dad used to say, too: If you have a turkey gobbling to your calling, but it's far off, and it shuts up, get ready. It might be on the way.
If you're patient, you can often see how true that is.
[Don't Miss: Favorite Turkey Decoy Setups of the Pros]
What makes Realtree.com the best online resource for turkey hunters? See for yourself. We cover all things turkey right here.