Hunting Sooner State gobblers between tornado watches . . .
One TSA agent at the Oklahoma City airport winced and let out a little groan as she screened my YETI cooler bag full of frozen turkey parts.
"Wild turkey," I offered, smiling. Another TSA agent, an older guy, grinned.
"Turkey hunter?" I asked. He paused.

"Yep, I've rolled a few."

But wait: that was the end of the trip. This was the beginning . . .

Handshakes and camp steaks. Turkey talk. The inside word on gobblers and coyotes, deer sheds and twisters. We'd hit a window of opportunity and had all made it in safely to Oklahoma spring turkey hunting camp.
The night before they'd had a big storm roll through; not all that unusual for the Sooner State.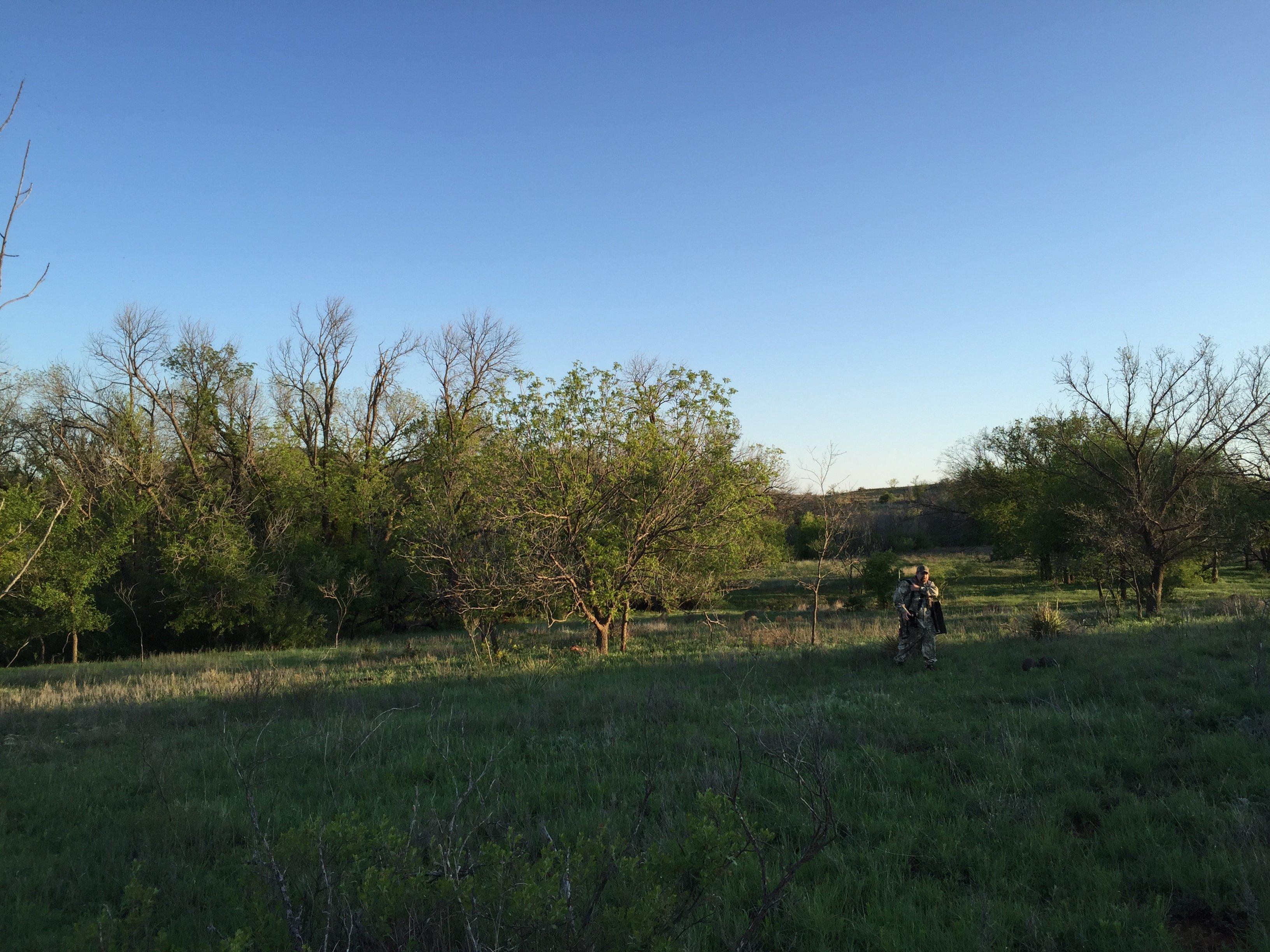 SAFETY OFF, BUT . . .
Good buddy Matt Lindler of the National Wild Turkey Federation and I listened as coyote howling rolled down the draw and gobblers hammered back, roosted due east. We fixed their position, eased into a pretty little woods and set up. We called, watched ahead, eventually saw four hens drift in, then look up at us, followed by a distant full-fan strutter. He gobbled. Yet another pasture gobbler sounded off. Our strutter left the hens to go to the other bird, then drifted back to us.
Timing is everything, it's said.
Farm trucks rolled in below us, then began to do their busy work. Turkeys dispersed, regrouped above us, with a strutter just out of Lindler's vision; not in range but enough to get fired up — problem is, they snuck past our positions, and did what Rios do: walk. Far. Away.

That afternoon saw some action too, with a longbeard we'd spooked on the way in. We eased into a greened-up opening, past where the tom stepped into the woods, head juking in paranoid worry.
Can't call a scared spring gobbler? Don't tell it to this turkey because eventually, with a dose of patience, we yelped him in. He gobbled the whole way in; slowly and surely. What a sight. Strutting at 45 or so steps, he waited for the two hen decoys to join him on the other side of a red-dirt ditch. Hung up. And he waited. And he waited. And we did, too.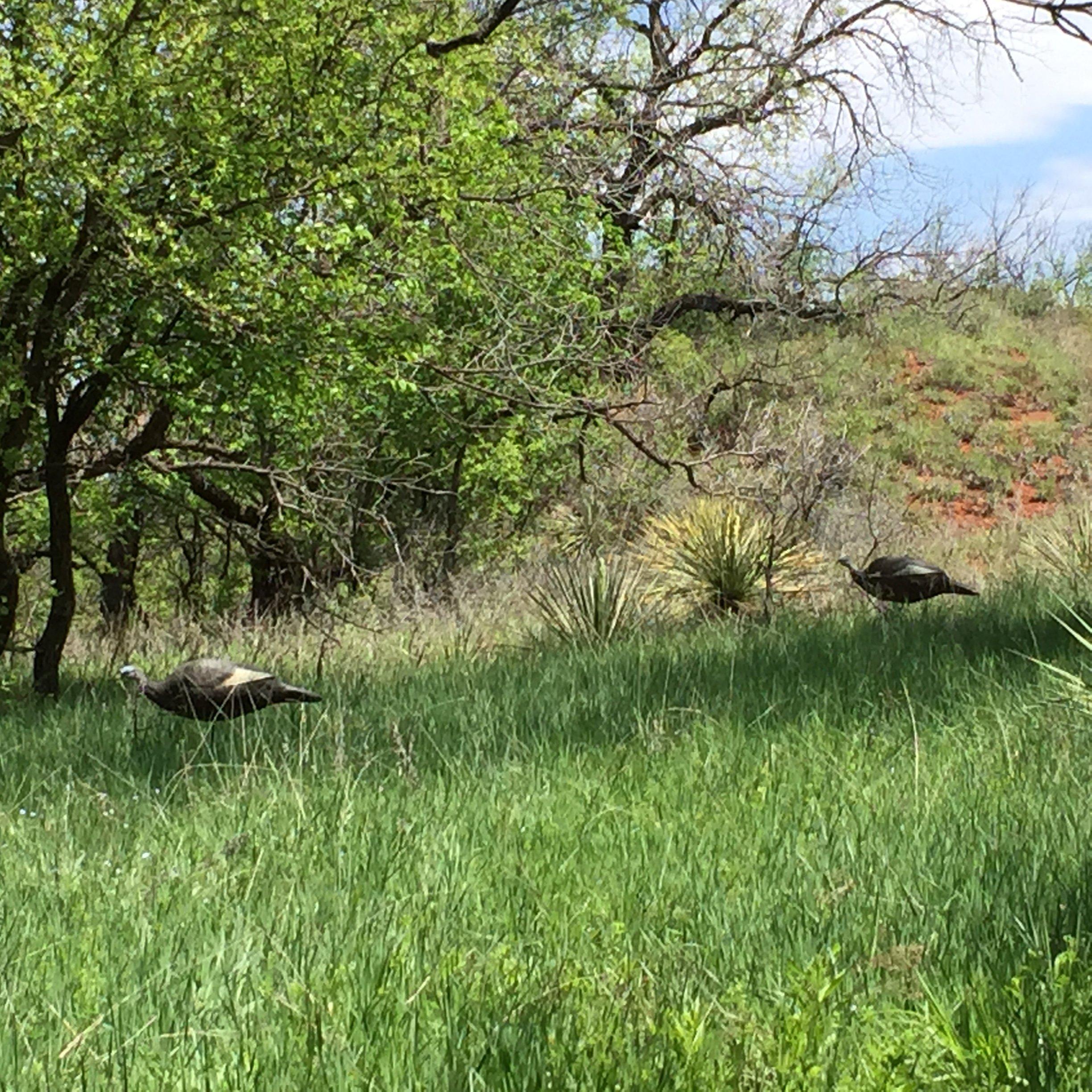 No dice. With one last gobble — sounding more like a complaint — he dropped full fan, putted once and vanished. A patch of light brown in the thick cover. What the heck: coyote or maybe just a browsing rabbit, I couldn't tell what, had slipped in through the dense stuff on the other side of him.
Had he been stalked by the former predator? Had he just had enough? Action is action, eh. Burritos, cold drinks, and catching up time back at camp. We'd be after them in the morning.
A SECOND CHANCE

Lindler and I had puzzled out the property the day before — new to us, of course. As scouting often does, it paid off. Daybreak, day two of hunting, more 'yote howling. My hunting buddy set up below, down where a nice turkey had slinked by me the morning before. That striding longbeard was nearly in range.
Above me, a football field or so, birds gobbled in a cottonwood finger. Soon all four strutted in the sweet daybreak light after flying down. I'd slid in next to some low-lying brush well before then, wide and high enough to hide me, but with a view of the show. I yelped on a mouth call. I ran a pot and peg. All gobbled, beautifully silhouetted.
And then one dropped strut, broke off and turned my way, starting down the hill toward me. The others, still in full strut, ignored him as if to say: "You go right ahead, we're hanging here."

My gobbler marched the distance. He paused at around 25 steps, standing tall in the foot-high grass, looking my way, having weaved down the hill to my yelping. Loaded with Federal's new 3rd Degree turkey load, I shot.
Bird down. I texted Matt a quick pic. And after some high-fives, Lindler and I snapped some more photos, like the one below, grateful for the moment.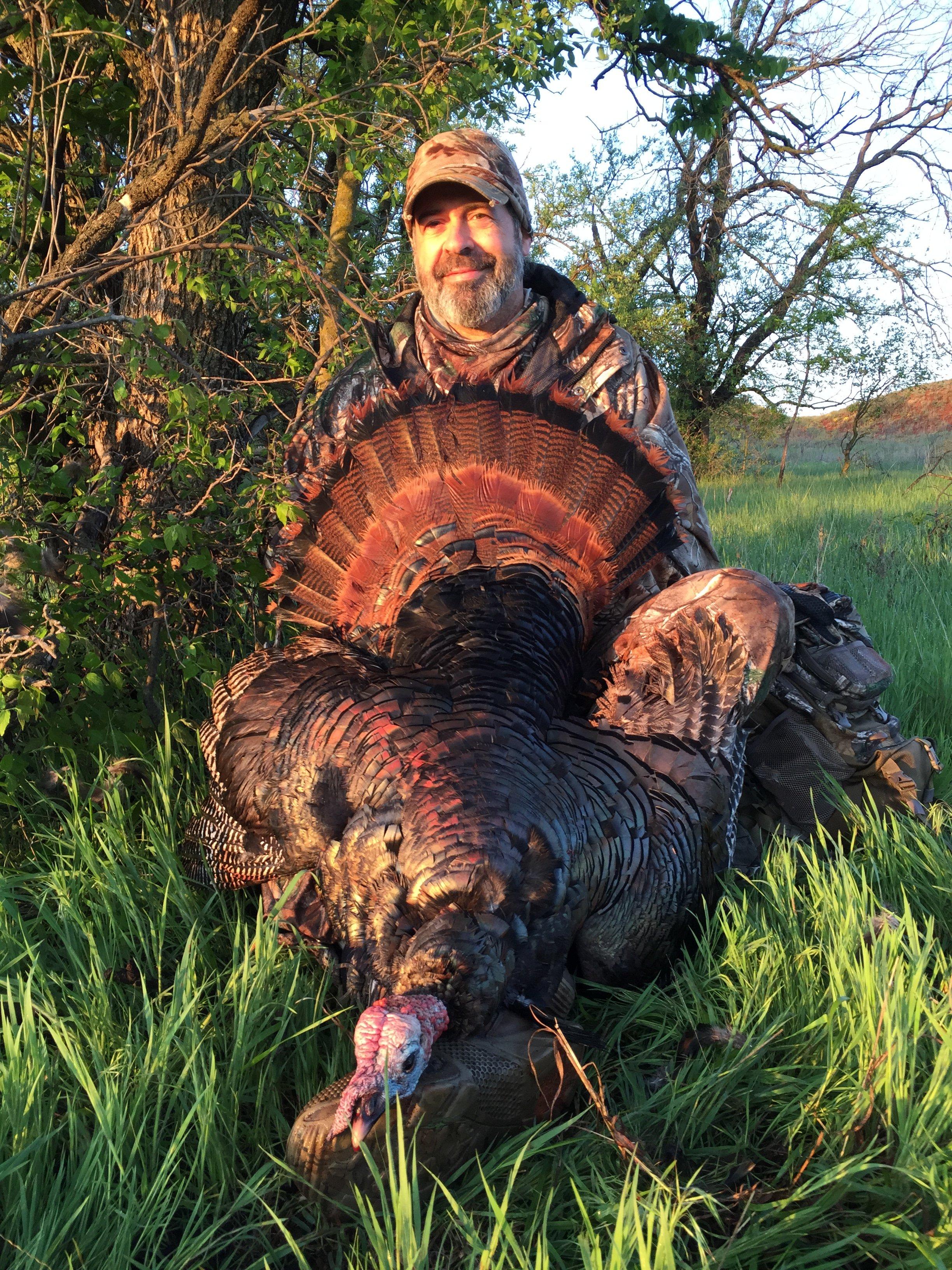 END GAME
That afternoon we returned, worked gobblers into a "throw every call at 'em" frenzy. They hung up, drifted and came back. Gobbled. Studied our position. Then trouble showed up.
A hen led the three longbeards up the hill and away. Our reaction: Matt " I won't belly-crawl turkeys" Lindler casually walked the distance — just below the same spot where I'd seen the four gobblers (now minus one) that morning. He set up as I watched from below, now settled in a blind as we had rough weather in the local forecast.
Lindler hen yelped. They hammered back. He made kee-kee-runs (not just a fall call folks, as young hens lurk in spring too). It felt like something just might work with this Plan B deal . . .
Yep. And at my angle I saw all four step up above him. It was pretty cool. Problem is, I instantly realized Lindler couldn't see them. One gobbler drifted in hard right (twice), but in his blind spot. Eventually the longbeard to his near left peeked over the side, did the ol' see-ya-later wing flip and began his steady escape. Matt shot, likely over and/or behind the turkey exiting stage left. So close. No bird.
Hey, it's all good. Right?
Others in camp had tagged longbeards. That night the rains came. Then the lightning, thunder and wind. Right on time as website radar predictions went, it broke for a bit as we talked over pre-dawn camp coffee. We drove. We deployed. We eased toward our blind, slogging through muddy red-dirt slop.
In all honesty, things were pretty slow. We struck a few gobblers that never came; we called in a hen. I studied the ground for turkey tracks and other sign, but found this deer shed.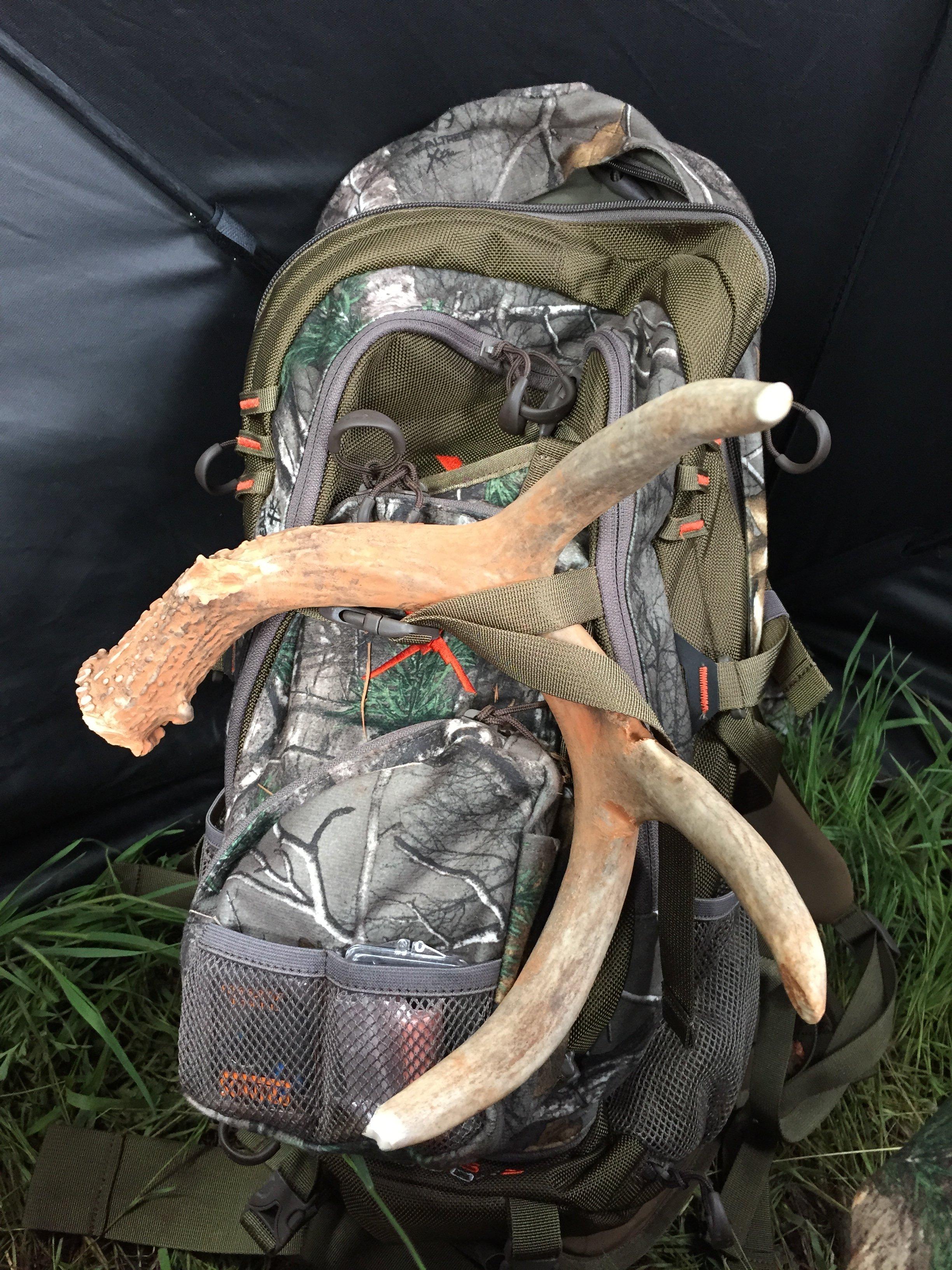 THE LAST LONG SIT
That afternoon we were back there, weather clearing, moving the blind to the high spot. A strutter and two hens passed far below. A gobble came from the west. Frozen in place, wary as a wildcat, he glared our way. He stared the blind down, along with the two hen decoys.
A standoff. As dusk came on, he flew up, joining two more turkeys. We broke down the blind and called it a hunt.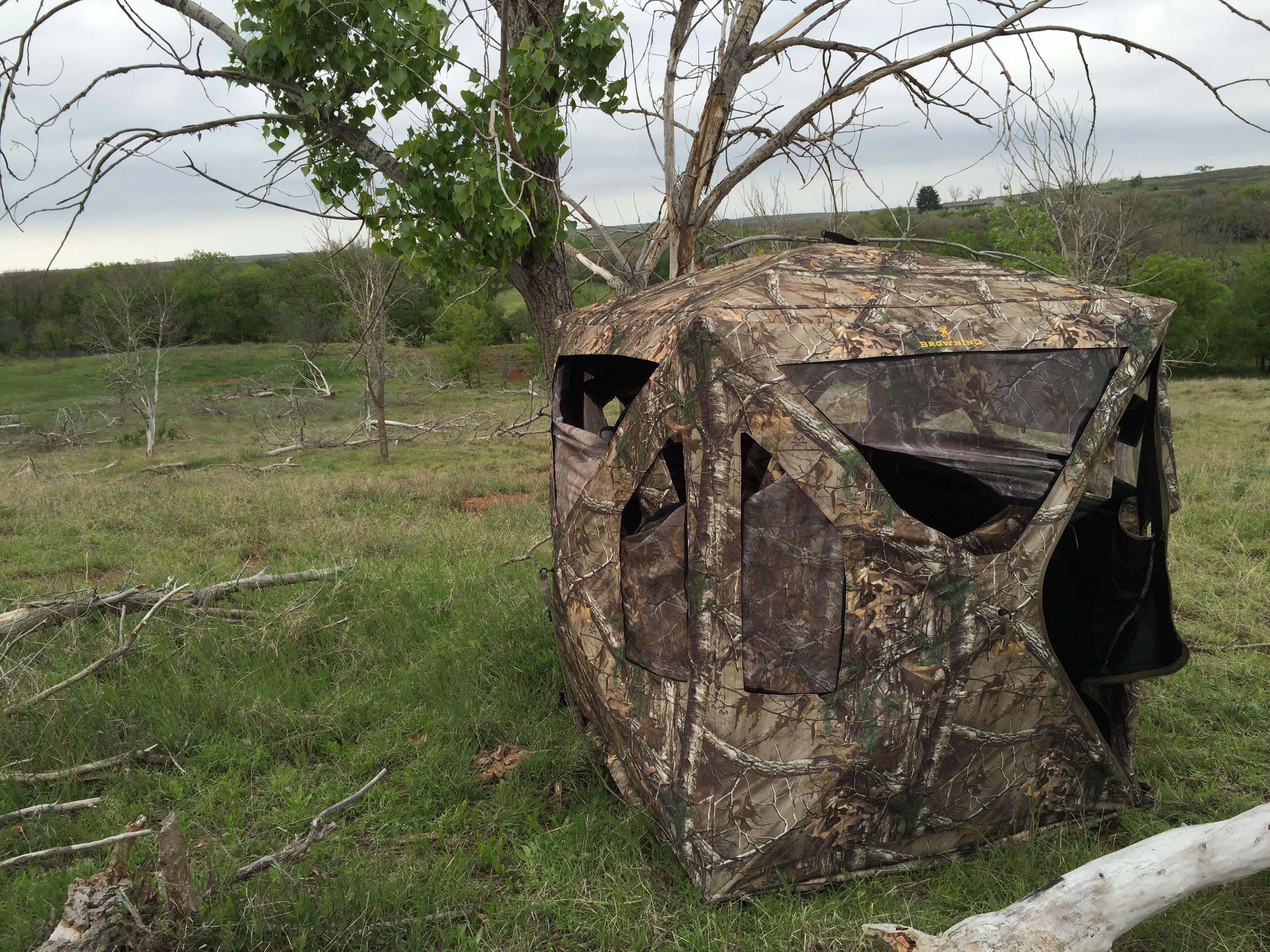 We'd done some running and gunning. We done "the long sit" as Matt calls it (in fact a number of them). We'd laughed ourselves giddy at times, listening to the mechanized tribal beat of the nearby working rigs and enjoyed it all.

Life's good in Oklahoma spring turkey camp.
STUFF WE USED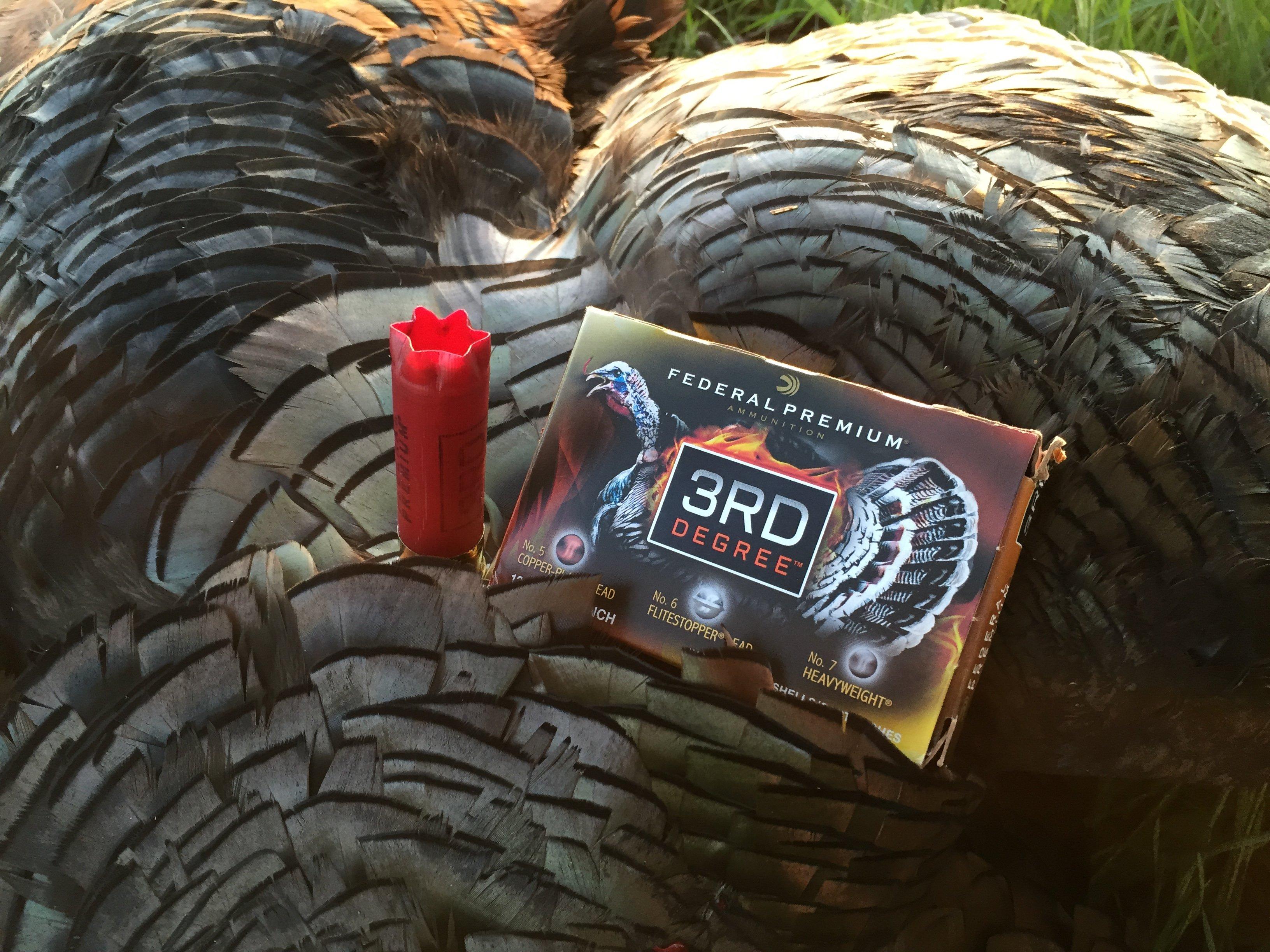 My Oklahoma spring turkey camp hunting buds and I took 8 longbeards total. All were killed with Federal's new 3rd Degree turkey load.
Loaner Mossberg shotguns handled the 3rd Degree loads well.
We used a number of Primos turkey calls. Their Gobbstopper hen decoys were part of some hunts, too.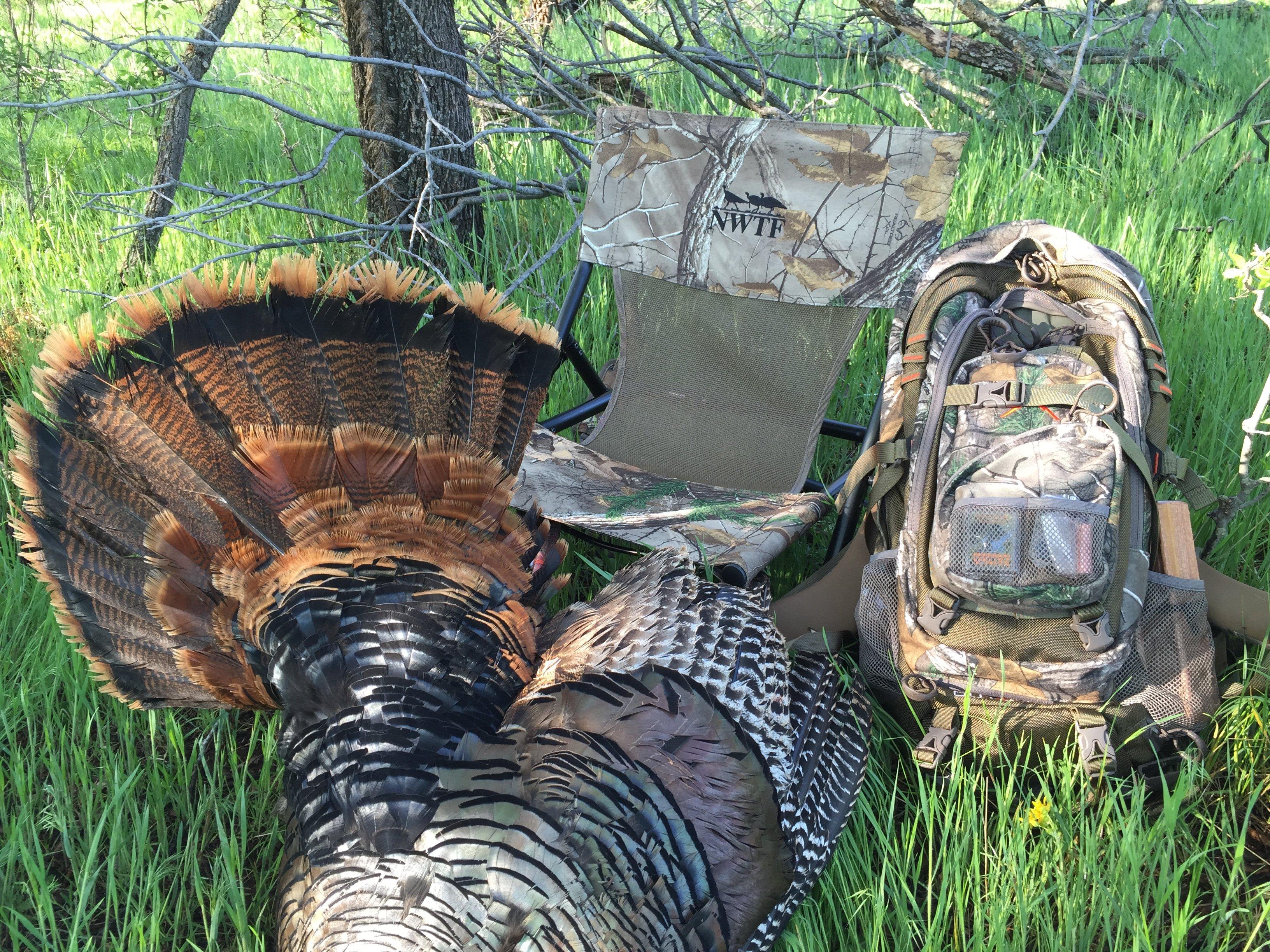 Essential gear also included ALPS OutdoorZ turkey seats and packs.
My YETI "Hopper" kept frozen turkey parts cold from western Oklahoma to southern Maine over a nearly 20-hour return trip.
The long-standing conservation efforts of the National Wild Turkey Federation put gobblers and hens where they weren't and, as a vigilant pro-hunting organization, helps manage our current flocks — and more.
If you're a turkey hunter, you owe much of our tradition to this organization. Consider joining as a member if you aren't.
Our outfitter? We hunted with Todd Rogers of Rut N Strut Guide Service.
Steve Hickoff is Realtree's turkey hunting editor and blogger.