With these five easy recipes, you can have a delicious wild-game meal in half an hour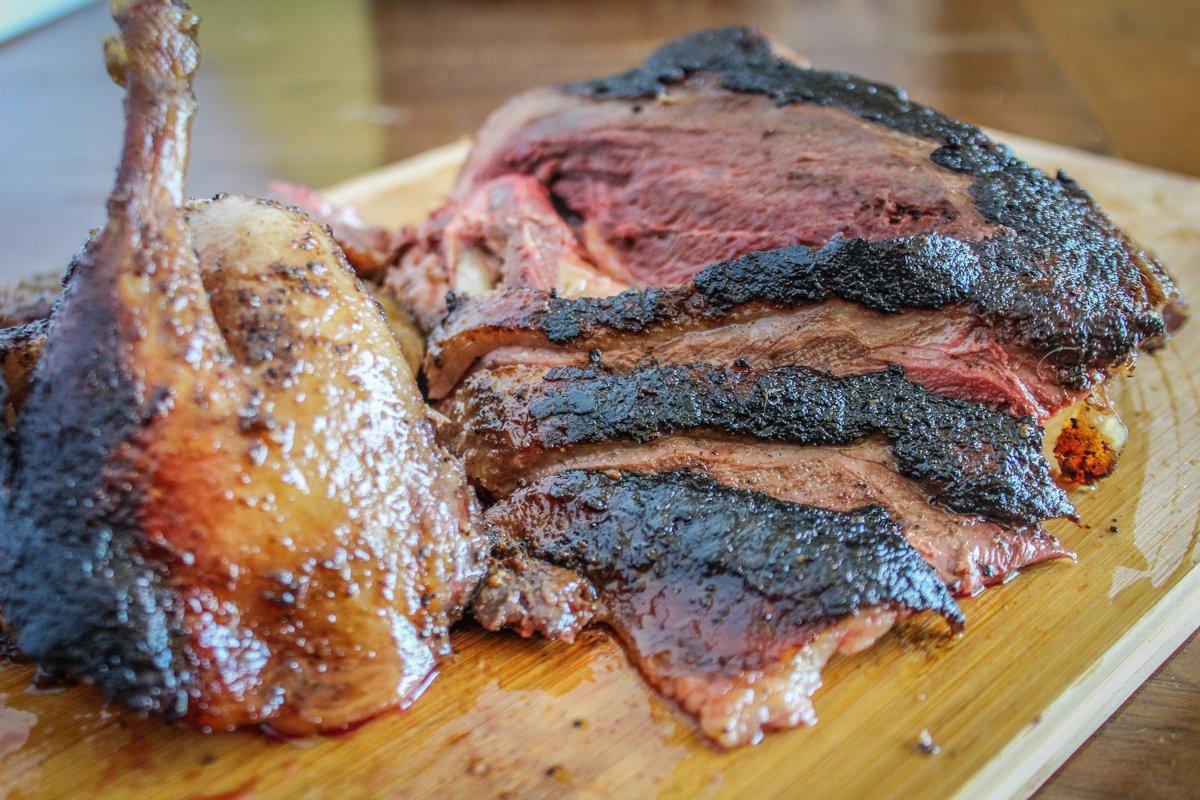 For my game-eating family and me, there's nothing like duck for dinner. Generally, I separate my birds into two categories: weekend ducks and weeknight ducks.
Weekenders are destined for plucking, waxing, stuffing and slow roasting. But that takes time, and on weeknights, slow-roasting methods don't really work. If you're serious about waterfowling and generate a freezer full of birds, you need to eat duck more than just during weekends. The solution? Easy recipes that are quick to prepare. Here are the keys to success, along with five simple and fast ideas for preparing a duck dinner when the troops are hungry.
Cleaning Notes
Most of these quick-meal concepts use filleted duck breasts, not the whole duck. To clean the duck, slit the skin above the chest, peel it back across the entire breast to the wings, clip off the wings and neck, and cut the breast away from the carcass. Voila, you have a skinned duck breast and don't have to mess with the innards.
If you're going to freeze the meat, leave the duck breasts whole on the bone. The meat retains its flavor better that way. Slice off individual breast fillets after thawing but before the marinating and cooking. To fillet off a breast half, use a fillet knife and slice down along the breast bone, peeling off each breast half.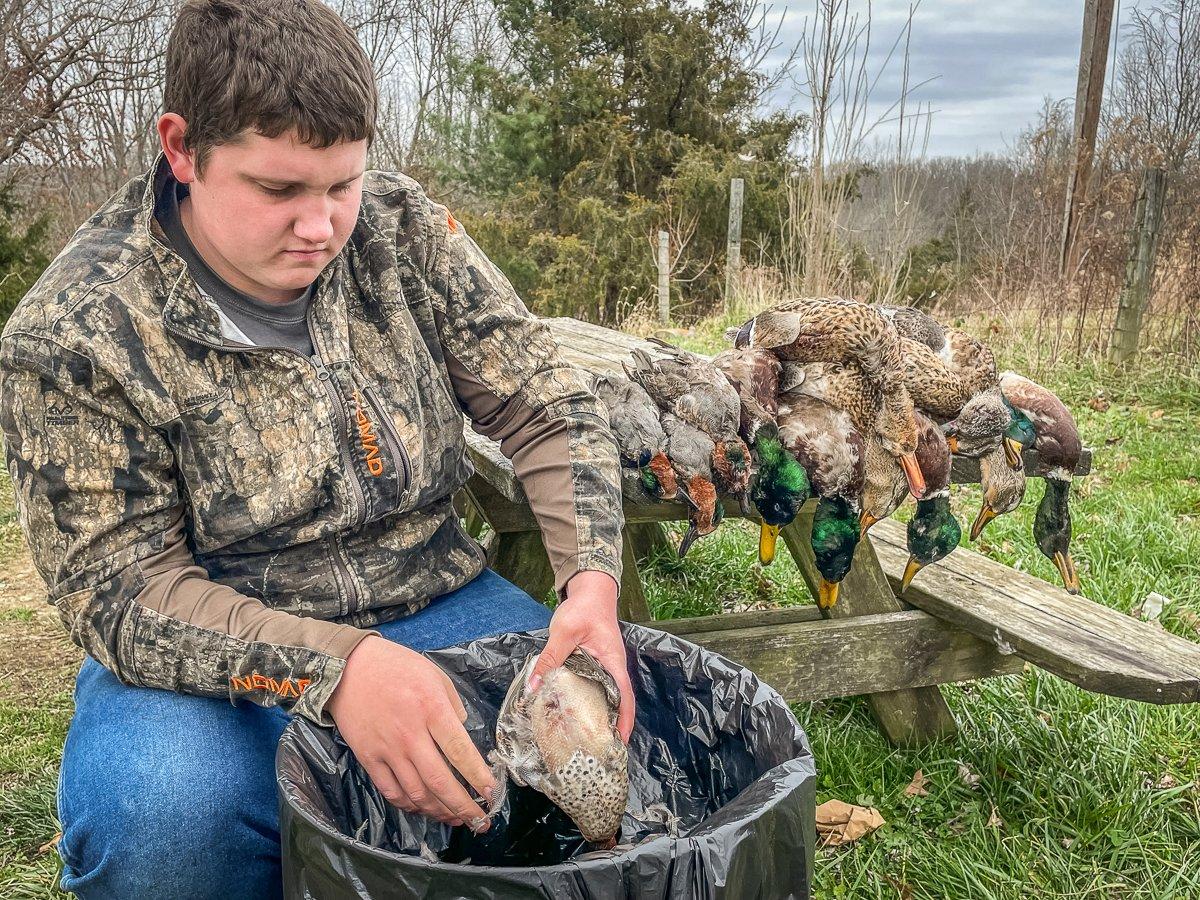 Cooking Basics
The basic idea behind weeknight duck recipes is to cook the meat fast and hot. The worst mistake you can make with duck is to overcook it. Duck gets tough, and livery tasting when cooked too much at high heat. At most, quick-cooked duck should look about like a beef steak cooked to medium or medium-rare — very hot but still pink inside.
It's better to err on the rare side a little bit, because you can't go back and uncook duck. But don't sweat the details too much. If you don't cook it to shoe leather texture and you like a little flavor, your duck will be just fine.
Duck Concepts
If you're looking for lots of fancy ingredients, convoluted instructions and long cooking times, these aren't the recipes for you. Actually, it might be generous to even call these recipes. Consider them as concepts and guidelines for preparing duck quickly and deliciously any night of the week. Use them as inspiration for your own creations, too. These concepts generally serve four people, but they're easily adjusted for more or less duck meat. For large ducks, mallards are standard, but other puddlers of similar size — pintails and gadwalls, for example — work fine as substitutes. The same goes for small and medium birds. Teal are standard, but don't be afraid to substitute wood ducks or wigeon.
Eat well, my waterfowling friend.
Skillet: Quick-Sear Duck Breasts — 3 Options
Add variation to your menu with these ethnic marinade options. Serve quick-sear duck breasts with steamed vegetables and a loaf of crusty bread.
Duck:
Four mallard breast fillets or eight teal breast fillets
Marinade Ingredients:
For Oriental duck:
½ cup soy sauce
½ cup water
6 tablespoons brown sugar
For Italian duck:
1 cup Italian dressing
6 cloves minced garlic
For Mexican duck:
1/3 cup balsamic vinegar
1/3 cup lime juice
1/3 cup olive oil
6 cloves minced garlic
1/3 cup chopped fresh cilantro, if available
Instructions:
Marinate duck breasts in refrigerator starting in the morning.
Heat 1/8 inch of vegetable oil covering bottom of skillet.
Get oil to medium-high heat, ready to sizzle the meat.
Sear duck breasts for 2-1/2 to 3 minutes per side. Adjust time for thinner fillets, and always monitor progress so you don't overcook.
Skillet: Easy Duck Strips
This is about as easy — and good — as it gets. Because you slice the duck fillets into smaller, thinner strips, cooking time is reduced, and flavor expands. Serve easy duck strips with wild rice or couscous and a crisp salad.
Duck:
Any species, large or small (divers work, too) with breasts sliced into thin strips up to 3 inches long
Other ingredients:
Salt and pepper, McCormick's Montreal Steak Seasoning or McCormick's Roasted Garlic and Herb Seasoning
Instructions:
Slice duck breasts into thin strips only ¼ inch or so thick and up to 3 inches long.
Heat 1/8 inch of vegetable oil covering bottom skillet.
Get oil to medium-high heat, almost smoking but not quite.
Drop duck strips in and cook quickly, about 1-1/2 to 2 minutes total — they should really sizzle — and turn often
Don't overcook. Do it fast and hot.
Sprinkle with seasoning once during cooking.
Note:
You can also marinate the duck strips in the Oriental, Italian or Mexican recipe listed with quick-sear duck breasts.
Grill: Grilled Bacon Duck Breasts
Sometimes, it's fun to fire up the grill on a weeknight. That smoky taste complements duck perfectly, and cleanup is a breeze because there are no cooking pans. Here's an easy way to prepare a few duck breasts without much fuss. Serve grilled bacon duck breasts with coleslaw and French fries.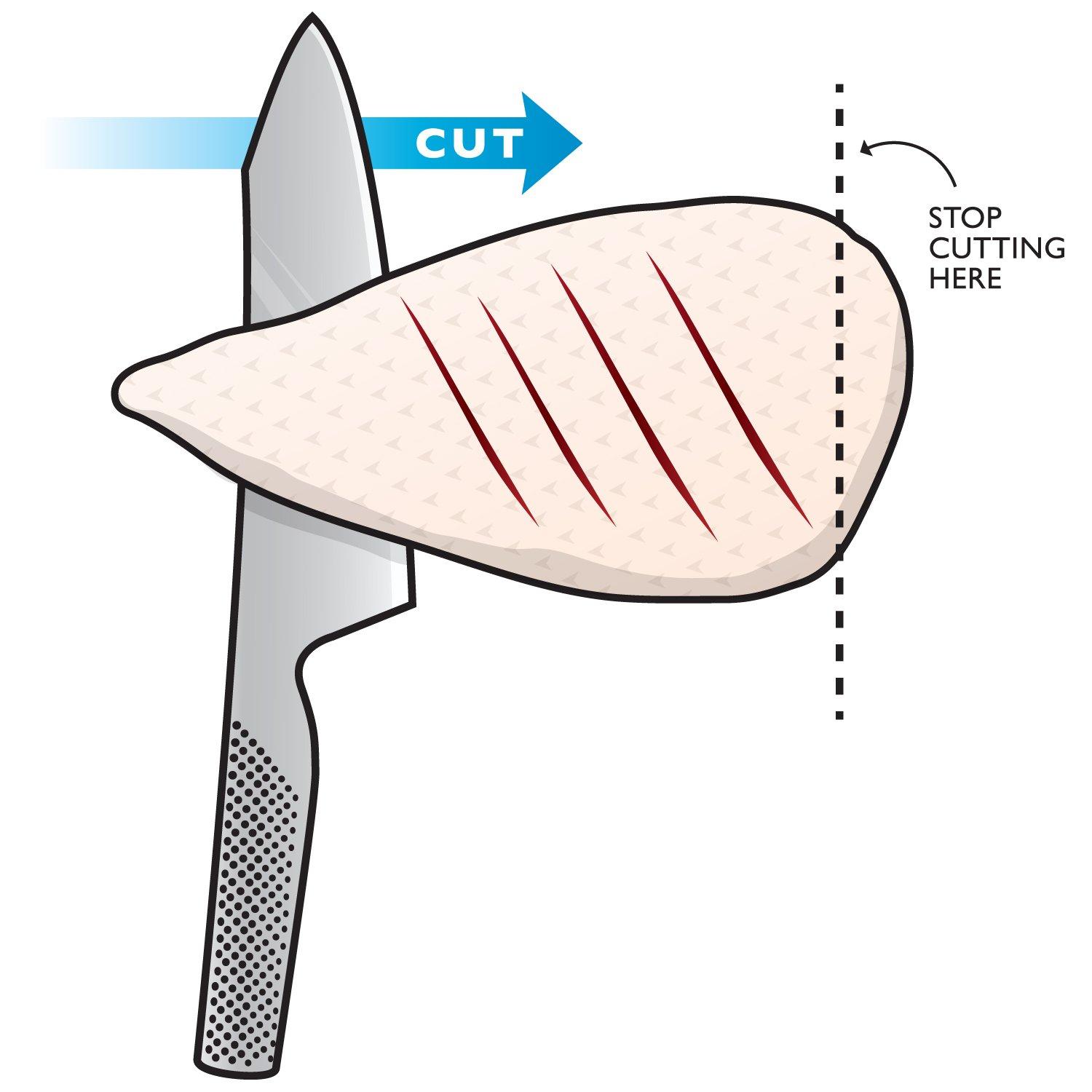 Duck:
Four mallard breast fillets or six to eight wood duck breast fillets.
Other Ingredients:
A strip of bacon for each fillet.

Instructions:
Take each duck breast fillet and splice it open lengthwise the flat and long way (see diagram).
Lay a piece of bacon on each split duck breast.
Roll up the bacon-duck strip, and pin shut with a toothpick or skewer (see diagram).
Grill on medium high heat for 5 minutes per side.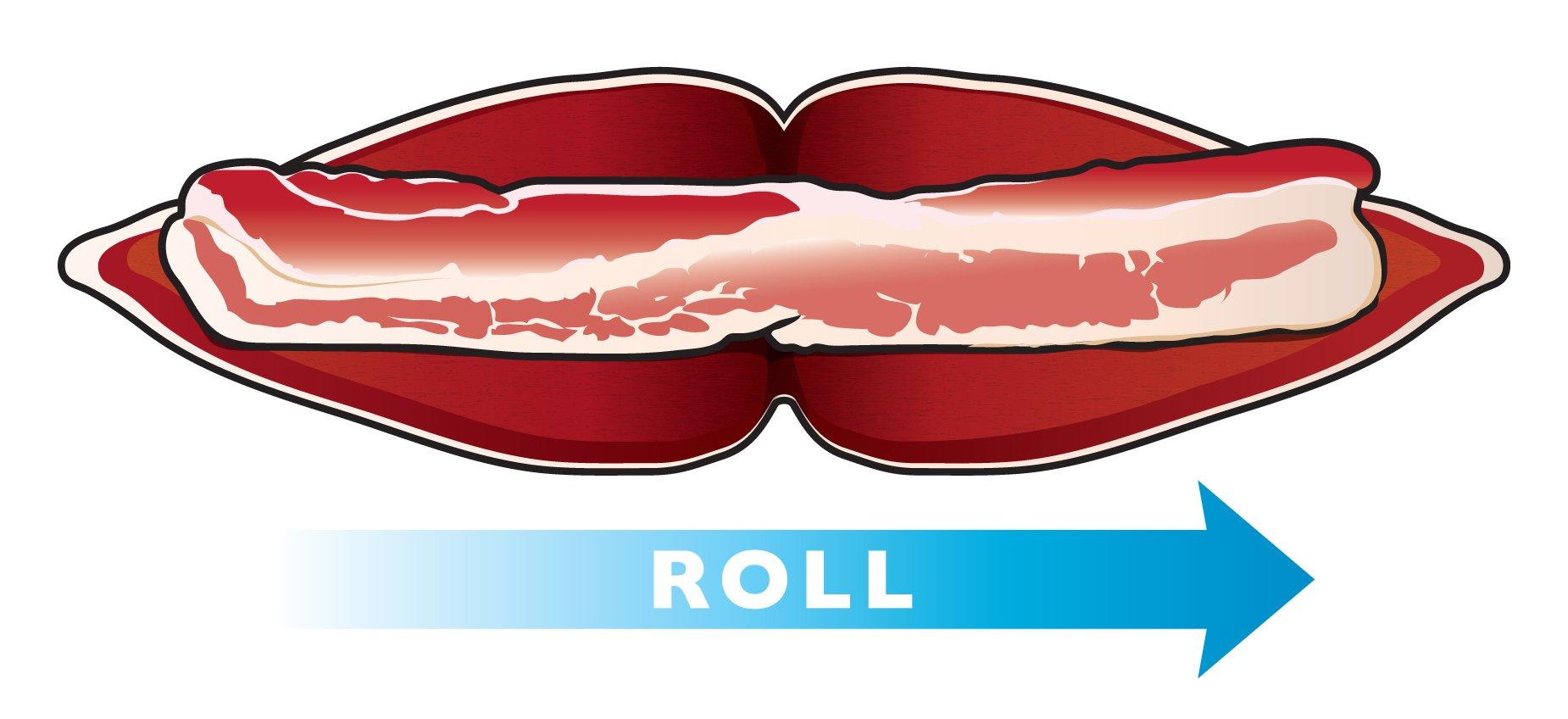 Tip:
Use honey-maple or apple-smoked bacon for extra flavor.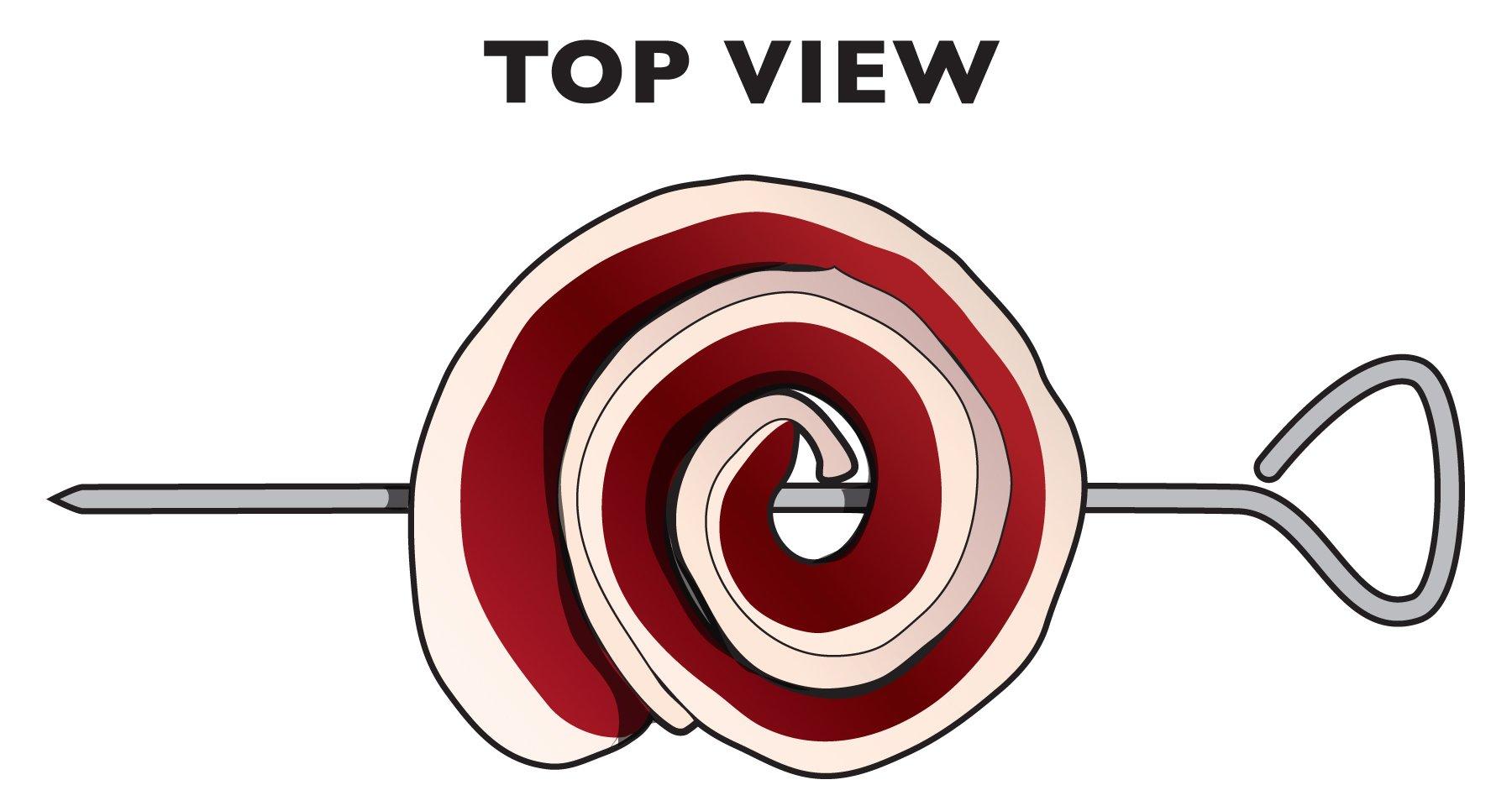 Broiler: Broiled Balsamic Duck Breasts
The broiler is another great way to cook ducks quickly. Alternatively, you could use the grill for this easy recipe. Serve with oven-roasted new potatoes and steamed broccoli.
Duck:
Four mallard breast fillets
Note: This recipe is good with the skin and fat on the breast fillets.
Marinade ingredients:
1 cup balsamic vinegar
Salt and pepper to taste
Instructions:
Marinate duck breasts in refrigerator starting in morning.
Heat broiler to high heat.
Broil on high for 6 minutes on skin side.
Turn and broil nonskin side for 4 minutes.
Crockpot: Stadium Ducks
Why not have your duck dinner ready and waiting at the end of the day? Crockpot recipes are perfect for weeknights. And believe it or not, you can crockpot a duck just fine, because the heat is low and moist. This recipe takes a fun twist — maybe for a night when there's a big game on TV. Add a salad and breadsticks to complete the meal.
Ducks:
Two whole plucked mallards, four whole plucked wood ducks or six whole plucked teal.
Ingredients:
2 16-ounce cans of sauerkraut (or 32 ounces of fresh kraut)
1 large onion
1 bottle of beer
salt and pepper
Instructions:
Salt and pepper the ducks generously.
Place sauerkraut and sliced onion in bottom of crockpot.
Nestle ducks into the kraut-onion bed.
Pour in the beer.
Cover and cook on low for 8 to 10 hours.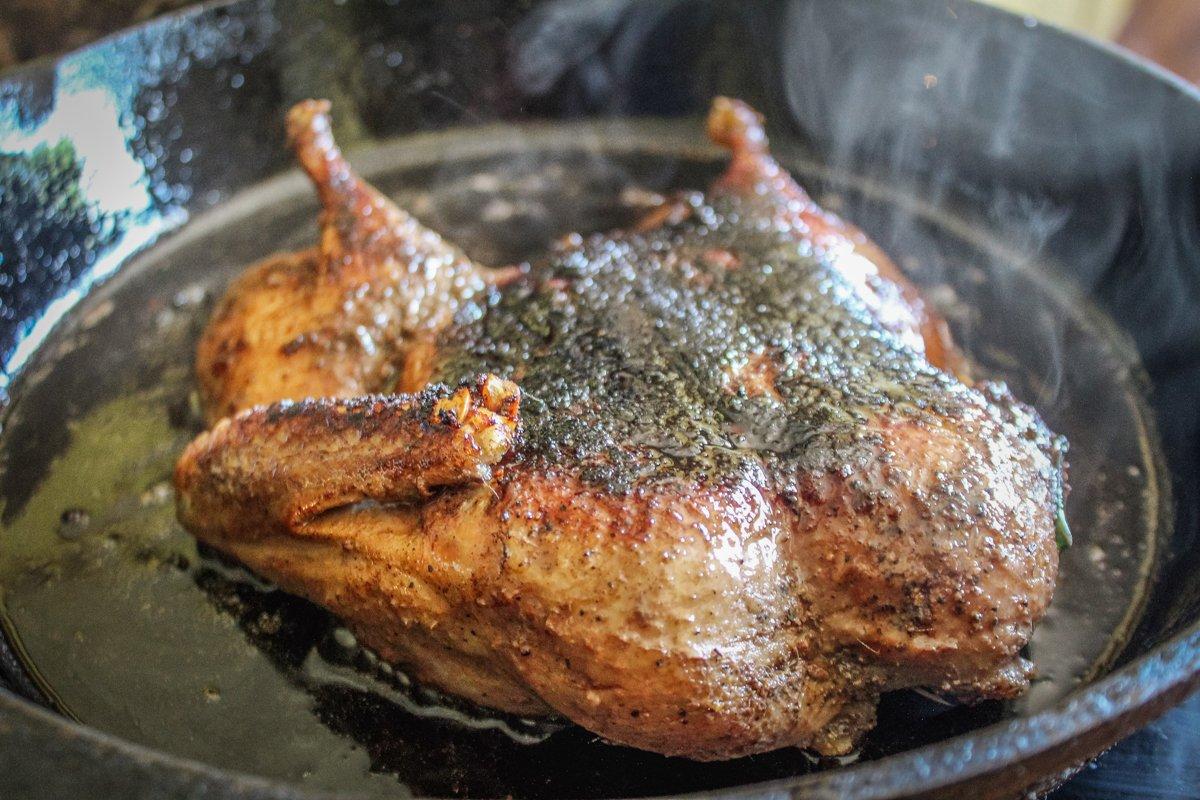 Sidebar: The Iron Skillet Advantage
All skillets are not created equally. For my money, nothing can beat an old-fashioned black cast-iron skillet for all-around cooking. Cast iron heats up fast and evenly and stays hot, so your duck cooks quickly. Cleanup with cast iron is easy, too. Just use steaming hot water and a sponge. Dry it off with a kitchen towel, and then while it's still warm, give it a light coat of vegetable oil. Use a paper towel to rub in the oil. You're ready for your next duck dinner.

Click here for more Realtree waterfowl hunting content. And check us out on Facebook.