Some call 2016-'17 the best season in years
Date: Jan. 19
Location: New York south to the Carolinas and Georgia
Weather Trends
A severe cold front in mid-December brought gobs of ducks and geese into the mid-Atlantic, where hunters loaded up on everything from puddle ducks and divers to Canada geese. The cold didn't stay, though. As temperatures increased into the 50s, 60s and even 70s in the southern end of the flyway, ducks didn't move much.
The good news? Another Arctic blast is bearing down on the country, including much of the Atlantic Flyway. Even better, a snow storm is expected to dump several inches of snow on Virginia and parts of Maryland and North Carolina.
Habitat Conditions
A deep freeze in mid-December locked up a lot of smaller waters in the northern sections of the flyway. Even the Susquehanna Flats, where I hunted during that cold spell, saw large rafts of ice. Since then, warmer weather has opened up most of the frozen water throughout all but the northernmost sections of the flyway.
That's starting to change as an extreme cold front dips down into the Southern states. Many of the smaller lakes in New York and northern Pennsylvania are starting to freeze, and it's likely larger lakes will ice up soon, too.
Ice isn't a problem from the mid-Atlantic south, and abundant rains have filled swamps and free-flowing rivers throughout the region. Smaller waters might freeze for a brief period, though. Temperatures are expected to dip into single digits in Virginia and the teens in North Carolina, but warmer weather is expected afterward.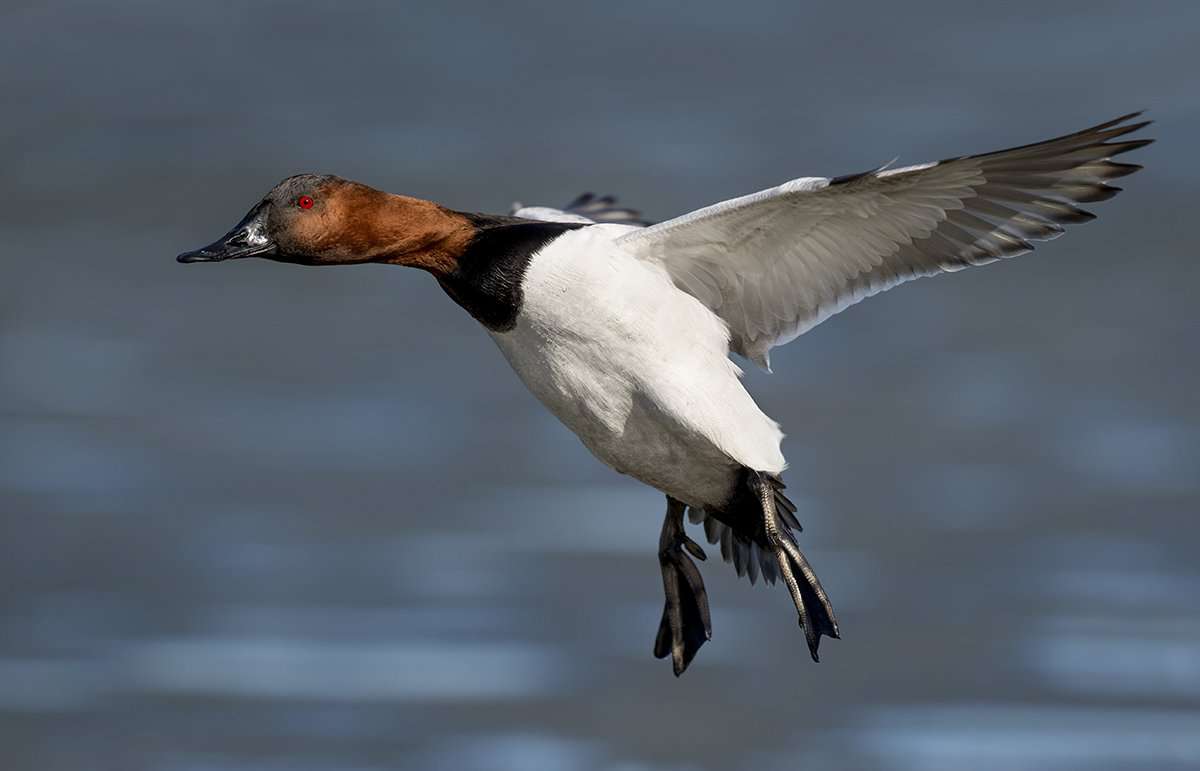 Species and Numbers
Although a few hunters are reporting only marginal numbers and limited success, most are experiencing one of the best seasons in years. Avery Outdoors pro staffer Eric Sandiford has been killing lots of birds on tidal rivers in eastern Virginia.
Numbers are very good, he said. There are more buffleheads than I've ever seen, and there are lots of cans and other divers on the tidal rivers. I hunted recently and killed mallards, blacks and gadwalls. Goose numbers have been pretty good, too, and they are getting better every day. I'm also seeing and hearing reports of lots of brant throughout much of the Chesapeake.
There are lots of birds on the tidal Potomac River, including good numbers of bluebills and canvasbacks, but they have been hard to decoy.
Back Bay hunter Todd Barnes says action is only fair near his home, but he's been seeing high numbers of ducks on North Carolina waters, including Currituck Sound, Lake Mattamuskeet and the salt marshes around the Outer Banks. The problem, he said, is that most of the birds are not leaving the refuges.
This weather should change that, he said.
Goose numbers are starting to decline in western New York, said guide Chris Davanzo, but diver numbers are still good.
We've still got a decent number of puddle ducks around, too, but the season is about to close, he said.
As numbers decline in the northern parts of the flyway, they build to the south. So much, in fact, many Eastern Shore hunters are calling this season one of the best in decades.
We are inundated with geese, said Avery Outdoors pro staffer Sean Fitzges, who lives on the western side of the upper Bay. I hunt the eastern and western shores, and both areas are just covered up in Canadas. It's the best I've seen in years.
Other hunters are also reporting phenomenal goose hunting in eastern Pennsylvania, central Maryland and northwestern Virginia. Fitzges is also hearing good reports of sea ducks throughout the Bay.
Puddle and diver duck numbers are strong around the Susquehanna Flats, too, and action has been steady up the Susquehanna River upstream from Conowingo Dam.
Reports are also good throughout eastern North Carolina, with good numbers of mallards and other puddle ducks showing up in managed impoundments and along coastal marshes. Redheads and buffleheads, along with some bluebills, are making a good show along the coast, as well.
Hunters in South Carolina and Georgia are reporting high numbers of wood ducks and some mallards in swamps and beaver ponds throughout the interior of those states, and waterfowlers close to large reservoirs and the coastal lowlands are having mixed results. Some are shooting divers and puddle ducks, but others are seeing only a handful of birds.
Personal Report
I had an epic hunt on the Susquehanna Flats before Christmas with decoy carver Charles Jobes of Havre de Grace, Maryland. We were body-booting, a unique tactic that uses dry suits and large silhouette decoys. Basically, you stand in the water up to your chest and hide behind the silhouette. It's a deadly tactic any time, but it helped that were covered up in ducks and geese. Action was steady throughout the day.
I'll get after the birds in Virginia after deer season closes. Reports around my immediate area are fair, but that's typical. I don't live in good duck country. A hard freeze should move birds onto larger waters and bring more down from the north. The end of the season is always best where I do most of my hunting.
Boat Launch Chatter
Typical of duck hunting everywhere, recent hunts in Maryland, Virginia and North Carolina have varied from fast limits to slow days, depending on who you talk to. Birds are abundant throughout, but they have been hard to decoy for many hunters. Although a good cold front in December brought a fresh push of ducks to much of the flyway, the weather has been relatively mild and stable. Local birds have been hunted hard for several weeks, so areas with high pressure have been giving up few ducks. Geese, however, have been steadily building in Pennsylvania south to southern Virginia.
Click here for more Realtree waterfowl hunting content. And check us out on Facebook.