Cold weather creates great mallard hunting opportunities
Date: Dec. 29
Location: central to southern portions of the flyway
Summary
After one of the mildest and wackiest autumns for weather, Central Flyway ducks and geese seem to be more on pattern with what you would expect at the onset of calendar winter.
We have a brutal mid-December artic front to thank. The cold swept in across North Dakota, South Dakota and Montana, bringing temperatures to minus 20 across the upper great plains in mid-December. A big storm blew through first.
Any ducks that were left to the north pretty much cleared out with all that snow followed by the bitter cold, said Mark Vrtiska, waterfowl program manager for Nebraska Game and Parks.
Many of those ducks (mallards, at least) are now in Nebraska and Kansas, as well as points south. Suffice it to say, the mild autumn is finished, and winter patterns have solidified.
That means a couple of things for the middle part of the Central Flyway, according to Vrtiska.
Rivers and reservoirs are going to be holding the ducks, he said. And field hunting is going to be the name of the game."
Wetlands and puddles are frozen solid, for now at least. And pounding water will just send birds packing to quieter places.
Even though the high-plains seasons in North and South Dakota remain open into early January, and Montana's Zone 2 until Jan. 17, let's concentrate on what's happening farther south, where seasons will be open longer and a traveling waterfowler can plan an excursion during the holidays or in early 2017.
Nebraska
Basically, the birds are in their wintering locations now, Vrtiska said. I don't have a strong idea of the numbers yet. We will figure this out when we fly our mid-winter waterfowl survey the week of Jan. 2.
Our High Plains Zone (west) stays open until Jan. 29, so there's a lot of opportunity there. And most of our low plains (east) are open until Jan. 8.
Vrtiska said all of the state's river corridors are holding birds. Scouting (involving vehicles and glass) is critical for figuring out a plan. The Loup, Republican, South Platte and North Platte rivers are holding birds, with main river stems featuring the best concentrations. That could change as the weather trend moderates and tributary ice loosens.
I asked Vrtiska a question on field hunting: mornings or afternoons? True to duck hunting form, his advice is to do it all, if possible.
From what I've seen, it really depends on the weather he said. If it's really cold out and the ducks don't want to fly, they can make it a long time without feeding. Then, afternoons can be best. But it can happen any time, especially if weather conditions are mild.
Best advice?
Get out there early, set up and be ready, he said. Who cares if you have to go sit in a warm truck for a while if nothing's flying by midmorning? You'll see them flying when they're ready and can hustle back to your setup for the flight.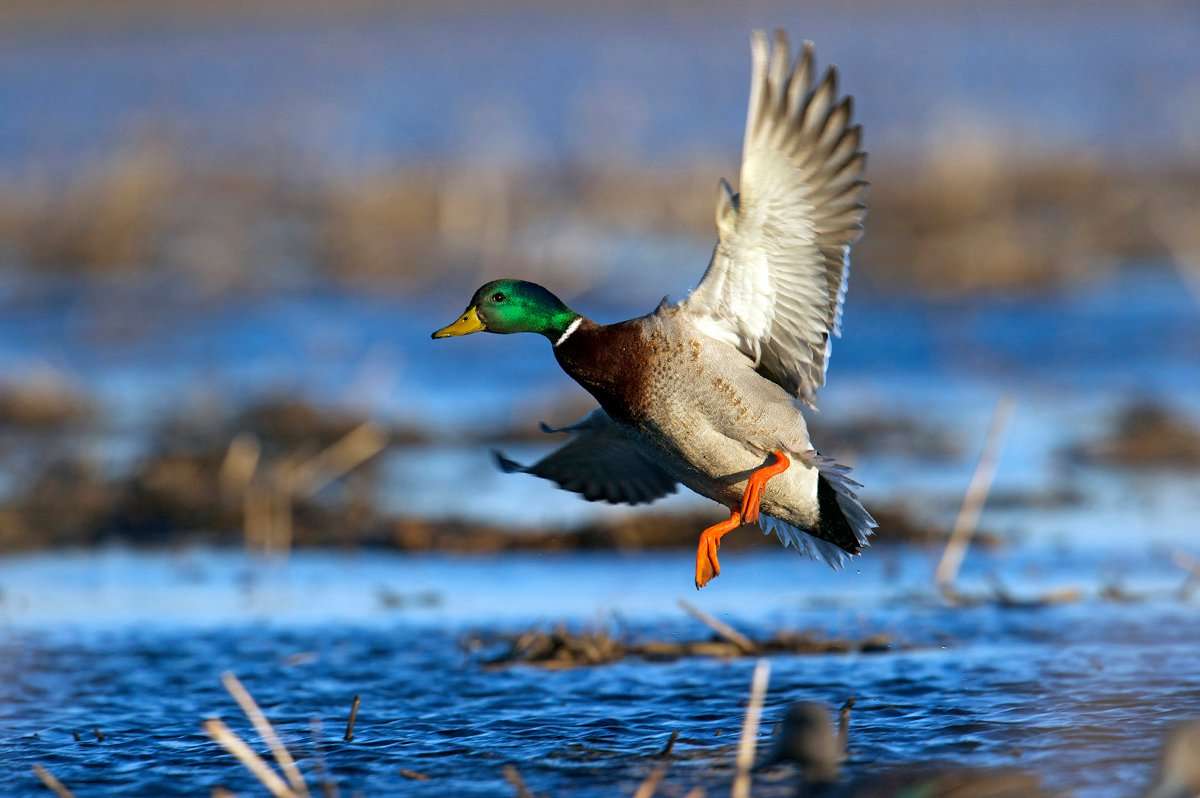 Kansas
It's been a season of extremes, Tom Bidrowski, migratory game-bird specialist with the Kansas Department of Wildlife, Parks and Tourism, said with a laugh. Temperatures in the 70s through November, followed by minus teens by mid-December.
It's good now, though, for Kansas duck hunters and those looking for a winter hunt.
We are entering or in our winter pattern, that's for sure, Bidrowski said, echoing Vrtiska's take on Nebraska's birds. And it's all mallards now, though you will find a few goldeneyes around. The pattern is typical: reservoirs and rivers for open water, with field hunting most productive.
The state really only has only three navigable rivers: the Kansas, Missouri and Arkansas. The Missouri is huge, and much of the Arkansas' river bed is dry. Plenty of other water remains, though, and field hunting is do-able in Kansas if you ask courteously.
Snow and cold sure did its job in redistributing the birds, Bidrowski said. And there are good numbers of geese around. What happens with the weather will dictate what the ducks and geese do — or don't do — next. One thing to watch for are the rebounders.
With milder winter weather settling in, some mallards will work back north a little bit as conditions (less snow cover and more open water) change.
It's rare for Kansas to stay completely frozen for long, Bidrowski said.
Sometimes, even marshes and the bays of reservoirs will reopen.
Either way, it's a mallard play now. Bidrowski mentioned eastern and southeastern Kansas reservoirs as traditional wintering spots that hold lots of birds that will fan out for field feeding.
The Glen Elder and Milford areas are particularly good, he said.
Southeastern Kansas reservoirs — such as Hillsdale, Marion and Cheney — will also have birds.
Some of these waters will hold 40,000 to 50,00 mallards at peak wintering time, Bidrowski said.
Bidrowski also reminded waterfowlers to not ignore Kansas' snow goose opportunities.
Last year, we had a million snow geese in the state the first week in January, he said. If conditions are right, we could see similar numbers this year.
More on that in our next report, after the early January waterfowl survey.
Oklahoma
We definitely got cold-fronted, said Josh Richardson, migratory bird biologist with the Oklahoma Department of Wildlife Conservation. And we got birds. But I expected to see more than we got.
Part of the challenge was that it got so cold so fast (the coldest in many years) that all the little water froze up. The other challenge was that we have been very dry here in Oklahoma, and there wasn't as much water out there as usual.
That should change though, with mild conditions settling in, seemingly through New Year's Day.
I think we'll see stable to slowly climbing duck numbers, Richardson said. We're never packed with birds here, but we are at the terminus of the migration, and we're always seem to have fresh birds working in. Each new front that sweeps through is good for Oklahoma duck numbers.
Tip: Watch for snow and ice in Nebraska and Kansas, he said. That will push birds down to visit us.
Oklahoma's panhandle and Zone 2 seasons stay open through Jan. 31, with Zone 1 extending to Jan. 24.
Texas
Reports out of Texas are generally good. The state has settled into a winter pattern, too. The fun thing about Texas is that mixed bags are always part of the game. Plenty of greenheads make it down that far, but more mallards stay to the north. That means wigeon, pintails, gadwalls and every other color of duck can show up on straps, too.
In particular, I have heard many reports of pintails in northern Texas.
Click here for more Realtree waterfowl hunting content. And check us out on Facebook.