Many Waterfowlers Reporting the Best Action in Years
Date: Jan. 18
Location: the mid- to lower Atlantic Flyway
Summary
You wanted cold, you got cold. And then some. Thanks to an extended period of brutally cold weather, almost every creek, river and pond was locked in ice from New England south to central North Carolina. Even places such as the tidal Potomac and parts of the Chesapeake Bay were socked in. But not every square foot of water in the flyway was iced up. Killing ducks and geese was as easy as finding open water for many hunters. That ice made for some easy hunts in the mid-Atlantic and pushed lots of birds south. Many hunters in the Carolinas and Georgia enjoyed some of the best hunts in years, too.
Major Weather Trends
The bitter cold that hit then East Coast stayed long enough to freeze waters that haven't seen ice in years. A few days later? Temperatures rose to the 50s and even low 70s in some parts of the flyway. Many of those waters that were iced up are now open.
The warm spell might result in a reverse migration as birds pushed south move back north. Even better, nighttime temperatures are expected to dip into the 20s and even teens in parts of the flyway and are expected to stay that way for at least a week or more. Warmer daytime temperatures will likely prevent larger waters from freezing again, but marshes, swamps and smaller ponds might refreeze enough to kick ducks off them. It's shaping up to be a banner late season.
Water and Habitat Conditions
Although rain fell on some parts of the flyway, it wasn't enough to break the prolonged drought that has left many smaller waters dry. Swamps and beaver ponds have stayed below normal levels most of the fall and winter, but there's plenty of water around to keep ducks in most areas. If you find water, there's a good chance there's a duck on it.
Coastal marshes from New England south to Florida remain in good shape, although long-term trends show a continued loss of habitat because of development. Hunters with access to more remote tidal marshes will continue to do well.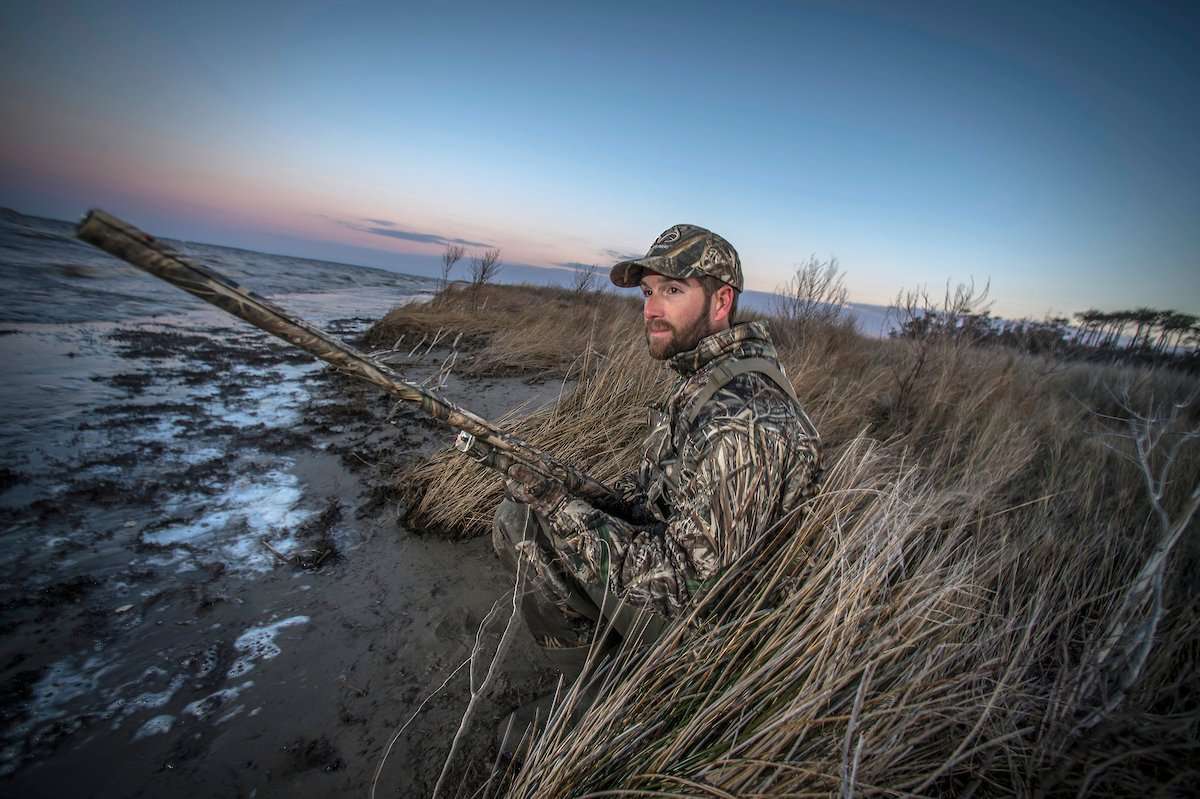 Species and Numbers
Hunters reported high concentrations of birds around open water in north-central sections of the flyway, such as Pennsylvania, Delaware and New Jersey. Although almost every water was covered in ice, some open pockets still existed and were covered in birds.
That was the case on Maryland's Eastern Shore, said Avery Outdoors pro-staffer Kenny Gray. Canada goose numbers are outstanding, and now that things are thawing, those birds are feeding hard.
Hunts have been short, he said. We've killed limits every time we've been out, and we've even shot some ducks in corn fields, too. That's the first time in a long time we've done that.
Divers have been scarce around Gray's home, but only because the tidal creeks leading into the Bay have been frozen. He said friends with access to open water farther down the Bay have reported abundant diving ducks, and hunters with flooded impoundments and ice-eaters have been buried in puddle ducks.
They couldn't keep the ducks out if they wanted to, Gray said.
Sea duck numbers are down in New England, but professional retriever trainer Eric Bartlett, of Hollis, Maine, has been shooting limits regularly.
I think the extreme cold may have pushed some south, but we still have enough around to make it worth the time, he said, adding that the season is nearly finished.
North Carolina hunters have been shooting tons of birds, too. Geese, divers and puddle ducks have been abundant on available open water. Parts of central North Carolina have seen more birds this season than in several past seasons.
A buddy found a wad in an open hole on a reservoir in central North Carolina, said Raleigh-area resident Steven Ripley. There was just enough open water that they could get to the dead birds with a kayak. The rest of the lake was frozen. They limited in two hours on two different days.
Ripley hunted an impoundment near Pamlico Sound in eastern North Carolina and slaughtered the birds for several days, thanks to an ice-eater that kept some water open.
It was epic, he said. We shot mallards, pintails, black ducks and greenwings. I heard the divers were thick in the Sound, too, but I did not see it myself, so I'm not sure if that's true or not. I wouldn't be surprised with so many other birds around.
Wood ducks are abundant in southern sections of the flyway, and Avery Outdoors pro-staffer Justin Baublitz reported lots of wood ducks in central Georgia.
Personal Hunting Report
My son and I hunted a small reservoir in central Virginia and had an incredible day. Make that an incredible hour. Before we finished settling in, I had a pair of mallards on the water and dozens more attempting to get into our spot. We finished the hunt with a mixed bag that included limits of mallards, a pair of redheads, a bluebill and a ringneck. Hundreds of ducks — more than we've ever seen on the lake — bounced back and forth over the open water. We saw pintails, gadwalls and black ducks, along with a mix of divers. We never saw another hunter.
A day later, the entire lake was a sheet of ice except for a small hole kept open by hundreds of birds. There was no way to hunt them.
Dock Talk
The phenomenal hunting was brief but so sweet during the deep freeze. Now that things are thawing, hunters are wondering if the birds that moved south will come back and if those that stuck around will scatter. Gray expects birds in his neighborhood to stick around for the rest of the season.
It's unlikely larger waters will refreeze, which could mean more typical hunting for much of the flyway.
Click here for more Realtree waterfowl hunting content. And check us out on Facebook.