An early northern freeze has kicked the migration into high gear
Date: Nov. 5
Location: northern and middle portions of the flyway
Overview
The Dakotas are freezing over, and with crop harvests well behind schedule in most areas, waterfowl hunters in the norther portions of the Central Flyway fear there won't be enough open water or combined fields to hold birds. That should mean good things for hunters in Nebraska and Kansas, who might see a push of ducks and geese earlier than in previous years.
Major Weather Trends
Below-average temps have been the norm across the northern and central portions of the flyway. North Dakota never recovered from a cold snap the second weekend of October. That front also dumped more than a foot of snow in places that were already saturated.
Even before that early snow, there wasn't a whole lot going on migration-wise, said Andy Dinges, migratory game bird biologist for the North Dakota Game and Fish Department. We were building up gadwalls and pintails, but that snow slushed up or froze up some of our smaller wetlands. As a result, those birds never really stuck around.
Most of South Dakota escaped heavy amounts of snow, but veteran waterfowler Brett Andrews, of Aberdeen, S.D., said October was still wet and cold in the northeastern and north-central parts of the state.
Temps during the last week of October into the first week of November are now dropping below freezing overnight, he said. Small water bodies and sheet water have a skim of ice, but daytime highs have been above freezing and opening them back up for now.
Freezing temps were felt farther down the flyway, too, as portions of Kansas were hit with snow and ice. Even Oklahoma cooled down sooner than expected, according to Josh Richardson, migratory bird biologist with the Oklahoma Department of Wildlife Conservation.
We've had some earlier, colder-than-normal fronts here this year, he said. With that, however, I haven't heard about any significant or higher-than-normal bird numbers around. We're expecting another significant cold front later this week with some additional snow and ice in northwestern Oklahoma, so I'm hopeful that will lead to a good push of birds as our seasons get underway.
Habitat, Water Conditions and Crop Harvest
Conditions remain wet throughout the flyway, especially in the Dakotas, where the below-average temperatures did little to dry things out.
In North Dakota, Dinges said shallow waters were frozen, and bays on larger bodies of water were already icing over as October ended.
It'll be a while before we completely lock up, and once we get super cold in a couple of weeks, you'll see birds start running to the Missouri River, getting ready to use it for a bit or stay there for the winter, Dinges said.
Although smaller wetlands have been opening up during daytime in South Dakota, that won't be the case for long, said Rocco Murano, chief waterfowl biologist with the South Dakota Game, Fish and Parks Department. He said hunters who prefer waders and water sets might not have much time left to hunt.
Things are changing pretty rapidly, he said. I was in Norfolk, Neb., on Oct. 30 for a meeting, and there was skim ice on every body of water there and back. Anything too shallow will more or less be frozen over soon with nighttime temps consistently in the teens — a trend that looks like it will continue in early November.
Because of the abnormally wet conditions, crop harvest is still well behind schedule in the Dakotas. Farmers are still working on beans, but most of the corn crop is still standing. Some fields will not get harvested this year.
Harvest is also behind schedule in Nebraska, said Mark Vrtiska, waterfowl program manager for the Nebraska Game and Parks Commission.
There is still lots of water on the landscape, and harvest is behind, but it's not impacting waterfowl distribution to any degree, he said.
In Kansas, waterfowl hunters are realizing the effects of abundant spring and summer rains, said Tom Bidrowski, migratory game bird program manager for KDWPT.
With ponds full, birds are scattered, he added. In some areas, moist-soil management and agriculture planting for waterfowl were hampered. These conditions have led to birds not being as reliant on their past predictable haunts, forcing hunters to try a variety of areas and tactics to get on the birds.
Regarding Kansas' crop harvest, Bidrowski said most of the beans are out, and milo is moving quickly, with corn right behind it.
Those that field hunt ducks should have a more favorable year, he said.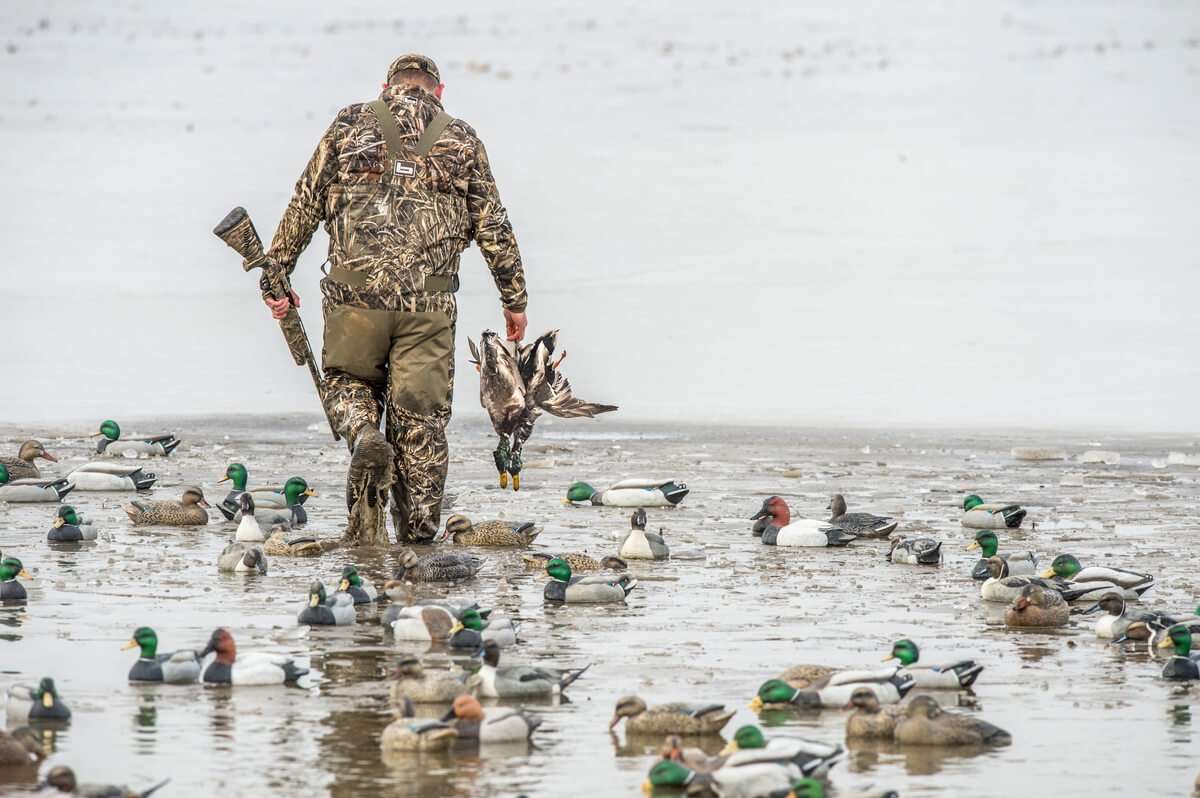 Species and Numbers
Dinges fears the colder temps and delayed harvests mean waterfowlers in the Rough Rider State are already staring at the tail end of the migration.
My sense is that it's been kind of an off-year all around, he said. Last Sunday (Oct. 27), I drove around outside of Bismarck scouting for three to four hours and never really found anything, which is really odd for this time of year.
Although North Dakota hunters are left scratching their heads about where their season went, Andrews said duck numbers are trending upward in South Dakota.
Diver ducks have showed up in the region, while mallards, pintails, gadwalls, green-winged teal and wigeon make up the majority of the puddle ducks in the region, he said. Snow goose numbers are not high by any means, but they are growing daily. Canada geese numbers are good but expected to get better as weather gets colder. Specklebelly geese have also arrived in the region.
Murano said dark geese have shown up earlier than normal in central South Dakota.
Pierre had its first push of dark geese the last week of October, which is extremely early compared to recent trends, he said. They usually don't show up until Thanksgiving, so the way it looks now is that hunting opportunity for dark geese along the Missouri River might be really good this year, as long as it doesn't get extremely cold.
He also said that NDGF and SDGFP put transmitters on 80 mallards this year, and all those birds are on the move.
It's not the grand passage by any means, but I think we are on the leading edge for mallards, he said. We already have one bird that made it to Arkansas.
In northeastern Nebraska, avid waterfowler Chris Daniels said he's seeing an uptick in duck and goose numbers.
There seems to be a small trickle of gray ducks pushing down to keep the local hunters busy, but nothing epic by any means, said Daniels, of Norfolk, Nebraska. I think the next couple of weeks should see a large improvement in the hunting conditions, with strong fronts expected to hit the Dakotas.
Bidrowski agreed, saying the cascade effect from the early cold fronts have kicked things off in Kansas. He also said the state is transitioning from early season migrants to those of later fall.
Nearly all the bluewings are gone, with shovelers, redheads, wigeon, gadwall and pintails replacing them, he said. White-fronted goose numbers are the main goose species to show up yet, but light geese and cacklers should be on the way.
Richardson said the migration is just getting underway in Oklahoma, where duck and goose populations are low but increasing.
If these fronts keep coming through like the last couple of weeks, hopefully by mid-November, I would expect crane numbers to be high, goose numbers to be moderately high and duck numbers to be moderate, he said
Hunting Reports/Advice
In northern South Dakota, Andrews said he and other hunters have found success on puddlers in flooded beans and corn. In addition, he said hunters who have access to the limited number of combined wheat and cornfields are finding birds.
Field hunters might struggle this year in the upper portions of the flyway. The amount of water on the landscape has birds spread out. It's easier to find 50 groups of 10 birds instead of two groups of 250 — not to mention the crops aren't coming out on schedule. That said, if you can find and access a cut field, chances are you'll find ducks and geese there, too.
In Kansas, Bidrowski said early field reports reinforce that it will not be a normal year.
Hunting pressure has been heavy, so birds are wary and spending shooting hours in refuge areas, he said. This has led to hunting success that's lower than recent years. Hunters are going to have work a little harder this year, be mobile and try different approaches. Goose season opens the first weekend of November, and I would expect field hunters targeting white-fronts should do pretty well.
Boat Ramp Chatter/Upcoming Patterns/Hotspots
Murano said duck and goose hunters in South Dakota should target the James River Valley, most of which is still flooded, as well as the high plains of the Missouri Coteau.
In wet years, there are typically more birds found in those areas than the prairie coteau. The prairie coteau, which basically covers the eastern quarter of the state, contains more stable water sources that typically suck birds up when it's dry farther west, said Murano, who grew up in Huron, South Dakota, in the middle of the James River Valley. That's what I banked on as a kid.
Richardson reminded hunters that Oklahoma has a new licensing system.
Check out GoOutdoors OK in the App Store or Google Play, he said. Virtual licenses are valid now, which means you can show your phone to a warden instead of a hard license.
He also said that because of flooding, several of Oklahoma's managed areas have damaged infrastructure and equipment and might not be able to pump water. Additionally, he said some areas — particularly green-tree or flooded-timber spots — might be kept dry to protect the health of timber or habitat.
Last but perhaps most important, hunters up and down the flyway need to be more mindful about respecting the land and landowners. It's been a rough year for farmers and ranchers, and the last thing they need is for their fields and field approaches to be torn up by trucks and ATVs. Also, many roads remain flooded or otherwise impassable, and additional ruts and unnecessary traffic may make already poor road conditions even worse.
Click here for more Realtree waterfowl hunting content. And check us out on Facebook.