Mid-flyway states are enjoying solid shooting, but hunting success varies farther south
Date: Dec. 5
Location: Middle and southern portions of the flyway
Major Weather Trends
A brief late-November warm spell in the North has given way to more seasonable early winter temperatures, keeping ducks and geese streaming down the flyway. Ice still covers areas of the far North, but many waters in Minnesota and Wisconsin reopened, spreading birds out as duck seasons ended in those states.
J.D. Driskill, owner of Dirty Rice Outfitters in Gobler, Missouri, said conditions were ideal for the first few days of duck season in northeastern Arkansas and southeastern Missouri's Bootheel region. Subsequent wind and rain made it tougher to work birds.
Arkansas was really good, and I'm talking specifically northeastern Arkansas right off the Bootheel of Missouri, especially on the St. Francis River and in the fields, he said. I think we limited three out of the first five or six days there.
Farther south, Larry A. Reynolds, waterfowl program manager with the Louisiana Dept. of Wildlife and Fisheries, said late-fall weather patterns hadn't yet produced the numbers of migrating waterfowl biologists expected.
The weather patterns and aerial survey results in other states in the Mississippi Flyway are currently pretty confusing, he said. Our low November estimates, average numbers in Arkansas but below average mallard numbers, below average dabbling ducks but above average diving ducks in Mississippi, and declining survey results in Illinois and Missouri don't tell a very consistent story in movement of birds relative to weather patterns.
Water/Habitat Conditions
Northern portions of the flyway remained extremely wet, but mid-flyway hunters reported solid water levels.
Kent Woodrow, owner of Illinois Whitetail and Waterfowl, in Wayne and White counties, in southeastern Illinois, said backwaters in his area were up and would likely stay that way for a while. Driskill said his region was relatively dry through early fall, which let farmers harvest crops before wet weather arrived. Since then, his impoundments have collected ample rainfall, and he hasn't had to pump water.
The (St. Francis River) is getting a lot of runoff, he said. We've had a good year as far as water is concerned.
Moisture conditions in Louisiana look fair, Reynolds said.
Water levels in coastal Louisiana are falling to more optimal levels for foraging dabbling ducks, but habitat conditions overall are lower than average, he said. Northeastern Louisiana is still a little dry, and we could use more water on the agricultural landscape in the riverine backwaters to improve habitat conditions.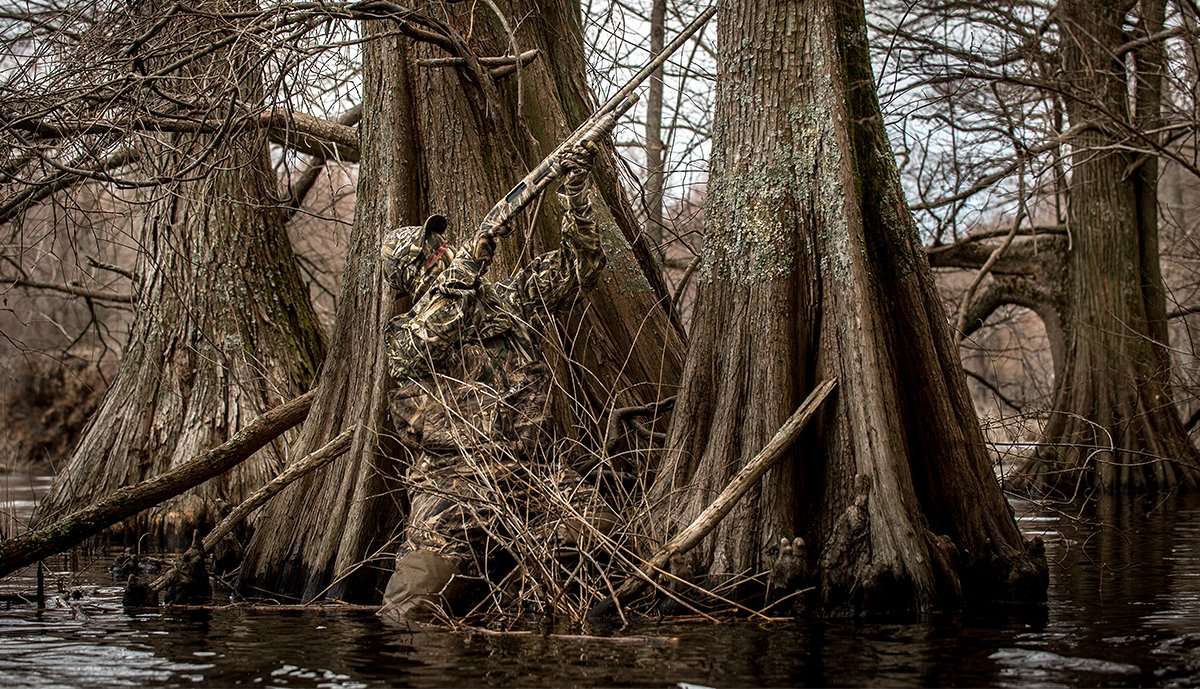 Species and Numbers
Excellent numbers of Canada geese remain in Northern areas that haven't received heavy snowfall. Meanwhile, ducks were on the move south.
Aerial surveys by the Forbes Biological Station, near Havana, Illinois, counted about 162,825 ducks on the Illinois River, which was about 24 percent below average.
"The Mississippi River was a different story," Forbes said on its Facebook page. "We estimated 342,175 ducks on the Mississippi, which was 28 percent below average but a notable 49 percent increase from last week's count. Most of the increase was in mallards (287,800), which jumped 114 percent from last week and are now near the 10-year average. Diving ducks, especially lesser scaup and canvasbacks, were still in very low numbers on Pool 19."
Farther south, Woodrow said duck numbers were good and building: We have quite a few birds — all species."
Driskill said his area was holding good numbers of ducks and light geese, and hunters had enjoyed excellent mixed-bag shooting in timber and rice fields.
The geese and ducks worked fairly well in the fields, he said. The timber was really good for ducks. We did really well. We had quite a few mallards. We shot some teal and gadwall, of course. And we shot wigeon and pintails in the timber. It was just kind of a crazy opener with the weather and everything. I wouldn't have thought we would have shot wigeon this early, but we did, and they had pretty good color on them.
Reynolds said early hunting in Louisiana's Coastal Zone has been hit or miss thus far.
We had the third lowest November survey on record (since 1969) with 1.04 million birds to open the season, and reports have been highly variable since then, with more negative than positive, he said. After three weeks, the discontent among coastal duck hunters is pretty high because the hunting hasn't been much better — and maybe even worse — than last year, which was our worst season in many years.
Hunting in Louisiana's West and East zones, which opened Nov. 16 and 23, respectively, has been much better.
Northwestern and northeastern Louisiana surveys were well above long-term averages, and both hunter participation and hunting success was better than last year, Reynolds said.
Personal Hunting Report
My Wisconsin duck season ended with a thud, as rain and warmer weather opened up many areas that had been frozen since mid-November, spreading birds out. Before the state's firearms deer opener (Nov. 23), I'd enjoyed pretty consistent freeze-up action on mallards. But goose seasons run for several more weeks, and honker numbers look good. Time to swap the skiff for field blinds and full-bodies.
Boat Ramp Chatter/Upcoming Patterns/Hotspots
Driskill said northeastern Arkansas and southeastern Missouri were still holding lots of birds, and he believes second openers there — Dec. 7 in Missouri, Dec. 11 in Arkansas — should be good.
Meanwhile, Reynolds was somewhat concerned that flock composition might hinder Louisiana duck hunters.
Unfortunately, early indications are for low age ratios in the harvest, he said. We are killing a lot of adults and seeing flock behavior indicative of an adult-heavy fall flight, which concerns me about hunting success as the season progresses.
As with most waterfowl seasons, time will tell. Ducks and geese are well into their autumn migration. The rest depends on the weather and hunters.
Click here for more Realtree waterfowl hunting content. And check us out on Facebook.