Specks and Mallards Highlight Consistently Good Action
Date: Nov. 16
Location: Entire Pacific Flyway
Summary
First thing's first. To all you veterans, Julie and I can't thank you enough for your service and sacrifice. Your dedication to this great country is why I'm able to do what I do and enjoy the boundless freedoms I have. Our lives would not be the same if it weren't for what you do. And from the bottoms of our hearts, we thank you.
Well, the lull's finished, at least in my part of Washington. And from what I'm reading on Al Gore's Internet, this year's downtime seems to be a thing of past across The Evergreen State. Oregon, too. Swans and divers have arrived at the Great Salt Lake, and mallards are showing up in Idaho. Alaska and western Canada have mostly frozen over, sending birds fleeing to warmer climes to the south in — yep, you guessed it — the Pacific Flyway. It's a good time to be a waterfowler. So if you're bellyaching about not killing birds … well, my friend, get off the sofa, and get out there.
Major Weather Trends
The weather is typical for this time of year, I'd say. Western Washington and Oregon are in the midst of a seesaw period climatically; rain one day, nice the next. Sunshine isn't overly abundant, but there's enough to help you stave off the depression that accompanies what I call The Wet. Eastern Washington and Oregon are ranging from chilly to downright cold, with temperatures running from the mid-20s for lows to the mid-30s for high, with snow in some places — more than a half-foot of the white stuff. Utah and Idaho have more of the same. It's warm, however, in California and Nevada, with waterfowlers having to deal with mercury from 60 to the mid-80s, according to Dan Chang, a Banded pro-staffer who lives and hunts in and near the Santa Ana (Orange County) area. That's still a little warm for duck hunting, I reckon, but Golden State hunters appear to be finding a few ducks, along with plenty of specklebellies and white geese.
Water and Habitat Conditions
Again, things are typical, almost across the board. Avery/Banded pros Allen Riggs and Kent Contreras, in eastern Washington, reported river levels as being good, with some ice along the edges of the moving water and most the smaller ponds and sloughs frozen. On the western side, I'm out of sheet water, where I spend my time. However, with a week of rain in the forecast — note: It's 20 percenting outside as I write this — that should change quickly. Rivers on the western side are starting to climb, thanks to a couple of days of rain, though I haven't heard of any flooding expected in the area. That can also change. There's good water, I'm told, around the Great Salt Lake. Idaho rivers look good and are running at average flows. Travis Lyle, of Fernley, Nevada, reported there's a lot more water out there. Most areas are full, or close to it. (The) rivers are still running, and areas that haven't had water in years are full now. That's good news for Silver State gunners.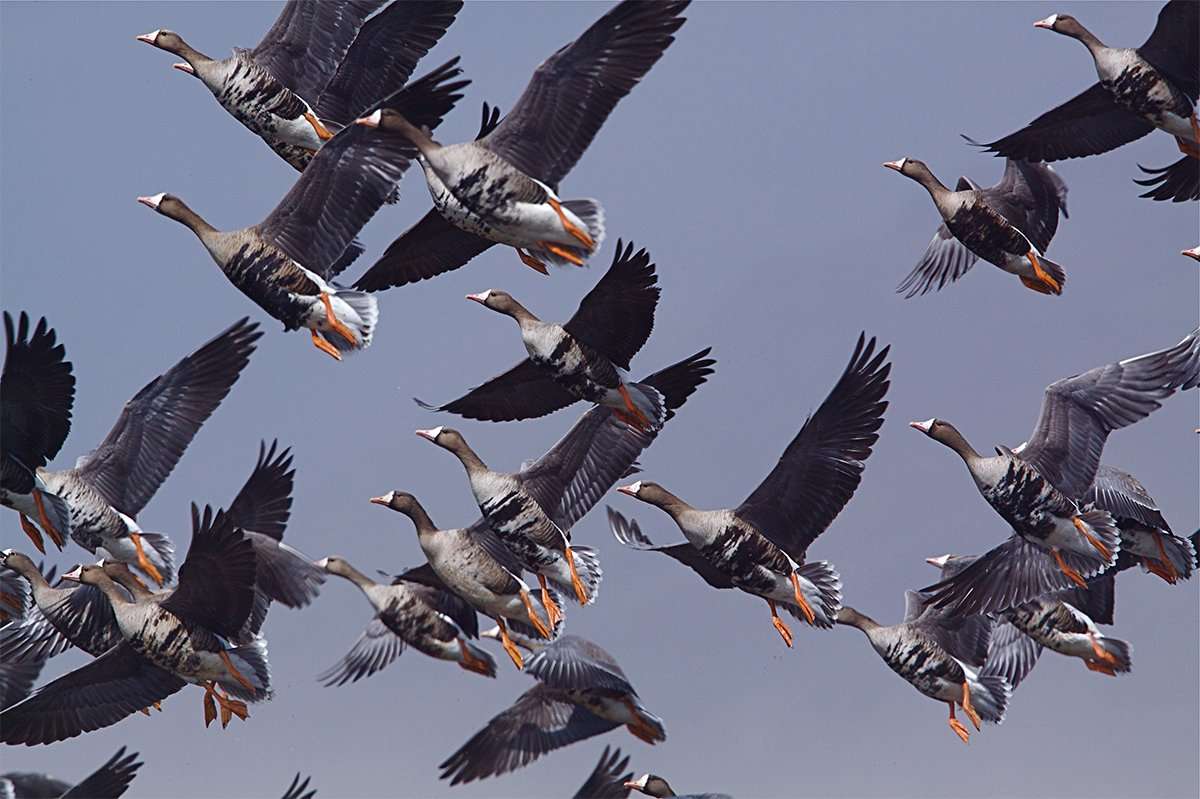 Species and Numbers
Mallards, mallards and more mallards. Jared Shepard in Wenatchee, Washington, reported a large push of birds arriving (in his area) the first week of November. Mostly lesser Canadas, with mallards and wigeon mixed in. Korey Young, of Ellensburg, Washington, said he saw twice the number of mallards in the valley than in the week prior. He also reported starting to see divers along the Yakima and Columbia rivers. Across the flyway, waterfowlers were talking about higher-than-normal numbers of mallards, with excellent numbers of gadwall and wigeon. It's specks in California. Hate to repeat myself, Gene Carter of Yuba City said, but there are a lot of specks this year. More than I've seen this early in quite a few years. There's (been) new specks migrating in all week. And divers have arrived at Lake Mead east of Las Vegas.
Personal Report
Sadie Mae, my 5-year-old black dog, and I had a tremendous hunt Nov. 8 — one for the books, actually. We hunted a small tidal marsh in the afternoon on the flood tide. It was not a very high tide, at 7.3 feet, but apparently that was enough for the ducks. And boy howdy, the ducks. It was 99 percent a mallard show, which is odd for that water near the coast. Throughout the afternoon, the dog and I saw only a handful of pintails, one shoveler, one green-winged teal and one mama wigeon that sat in the decoys for 10 minutes before deciding her new friends were antisocial. We came home with six mallards, all feet down over the decoys and not a one farther than 20 yards. The best part? I was shooting my Pop's first shotgun — a 1952 Winchester Model 24 16-gauge side-by-side. A combination of Kent Cartridge's bismuth No. 5s and Hevi-shot No. 4s worked nicely. And Sadie Mae did a wonderful job on every duck, including a head-up swimmer that thought he could escape in the cattails and bunch grass. He lost. A handful of swans have moved into the area during the past week, along with flock after flock of little geese (cacklers). I'm not sure where the rest of the puddlers are hiding, but we'll give it another go soon.
Upcoming Patterns and Hotspots
Rain in western Washington. Imagine that. Eastern Washington is about to get cold. It's the same story with western and eastern Oregon. The Weather Channel is calling for Boise, Idaho, to see the freezing mark before climbing into the high 40s and low 50s during the next 10 days. Same for Salt Lake City. Sacramento will see 45 to 65, Santa Ana, California, will range from 65 to 80, and Las Vegas will be in the mid-50s to middle 70s. Again, across the board, it's a pretty typical year weather-wise. The good news? It's just the beginning in the Pacific Flyway, and it's only going to get better. Much better.
Click here for more Realtree waterfowl hunting content. And check us out on Facebook.