Cold Weather Moved Birds South, But Ice Has Hampered Hunting
Date: Jan. 11
Location: Mid-South and Southern states.
Major Weather Trends
Arctic air has held a grip on much of the Mississippi Flyway for weeks, pushing many ducks and geese south but making hunting conditions difficult. A recent thaw and some much-needed rain in the Deep South gave folks increased reason for optimism, but it remains to be seen how much the warmer weather will help hunters.
Early on, we started out with very dry conditions, said John Gordon, who handles public relations for Banded and Avery, and hunts in the Mississippi Delta region. This led to a strong opener for those with water, but it kept the public-land hunters with very little water to hunt. That all changed a couple of weeks ago, with some areas receiving up to 6 inches of rainfall. Hunting around the Christmas holiday was pretty strong overall. Then, the extreme cold hit with multiple arctic fronts, one behind the other. The ducks are still here, but they are mainly hanging out on the Mississippi River in anticipation of the thaw.
Justin Martin, general manager for Duck Commander, said abundant ice has hampered hunting in Louisiana.
I would say the cold snap may have helped, but we won't know until it finishes thawing out, he said.
James Buice, avid hunter and frequent Realtree.com waterfowl contributor, said the extended cold snap might have improved hunting somewhat, but he said areas of Arkansas and Mississippi probably lost some ducks because of hard freezes.
Water and Habitat Conditions
Despite recent rains, water conditions remain low throughout much of the southern Mississippi Flyway, and many hunters were still praying for rain.
Buice said there was little chance most hunters would see quality green-timber action this year unless they had access to areas with private levees. Some public areas might hold enough water, he added, but those properties are stacked with hunters.
Martin said low water conditions create a double whammy when combined with freezing weather.
With the drought we are in down here, there just isn't much deep water at all to hold birds when the temps drop like this, he said. Most water here had some form of ice cover on it, other than large reservoir roosts. We need rain in the worst kind of way. With very few areas for ducks to go to avoid pressure, it's just tough unless you have multiple areas you can rest and let build up with birds and rotate to.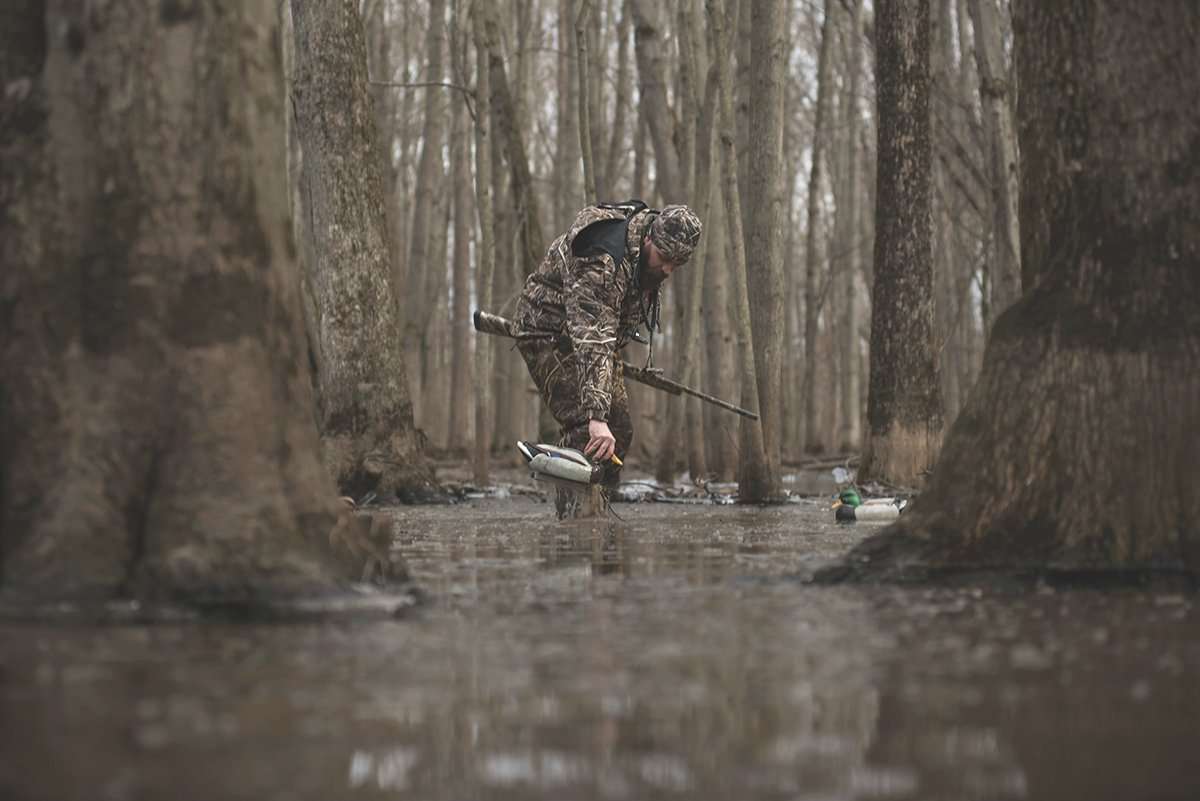 Species and Numbers
Kent Woodrow, co-owner of Illinois Whitetail and Waterfowl in southern Illinois, said his area was still holding some ducks — mostly mallards — despite having been locked in ice for weeks. He was pumping water through an impoundment to create more open water, and ducks and geese were keeping other areas open.
Buice reported good numbers of specklebelly geese in his area, but said the geese are becoming call-shy and bunching into large groups. He said pintails are thick but have been flying high.
Martin said Louisiana had decent bird numbers — with a few surprises.
The hunting has overall been average at best, he said. Last year, we had a good number of mallards down, but this year, we just haven't seen them yet. It was kind of a bummer with all the cold across the country, but it just goes to show it takes more than just cold to move the birds. With today's farming practices, if snow cover doesn't come, then neither does the bulk of the mallards. We have an average number of gadwall, shovelers and pintails, or so it seems. Green-winged teal seem to be reduced from years past, too.
Personal Hunting Report
My home state of Wisconsin remains locked in ice. However, I slipped south before Christmas and enjoyed good hunts in the Missouri Bootheel and southern Illinois. In Missouri, J.D. Driskill, owner of Dirty Rice Outfitters, set some friends and me up on a flooded-timber hunt, and we enjoyed memorable mallard action the first morning. The area was also holding good numbers of snows and specks. Later that week, I traveled northeast a bit to hunt with Woodrow at Illinois Whitetail and Waterfowl. His impoundments were loaded with ducks and geese, and we managed a two-man limit of ducks — including eight mallards — and three bonus snow geese before 9:30 a.m.
Needless to say, I'm thinking a lot about the South these days.
Boat Ramp Chatter/Upcoming Patterns and Hotspots
With a thaw emerging earlier this week, many folks believe they can finish the season in good fashion.
"I think it's going to thaw out, and I think the birds are going to move back in," Driskill said. "I think we're going to have a successful rest of the season here."
Gordon agreed.
We have a lot of ducks and geese here, as they have all been forced out of the North, he said. How long will it last? It's too early to tell, but another shot of cold air should keep the birds down here, hopefully through January.
Click here for more Realtree waterfowl hunting content. And check us out on Facebook.