Rain pounding the Pacific Northwest; birds elsewhere are stale
Date: Jan. 16
Region: entire Pacific Flyway
Weather and Water Trends
In western Washington, the trend has been rain, from showers to heavy downpours. According to meteorologists, the region ended 2019 with a rainfall deficit of 8 to 10 inches. We've made up some of that during 2020, with Astoria, Oregon, getting almost 6.5 inches since Jan. 1.
That rain represents too much of a good thing. There's too much water, which spreads ducks and geese out. And that's just the sheet water. The rivers, including larger flows such as the Columbia, are high, muddy and full of debris. It will be rough to finish the season. Snow is forecast for the Pacific Northwest this week, with slightly below-average temperatures and continued clouds. Further, recent king tides — exceptionally high tides because of the alignment of the Earth, moon and sun — have made for challenging hunting conditions.
The remainder of the flyway is dealing with back-and-forth weather.
The weather remains very odd, said Travis Madden, of Utah. A couple of days of really warm followed this week by high temperatures in the 30s. Our water is frozen for the most part, but guys have been able to find sections that are still open. You definitely have to put in your time scouting to be successful at this point in the season.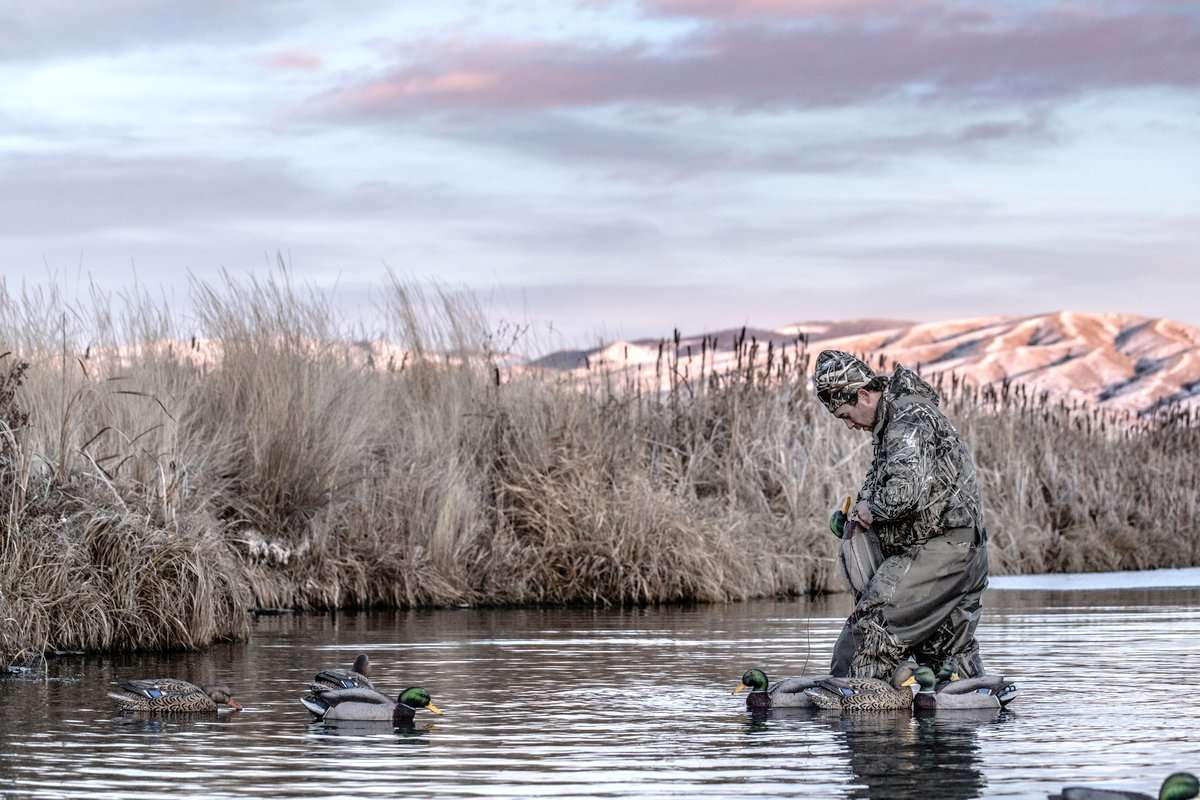 Personal Hunting Report
It's been a hero-or-zero season for me. Early goose hunting in September started well, with plenty of birds and good shoots. Then it died. My two go-to farms petered out, producing just six birds since mid-October. Goose season is closed but reopens from early February until March 7, so there's still a decent chance to pull off a good season.
Ducks have been hit-or-miss this year. We started slow, got a little better, and then dropped off. I had a pair of excellent outings with one of my high-school seniors for puddlers on the tides early. And then I hunted with three high-schoolers on the Columbia with Brad Bortner, former chief of the U.S. Fish and Wildlife Service's Migratory Bird Division. Scaup numbers on the lower river, Bortner said, were essentially the same as in recent years. However, the birds seemed to have arrived later.
On a side note, Bortner said scaup limits for the 2020-'21 Pacific Flyway season will be two birds daily, down from the three bluebills allowed in 2019-'20. The pintail limit will stay at one.
Overall, I saw fewer birds this season than in 2018-'19, and that season wasn't impressive. Pintail, wigeon and greenwing numbers between my home and the Pacific Ocean were noticeably down. Surprisingly, gadwalls were scarce, and those numbers had seemed to increase the previous two seasons. Mallards seemed to be about normal. Species that shined included bluebills, buffleheads, ringnecks and hooded mergansers. And lest we forget common mergansers.
Boat Ramp Chatter/Future Hotspots
As mentioned, there's still a late dark goose season in southwestern Washington. Brant season on the coast continues through the end of January. There's a late white-front season into March in Oregon. And by then, folks here will be on to spring pursuits.
OK, so it was a somewhat slow waterfowl season for me. That doesn't mean there's not plenty to do here in the Pacific Flyway.
Click here for more Realtree waterfowl hunting content. And check us out on Facebook.