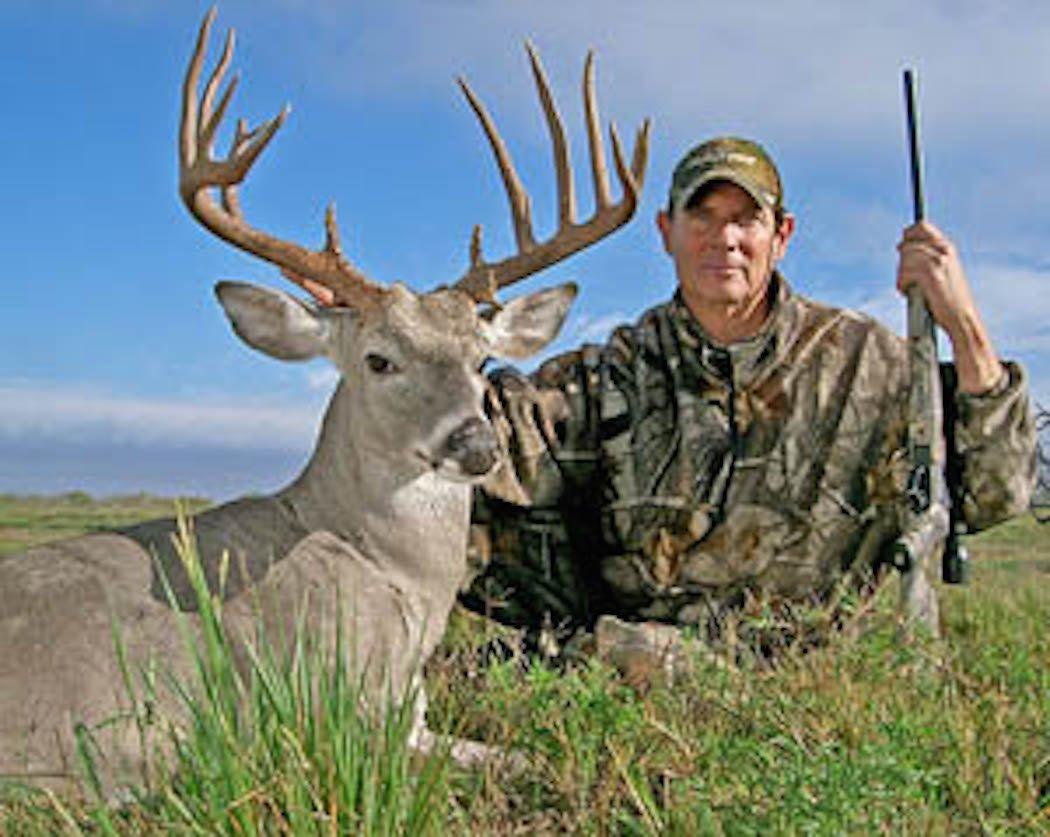 Hunter: Bill Jordan
Place: Frio County, Texas
Date: October 30 to November 4, 2005
Weapon: Bow and gun
Weather: Foggy mornings with moderate temperatures
Bill and Phillip's initial morning of hunting turned out to be a memorable one.
We were down near the river bottom in an Ameristep Doghouse blind before dawn, and right at daybreak we had this 180-class buck appear at about 40 yards. There was another buck as well -- an aggressive 10-pointer that would probably score about 140. We watched as the two of them locked horns and sparred a bit. We normally have to work really hard and long on these filmed hunts, but for once it looked like we'd catch a break and have a buster taken on film right out of the box.
After the sparring match, the bigger buck was coming toward us through some thick stuff, and it looked like Bill would have an easy 20-yard shot with his bow. But the wind was blowing a little bit and the buck got nervous, winded us, or whatever, and buggered out of there. We hunted until 10 a.m. and saw some does and little bucks, but not the big one again. We went back for lunch then returned to the blind and hunted for the last couple hours that afternoon.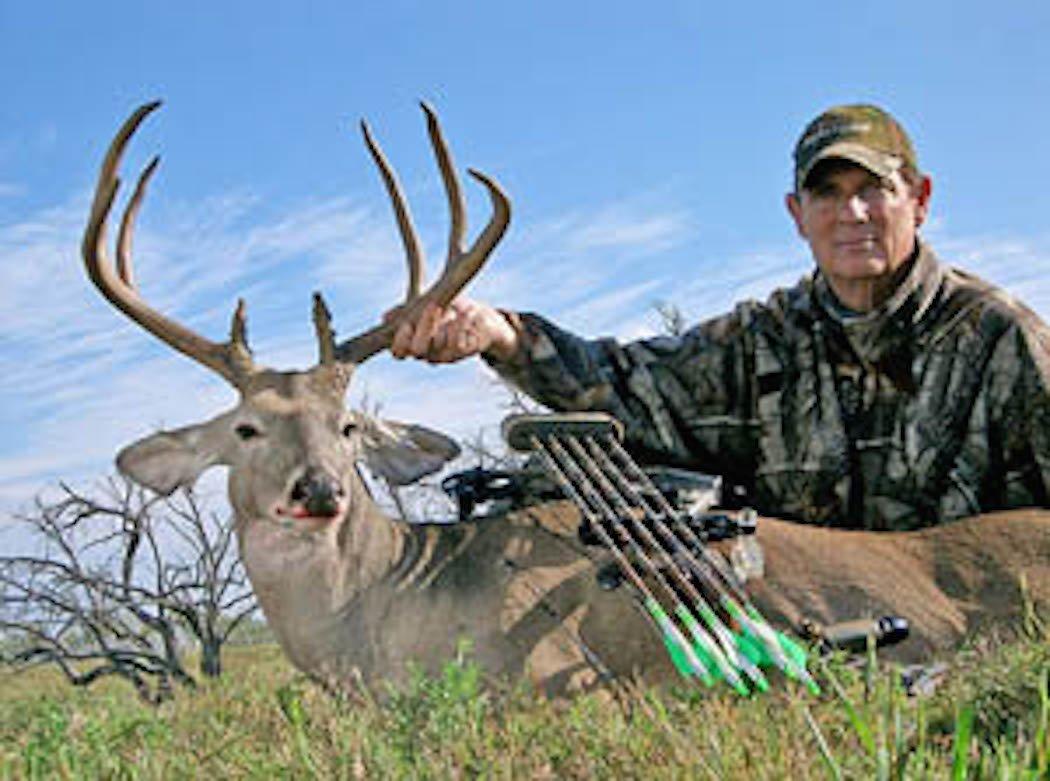 Day two found Bill and Phillip back in the blind before daylight, and they didn't have to wait long before the 140-class buck showed up.
That buck was really aggressive and chasing does and other bucks all over the place. He was obviously the bully buck and boss of the other bucks in that area, and we again wondered if he was the reason the big buck had acted so nervous that first morning. The bully buck was a decent one, but we wanted to hold off, hoping for a crack at that big 180-inch buck. But again he didn't show up that day.
Days three and four were pretty much carbon copies of the second day, as Bill and Phillip saw lots of does and smaller bucks, and also the super-aggressive 10-point buck.
We saw that buck several times every day we hunted. We were beginning to think we'd never see that big one again because of that bully buck. Dennis and Danny (from the ranch) were a big help to us. They were constantly scouting other areas, looking for the big buck. They finally spotted him on the third day, about 300 yards from where we'd seen him that first morning. So we knew he was still in the area. We were due to leave on November 4, but decided we'd stay on a few days if we had to, hoping we'd finally get a crack at him.
On the morning of November third, we were in the blind before daylight. Just as it began to get light enough to start thinking about filming, we spotted a big deer in the thick stuff a ways off. Then he walked out just as we had enough light to film, and we realized it was the big one. He disappeared back into the brush, but reappeared a few minutes later, pushing a doe. Because our time was running out, and the buck wasn't anywhere near bow range, Bill decided not to take a chance and dropped him at 60 yards with the .30-06 Thompson Contender. He was an awesome 6x7 that scored right around 180.
We still had some time left since we weren't leaving until the next day, so we decided to see if Bill could take the 10-pointer with the bow. After all, we'd seen him so often, chasing other deer all over the area, he was a good bow candidate. So we hung a couple treestands down along the river bottom where they'd offer up to about 30-yard shots. Sure enough, we hadn't been there long when we saw some other bucks that the 10-pointer was pushing around. It wasn't long and the bully buck showed up. He was so aggressive it didn't take long before he offered a broadside shot and Bill arrowed him at 17 yards. He was a nice 140-class buck, so we'd basically taken the two best racks in that river bottom area -- one with a rifle and one with bow.
Don't Miss: 9 Late-Season Deer Hunting Tips from the Pros
Editor's Note: This was originally published on December 15, 2005.
Are you a deer hunter thirsty for knowledge? Check out our stories, videos and hard-hitting how-to's on deer hunting.