Have You Ever Hunted in These Towns?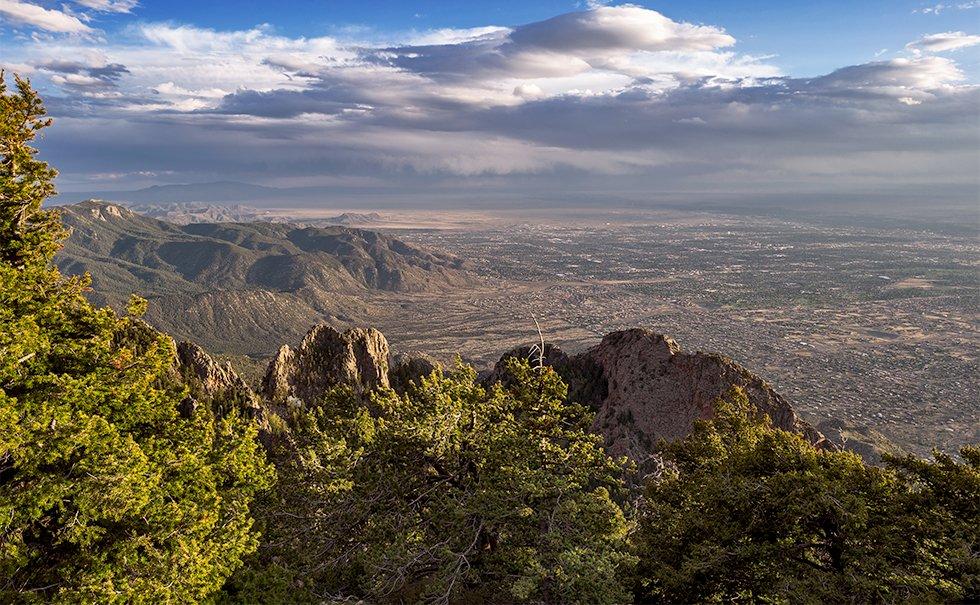 Man, you hate to rank stuff sometimes. Case in point, college football. What makes one team better than another, anyway — TV time, a difficult schedule, wins and losses? Rankings and choices concerning numero uno lend themselves to loopholes, weak arguments and plenty of opinions.
So what exactly qualifies a town as one of the BEST hunting towns in America? To find out, I polled hunters who find themselves in the woods for work and play … biologists, editors and industry folks, and here's what they said:
Every great hunting town needs a variety of game.
It has to have cafés, hole-in-the wall restaurants, inexpensive hotels, meat processors, and a game and fish office nearby doesn't hurt, either.
Tons of public hunting land within an hour's drive.
Interesting stuff to see if you tag out early or just get tired of hunting.
Albuquerque, New Mexico
New Mexico's scattered peaks are notorious for growing monster bulls. A retirement plan for elk lovers? You bet.
Two hours from Albuquerque, hunters can find elk, bears, bighorn sheep, mule deer, wild turkeys, quail, ducks, geese and pheasants. And most are accessible on public land. Geographically, Albuquerque offers a little bit of everything. Because it sits at the southern end of the Rockies, there's an unusual interplay between native mountain species and desert game. There's no shortage of public land, either, and the quail population rocks.
Nearby Public Land: There are several to choose from.
Cibola National Forest
Santa Fe National Forest
San Juan National Forest
Rio Grande National Forest
Historical Note: Albuquerque claims three ethnicities: Anglo, Hispanic and American Indian. After dark, restaurants and bars bathe the area in neon. On Central Avenue, the old strip of Route 66 offers vintage establishments like the Stardust Inn and the Standard Diner. The road eventually passes by the University of New Mexico and several blocks of cheap eats.
Recreation: If you tag out early, take a hike or ski, mountain bike and/or rock climb.
Fave Eats: Gardunos (in an adobe community in the North Valley) / Frontier Restaurant (try the huevos rancheros and breakfast burritos)
Crosset, Arkansas
The cypress sloughs in Arkansas set the stage for a forget-me-not waterfowl hunt.
Crossett is 9 miles north of the Arkansas/Louisiana border — population 6,097 — and its old mill town is 7 miles from Felsenthal National Wildlife Refuge, the largest green-tree reservoir in the world. Two primary river channels form several shallow lakes full of cypress. Hunters go after gators, bears, wild turkeys and ducks. Lots of ducks.
It's typical Southern hunting country with a hardcore Southern hunting culture, said James Powell of Plum Creek Timber, a company that manages timber and hunting land in the area. You can hop in a boat or canoe and easily get lost out here.
Nearby Public Land: Near Crossett, you'll find Felsenthal National Wildlife Refuge, a 65,000-acre area where all sorts of animals live. It's also a popular hunting and fishing destination. Because the refuge lies within the Mississippi Flyway, ducks are the main attraction. They begin arriving in September with blue-winged teal, mallards, black ducks, gadwall and ring-necks that winter here. Wood ducks are a year-round resident. Felsenthal also is home to the largest population of endangered red-cockaded woodpeckers in the state and some of the region's richest cultural attractions, with more than 200 known archeological sites.
Historical Note: The town's history is reflected in one of the three-room "mill houses" Crossett Lumber constructed for its employees that now sits in the 110-acre Crossett City Park. Built prior to 1910, the gray wooden structure features an interior that appears as it would have in the 1930s. Call (870) 364-6591 to schedule a tour.
Fave Eats: Abe's Old Feed House (classic buffet and typical Southern fare, including fried chicken)
Baker City, Oregon
Any outdoor enthusiasts who lives to cast a fly or chase game through luscious landscapes should consider Oregon an option to call Home.
Baker City sits at the base of the rugged Elkhorn Mountains on the old Oregon Trail. Established by emigrants traveling west during the 19th century, Baker City is best known for the role it played during the Oregon gold rush of the 1860s. The discovery of gold at nearby Powder River in 1861 transformed the small pioneer town into a seat of commerce overnight.
Nowadays, Baker City gleans as much fame from its proximity to Hells Canyon National Recreation Area — an oasis of wildlife and wildflowers — and surrounding national parks. Cradled between two sections of the Wallowa-Whitman National Forest and surrounded by numerous natural sights, Baker City offers an almost unlimited list of recreational opportunities.
At the top of that list is the Snake River in Hells Canyon. Everything about the river is big. Big waves, big views, big cliffs. The canyon is the deepest gorge in North America, several thousand feet deeper than the Grand Canyon.
Oregon also offers prime real estate to big game hunters who favor elk, deer, bighorn sheep and antelope. Pheasant, chucker, quail and grouse keep upland bird hunters busy, and because Oregon sits on the Pacific Flyway, there are ducks and geese galore.
But the turkey hunting isn't bad, either. In recent years, Oregon has become a sleeper turkey state. Hunting them has grown ten-fold since the first spring season opened in 1987, and with good reason.
Over-the-counter archery elk tags for either sex are available for about $300, and pronghorns — we're talking world-records — play here, too.
Nearby Public Land: Options are certainly plentiful.
Wallowa-Whitman National Forest
Umatilla National Forest
Ochocho National Forest
Hells Canyon National Recreation Area
Cold Spring National Wildlife Refuge
Nez Perce National Forest
Fave Eats: Baker City is hardly a classic tourist town, and that's its greatest appeal. There aren't trendy restaurants; even the Geiser Grand Hotel's acclaimed dining room serves mainly meat-and-potatoes fare (though the place is packed for special culinary events, which include lobster weekends featuring fresh seafood flown in from Maine).
St. Joseph, Missouri
Turkeys. Whitetails. Ducks. The Show-Me State will definitely show you the lore of its hunting paradise. Pun intended.
The latest estimates lift Missouri's white-tailed deer population to more than 1 million. Translation: Hunters enjoy a killer success rate. But the fishing is pretty hot, too. So hot that Field & Stream magazine proclaimed it one of the best fishing spots in the Midwest, especially for heavyweight flatheads.
Along with the opening of the modern firearms deer season, the spring turkey opener is one of the most eagerly anticipated days in the state, and not just among hunters, but also among the owners of gas stations, cafés and sporting goods stores that keep those hunters going.
All this excitement is well warranted, too, because Missouri is one of America's top turkey hunting states with a wealth of public ground to boot. You could spend a lifetime hunting different spots throughout Missouri, and every outing would be the trip of a lifetime, said outdoor writer Bryan Hendricks.
In Northwest Missouri it's not unusual to hear 20 to 30 different gobblers on a clear spring morning. Scattered timber mixed with farm fields and plenty of Conservation Reserve Program land provides the perfect habitat for Missouri's large Eastern turkey population.
Recreation: Missouri is best known for its backyard river, the mighty Mississippi, granddaddy of them all. But that's just a drop in a bucket considering the many opportunities for outdoor fun. The plains and hills of Missouri overflow with some of the clearest waters in the heartland. Just a short drive away from the St. Louis metro area are many natural springs, rivers and state parks to splash in. Whether you're waiting for a trout to bite or huffing as you hike the local trails, you'll meander alongside some of the Midwest's most picturesque waterways.
In Missouri, outdoor fun happens year-round. Although the northwestern region state is mostly rural, Kansas City and surrounding suburbs offer big-city fun with numerous first-class tourist attractions, big-league sports teams, and museums and historic sites of national importance. North of Kansas City is the Missouri River Valley, a major flyway for waterfowl, bald eagles and songbirds.
Nearby Public Land: The Mark Twain National Forest is one of the most popular haunts for chasing turkeys, this public land hot spot should be a must on the lifetime to-do list.
Historical Note: April 3, 1860, marked the beginning of St. Joseph's most romantic adventure. That day the city became embedded in history books when the Pony Express sent its first daring horseback rider to Sacramento, Calif., carrying mail to the Western frontier. Although the Pony Express operated for only 18 months, preservation of the stables and headquarters has kept the legend alive. St. Joseph is also the town where outlaw Jesse James met his demise. The small-frame home where a gang member shot him in 1882 still stands to mark the end of the notorious bank and train robber.
Pittsfield, Illinois
Few deer hunting counties register in the minds of bowhunters across the nation like Pike County. It just so happens that this Illinois county makes them drool.
Bowhunters arrive in mass to Pittsfield and Pike County every year. They know the odds of taking a trophy whitetail are better here than almost anywhere in the United States. It doesn't get much better than hunting in the N0. 2 county in the country for monster bucks that grace the pages of the Boone and Crockett and Pope & Young record books. But the fun doesn't end there. Pike County has a long tradition of hunting native bobwhite quail and working with bird dogs. And the duck hunting is literally out of this world. Hunt diver ducks along the great Mississippi River, or mallards, wood ducks and teal in flooded bean, corn and millet fields.
Nearby Public Land: Nearby Great River National Wildlife Refuge takes credit for much of Pittsfield's attraction, just a short distance to the town's west. Great River is the central refuge within the Mark Twain National Wildlife Refuge Complex, which stretches 350 miles along the Mississippi River through Iowa, Illinois and Missouri. The Great River NWR manages approximately 15,000 acres across 100 river miles and lies within the Mississippi Flyway, and you know what that means.
The refuge provides several public-use opportunities including hunting, fishing and hiking (not all activities are allowed on all divisions).
Historical Note: Abraham Lincoln and Stephen A. Douglas spoke in a Pike County courtyard during the 1858 senatorial campaign. Lincoln's private secretaries, who accompanied him to the White House, were from Pittsfield.
Fave Eats: The Red Dome Inn and Lounge. If you go, get the Prime Rib. It's their specialty.
Don't Miss: 20 Deer Hunting Lies Your Granddaddy Told You
Editor's Note: This was orginally published on December 14, 2007.
Are you a big game hunter wanting to learn how to accomplish your goals? Check out our stories, videos and hard-hitting how-to's on big game hunting.