Four professionals dish on the day-to-day realities of photographing big bucks, big bears, wild turkeys, elk, sheep and more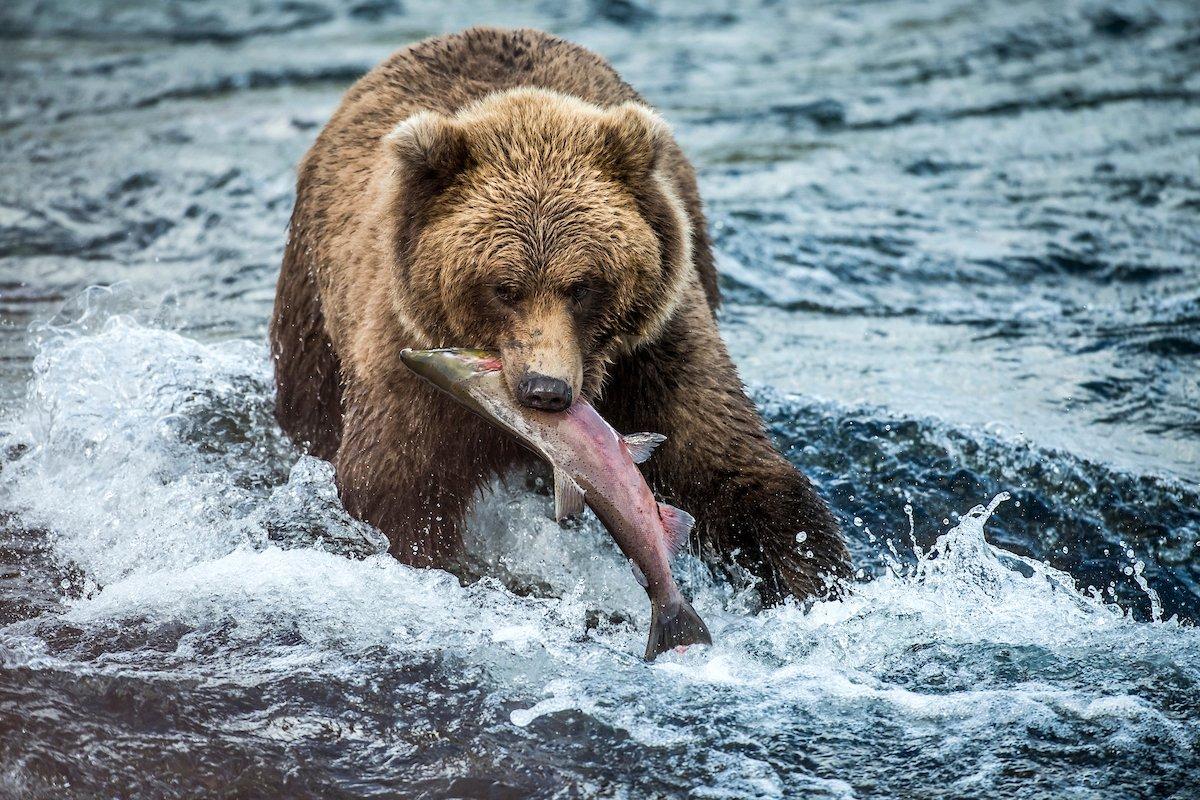 Getting paid to trek through wilderness in pursuit of stunning wildlife images would seem to be a dream job for many. But the life of a wildlife photographer isn't always glamorous. Tough weather and terrain combined with long hours at the computer are part of the job description. But pros John Hafner, Tes Randle Jolly, Russell Graves and Tony Bynum say the tough times are worth it. We sat down with each of them to ask about what it takes to succeed, their most interesting moments from the field, their favorite gear, and more.
John Hafner
INSTAGRAM: @johnhafnerphoto
WEBSITE: https://johnhafner.photography
John Hafner has traveled on assignment from Alaska to Zimbabwe, but he calls Montana home. His work can be seen in advertising campaigns, catalogs, magazine stories, and all over Realtree.com.
On Mentors.
Most '80s kids had Indiana Jones and Star Wars posters on their walls. I had Charlie Alsheimer's best whitetail photos on mine. He was a legend in whitetail photography, and my first hero.
On Making Money.
The bulk of my wildlife photo sales used to be with magazines. That's shifted considerably to social media over the past few years. Clients used to license pics for editorial; now they license them for social posts and blog content. I also license stock wildlife pics for my clients' ad campaigns and other projects.
Favorite Critters?
Turkeys. I also love to photograph whitetails, mule deer and elk. There's nothing like late September / early October here in the Rocky Mountains during the elk rut.
How Being a Hunter Helps.
Hunting skills help you know where to find animals, how to get close to the wildlife and where to put your ground blind. You've got to be in the right place at the right time, and that includes when the light is right.
Where to Begin.
I'd start by building a solid portfolio and promoting the heck out of it. I'd put images on social media and tag the brands I wanted to work for. I'd study those brands' campaigns, and determine the type of images they like. If I wanted to sell my image to a particular magazine, I'd study the magazine's editorial style. You can't just shoot a bunch of images, put them on Flickr and expect the phone to ring off the hook. Most importantly, I'd find a mentor. For me it was Charles Alsheimer, Tim Christie and Mitch Kezar.
On Close Calls.
In 2009, I was photographing hunts in Zimbabwe. As we shot pics of a hunter and his eland bull, Augustine, our game ranger, pointed his binoculars at a nearby herd of elephants and yelled for us to leave immediately. In the blink of an eye, the lead matriarch elephant shook her head, trumpeted and ran straight toward us — with more than 25 companions following behind her. They closed the gap from 100 yards to 30 in no time, as our group scattered in all directions. With no cover other than some scrub brush to hide behind, I hit the dirt and put my photo backpack over the back of my head and neck, a feeble attempt at self-preservation. The herd ran past me at probably no more than 20 yards. Once the herd passed, we regrouped, grateful that no one was harmed.
Equipment Breakdown:
Cameras:
Nikon D850 (DSLR; full-frame)
Nikon Z6 (mirrorless; full-frame)
Fujifilm X-T4 (mirrorless; APS-C sensor)
Nikon 1.4X teleconverter
Nikon 1.7X teleconverter
Fujifilm 1.4X teleconverter
Lenses
Nikon 500mm f/5.6
Nikon 200-400mm f/4
Nikon 300mm f/2.8
Nikon 300mm f/4
Fujifilm 100-400mm f/4.5-5.6
Fujifilm 50-140mm f/2.8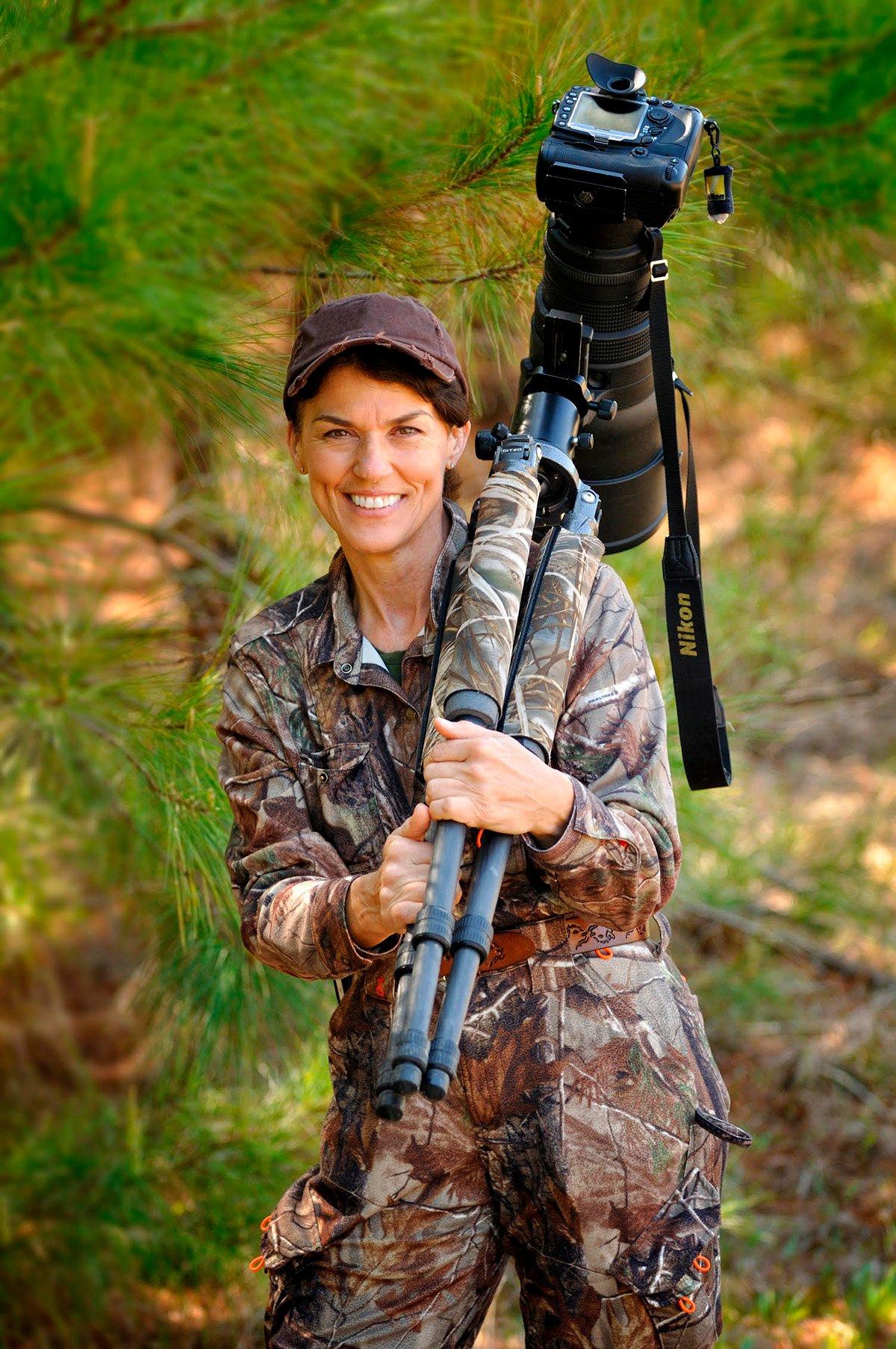 Tes Jolly
INSTAGRAM @jovtes
FACEBOOK: www.facebook.com/tes.jolly
Tes Jolly of Tuskegee, Alabama focuses most of her energy on capturing remarkable wild turkey and whitetail photography throughout the Southeast.
On Self-Starting.
I inherited my love for photography from my father who was an avid outdoorsman and always had a camera with him. I'm self-taught and learned from attending photography seminars and reading books and online material. I also researched how my favorite photographers captured their images. Most importantly, I found a mentor, and I recommend others do the same.
While working as a guide at White Oak Plantation in Tuskegee, Alabama, I met several magazine editors who began buying my images, especially my wild turkey photos. I also reached out to local magazines, newspapers and conservation publications, which began publishing my work.
On Making Money.
I sell my photography to a variety of outlets, including print and online publications, books and for product packaging, such as ammo. My photography is also turned into fine art. Wildlife artist Ryan Kirby has used several of my photos for his paintings. You can check out my wild turkey photography in my husband's book Memories of Spring, which is a collection of stories centered around turkeys and the people who hunt them.
On Specializing.
Consider specializing in something that no one else does. For example, I focus on photographing wild-turkey behavior. The biological part of it fascinates me. Editors know that I'll most likely have images of just about any wild-turkey behavior they need to supplement their articles.
On Running a Business.
Running a successful photography business requires much more than just marketable photos. You've got to be an efficient book keeper and an accountant, too.
Equipment Breakdown:
Nikon D5 DSLR
Nikon D500 DSLR
Nikon 400 mm f/2.8 telephoto lens
Nikon 200-400 mm f/4 zoom telephoto lens
Nikon 70-200 mm f/2.8 lens
Gitzo tripod with Kimberley head
Russell Graves
INSTAGRAM: @russelgraves
WEBSITES: www.russellgraves.com, www.wildlifephotoshow.com
For 25 years Russell Graves has traveled throughout the Lone Star State capturing the wonders of Texas wildlife through photography and the written word. But he's also traveled the world photographing wildlife and guiding other budding photographers.
On Texas Roots.
I grew up in a Texas farming and ranching family and developed a love for the outdoors at an early age. My brother loved photography and when he passed his old camera to me, I instantly fell in love with it too. I started photographing wildlife such as turtles, snakes and deer, around home. When I turned 18, I sent a package of photos to a publication and immediately got rejected, but I was undaunted. I learned from my mistakes and from others, and when I was 19, I sold my first magazine article and photo to Texas Trophy Hunters. When I was 20, I sold my first magazine cover. After that, I split my time as a school teacher and photographer for 10 years, and then made the decision to go fulltime with photography.
On Making Money.
I sell photography for both editorial and commercial purposes. I also write and enjoy providing story/photo packages to print and online publications. In addition, I'm a guide and educator for Backcountry Journeys, where I get to take other photographers to wildlife-rich areas around the country and the world and offer hands-on instruction for capturing the best wildlife images.
Favorite Critters?
Alaskan brown bears, big mule deer and Texas whitetails
On Expanded Opportunity.
The big opportunity these days is in the number of outlets you can pursue. For example, some people just want to produce and sell fine-art photography. There are also opportunities for doing nothing but providing images for companies' social media feeds. Twenty-five years ago, people said the invention of the Internet would cause magazines to die, but there are actually more magazines now than ever. Those getting started are fortunate because there are opportunities now that weren't there 20 years ago. Smart people find those opportunities and exploit them.
On Having the Shutter Bug.
I love photography so much that when I have time off from work, my hobby is taking photos. My ability to press a button on a camera and make something other people find value in has blessed my life immeasurably. I like using my skills as a hunter and applying them to photography, but if I had to choose, I'd rather hunt game with a camera.
Check out Russell's e-book link at: https://www.russellgraves.com/p/books
Equipment breakdown:
Canon 1d Mark IV Camera
500mm f4 lens
Gitzo tripod with a gimbal head
Canon cameras and a variety of lenses.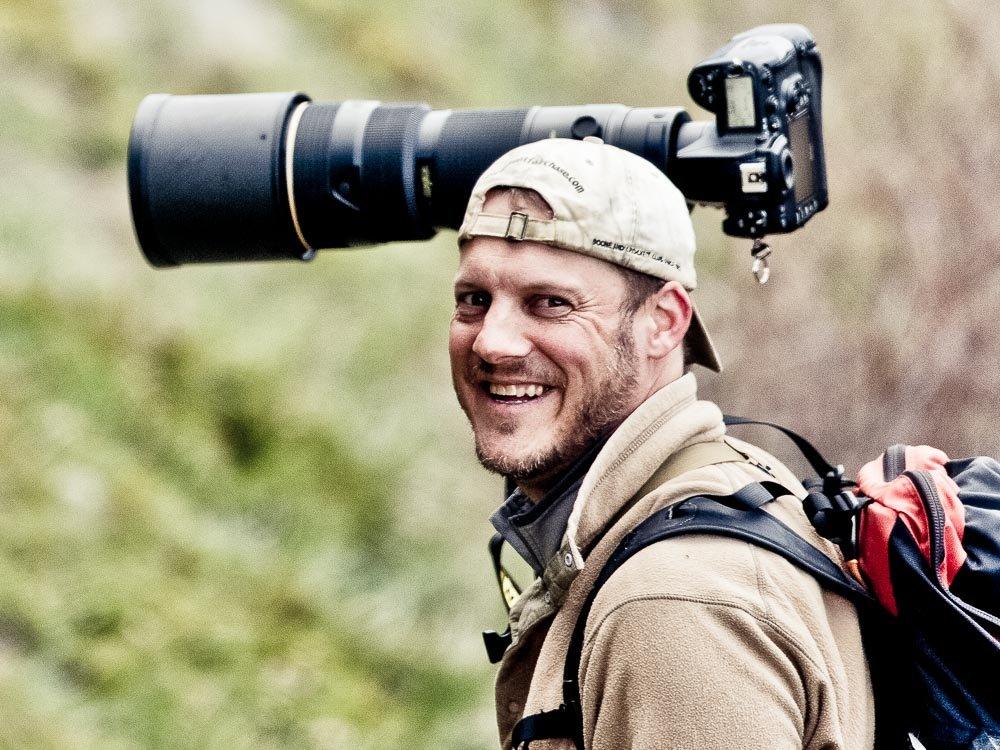 Tony Bynum
INSTAGRAM: @huntphotos
WEBSITE: https://www.tonybynum.com/
Tony Bynum has traveled the word shooting images for some of the most-recognized brands in the outdoors. He regularly works with nonprofit organizations, collaborates on documentaries and speaks around the country on conservation, photography and the business of photography.
On Getting Started.
I've always had a passion for the outdoors. Photography began as a hobby, and then, like everyone, I began thinking it'd be great if I could make money at it. I developed a pretty strong portfolio of wildlife images and focused on a couple of things, such as learning about light and camera work. I also focused on species I was really interested in, such as mule deer, bighorn sheep, mountain goats and elk. I worked on shooting images worthy of being published. I shot about four or five years in an effort to build a portfolio before I quit my day job.
On Making Money.
The bulk of my income comes from magazine photos. I also write magazine articles and provide images for non-profit organizations.
Favorite Critters?
North American wild sheep.
On Sacrifice.
You are not paid for your effort. You're just paid for the image you produce. For every one beautiful photo, there can be nine days of hell. One year I spent 31 days in Alaska in a tent and had four days of shooting light. When I could get out and produce photos, I did. That is an extreme example, but for every good photo you see, there are days and hundreds of hours of time invested.
Find a Niche.
For example, I have access to mussels, so I've built a photo catalog of freshwater mussels. A friend of mine said he sells more scat photos than anything else.
On Close Calls.
I was sitting on 10-foot-wide ledge when I saw a patch of hair over the cliff face, and thought it was a wolverine. All of a sudden, a head pops up right in front of me, 6 feet away. It was a grizzly bear, and she had a young cub with her standing right between her front legs. My bear spray was laying between me and the bear, so there was no way to protect myself with that. I managed to talk her into leaving me alone. I remained calm and while not looking the bear in the eye, I talked and shimmied my way out of the situation. I was lucky for having survived that.
Equipment breakdown: