Wild pigs are tough, surly, and currently running out of control across the country. Here are 10 rifles suited to quell the swine rebellion.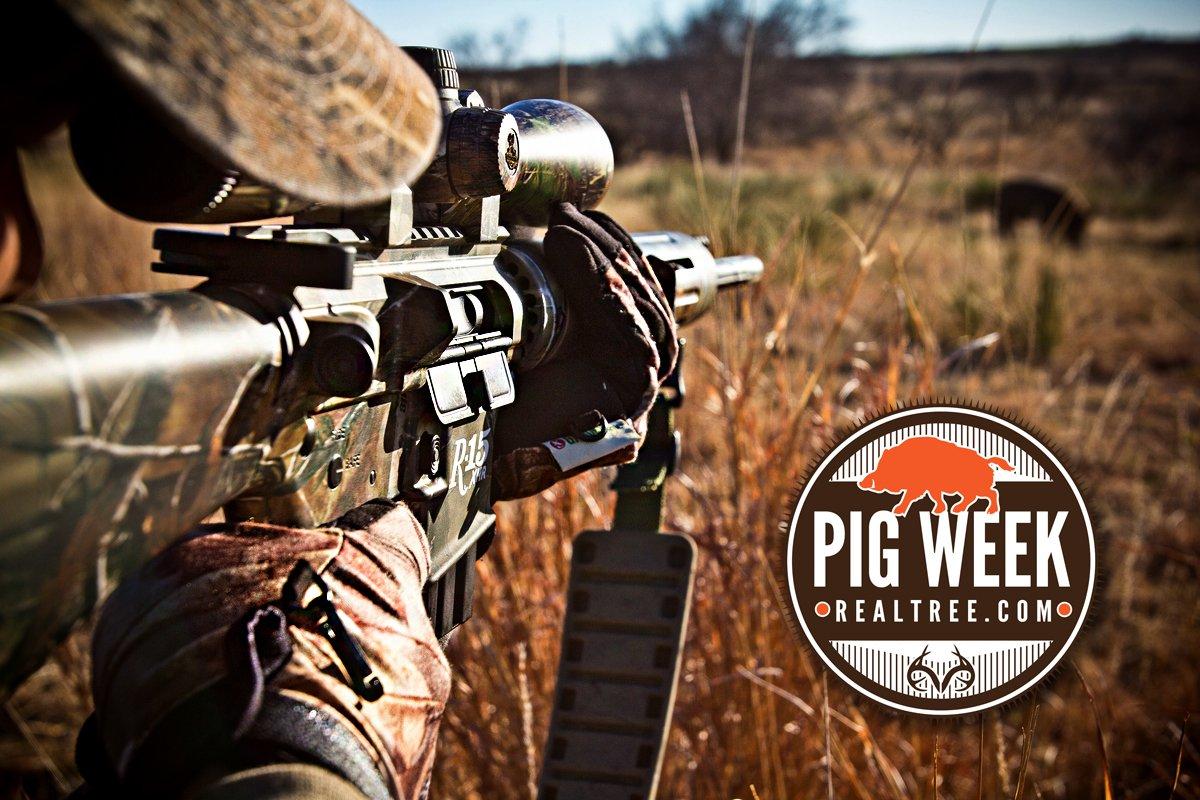 Any bullet and rifle combination you'd use for deer hunting will kill a hog deader than dollar gas, but then again, you can pound a nail with a monkey wrench if that's all you have. Since surly wild boars can weigh 300 pounds and grow tusks the size of small Soviet sickles, I prefer a firearm of adequate caliber—.260 or better—that's capable of delivering multiple rounds in rapid fashion. In short, some hog guns are better than others. Here's my top 10, starting with number 10.
10. Remington 7600

You may not realize how fast Remington's venerable 7600 pump rifle can lay down lead, but Pennsylvanians do. Because semi-autos are banned for big game hunting there, and because this state's legion of 1 million deer and bear hunters routinely drive thick cover where shots at running animals are commonplace, the 7600 is the ticket. Chambered in .270 and .30-06 with 4-plus 1 magazine capacity, it's plenty for pigs and then some. It swings like a bird gun, drops pork chops like hot potatoes and is reasonably priced at about $700.
9. H&H Double Rifle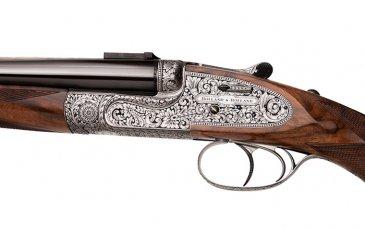 Big wild boars can be dangerous, yet most states don't even mandate the purchase of a license to hunt them. For that reason I've deemed boar hunting the poor man's dangerous game hunt. In lieu of dropping $150K on a full bag safari for Africa's big five, drop what you're doing and hunt five big boars instead. With all the money you'll save, you can buy a Holland and Holland Royal Deluxe Flanged Double Rifle to get the full-safari effect. It is, quite simply, the best firearm money can buy. Every bit of it—from the hand-engraved, hand-detachable side plates, the fully figured deluxe walnut stock, the ivory express sights, the precisely regulated .300 H&H caliber bores—is hand made to your exacting specifications. While all other guns can jam or a trigger can break, the Holland's dual trigger mechanisms all but guarantee two fast shots. If you can't kill a charging boar with two, well then, it's time to cash in your chips anyway.
Speaking of cash, did I mention this work of practical art costs $173,000? If you really want danger, Ole' Chap, charge the deposit to begin building yours on the Visa without first consulting your wife, and prepare for dangerous action as she morphs into a snarling lioness.
8. Smith and Wesson .460VXR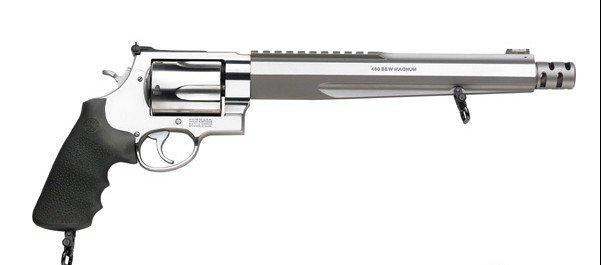 For those who think hog hunting with a rifle isn't quite challenging enough, there's always hog hunting with a handgun, where you're almost guaranteed to miss the first four shots. If you're going to carry a revolver, might as well carry one big enough to do the job. That's one reason why Smith and Wesson made the .460XVR chambered in the hog (and hand) hurting .460 S&W Magnum, which pushes a 300-grain bullet to around 2,000 fps. It'll also shoot "mild" .454 Casull and .45 Colt ammunition, just in case you need to dispatch a piglet. Built on Smith's robust X-Frame, the XVR is a stainless-steel wheel gun that's as smooth as a Singer sewing machine—and at 82 ounces, almost as heavy. But that's a good thing, because if it were any lighter, it'd be hard to handle. Just be thankful that the pigs will feel the worst end. $1,629
7. Big Medicine

If it was big medicine on lions and Cape buffalo for Teddy Roosevelt 100 years ago, the Winchester Model 1895 in .405 Win. should knock out even the toothiest wild pigs as if mainlined with a five-shot dose of Demerol. First offered in 1896, the eight-pound, top-ejecting '95 lever gun was offered in several calibers including .30-40 Krag and .30-06, but it's the cigar-sized .405 round that will most emphatically transmit your no-pig-policy to those which root up your food plots. Winchester re-marketed the rifle as recently as 2005, but now those retro models and true collector's editions can be purchased in pawn shops and on gunsamerica.com. Although prices vary, the fact that this rifle is big pig medicine does not. Around $2,200.
6. Blaser R8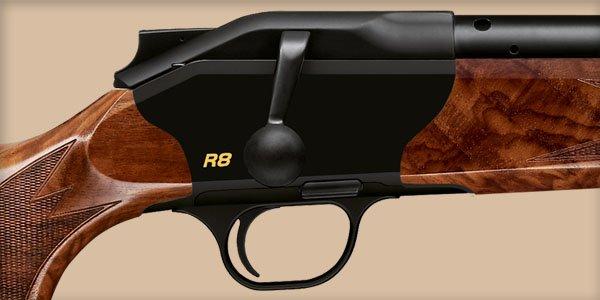 Europeans know a little something about wild boar hunting; after all, they've been dealing with the wild swine scourge since the down of mankind, not just since the 17th century when Desoto brought them over from Spain. Europeans often hunt hogs by driving them past shooters, and that means most shots are taken while they're haulin' ham. So a fast-action rifle is best. Blaser's R8 rifle provides all the accuracy of a bolt gun, yet its straight-pull bolt design is much quicker to work than typical bolt actions. Simply shoot it, pull the bolt back, slam it forward and shoot again. It's available in many versions of embellishment, stock material and caliber options, but I'd go with a short-action magnum like the .300 WSM so you can keep your cheek welded to the stock while working the short bolt throw. Although pricey at a couple grand on up, the Blaser has proven very safe, accurate, and faster than any bolt gun on the market.
5. Nemo Omen Match 2.0

The only reason Nemo's Omen Match 2.0 AR-10-style rifle in .300 Win Mag isn't higher on this list is because its $5,000 price tag is above the means of many blue-collar hog hunters. But that doesn't mean it's not the perfect pig gun. Why? I'll state this again: It's an AR chambered in .300 Win. Mag! Custom machined with a top-notch trigger and barrel, it's as accurate as any expensive bolt gun, thereby making it wonderful for long range swine sniping. With its two 14-round magazines, you won't often have to reload while plugging pigs as quickly as you can pull the trigger. Put night vision optics or a thermal scope on its lengthy Picatinny rail and you'll have a hog heyday in the middle of the night.
4. Savage 11 FCNS Hunter

This top 10 list must include at least one of the dozens of moderately priced, super-accurate bolt-action deer rifles that likely take more pigs than any other style of gun. Maybe it's a Remington Model 700, Ruger M77, Winchester M70, Browning A-Bolt, Thompson Center Icon, Sako 85, or another, but if I had to pick one blindly, I'd go with the Savage 11 FCNS Hunter, simply because it's known for out-of-the-box accuracy and an every man's price tag of around $700. I'd buy it in the venerable .30-06 Springfield and never worry about buying another rifle. While it won't win any beauty contests or wow your friends with dripping sex appeal, it will silence them when it sends a bullet to a hog's heart from 400 yards. A synthetic stock assures it against crappy weather, and its Savage-patented barrel nut system and AccuTrigger virtually guarantee it sub-moa accuracy if you do your part. Put a decent scope on it, buy a couple boxes of premium ammo and simply go hog hunting.
3. Marlin Guide Gun

If there's a cooler hog gun in the world than Marlin's 1895GBL Guide Gun, please leave a comment here and inform ignorant old me, because I'm not aware of it. This newer version of the Marlin classic holds 6-plus-1 rounds of the pig-punishing .45-70 cartridge, all fired as fast as you can work the lever. At just 37 inches overall length and weighing 7 pounds, you can carry it on your horse, atv, stuff it in your truck box or carry it all day on your back in pursuit of pigs. Its hooded open sights are best for the thick cover where hogs normally hang, but it's also drilled and tapped for scope mounts if you prefer to lob bullets at them from afar. Pilgrim, if John Wayne were alive and was deputized to ride down and kill every outlaw pig on the planet, this is the rifle he'd carry. Around $600
2. Smith and Wesson M&P 10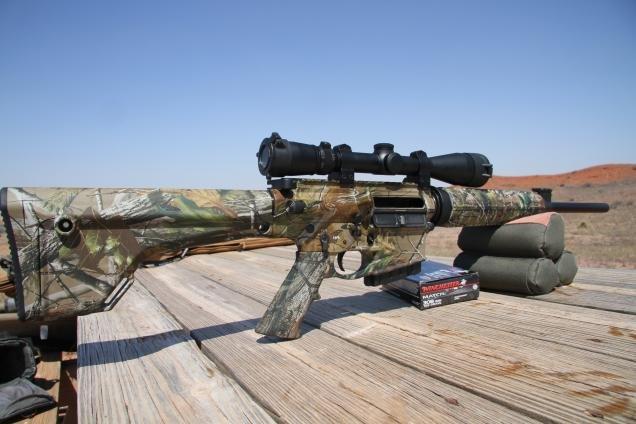 While I could've chosen virtually any AR-10 style rifle for the No. 2 spot on my list, there are some subtle yet significant differences among the hordes of semi-automatic .308 ARs on the market. I chose Smith and Wesson's M&P 10 due to its excellent full-length Magpul stock, ambidextrous controls and its proven accuracy. But let's not forget the general reason why it rests near the top of this list. In essence, it's an 8-pound rifle that can fire up to 20 rounds of the venerable .308 Winchester (7.62 NATO) as fast as you can yell pigs aplenty! Pasture damaging pigs often run in packs, and as American sportsmen its our duty to plug as many of them as possible when given the chance, and so the Smith and Wesson M&P 10 is near perfection. Plus, it comes in Realtree, and for that I give it major points.
1. Browning BAR ShorTrac Hog Stalker

In 1917 John Moses Browning designed the Browning Automatic Rifle (BAR), and since it's killed more enemies of America than just about anything else. It served our men in every major conflict from World War I to Vietnam, and so sporting versions of it should be all the pig gun American hunters need. But the new BAR—while similar in nature to its combative brother—has undergone major changes to make it ideal in the pig woods. Browning's BAR ShorTrac Hog Stalker is a 10-round semi-auto .308 rifle that feels more like your deer rifle than an AR-15. Frankly, I wish it didn't have the pistol grip—that will just make it illegal in several jurisdictions—but everything else, from its full-length stock with interchangeable cheek pads, Picatinny rails and attachment points, Dura Touch coating that's grippy and quiet, a trigger guard-mounted safety and legendary BAR accuracy and dependability are spot on. Is it a coincidence that it's also available in the best camo pattern ever designed, Realtree's Max 1? I think not. For about $1,500 this ultimate pig rifle can be yours, so you can best perform your duty as an American sportsman.