Have You Been to Any of These?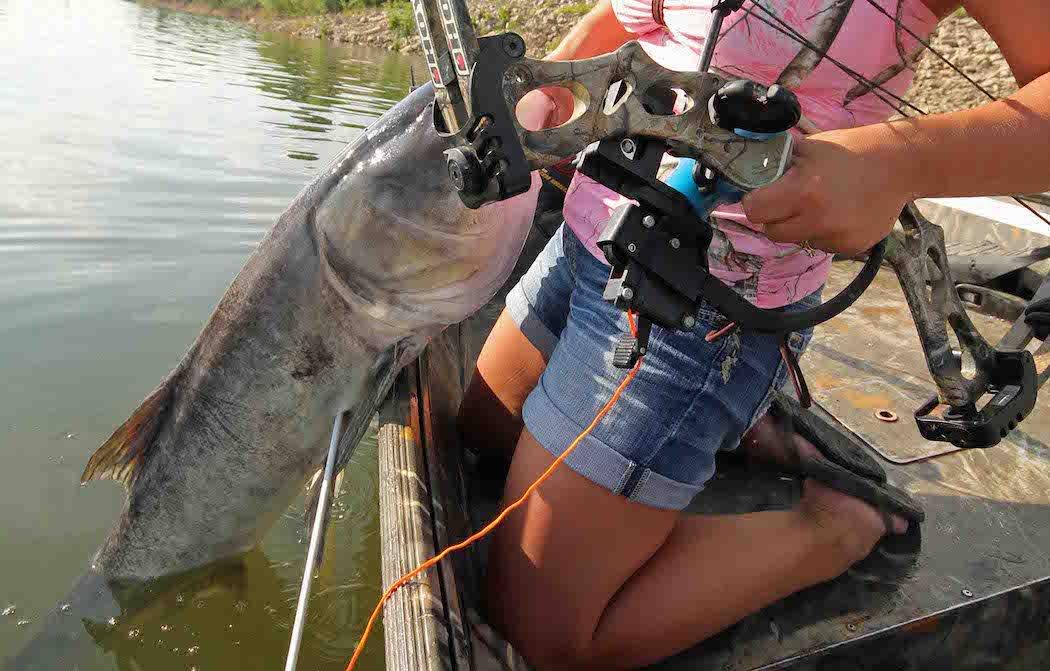 What's the best bowfishing spot in the country? That depends on what you're after. Is it quality or quantity? Are you willing to put in the time for a single big gator gar or paddlefish? Or do you want to shoot 100 jumping carp in a day?
The best places to enjoy bowfishing vary as widely as the fish you might be shooting. This list covers lakes, rivers and coastlines across the country that offer outstanding bowfishing opportunities for a variety of species. No doubt, someone's favorite waters were overlooked in this list. If so, leave a comment and tell us where it is.
Trinity River, Texas
I know, I know. Texas has more outstanding bowfishing water than the rest of the country combined. To pick one waterway and say it's the best without argument is impossible. But so is trying to argue the Trinity River shouldn't be in the conversation of overall best. If you want to shoot an alligator gar, then the Trinity has to be on your short list of places to go. From Dallas to Houston, this river is a producer.
Gear Review: Field & Stream Men's Insect Repellant Balaclava Shirt in Realtree EDGE
Top Species: Alligator gar, common carp, buffalo, drum, bowfin
Bull Shoals Lake, Arkansas
Tucked away in the heart of the Ozark Mountains is one of the most scenic, sportsman-friendly, underutilized waters in America―Bull Shoals Lake. This 45,000-acre impoundment of the White River is best known for bass and walleye fishing, but it truly is a bowfishing paradise. Water clarity is phenomenal and competition is scarce. Along with the strong populations of common carp and gar, you can legally bowfish for catfish on Bull Shoals during the open season.
Top Species: Catfish, common carp, gar
Mississippi River
The Mississippi River is the granddaddy of all American waterways. Picking one spot to highlight as the best out of the river's 2,320 miles is impossible. It can honestly be said that no matter where you launch on the Mississippi, you're close to prime bowfishing. The farther south you go, the larger and more treacherous the main river channel becomes. It can be dangerous for those unfamiliar, especially at night. Along the entire river, look for slack water eddies and bayous where rough fish stack up.
Top Species: Gar (including alligator gar down south), paddlefish, common carp, Asian carp, buffalo, drum
Florida Gulf Coast
From the party capital of Panama City down to the Keys, Florida's entire stretch of Gulf Coast offers excellent bowfishing opportunities. Sandy beaches, 80 degrees, palm trees and daiquiris sound pretty good anytime of the year. For those of us residing north of the Mason-Dixon Line, it's paradise come February. The abundance of saltwater species, the year-round fishery and the exquisite edibility of the targets makes the Florida Gulf Coast a dream destination for shooting fish.
Top Species: Stingray, sheepshead, mullet, catfish, flounder, drum, spade fish
Illinois River At Peoria, Illinois
If you've never been on a river infested with jumping silver carp, then it's hard to truly grasp the spectacle. Watching it on television doesn't do it justice. Twenty-pound-plus fish are blowing by your head. If and when one smacks you, it hurts. Shooting these invasive species out of the air is an absolute riot. You don't need a guide. Any boat with a motor will work. Have your shooters ready when you lay the hammer down on the throttle, because silver streaks of flying fish are soon going to be coming at you from every direction. Plucking one out of the air is tough. Hope you paid attention in high school physics.
Top Species: Asian carp (silvers and bigheads)
Lake Michigan's South Shore
The entire inland ocean of the Great Lakes offers bowfishing opportunity. The south shore of Lake Michigan is exceptionally good because of warmer weather, long stretches of wadeable beaches and warm-water industrial areas. The steel mill stretch of the south shore is sectioned off into harbors and bays that are teeming with fish. A boat is best, but in accessible areas, shooting from rock walls is possible. Stalking the scenic, wildlife rich marshes of the Indiana Dunes National Lakeshore for carp spawning in ankle deep water is as close to shooting fish in a barrel as one can get in the wild.
Top Species: Common carp, buffalo, drum
Louisiana Gulf Coast
Imagine racing through foot deep swamps in an airboat pushing 40 miles per hour. A single log could send you swimming with alligators. The brackish backwaters of the Louisiana Bayou are home to adventure and a variety of both fresh and saltwater bowfishing targets. Bowfishing is a popular sport in south Louisiana, so finding an outfitter online is easy. The spectacles of a Bayou adventure make this trip a must.
Top Species: Redfish, drum, sheepshead, catfish, gar, flounder
Missouri River, Kansas City to St. Louis
From its origin at Three Forks, Mont., through its many impoundments of South Dakota and on down through Nebraska and Iowa, the Missouri offers exceptional bowfishing opportunity. The uninterrupted stretch from Kansas City to St. Louis is big-river bowfishing. You're dealing with the Big Muddy, here. It's no joke. This is a strong and powerful waterway. The fish feel it too, so look for them behind wing dikes, in large eddies and at confluences with smaller rivers and creeks.
Top Species: Gar, paddlefish, common carp, Asian carp
St. Lawrence River
The history of the St. Lawrence River makes this waterway special to all Americans. Its abundance of carp makes it special to northeastern bowfishermen. Big carp roam the St. Lawrence. It would not surprise anyone if you showed up at the boat dock with a 40-plus-pounder. Carp stack up around the locks in the river. You need a boat, and must make sure to obey the boundaries when fishing near locks. The St. Lawrence is one place to find schools of huge carp.
Top Species: Common carp, drum, suckers
California Coast
There are two things I'm really scared of. One, cemeteries. Look, they just creep me out. Always have, always will. Two, sharks. This phobia stems from a Florida vacation when I was 8 or 9. We went to a beach near St. Petersburg where only days before a girl had her foot bit off by a shark. My mom intentionally scared my brother and I so bad, we wouldn't consider swimming. The fear stuck. To get even with sharks for causing me such mental anguish, I hope to someday arrow one and then eat it steak by steak. But I don't want to arrow some little wimpy shark. I want a mako. And the place to do this is southern California.
Top Species: Mako shark, blue shark
Want to see some bowfishing action? Check out the Bowfishing Show, playing every week on Realtree.com. Test your bowfishing IQ by clicking here and taking our bowfishing quiz.
Editor's Note: This was originally published on June 6, 2013.
Are you a bowhunter wanting to learn how to accomplish your goals? Check out our stories, videos and hard-hitting how-to's on bowhunting.