This Bone Collector lives the Realtree life
Many Realtree fans have grown to love the character they know as "T-Bone" who appears on Bone Collector and Realtree Road Trips. Travis Turner is also an archery professional and tournament champion. In the following interview, Turner talks about how his work with Realtree has evolved from tuning a few bows to becoming one of the most popular hunters on television.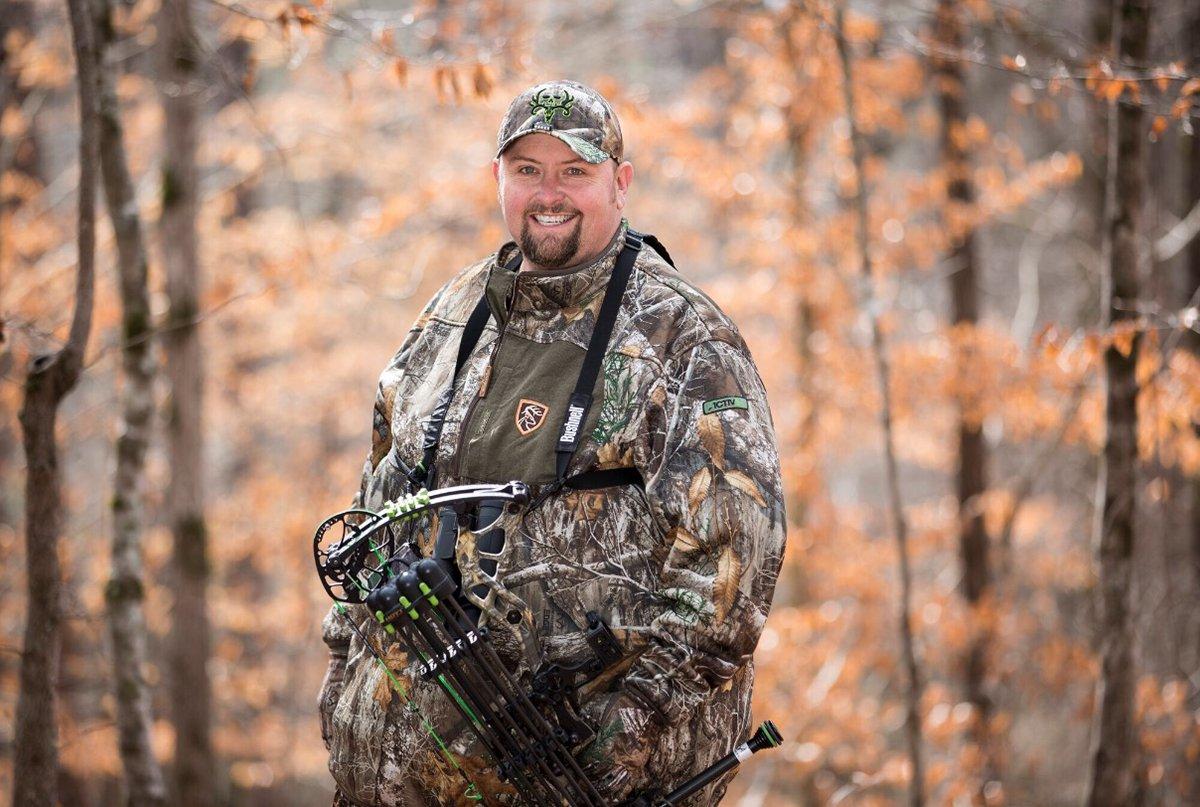 When did you start bowhunting?
I started bowhunting in 1987. I participated in 3D competitions before I started bowhunting. The competitions sparked my interest. I competed as an ASA and APA Certified Pro shooter, competing on the pro tour for over 15 years and winning the 1991 ASA Archery World Championship. I had my share of podium finishes and several state titles during that time.
What's your favorite game to hunt and why?
I love hunting whitetail deer. They are very challenging because no two animals are the same. I enjoy whitetail management as well. I'm really into the entire aspect of deer management and harvest.
Why did you decide to open an archery shop?
I decided to open the archery shop because I have a strong love for the sport. In the early 1990s, while working as manager of a sporting goods store, I decided that owning an archery shop would open up an avenue for doing something that I love. I competed in 3D competitions and wanted to have a career that centered on my passion. Little did I know when I opened my shop in 1995 that so many wonderful opportunities would become available to me. I no longer own that archery shop. The outdoor industry called me in a different direction. But I do have a really cool archery shop in my house now. It's just not open to the public. I still serve as archery bow technician for national celebrities, pro athletes and others in the outdoor industry.
How did you get the opportunity to work on the archery equipment belonging to Realtree's pro hunters such as Bill Jordan, Michael Waddell and David Blanton?
I started out tuning bows for my friend Glenn Gardner, a former Realtree cameraman, and David Blanton who lived in my hometown. Those two guys were really impressed by the good job we did with their bows. We care about the quality of work we do at the shop, and we go the extra mile for our customers. We take special care to do everything correctly. David and Glenn liked what we did so much that the other guys at Realtree decided to trust us with their equipment as well. We are constantly working on the Realtree bows because they get beat around so much from the constant traveling and harsh conditions. We make sure that Realtree's archery equipment stays in top shape throughout the season. I still work on about 50 bows each year.
Not only do you maintain the archery equipment for the Realtree team, but you appeared on Monster Bucks X and XI before starring on hunting shows. How did you get the opportunity to appear on these videos?
A couple of years prior to appearing on the Monster Bucks videos, I came up with target ideas for the archery competition on one of the Monster Bucks videos, and I helped set up the 3D course. I used my creativity with archery targets to add some excitement to the videos. David saw my enthusiasm, and with his and Steve Finch's help, my ideas just snowballed. They thought it would be fun to incorporate me into the videos as the character "T-Bone."
What's it like working with the folks at Realtree?
I've developed long-standing relationships with companies such as Realtree, Hoyt, Bone Collector and Whitetails Unlimited. I get so much enjoyment out of spending time with those guys. My work with them is a huge deal to me. I'm very impressed by the teamwork that goes into making Realtree what it is. Everyone takes a lot of pride in his or her work. The folks at Realtree care about their responsibilities, and everyone works for the same goal. The Realtree guys are respectful and professional in every sense of the word.
Who do you admire most at Realtree?
First of all, I appreciate all of them all for giving me a chance to be part of the team. I really enjoy working with everyone, and I'm looking forward to doing more. I especially admire David Blanton. He's a devoted family man and is very thoughtful, even down to the smallest details.
What's your favorite part about working with Realtree?
I co-host Realtree Roadtrips and Bone Collector for Outdoor Channel. Dedicated to conservation, I also serve as a national spokesperson for Whitetails Unlimited. I enjoy traveling and meeting other hunters from all over the country. I like hearing their hunting stories as well as their Realtree stories. I love working with the finely turned machine that is Realtree.
Have you learned anything about hunting from the folks at Realtree?
I've learned that hunting on camera is much more difficult than hunting without a camera. Trying to capture the hunting experience on film is very grueling. I had no idea about all of the hard work that went into filming these hunts until I actually started tagging along.
How many people recognized you as "T-Bone" when you're out and about?
Yes. I'm getting recognized more and more. While on a bow hunt in Ohio, David Blanton and I were standing in line buying our hunting licenses when a lady tapped me on my shoulder and asked me if I was T-Bone. She had a fit right then and there, and she made me wait while she went to get her husband. I was very flattered by her response. It's weird getting recognized hundreds of miles away from home.
What's life like today having a family, enjoying the outdoors, and being a co-host of two top hunting shows?
I can't tell you how fortunate I am to be in the position I am today. Growing up as just another country boy in Georgia, hunting and archery provided access to something I loved — the great outdoors. Now it's such a way of life my wife and I named our son Archer. I'm thankful for the ability to represent my family, my friends, and other proud Americans from around the country who share my passion for archery, hunting, the great outdoors and its conservation.
Don't Miss: Behind the Scenes with Melissa Bachman
Check out more stories, videos and educational how-to's on deer hunting.