C
25,000
Est. Whitetail Population
8,000
No. Licenses Sold Annually
$73.75
(Including habitat stamp)
Resident hunting license and deer permit
$496.75
(Including habitat stamp)
Non-resident hunting license and deer permit
192 1/8"
Taken by Eddie Kinney in El Paso County in 2003.
Record B&C Typical Stat
64
Total B&C Typical Entries
258 2/8"
Taken by Michael Okray in Cheyenne County in 1992 and currently ranks No. 65 overall.
Record B&C Non-Typical Stat
32
Record B&C Non-Typical Entries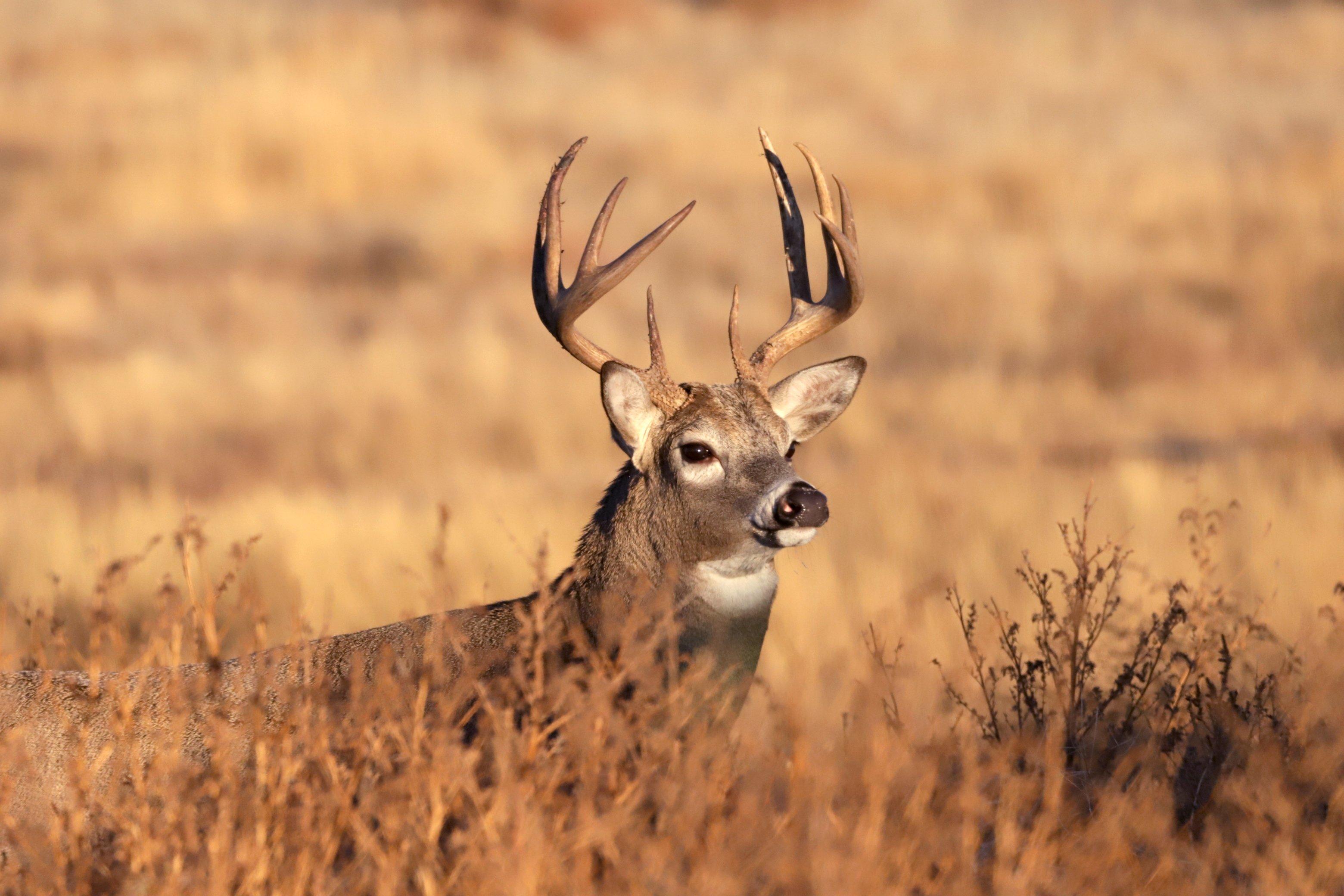 Check out the latest info for Colorado. Image by Robert Mondragon
Season Dates (2023):
Colorado's plains archery season (east of Interstate 25, except Unit 140) runs Oct. 1 through 27, Nov. 8 through 30, and Dec. 15 through 31. West of I-25 (and Unit 140), archery runs Sept. 2 through 30. The rifle seasons vary by unit but will be Oct. 28 to Nov. 5, Oct. 28 to Nov. 1, Nov. 11 through 15, Nov. 22 through 26, Dec. 1 through 14, and more, location depending. Muzzleloader hunts (draw-only) fall in September and October. Check the Colorado Parks and Wildlife website to confirm SPECIFIC SEASON DATES.
The Grade: C
Colorado is a mule deer hotspot, but this grade is for whitetails. Whitetail populations dominate the river bottoms that stretch from the Front Range to the Kansas border. These herds have been growing in recent years, prompting state wildlife officials to open some unlimited whitetail-only areas to keep them from expanding westward.
Although the Centennial State boasts more than 23 million acres of public ground, only a small fraction of that is in Colorado's river-bottom whitetail country. Still, there are about 80,000 acres of whitetail-rich public ground. And you'd be crazy to overlook them, as these parcels feature great deer hunting.
Deer biologists understand that the agricultural counties are popular destinations, but don't forget the sand hills. That aside, drainages to focus on include parts of the Arikaree, Arkansas, Big Sandy, and Platte. These areas generate lush early successional habitat with thriving pockets of whitetails. The eastern third of the state is the only option for whitetail hunting, big or small, but Logan, Powers, and Yuma counties offer some of the biggest record-book bucks. Big deer come from others areas, too, including Cheyenne and El Paso. Use Boone and Crockett records alongside the COLORADO HUNTING ATLAS to find a public-land destination in an area that consistently produces good deer hunting.
Unfortunately, this past winter was the worst Colorado saw in the past 70 years, especially for the northwestern corner of the state, specifically Moffat and Rio Blanco counties. Multiple heavy snowstorms with strong winds generated hard-packed snow that severely buried food for elk, mule deer, and pronghorn. To find food, thousands of animals migrated farther west, which caused these species to burn more fat, which is critical for wildlife to survive the winter.
Colorado experienced severe weather conditions through April, which created challenging habitat conditions for wildlife. As a result, the Parks and Wildlife Commission reduced big-game hunting licenses and shortened season dates (in certain areas) to account for the high mortality rates seen among mule deer, elk, and pronghorn populations.
Antler Nation Knowledge:
Although Colorado has numerous state wildlife areas that hold an ample supply of whitetails on its eastern side, many hunters ignore the opportunities along the Arkansas River drainage. Offering more than 20 SWAs totaling almost 50,000 acres of public access, this region holds some of the biggest whitetails in the state. And because of its location away from the populated Front Range, it often gets a pass from most whitetail hunters. Don't be one of them.
Because tags are only offered on a draw system — often coming with a steep preference point price — and buck-to-doe ratios run about 40-to-100 in these river bottom regions, good whitetail opportunities abound if you're willing to wait. CPW will require mandatory submission of chronic wasting disease test samples from all deer harvested for specific hunt codes. Check your hunt codes closely, as not all hunt codes in a given unit were selected for mandatory CWD testing.
Watch all the latest video episodes