B
350,000
Est. Whitetail Population
166,100
No. Licenses Sold Annually
$70 and up
A resident hunting license is $22. A deer permit is $33. There is a $15 habitat fee.
Resident hunting license and deer permit
$644 and up
Non-resident hunting license and deer permit
202"
Taken by David Brenigar in Wapello County, Iowa, in 1969.
Record B&C Typical Stat
846
Total B&C Typical Entries
307 5/8"
Taken by Tony Lovstuen in Monroe County in 2003. Ranks No. 6 of all time.
Record B&C Non-Typical Stat
650
Record B&C Non-Typical Entries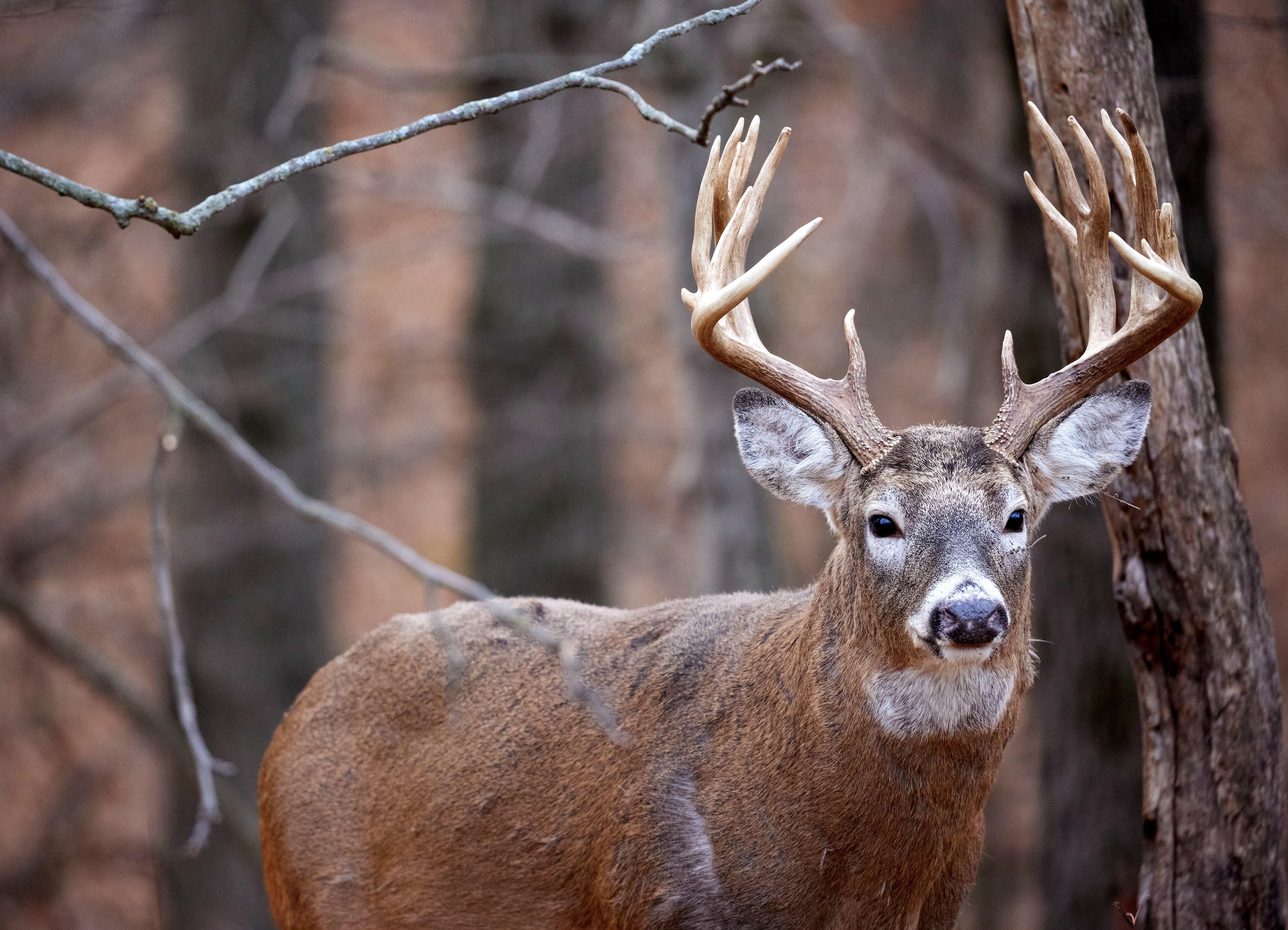 Check out the latest info for Iowa. Image by Rich Waite
Season Dates (2023):
Bow season spans Oct. 1 to Dec. 1. It reopens Dec. 18 and runs through Jan. 10. Gun season runs Dec. 2 through 6 and Dec. 9 through 17. Early muzzleloader season is Oct. 14 through 22. Late muzzleloader season is Dec. 18 to Jan. 10. Youth season is Sept. 16 to Oct. 1. Check the Iowa DNR WEBSITE to confirm.
The Grade: B
Iowa's deer hunting is really good. We aren't simply grading the quantity of big deer, though. Antler Nation takes into account all aspects, including expensive tags, steep preference points and the fact it takes most nonresidents three to four years to draw.
"The biggest change for the upcoming 2023-2024 deer hunting season is the addition of main-beam length reporting in harvest registration of antlered deer," said Jace Elliott, state deer biologist with the Iowa Department of Natural Resources. "This change was made to provide our department with information on the age structure of our buck harvest in Iowa. Hunters who register antlered bucks will be required to simply select whether each antler is less than 14 inches, or 14 inches and greater. Using data from over 1,000 bucks sampled across the state of Iowa, a 14-inch main beam is a threshold that can be used to determine whether bucks are yearlings (1.5 years old) or 2.5-plus years old based on whether the main beams are below or above 14 inches, respectively."
Unfortunately, Iowa is all too familiar with disease. Four counties were added to the chronic wasting disease zone. As a result, hunters can obtain additional antlerless licenses in these areas. On top of that, the state has dealt with epizootic hemorrhagic disease numerous times in the past decade. Southern counties were hit hard in 2019, and isolated events occurred in 2020 and 2021.
On the upside, the Hawkeye State is still considered the land of opportunity for those aspiring to put a big one on the wall. It's a magical place. It also has the ever-popular Help Us Stop Hunger program, which is one of the most notable venison donation programs in the nation. Plus, gun hunters are now able to use straight-wall cartridges during the gun seasons.
"I anticipate harvest will be fairly similar to last year, considering our stable to slightly increasing population trend statewide," said Tyler Harms, biometrician with the Iowa Department of Natural Resources. "I'm most curious to see what happens with the number of licenses issued. Last year, we saw a 6% increase in licenses purchased, which is the largest increase we've seen since 2005. This drastic increase was likely the result of the COVID-19 pandemic and people having more time, interest, and opportunity to hunt. It will be interesting to see what happens this year. As with any year, however, weather has a significant influence on harvest and on the number of licenses purchased, so we always hope for Mother Nature to be somewhat reasonable during the hunting season."
Overall, hunters still enjoy a lot of good things here. It gets another B this year.
Antler Nation Knowledge:
Unlike many places, Iowa hunters throughout the state enjoy good odds of tagging a really good deer. But there are two obvious hotbeds: southern and eastern Iowa. Southern counties such as Appanoose, Marion, Monroe, Van Buren, and Warren have solid reputations. Unfortunately, these are also some of the areas hit hardest by recent bouts with EHD. In the eastern region, Allamakee, Clayton, Delaware, Dubuque, Jackson, Jones, Linn, and Winneshiek counties crank out a lot of deer. Don't overlook other Iowa counties, though. Just because they don't rank as well doesn't mean they don't produce. Looking at Iowa, practically the entire state lights up with record-book entries.
"While most of the hotspots from previous years remain, we are seeing a steadily increasing deer population in north-central Iowa, which is great because we've been working to allow the population to recover in this area of Iowa for several years," Harms said. "Hunters are reporting increased deer numbers throughout much of north-central Iowa, so I anticipate increased harvest opportunity this year."
Examining the Iowa DNR website reveals public ground is evenly distributed THROUGHOUT THE STATE. There are no concentrated pockets. State forests make up the largest percentage of opportunities. However, there are additional options, including U.S. Army Corps of Engineers land, wildlife management areas and some federal ground.
Also, don't overlook the IOWA HABITAT AND ACCESS PROGRAM (IHAP). It offers more than 20,000 acres of private land open to all hunters. Many of these are smaller tracts of land but still harbor good hunting opportunities. The key is to hunt these as soon as they enter the program. When people learn of them, hunting pressure quickly follows.
The Iowa DNR also makes planning easy and does a great job tracking the deer harvest and offering detailed information to the public. Use its online databases to observe HISTORICAL AND REAL-TIME HARVEST REPORTS, as well as quota limits for SPECIFIC AREAS. These tools can help you plan your next out-of-state Iowa deer hunt.
"Compared to most other Midwestern states, Iowa is unique in that only about 5% of the state is forested," Elliott said. "The remaining natural landscape consists of upland prairies, pothole wetlands, and early successional cover. While most deer hunters look for big sections of forest to hunt, white-tailed deer are a generalist species that can thrive in a diversity of land cover types. Iowa is a place where hunters can find great luck by getting creative and hunting often-overlooked areas, using ground set-ups."
Watch all the latest video episodes