B
1,500,000
Est. Whitetail Population
475,000
No. Licenses Sold Annually
$17 and up
A firearms any-deer permit is $17. An archery hunting permit is $19. Additional antlerless-only permits are $7.
Resident hunting license and deer permit
$265 and up
A nonresident archery or firearm permit is $265 and additional antlerless-only permits are $25.
Non-resident hunting license and deer permit
205"
Taken by Larry Gibson in Randolph County in 1971. The buck ranks No. 4 of all time.
Record B&C Typical Stat
577
Total B&C Typical Entries
333 7/8"
Picked up in 1981 in St. Louis County, ranks No. 1 of all time.
Record B&C Non-Typical Stat
416
Record B&C Non-Typical Entries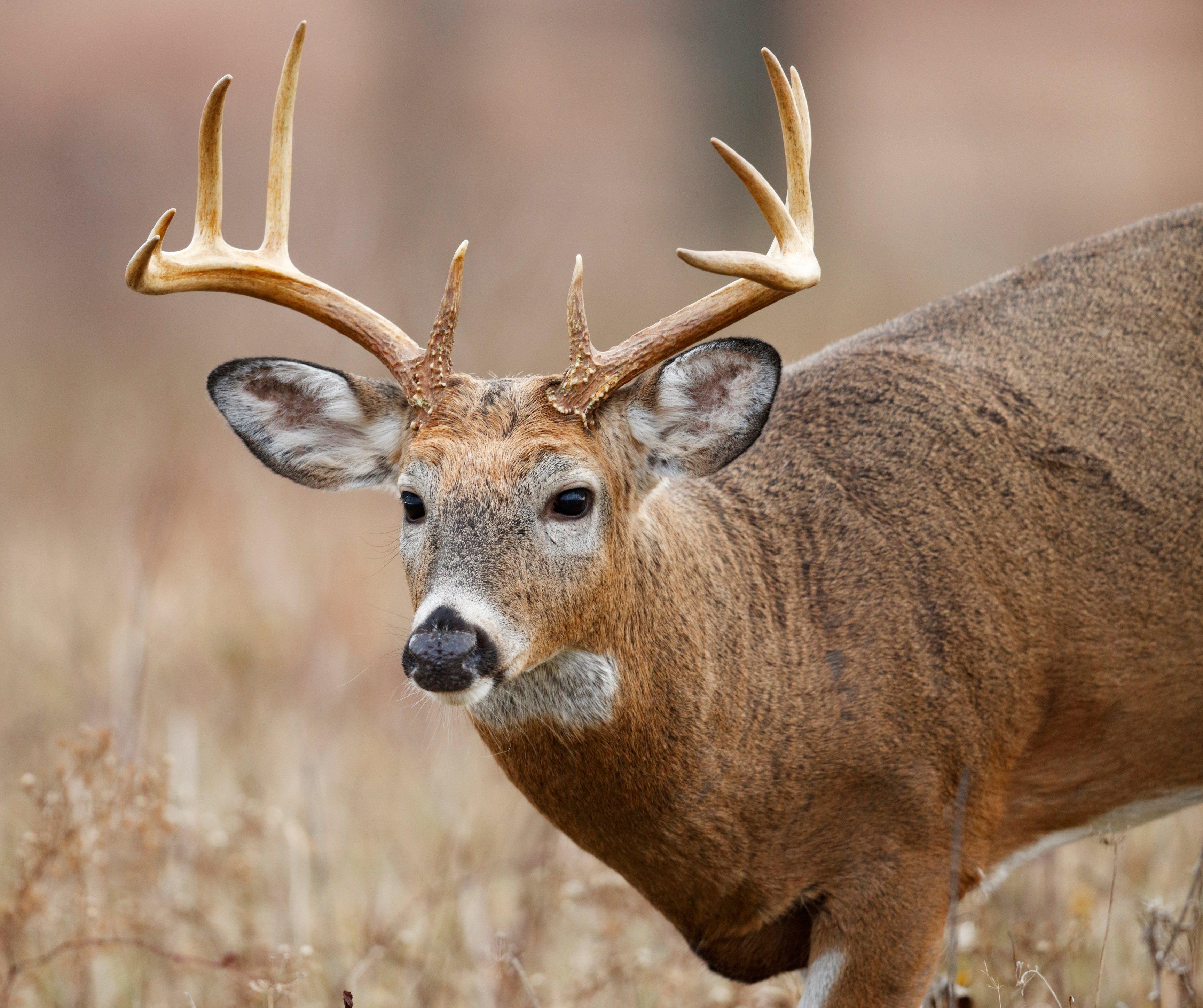 Check out the latest info for Missouri. Image by Paul Tessier
Season Dates (2023):
Archery season is Sept. 15 to Nov. 10 and Nov. 22 to Jan. 15. The main firearms season is Nov. 11 through 21. Alternative methods season is Dec. 23 to Jan. 2. The firearms antlerless-only season is Oct. 6 through 8 and Dec. 2 through 10. Youth season is Oct. 28 and 29 and Nov. 24 through 26. Additional season dates apply. There are antler-point restrictions in some counties. Check the MISSOURI DEPARTMENT OF CONSERVATION (MDC) WEBSITE to confirm season dates.
The Grade: B
Missouri offers solid deer hunting, but it isn't A-worthy. Hunting pressure is a sizable problem in certain regions. Factor in that it's a two-buck state with a lot of hunters, and deer get skittish quickly. It has great potential, but competition is stiff for the best areas. It also has expanding chronic wasting disease zones, which isn't good.
"Chronic wasting disease has the potential to greatly affect Missouri's deer herd," said Jason L. Isabelle, cervid program supervisor and certified wildlife biologist for the Missouri Department of Conservation. "First detected in the free-ranging deer population in 2012, CWD has now been found in 18 Missouri counties. Evidence from some other states has shown that when CWD prevalence rates become high enough, the disease can cause deer populations to decline. The Missouri Department of Conservation has taken an aggressive CWD surveillance and management approach to protect the state's deer herd by limiting disease spread and maintaining low prevalence in affected areas."
Still, the Show-Me State racks up a good number of Boone and Crockett and Pope and Young whitetails each year. It's also home of the enormous world-record nontypical. It was rightfully named the Missouri Monarch.
"In response to growing deer numbers in most Missouri counties, we have gradually increased the number of firearms antlerless permits that hunters can fill," Isabelle said. "Also, during the 2021 deer season, the length of the antlerless portion of firearms deer season (which is open in select counties) was increased in length from three days to nine days.
"I expect that hunters in most Missouri counties will enjoy a great deer season. Deer numbers are increasing in most Missouri counties, and the regulation changes occurring this year will provide hunters with more opportunity to hunt and harvest deer."
Antler Nation Knowledge:
Big deer are found throughout Missouri. However, if the goal is higher concentrations of top-end deer, look to the northern third of the state. Rich soils, varying timber, mixed grasslands, increased ag and antler-point restrictions really benefit this region. An older buck age structure is the result. Generally, the closer to the Iowa border, the better the hunting. Adair, Clark, Harrison, Knox, Linn, Macon, Nodaway, Putnam, and Scotland are top contenders.
"Although nice bucks are harvested throughout the state each year, northern Missouri generally has the greatest potential to produce larger-antlered bucks," Isabelle said. "The mixture of forest, cropland, and grassland of many northern Missouri counties provides ideal habitat for whitetails. There is an antler-point restriction in place in many northern Missouri counties, which helps to increase age-structure of the buck segment of the population."
Several central counties produce solid numbers of Booners, too, including Boone, Callaway, Howard, Jackson, Lincoln, Pike, St. Charles, St. Louis, and Vernon. Though record deer aren't as common in southern counties, and overall deer densities are lower, Greene, Phelps, and Pulaski counties produce solid stats for the region.
Public-land opportunities are in great supply. You'll find large tracts of public land managed by the U.S. Forest Service, U.S. Army Corps of Engineers and other agencies. Also, the MDC manages many conservation areas THROUGHOUT THE STATE. Many of these are weapon-specific. Some are even muzzleloader and archery or archery only.
"Missouri provides a tremendous amount of public land deer hunting opportunities," Isabelle said. "Visit mdc.mo.gov for more information."
There are new intra- and interstate carcass transportation regulations that take effect this year. This is aimed at slowing the spread of CWD. And fortunately for qualifying nonresident landowners, deer hunting permit prices are reduced.
Watch all the latest video episodes