B
1.34 million
Est. Whitetail Population
550,000
No. Licenses Sold Annually
$47
A license is $22. A deer permit is $10. A bowhunting permit is $15. A muzzleloading permit is $15.
Resident hunting license and deer permit
$140 and up
A license is $100. A deer permit is $10. A bowhunting permit is $30. A muzzleloading permit is $30.
Non-resident hunting license and deer permit
198 3/8"
Taken by Roosevelt Luckey in Allegany County in 1939, ranked No. 35 of all time.
Record B&C Typical Stat
107
Total B&C Typical Entries
244 2/8"
Taken by Homer Boylan in Allegany County in 1939. It ranks No. 192 all time.
Record B&C Non-Typical Stat
37
Record B&C Non-Typical Entries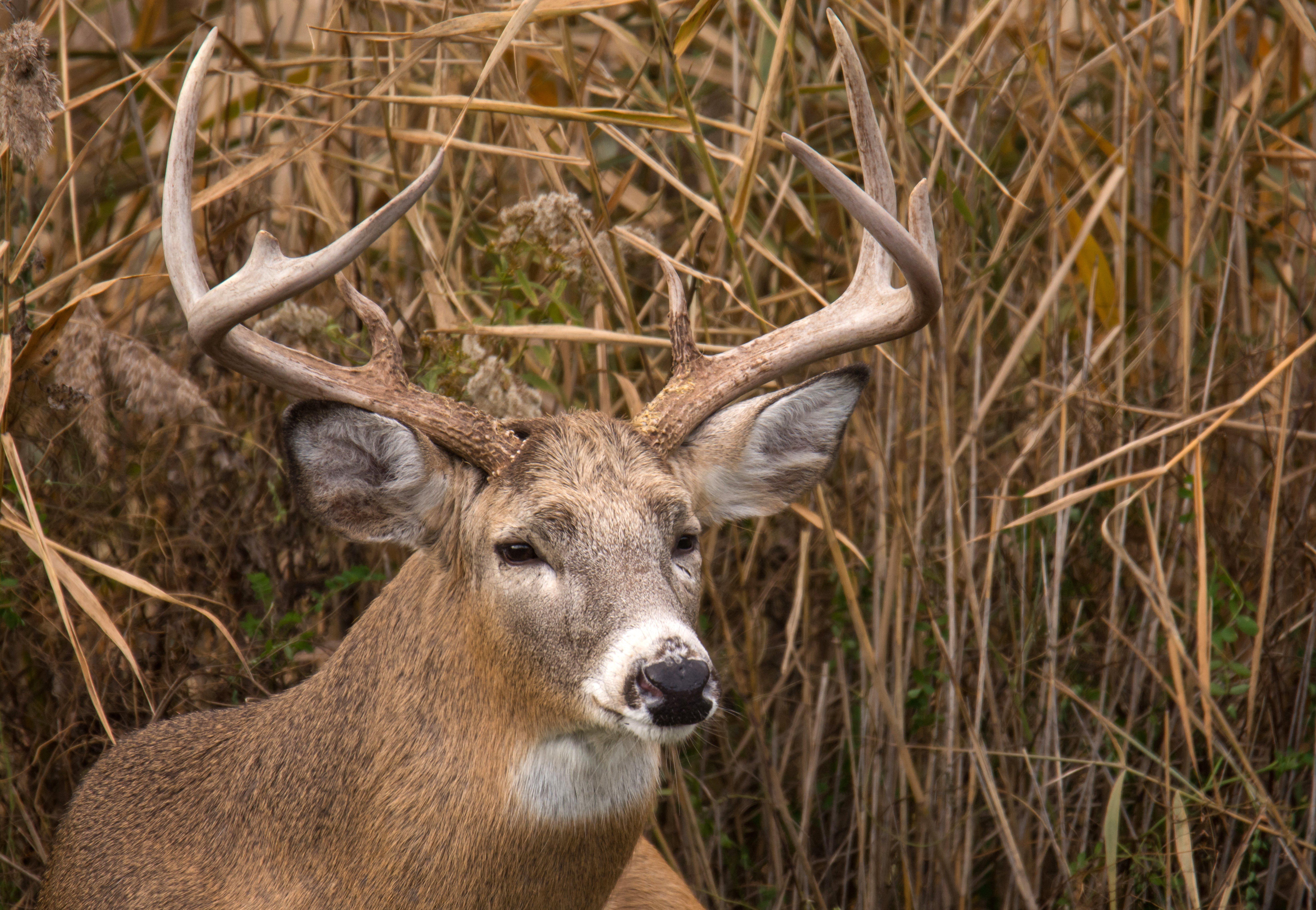 Check out the latest info for New York. Image by David Brace
Season Dates (2023):
Hunting seasons vary greatly by deer management zone. Check the NEW YORK DEPARTMENT OF ENVIRONMENTAL CONSERVATION WEBSITE to confirm deer season dates.
The Grade: B
After a scientific decision-making process determined that mandatory antler-point restrictions weren't popular, the New York Department of Environmental Conservation initiated a campaign for hunters to voluntarily let young bucks walk. Interestingly, it seems to be working. (It wasn't that hunters necessarily wanted to shoot little deer. It was just that they didn't want to be told they couldn't.)
More than 30% of typical and nontypical bucks in the B&C record book for the state have been entered in the past 10 years. Big deer aren't all from one area of the state, either. The latest entries have been submitted from about every area of New York.
Tags are easy to come by and relatively inexpensive, and public land is plentiful, particularly in the northern timber. Hunters across the state report healthy deer populations. Harvest numbers should be particularly good this fall.
"The age distribution of bucks available to hunters in New York continues to improve," said Brendan Quirion, wildlife biologist with the DEC. "Based on DEC's deer population monitoring, the buck harvest has shifted from more than 70% yearlings a couple of decades ago to greater than 60% 2.5-year-old or older bucks in recent years. Harvesting antlerless deer instead of young bucks contributes more to deer management and can increase hunter satisfaction through increased viewing of and opportunities to harvest older-aged bucks."
On the downside, although chronic wasting disease isn't widespread here yet, it's in the heart of the state. In 2019, the department prohibited the importation of whole carcasses of deer, elk, moose, and caribou into New York to help decrease the spread.
All things considered, New York pulls in a strong B. It's a fine deer hunting destination.
Antler Nation Knowledge:
New York has about 1 million whitetails, and it is hard not to include it as a top deer state. Add in the varied habitats, from suburbs to rolling farmland, to true wilderness timber up north, and there is an area for just about any hunting method. If you're looking for numbers, the east-central part of the state holds as many as 100 deer per square mile, which is almost 10 times what biologists would like to see.
Historically, the best counties for record-book whitetails include Allegany, Cattaraugus, Chautauqua, Erie, Genesee, Monroe, Niagara, Ontario, Orleans, Steuben, Tompkins, Wayne, and Wyoming. Even Orange, Suffolk, and Westchester counties (in the crowded corner of the state) are pretty good.
This state offers nearly 4 MILLION ACRES OF PUBLIC LAND to roam . The Adirondack Mountains in northern New York and Catskill Mountains in southeastern New York offer thousands of square miles of wilderness hunting. For hunters seeking to maximize their success, the highest harvest densities routinely occur throughout the western Finger Lakes region. Really good opportunities also exist in suburban areas throughout the state. Hunters seeking the greatest prospects for big deer should look to the Lake Ontario Plains of western New York.
For hunters seeking to extend their time afield, deer season runs through the end of December in Westchester County (bowhunting only) and through January in Suffolk County.
Watch all the latest video episodes