B
Unknown
Est. Whitetail Population
48,000
No. Licenses Sold Annually
$51
$30 deer permit, $20 hunting permit, and $1 hunting certificate.
Resident hunting license and deer permit
$272 (archery) and $277 (gun)
$250 archery deer permit or $255 gun deer permit, $20 hunting permit and $2 hunting certificate.
Non-resident hunting license and deer permit
195 2/8"
Taken by Kevin Bruner in Pierce County in 1994, it currently ranks No. 61.
Record B&C Typical Stat
89
Total B&C Typical Entries
254 6/8"
Taken by Rodger Ritchie in Mountrail County in 1968, it currently ranks No. 83.
Record B&C Non-Typical Stat
57
Record B&C Non-Typical Entries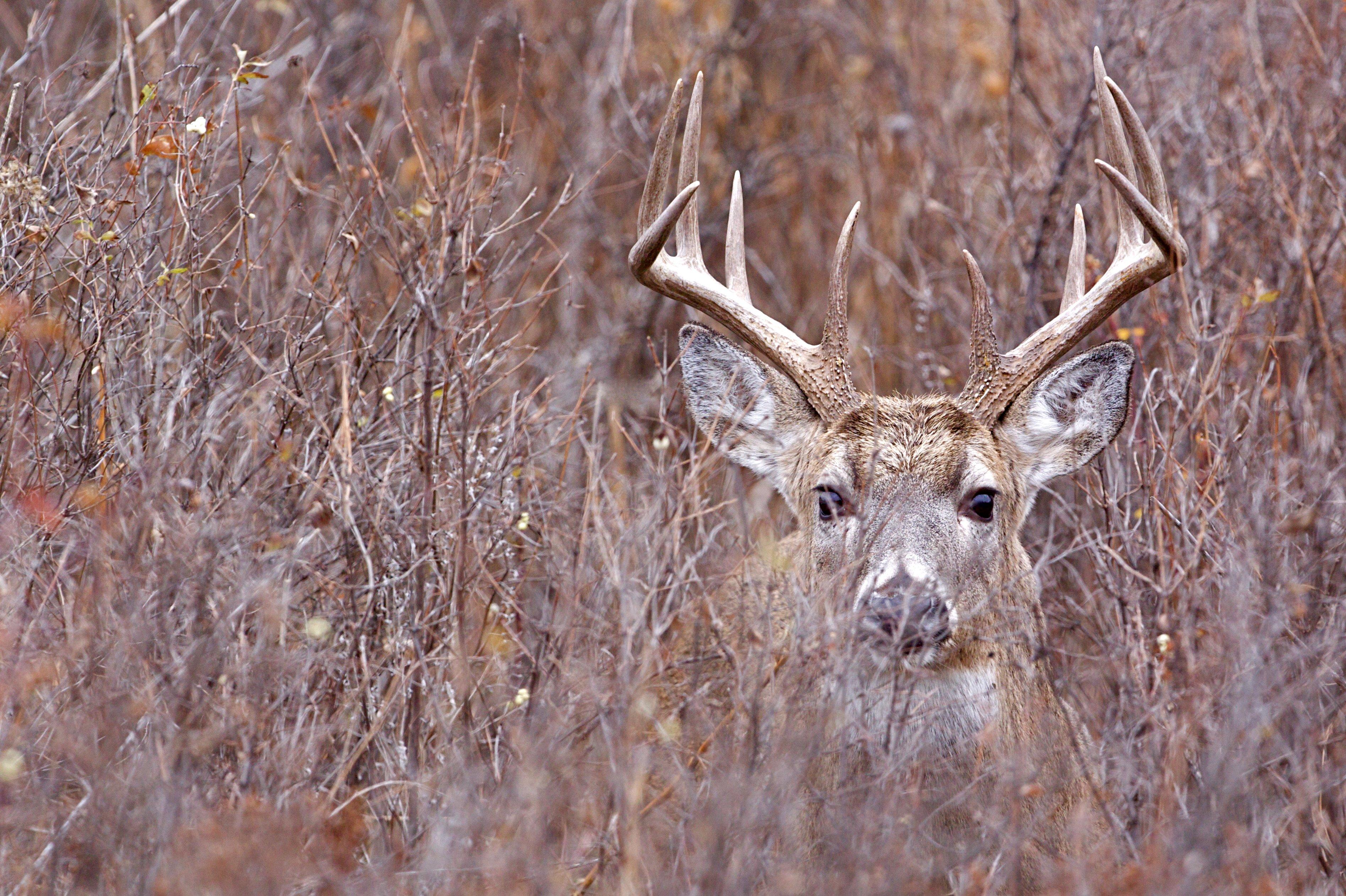 Check out the latest info for North Dakota. Image by Tom Reichner
Season Dates (2023):
Archery season opens Sept. 1 and runs through Jan. 7. Gun season runs Nov. 10 through 26. Muzzleloader season opens Dec. 1 and closes Dec. 17. Youth season is Sept. 15 through 24. Check the state DNR's WEBSITE to confirm.
The Grade: B
Unfortunately, whitetail numbers are still almost unknown throughout North Dakota. But NoDak hunting has a lot going for it. It has a low hunter densities, high success rates, lots of public hunting opportunities, affordable licenses, and good numbers of trophy bucks.
Deer tags are issued in a lottery system, though. Bowhunters enjoy higher odds of getting the green light. Rifle tags are extremely difficult to draw, even for residents. Muzzleloader tags are moderately difficult to obtain. With season dates beginning in early September for archery hunters, North Dakota offers excellent opportunities to bag a heavy velvet-antlered buck. Fortunately for North Dakota hunters, it's legal to enter posted land (without a firearm or bow) to recover game shot on land where the hunter had a lawful right to hunt.
Unfortunately, biologists expect fewer deer on the landscape this season because of die-offs from this past winter.
Antler Nation Knowledge:
After you have that tag, diversity is the key, and North Dakota offers it. From prairies to rolling hills, this state provides solid opportunity. This season, whitetail license holders in units 4B, 4C, 4D and 4E must hunt in their assigned unit for the first 2-1/2 days. After that, they can also hunt in the unit paired with their own.
Regarding trophy potential, the west-central portion of the state cranks out the most Booners. Burleigh, McHenry, McKenzie, McLean, Mountrail, Ward, and Williams counties are some of the best. Public-land hunters should take advantage of the North Dakota Game and Fish Department's PLOTS PROGRAM. This is private land open to sportsmen. There are other types of public, too, totaling about 2 million acres. In the eastern region of the state, it's hard to beat the Sheyenne National Grassland.
Watch all the latest video episodes