B
370,000
Est. Whitetail Population
115,000 (includes mule deer)
No. Licenses Sold Annually
$50 and up
License fees vary greatly by unit and license type.
Resident hunting license and deer permit
$311 and up
License fees vary greatly by unit and license type.
Non-resident hunting license and deer permit
193 2/8"
Taken by Glen McClane in 1948 in Sanborn County.
Record B&C Typical Stat
147
Total B&C Typical Entries
256 1/8"
Taken by Francis Fink in Marshall County in 1948 and currently ranked 83rd.
Record B&C Non-Typical Stat
76
Record B&C Non-Typical Entries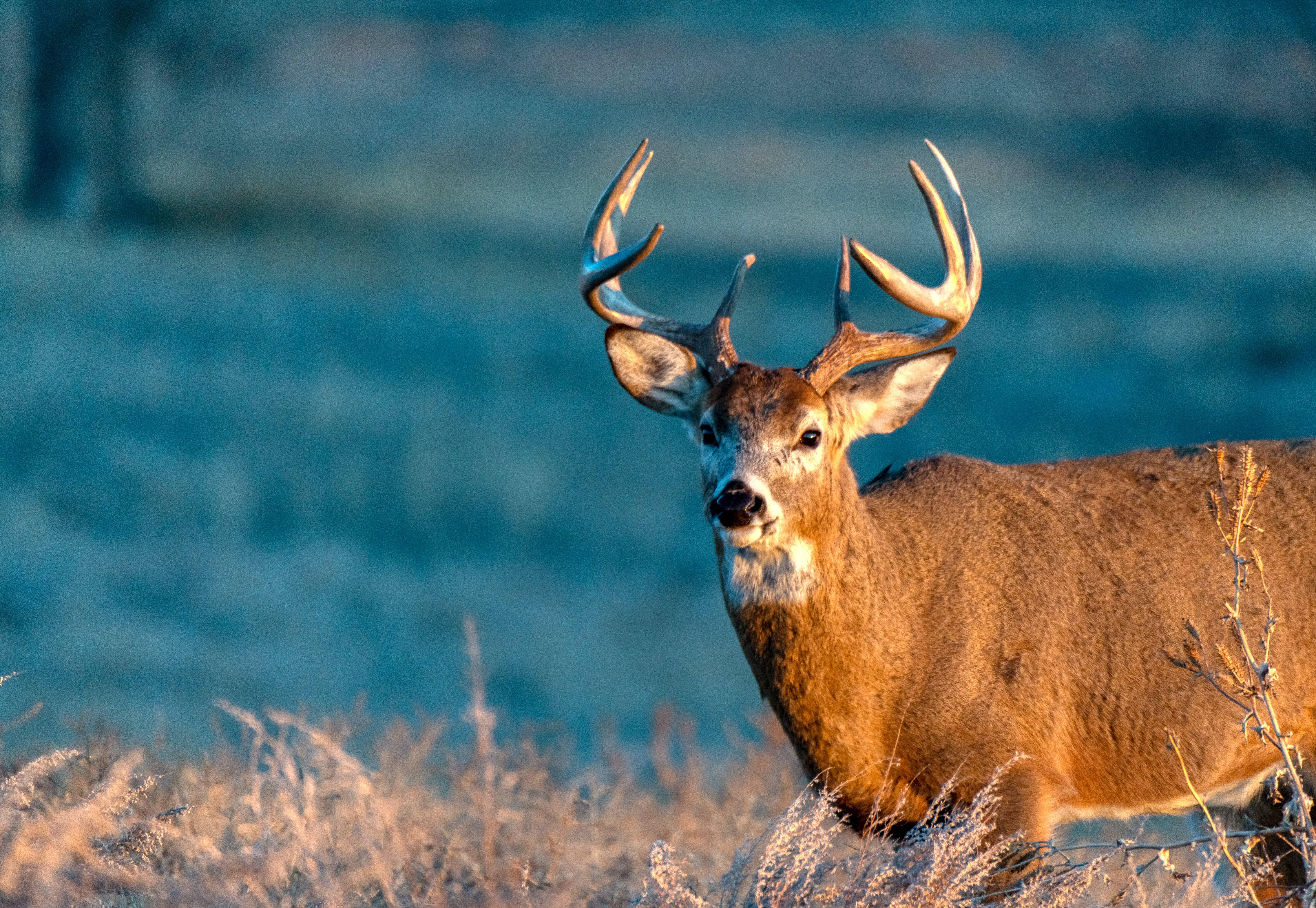 Check out the latest info for South Dakota. Image by Kerry Hargrove
Season Dates (2023):
Season dates vary by region, so check regulations for your area. However, for most hunters, bow season opens Sept. 1 and runs through Jan. 1. Rifle season dates vary greatly by unit. Muzzleloader runs Dec. 1 to Jan. 1. Other season dates for antlerless deer are weapon- and unit-specific. These are the dates set when published. Check the state DNR's WEBSITE to confirm.
The Grade: B
South Dakota has a history with rough winters and epizootic hemorrhagic disease. Fortunately, it hasn't taken a big blow from the dreaded disease since 2016. The state has experienced mild to moderate winters the past few years. These factors translate to increased deer densities and older buck age classes. The Mount Rushmore State deer herd is doing well.
"General trends for deer populations are increasing," said Steve Griffin, big-game wildlife biologist for South Dakota Game, Fish and Parks. "There are areas that experienced some deer loss to disease last year, but these populations are expected to rebound quickly."
With good deer populations, big-buck potential and fewer hunters than in surrounding states, it's hard to pass up. However, the tag system is complex in South Dakota, and the state recently made it more difficult to obtain nonresident licenses. Rifle tags were already difficult to get, and archery tags are harder to draw than previously. Still, all things considered, it earns a B again in 2023.
"One change that hunters should be aware of is that there are now limited nonresident archery licenses available on public lands," said Andy Lindbloom, senior big-game biologist for the South Dakota Game, Fish and Parks. "Individuals may still purchase private land-only licenses over the counter. Hunters should also be reminded that South Dakota consists mostly of private land, much of which is available for public access through GFP's access programs. Permission is required to hunt on private land that is not in one of these programs. It is a good idea to obtain."
Antler Nation Knowledge:
Upland bird hunting is king throughout South Dakota. More than 200,000 pheasant hunters hit the fields annually. Because of this, South Dakota Game, Fish and Parks designed its public hunting opportunities mostly for pheasant hunters, but whitetails also abound in these areas. Here, hunters have nearly 5 MILLION PUBLIC ACRES TO ROAM. Don't overlook all the opportunities, including Bureau of Land Management, game production areas, grasslands, national forests, walk-in areas, and other public places open to hunting.
When it comes to giant bucks, the eastern third of the state has the goods. Historically, Brown, Clay, Day, Lincoln, Minnehaha, Roberts, Spink, Hand, Union, and Yankton counties are top producers. But if you fancy the western region, don't overlook the Black Hills National Forest. It offers more than a million acres of solid hunting. Statewide, much of South Dakota consists of hills and prairies. Setting up at higher elevations and glassing everything below is a solid tactic, regardless of where you end up.
And don't miss the new CWD regulations.
"Hunters should be aware of new CWD regulations in South Dakota," Griffin said. "The GFP Commission has revised regulations for the transportation and disposal of deer and elk carcasses from other states and from the county of harvest within South Dakota."
Watch all the latest video episodes