Chadd Lemaster encountered a 200-inch deer on the muzzleloader opener, but the buck busted him. Lemaster got a second chance when the buck assumed a daylight pattern in mid-October.
Rack Report Details
Buck:
200 3/8"
Time of Year:
October 10, 2023
Place:
Cloud County, Kansas
Weapon:
Ravin R5X crossbow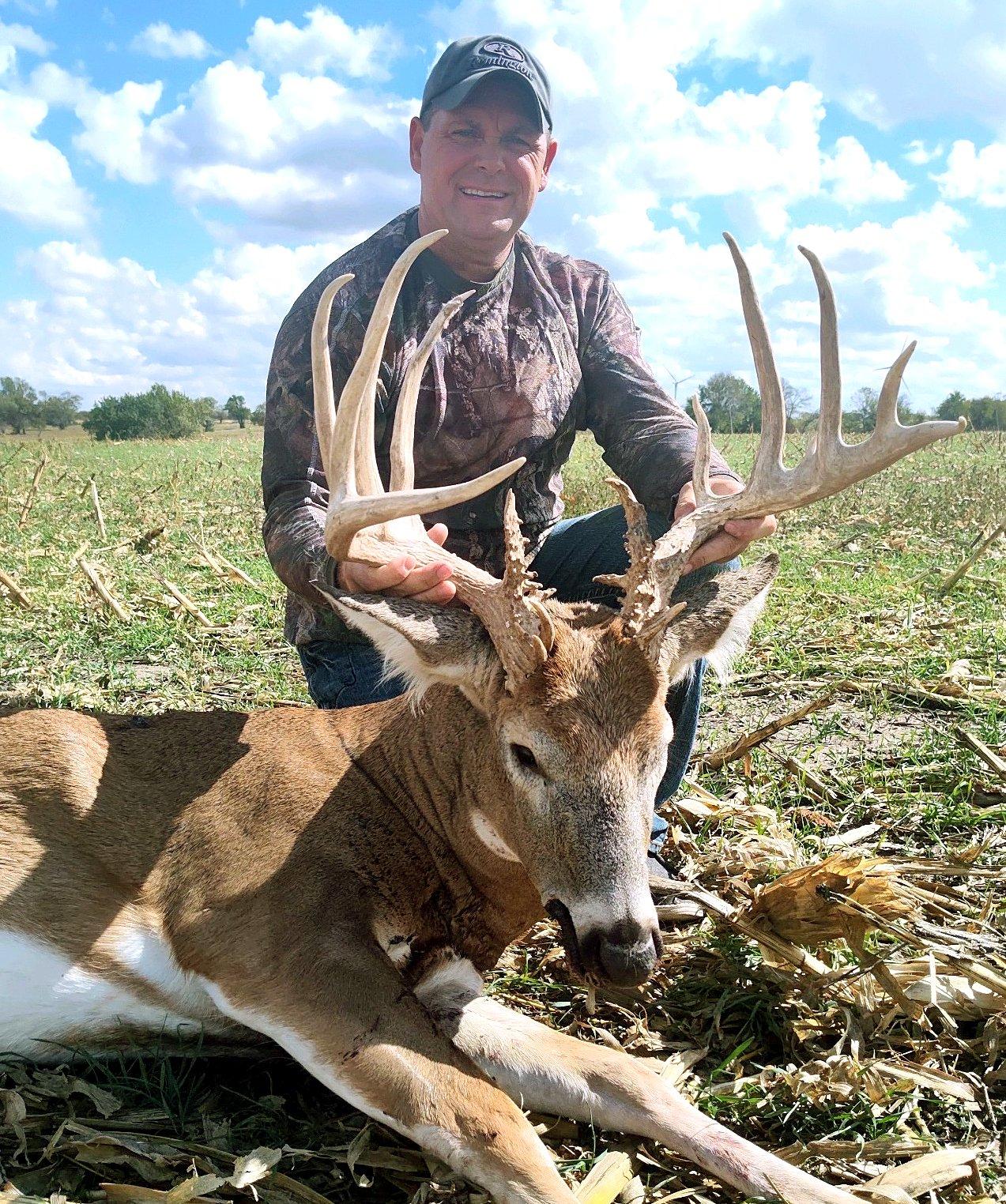 Pictures don't quite do this Kansas monarch justice. What a monster! Image courtesy of Chadd Lemaster
Chadd Lemaster initially wasn't keen on the idea of a guided Kansas whitetail hunt, since he himself is a Kansas resident. But his friend, Matt Leach, was trying to grow his Kansas outfitting business, which is called Freedom Outfitters, LLC, and was looking to book some clients. Leach proposed that Lemaster come and hunt with him.
"Because I'm a Kansas resident, I told him I wasn't interested," Lemaster said. "During our conversation, I explained that leasing hunting land is more my speed. That's when he offered a semi-guided hunt. He also told me about the deer that I ended up killing this fall. He showed me pictures of the buck a year ago as we discussed plans. In fact, he had been on that buck for three years."
Per the arrangement that the two gentlemen worked out, Lemaster's first hunt on the property was during the muzzleloader season.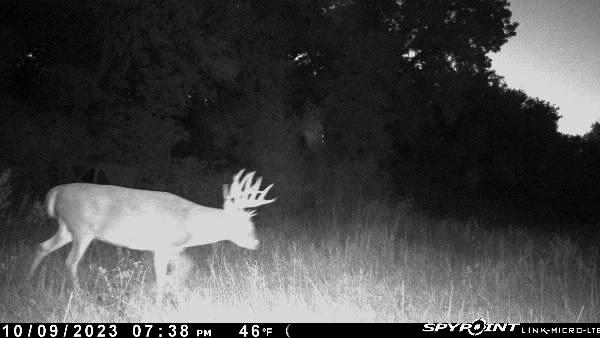 The buck assumed a pattern of staging just off a cornfield, and Lemaster was able to swoop in and capitalize on it. Image courtesy of Chadd Lemaster
"I wanted to hunt early season and try to get the buck right away," Lemaster explained. "I slipped in there on opening night, which was September 11, with a cameraman. The buck walked in to about 15 yards, but shooting light had ended. And then he winded us. We barely even saw him. He basically stuck his head around the corner, then snorted and took off."
Lemaster and his cameraman discussed plans for hunting the buck as they walked back to the vehicle.
"I told him that we can't bump the buck like that," he said. "It was really hot and the wind was swirling. The weather just wasn't cooperating, so we chose to leave and let the buck calm down. I made arrangements with Leach to return during the pre-rut. He felt that it was a wise choice and agreed."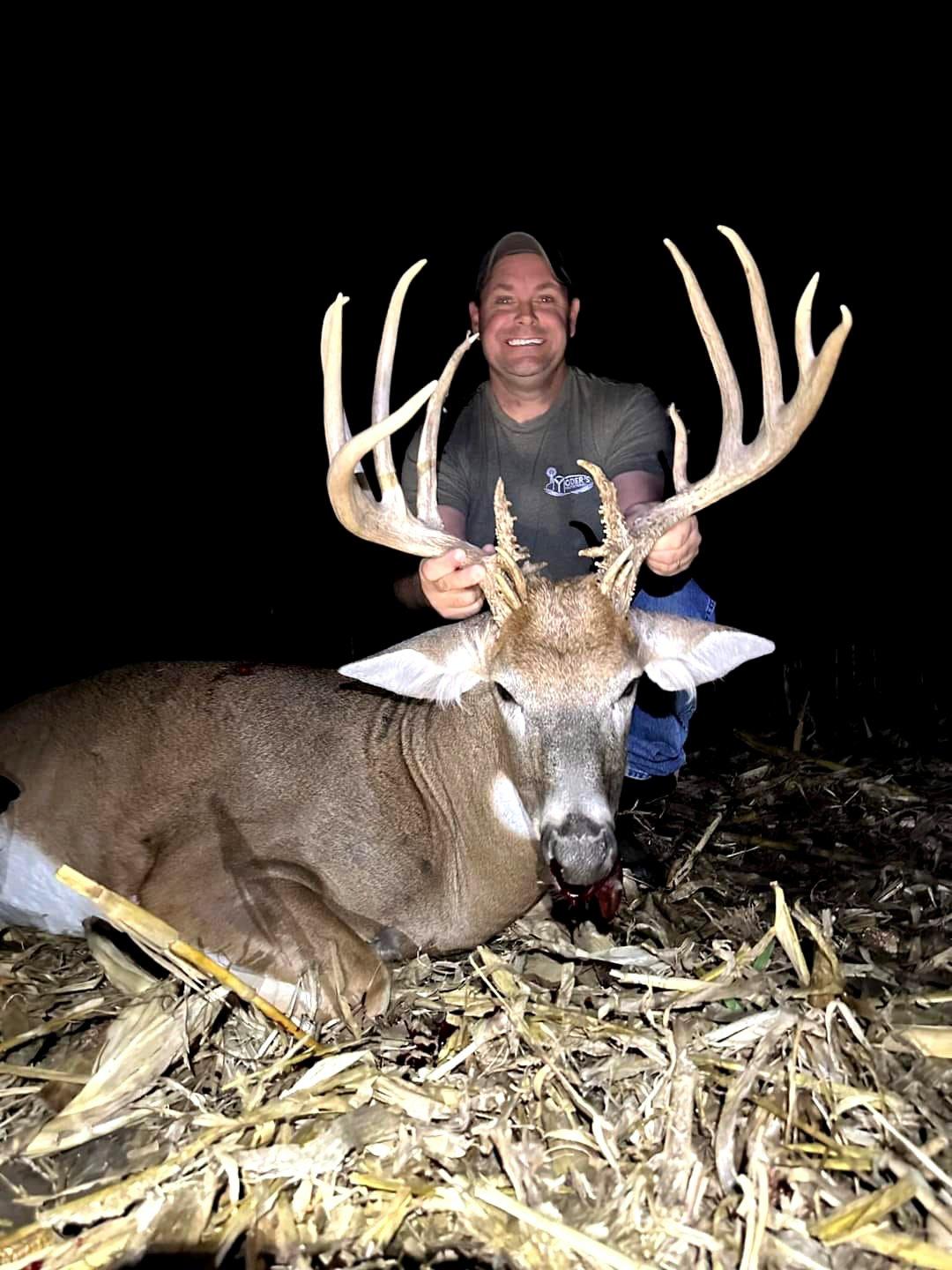 Kansas' Chadd Lemaster spooked this buck during the muzzleloader season, but he was able to redeem that lost opportunity about a month later. Image courtesy of Chadd Lemaster
On Sunday, October 8, the buck showed up on trail camera right before dark. Leach, who was monitoring the trail cameras, texted Lemaster and informed him of the daylight picture. The following evening, the buck again walked by the camera before dark. The two men agreed that it was time to strike. The buck was on a pattern, staging in the gap of a shelterbelt before heading out to feed in a partially harvested cornfield.
"I arrived in the afternoon on October 10 and got in the blind along some hard timber with a creek behind me, which is near the shelter belt where the buck was staging," Lemaster said. "There was south wind, which was perfect for hunting that blind. The buck walked out 15 yards away about 5 minutes before the end of shooting light, and I made a great shot. He mule-kicked, ran about 20 yards and stopped. Five seconds later, he crashed.
"I like the way Leach does things," Lemaster said. "He's not using feeders or putting out corn piles. It's all about catching deer staging before they head out to crop fields. It's a more natural way to hunt and certainly more rewarding."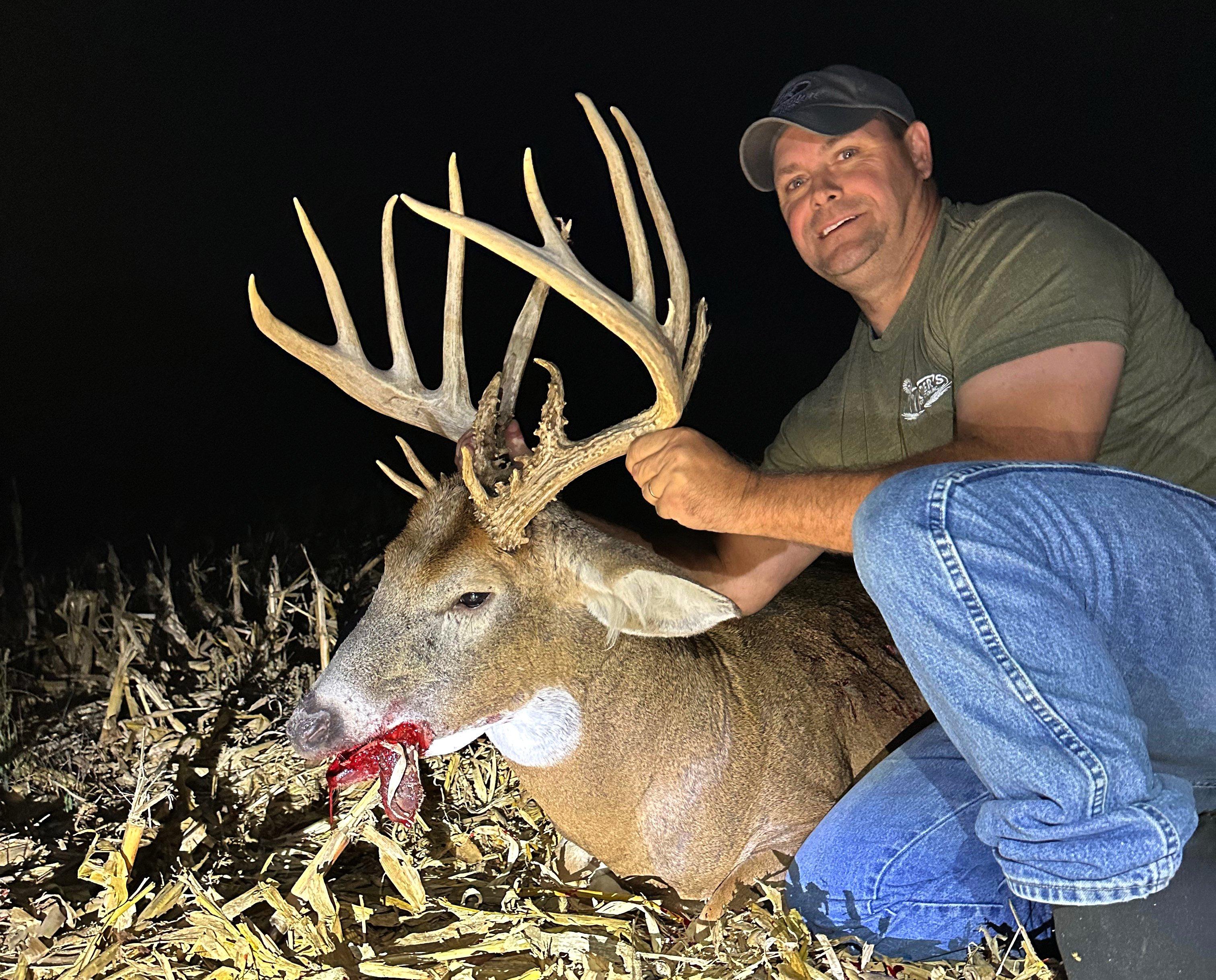 The buck ranks #2 in the Kansas Crossbow Semi-Irregular category with a score of 200 3/8 inches. Image courtesy of Chadd Lemaster
Buckmasters scored Lemaster's buck at 200 3/8 inches. Because the rack has 16 inches of non-typical points, it doesn't qualify for Buckmasters' typical category. But, it doesn't have enough non-typical inches to be classified in the non-typical category. So, it's in the wildcard semi-irregular category. To that end, it is the #10 BTR Crossbow Semi-Irregular buck for the region and the #2 Kansas Crossbow Semi-Irregular buck. Interestingly, the buck's antlers appear to have regressed about 15 inches compared to last year, based on reviewing trail camera photos.
Don't Miss: WHAT'S UP WITH ALL THESE BUSTED AND BROKEN DEER ANTLERS?