Rack Report Details
Buck:
214-inch non-typical
Time of Year:
November 2013
Place:
South Texas
Weapon:
Ruger .25-06 Rifle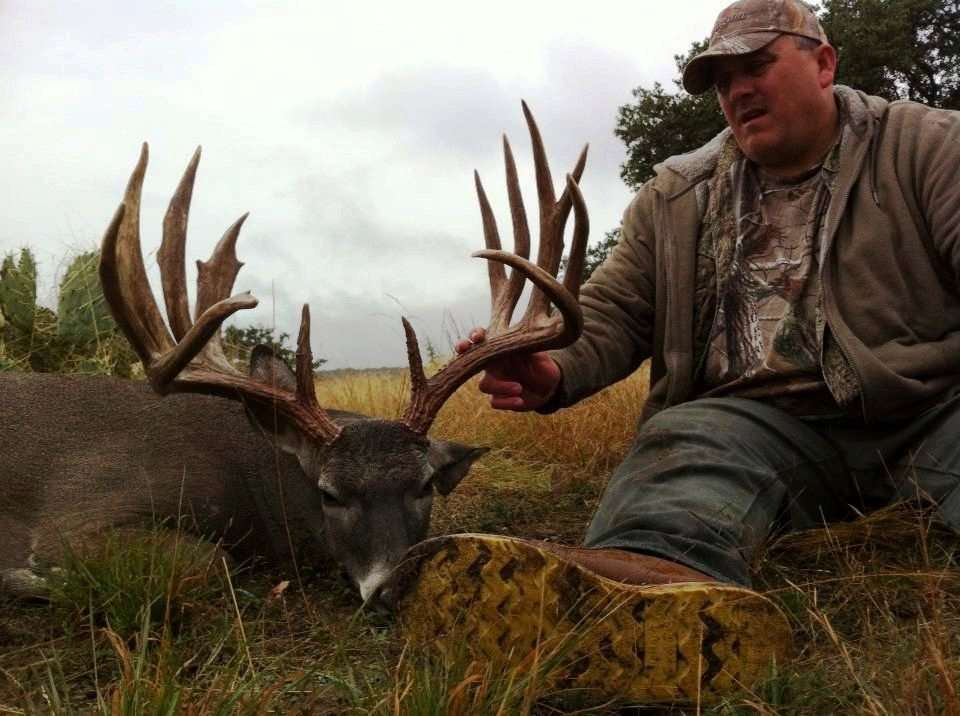 Darwin Barringer is no stranger to big whitetails. He has an impressive spread of them on the walls of his home, and he added to his collection in October when he tagged a 176-inch buck with an 8-inch drop tine.
On his South Texas lease, Barringer has invested some serious time and money into deer management and has strict guidelines that prevent bucks younger than six years of age from being targeted. Those efforts recently paid off big.
I had been watching this buck for two years, and I had a chance to shoot him last year, but he was already broken up from fighting so I let him go, Barringer said.
This summer, he continued to get trail camera photos of the buck in velvet. But once the velvet was shed, the buck appeared on camera only after dark.
It was raining as Barringer sat in his metal box blind the morning of November 6 which had proven to be slow. Finally, a couple does stepped out, followed by a small buck. Then he saw a flash of antlers in the brush.
When that buck stepped out, I knew that deer immediately. I had dreamed of that deer so many times I knew which one it was without a doubt, he said.
The buck was in the sendero at 260 yards, an easy shot for Barringer, whose father was a military sniper. My dad taught me to shoot and shoot well, he said.
But things got a little dicey when Barringer reached for his gun and clanked his watch on the metal of the blind and sent the buck running down the road. Barringer got a shot off just as the buck disappeared.
I wasn't sure if I had hit him or not, so I got down after only five minutes and walked over there. I saw him lying in the brush and I just fell to my knees.
After trying to collect himself, taking cell phone pictures and making a few calls, Barringer was still pretty shook up. In fact, he grabbed the deer and drug it all the way to the truck, loaded it and began to drive away before he realized he had left his rifle back where the deer fell.
I have shot seven deer over 170 and nothing ever affected me like this one did, he laughed.
The buck has a fantastic 5X7 typical frame with forked tines. It was taped by Barringer's taxidermist at 214 inches.
So what do you do for an encore when you have shot a buck like this one?
I have a game camera picture of one that will go about 190, Barringer said. He's next on my list.
Have a big-buck story you want to share? E-mail us at [email protected].
Watch all the latest video episodes