Patience, faith and hard work lead to a filled tag on a big Bluegrass State buck
Rack Report Details
Buck:
228 6/8 inches (green gross score)
Time of Year:
November 5, 2019
Place:
Webster County, Kentucky
Weapon:
Crossbow Crossbow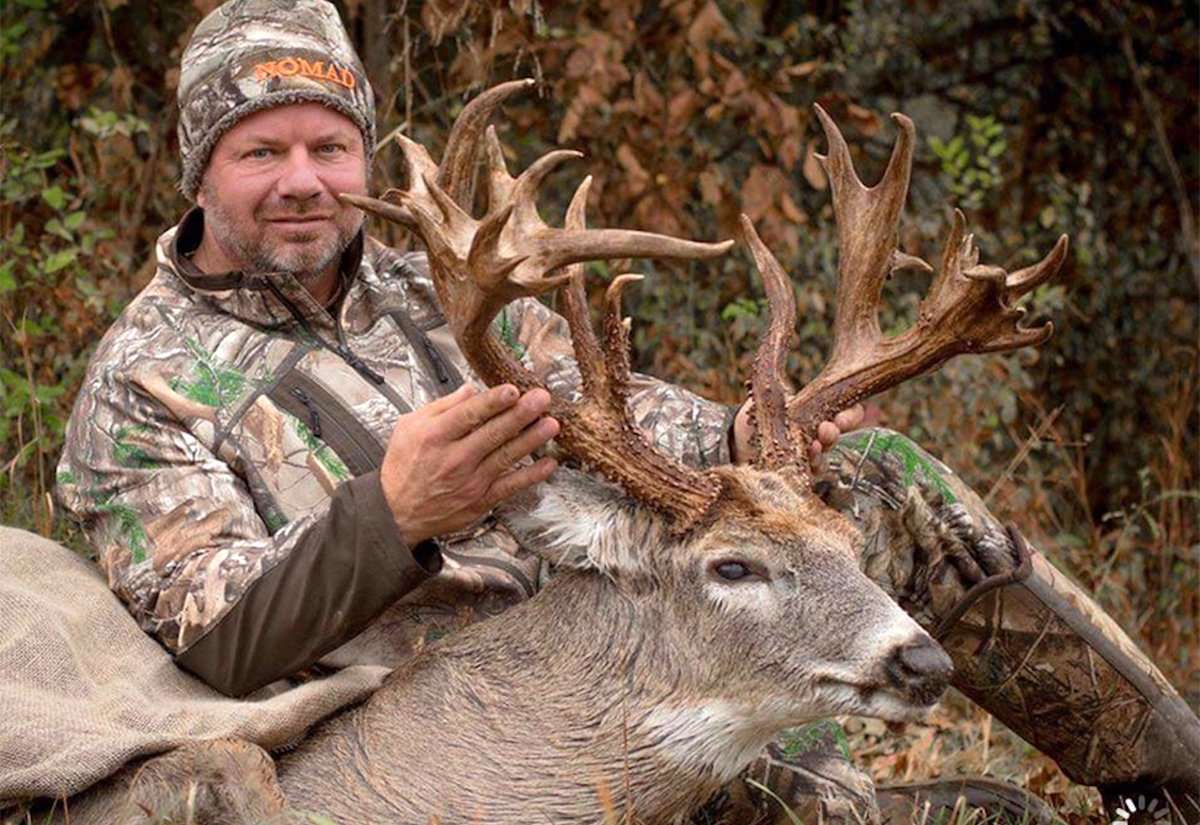 Jimmy Tapp always dreamt of owning land and hunting giant whitetails like the ones found on Realtree's Monster Bucks. As the 2019 Kentucky deer season drew near, Tapp and his wife Scarlett finally made it a reality. In September, they found exactly what they were looking for.
While waiting for the closing date on their new property, Tapp asked the owner if he could go ahead and put a few trail cameras out to see what kind of deer might be there. He received permission and rushed to get cameras out.
On October 5, Jimmy pulled cards for the first time. He flipped through the photos, and one buck in particular made him stop and take notice. I think I made a noise, Tapp said. Because my wife gave me a slightly concerned look.
The deer was bigger than anything he'd seen in years of hunting. Tapp immediately made plans for his family to hunt the buck. Tapp named him Stickers. And he was a regular on their trail cameras. We saw him on at least one camera nearly every day for 55 days, Tapp said. We probably have over a thousand photos. But there was a problem. The buck was staying in a very limited area, and almost always moved at night.
By the early October, Stickers started showing during daylight hours. I knew we couldn't take a chance on blowing the buck out of the area, Tapp said. There were only a couple of stand locations to hunt the area the buck was in. We had to make sure and not hunt them on a bad wind.
On November 5, the weather and wind lined up perfectly for his favorite stand location. Tapp gathered his gear for the evening. That's when he noticed a problem with his crossbow cables. Tapp made a quick trip to nearby Whittaker Guns and Cedarstix Archery.
I told them I needed my crossbow worked on and asked if there was any way they could do it while I waited, Tapp said.
After seeing the trail camera photo of the buck he was after, the guys at Cedarstix agreed and repaired the bow while Jimmy waited.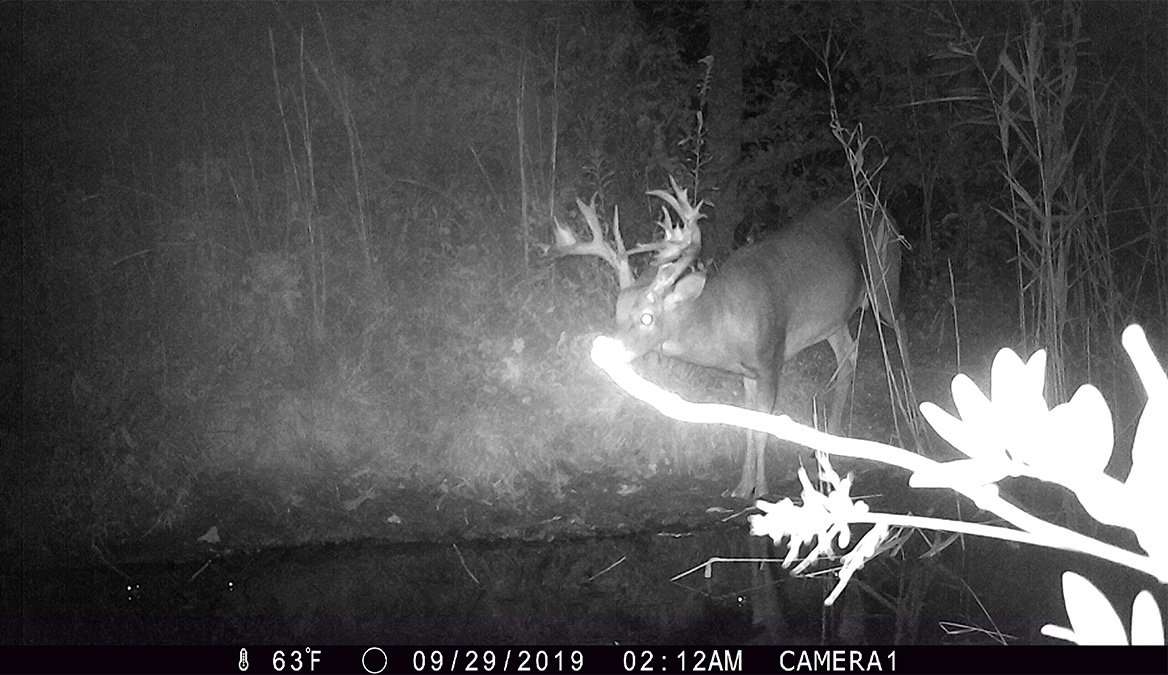 Tapp rushed back home and dialed his crossbow back in. Then, he headed to the treestand. Everything felt perfect, Tapp said. It was just a great evening. I had a feeling something good was going to happen.
He sent his son a text saying he wished he were there with him. I heard a grunt behind me a few minutes after sending the text, Tapp said. Then more grunts. A few minutes later, a doe appeared directly below my stand. I put out a wick with scent. The doe walked right next to my tree — between the tree and my pull-up rope — and went straight to it.
Tapp turned his head just enough to see the buck behind her was a good one. He wasn't sure it was him, though. The deer grunted non-stop and followed the doe directly under the stand.
By that time, the buck was underneath me, Tapp said. I knew it was Stickers. He followed the doe step-for-step, passing inside my pull-up rope like she had.
The problem? The buck had a harder time making it through. Sticker's antler caught on my rope as he passed under me, Tapp said. I thought that it was over.
Luckily, the big deer was so homed in on the doe and scent wick, he totally ignored the rope dragging over his antler. Stickers emerged from under the stand and stopped just 3 yards out from the base of the tree. Jimmy took the shot.
The bolt entered behind the buck's third rib and lodged on the offside front leg. Instead of bolting, the big buck just walked away. I was able to see my lighted nock as he walked into the cover, Tapp said. I thought it was a good shot.
After giving the buck some time, Tapp and his son started following the trail. There was good blood right from the start, Tapp said. Then it got really big. It was a massive blood trail. I thought we'd walk up on the buck any second.
Unfortunately, the blood trail stopped about 250 yards into the track. Not wanting to risk it, the pair backed out and called Lance Brantley and his tracking dog named Hank. Brantley was out on another job and told Jimmy it'd be the next morning before he could get there. I didn't sleep much that night, Tapp said. I just kept thinking about Stickers.
The next morning, Tapp, Brantley and a few others set out to find his buck. Hank immediately picked up the trail. Finally, the dog reached the spot where they lost blood the evening before. He stopped, picked his head up and turned his nose into the wind. Brantley looked at Tapp and said he'd seen that look before. Hank smelled the deer.
The dog walked away from the trail and doubled back up the hill in the opposite direction the deer had been going. He walked straight to the buck. It was just 25 yards from where the Tapps had stopped tracking the evening before.
Even though coyotes found the buck before the hunters, Tapp was elated to finally put his hands on the buck he'd spent the last two months watching on trail cameras. Stickers featured incredible mass and 34 scorable points. The massive rack has been green scored at 228 6/8 inches. I'd say that qualifies as a Monster Buck.
Don't Miss: Guner Womack's Huge 16-point Oklahoma Typical
Check out more stories, videos and educational how-to's on deer hunting.
Watch all the latest video episodes