The story Preston Hall's two-year quest for a monster buck on state ground
Rack Report Details
Buck:
189 6/8 Inches (Gross)
Time of Year:
November 24, 2019
Place:
Randolph County, Arkansas
Weapon:
Hoyt bow Bowhunting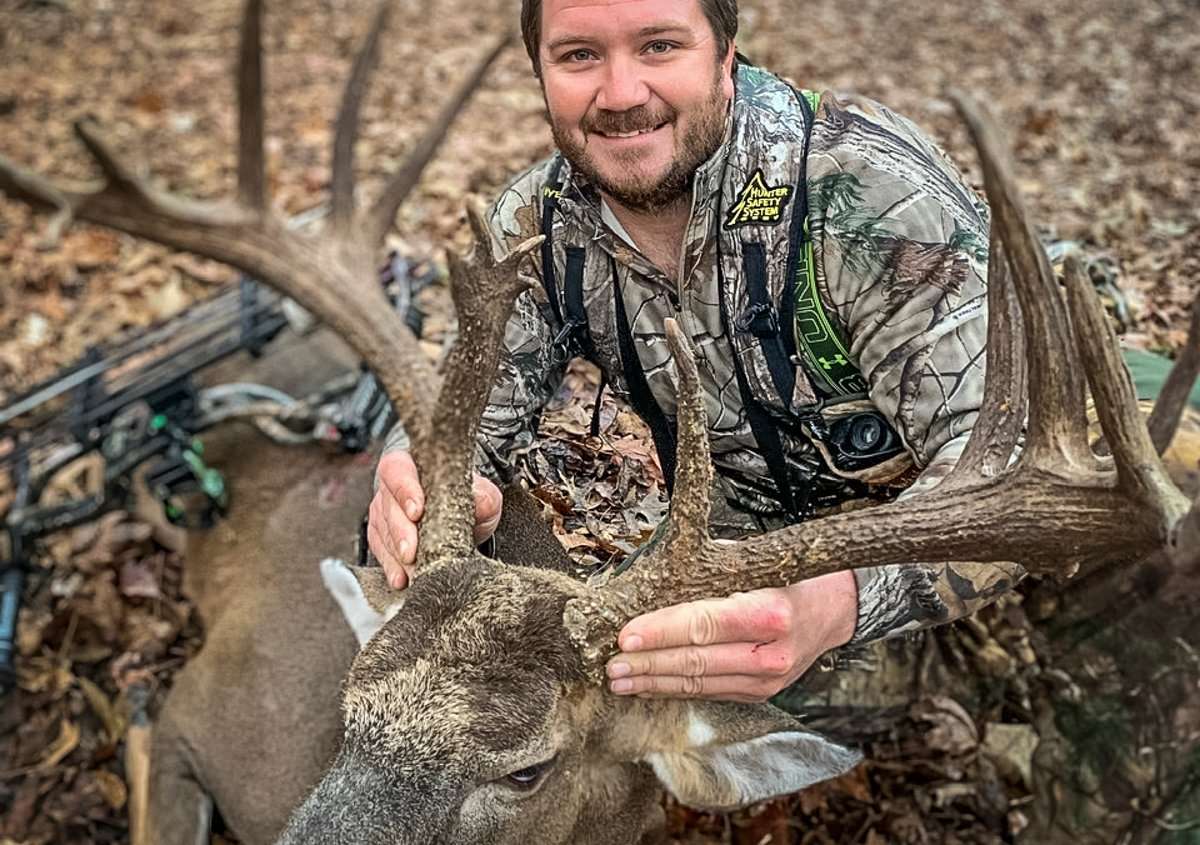 Arkansas doesn't jump to top of mind as a big-buck destination, but that didn't stop bowhunter Preston Hall. Hunting public land, he killed a buck in the Natural State that would make a Midwesterner swoon.
I knew about this buck in 2018, he says. I started getting pictures of him on my cameras. He was a good-looking, 150-class 10-pointer. I hunted him pretty hard, but never encountered him.
Hall hunts some swampy ground, and some of it is navigable by water. That would intimidate most hunters, but he commonly uses a boat to get to and from his best spots. Still, he never caught up to the deer during the 2018 season.
During the summer of 2019, the big buck appeared regularly in a few fields close to where Hall hunts. The buck was running with another good deer, but a cold front on Oct. 16 split them up. The bucks probably started thinking about the looming rut just ahead. Hall sure did.
Right before Halloween, his trail cams captured good photos of the deer during daylight. Surprisingly, one camera took 50 to 60 pictures of the monster within a few days. Hall just couldn't seem to be there at the same time as the buck.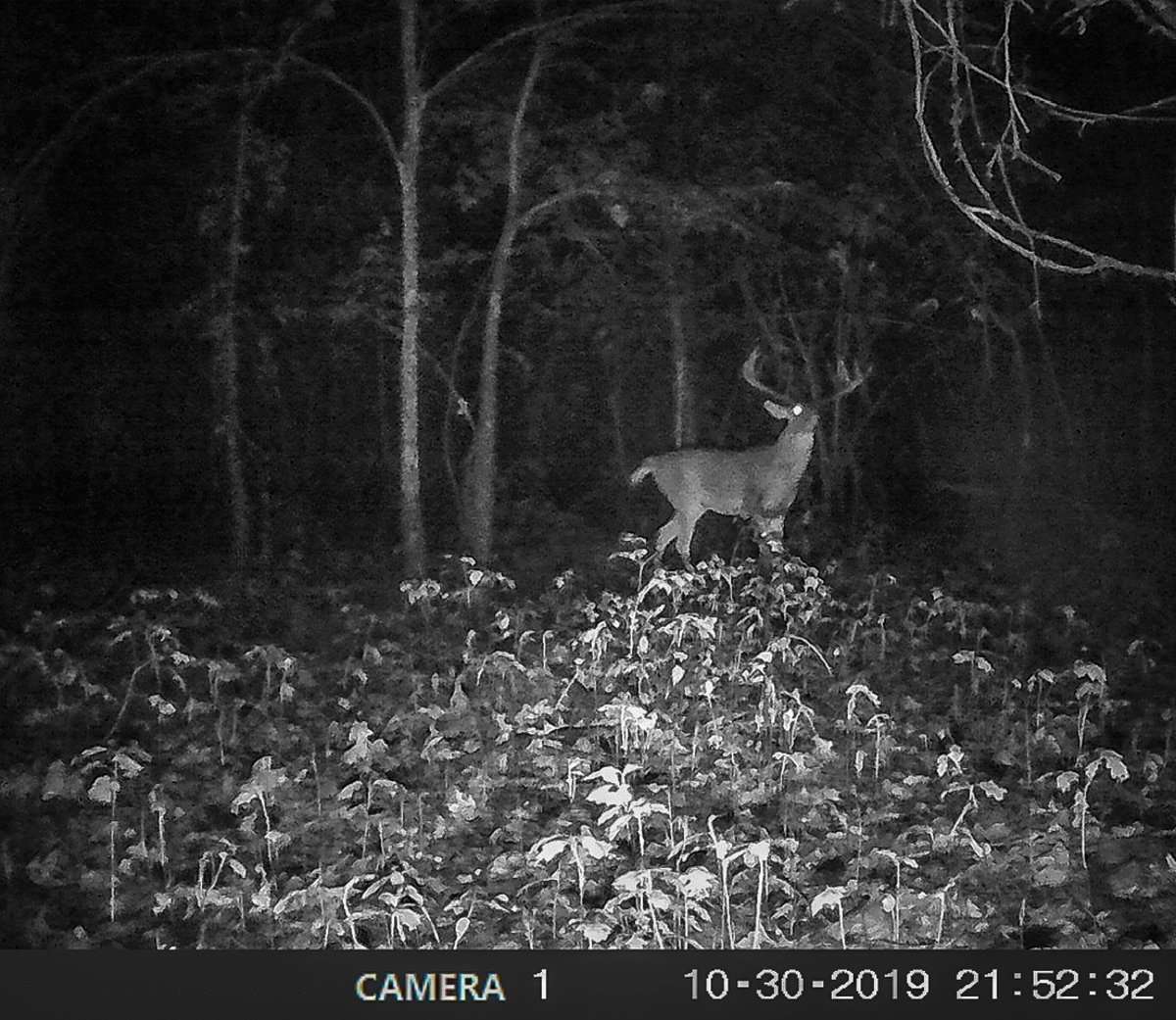 He logged many days on stand from dark to dark until mid-November. During that stretch, Hall finally encountered the buck - twice. The first time, the buck was chasing does and didn't come close enough for a shot.
The second time, I actually drew back, Hall says. The area I hunt is really brushy and thick, and I couldn't get a good, clear shot. Then, the buck disappeared again for more than a week.
On Nov. 24, Hall launched his boat around 9:30 a.m. and reached his stand half an hour later.
I sat there for a couple of hours, going through trail camera cards, Hall says. I noticed on my iPad that it was 1:50 p.m., so I figured I'd better keep my eyes peeled in case something came by.
Around 2:30, Hall heard some deer and spotted two does walking through the water. Behind them was a solid 10-pointer, so he stood up and grabbed his bow. All three deer were within 20 yards, and that's when he heard a fourth deer, then a fifth, coming from the same direction. It was another doe, and the big buck was right behind her.
It appeared that he was going to come right to me, Hall says. I turned in his direction and prepared to shoot. The doe he was following came right beneath my platform.
The buck walked to about 20 yards and started raking tree limbs. He had a little standoff with the 10-pointer, with them grunting at one another. The larger buck snort-wheezed twice. Eventually, a doe walked right between the two challengers.
They both laid their ears back and stood their hair up, Hall says. It looked like they were going to get into it, but when the big one got a visual on the doe, he changed moods instantly. He went from fighting mode to loving mode and made a move. He went right to where the doe had been, then turned to follow her.
The buck turned broadside, and Hall grunted to stop the buck for a top-pin shot. The arrow slipped right behind his shoulder, and the buck didn't go far. All of the efforts Hall invested in hunting this buck - including boat rides and many dawn-to-dusk hunts - culminated in shooting a buck that he might never best, and almost certainly not in Arkansas. Hall's bruiser gross-scored 212 3/8.
Don't Miss: Is This the Largest Buck of the 2019 Deer Season?
Check out more stories, videos and educational how-to's on deer hunting.
Watch all the latest video episodes