Rack Report Details
Buck:
174 5/8
Time of Year:
October 1, 2020
Place:
Decatur County, Iowa
Weapon:
Hoyt RX-4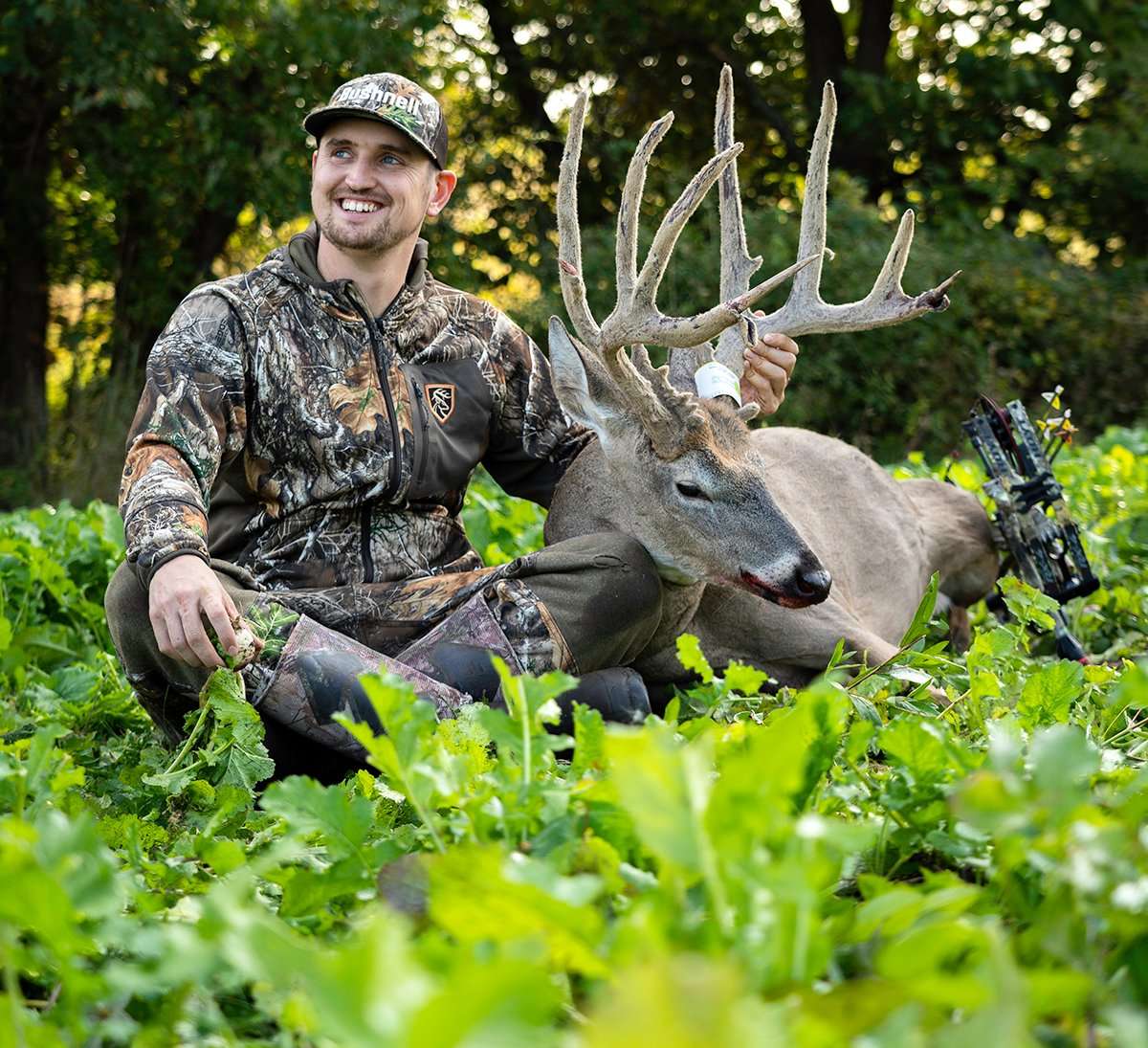 Rarely do deer hunters see fuzzy racks in October, let alone in Iowa. But Midwest Whitetail's Josh Sparks experienced just that this season, and then some. He calls it the high point of his hunting career, and it's been a journey getting there.
A lifelong hunter, Sparks picked up archery at age 12. He developed a passion for it and spent much time in the outdoors with his father. Soon after his 22nd birthday, God blessed him with an opportunity he couldn't refuse.
I dropped out of college to take a full-time position with Midwest Whitetail and haven't looked back, Sparks says. Since then, I've been able to spend a lot of time in the woods, whether it be behind a camera or bow in hand. I'm very blessed to do what I do on a daily basis.
Given the nature of his work, he heads to the woods any chance he gets, and historically, Decatur County, Iowa, has treated him well. He tagged a solid buck there in 2018, and for the past couple of years, he's helped manage some great whitetail ground for a local landowner. This summer, he secured permission to hunt that piece of land. He calls it the Draw Farm, after its many hilltop crop fields and lower-elevation ravines. With a Frigid Forage Big-n-Beasty food plot, and surrounding CRP, it offers extremely diverse habitat.
As expected, the farm cranks out some studs, too. Sparks had his eye on a deer he called the Brow Buck. But another dandy 5 1/2-year-old main-frame 10-pointer was a fine No. 2 target, which eventually became the No. 1.
It wasn't until mid-September when we noticed his velvet was still on, Sparks says. Daylight activity was high, and coupled with the disappearance of the Brow Buck, I began strategizing.
He ran the Cuddeback cellular camera system and flooded the deer's core area with cams. Three produced consistent photos of the target deer. Sparks used photos and historical weather records to triangulate a pattern and realized that the buck exited his bed and walked by the West Gap on north, northwest, and northeast winds. On south, southwest, and southeast winds, he walked straight for Scrape Island.
Despite showing a consistent pattern, weather caused the buck to break from the mold, and Sparks didn't have a stand in place for the forecast winds. So, on the Sunday before opening day, in the rain, he eased in and hung two stands. Several days later, on the Oct. 1 opener, a cold front brought falling temperatures and a rise in barometric pressure — the recipe for incredible early season daylight movement.
Around lunch, he and his friend Kaleb Greiner slowly walked to the new set, carefully climbed up, and started scanning. The duo immediately spotted multiple deer bedded on the ridge to the east and wondered how they had made it into the treestand undetected. As the evening unfolded, their deer sightings continued to pile up.
It was just one of those perfect nights, Sparks says. The sounds of southern Iowa filled the air. Cattle, farming equipment, deer walking through the plot. Things got interesting as the sun began its final descent. The two hunters had made it that far without spooking any deer, including numerous does and small bucks that passed by downwind. All they needed was for the big deer to show up.
We knew he was close, Sparks says. It was just a matter of our theory being correct that he would do the same thing as the evening before.
Does continued entering the food plot. Then, several bucks came from the direction where the big deer generally bedded. A nice 3-year-old brought up the rear, and it bedded down on the edge of the plot.
I was absolutely okay with this, Sparks says. The more comfortable the deer appeared on the plot, the better I felt about the target stepping out in daylight. Around 6:50 p.m., he stepped into the plot.
(Don't Miss: Crazy Mass on a Kansas Monster Buck)
As expected, the massive velvet buck stood along the plot's northern edge and observed all of the deer in the area. Sparks feared the buck would stay on that side, well out of bow range, but a fawn started running around the food plot. The big deer didn't like it.
I don't know exactly what to call it, but I refer to it as the zoomies, Sparks says, when fawns play around and run in circles. He wasn't happy about it and made his way down toward our tree.
The tall-tined monster stopped broadside at 32 yards and started feeding. Sparks drew his bow and loosed the arrow. At the sound of the shot, the deer dropped and jumped the string. The arrow struck him in the spine. Sparks immediately followed up with a lethal shot to the heart.
The recovery was extremely emotional because of all this transpiring, Sparks says. Admittedly, I felt horrible. I never want to make that shot. Regardless, the deer dropped a substantial amount. My arrow hit where I aimed, but I still didn't feel great.
Sparks later learned from a credible deer biologist that deer with their head down are more apt to duck an arrow, as their posture is cocked back like a sprinter in the starting blocks. That lesson and this giant buck are two things he'll never forget.
God is good, Sparks says. I can't thank the landowner enough for the opportunity to help him on the property. He gave me permission to hunt, and I couldn't be more thankful. I've always wanted to shoot a buck in velvet, but in states like Nebraska, the Dakotas, and Kentucky. Iowa wasn't on the list.
This southern Iowa stud scored a whopping 174 5/8 inches, but the velvet made it much more special. While they couldn't find any evidence of an injury or a visible physiological reason the buck held on to his velvet, it's possible that his testosterone levels hadn't yet risen enough to trigger the shedding process. Regardless, Sparks isn't mad about it.
I've never seen a velvet buck in Iowa, Sparks says. I'll always remember the hunt, but I think what I'll remember most are the friends that I got to share the moment with, the calls I got to make, and the moment when I looked at Kaleb and realized we did it.
Watch all the latest video episodes