Rack Report Details
Buck:
156 4/8 Typical
Time of Year:
Sept. 21, 2020
Place:
Somerset County, Maryland
Weapon:
Xpedition Denali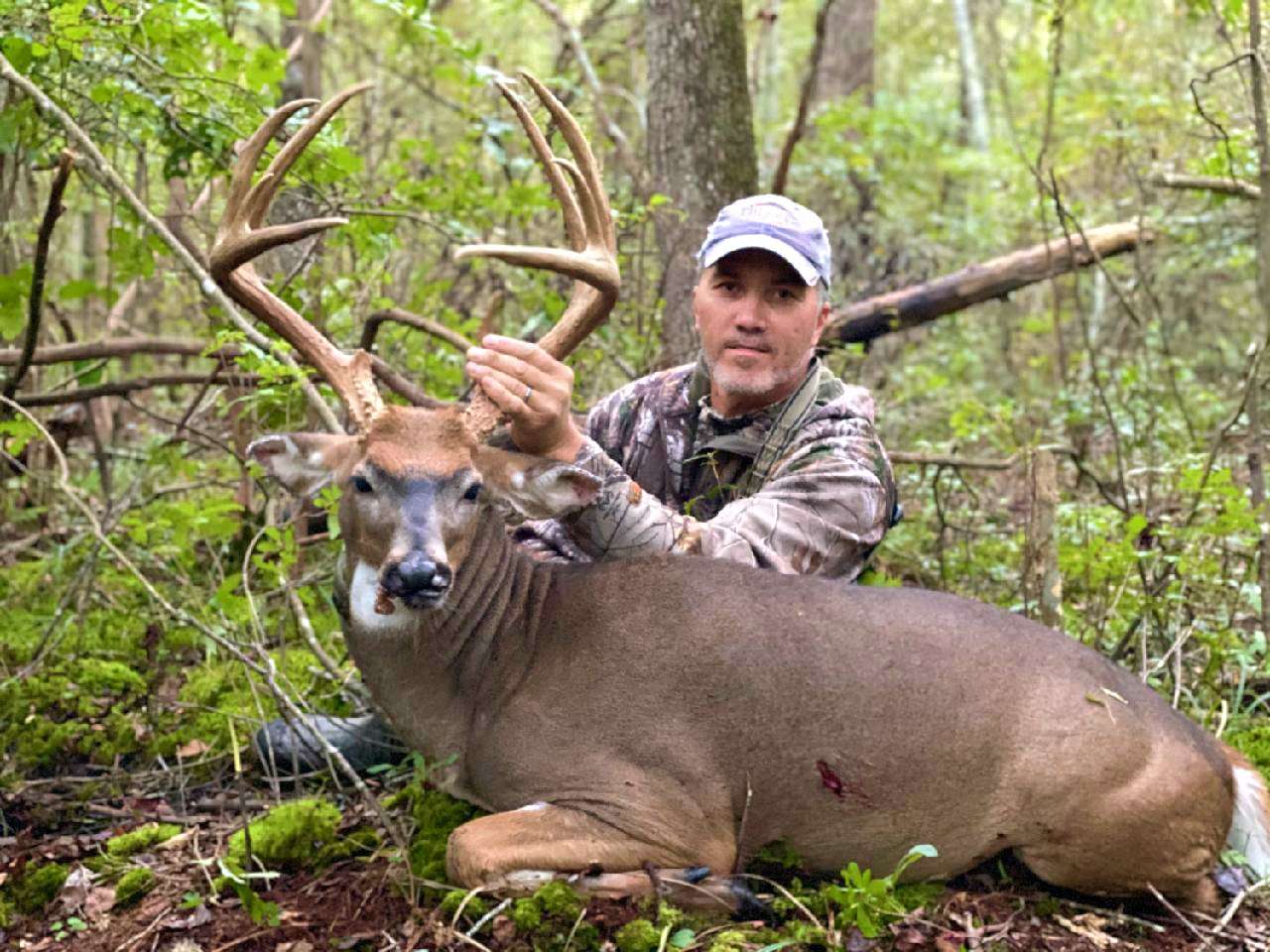 Imagine the heartache of putting an arrow into your target buck, then realizing your hit was nonlethal. Most bowhunters can probably relate to that gut-wrenching feeling. John Earhart III of Maryland knows just what it's like, because it unfortunately happened to him in fall 2019.
Earhart grew up on the East Coast and began hunting at age 10. He cut his hunting teeth on waterfowl, as his family wasn't really into bowhunting.
Everything I've learned and accomplished has been self-taught, Earhart says. I never really had anyone to teach me. Things have slowly progressed, and now I've been bowhunting for more than 30 years, plus I'm in my third season of self-filming for Red Rising TV.
I shot a really big buck in 2019 that I was unable to recover, Earhart says. It was absolutely sickening as a bowhunter to swallow that reality. Fortunately, though, the buck showed up on my trail camera at another location a few weeks later, so I knew that my hit was not fatal. I was still down in the dumps about it. It's so difficult, self-filming hunts. I could've shot the deer at 5 yards numerous times, but I had a problem with my camera arm that inhibited those shot opportunities. I finally was able to take my shot when he was about 30 yards out, and I simply made a poor hit.
Interestingly, Earhart had another hunting location monitored with a conventional scouting camera, and the buck had been frequenting that area during daylight for a straight week. By the time Earhart checked the camera and learned of the buck's tendencies, the pattern had ended. In fact, that was the last intel he had on the buck for the remainder of the 2019 season. Still, he was thrilled to know that the buck was alive and well.
This summer, he was a frequent visitor where I feed protein pellets, Earhart says. I got lots of pictures of him. However, he disappeared about one month before the archery opener. I use cellular trail cameras so that I can monitor activity with minimal disturbance, and he returned during the second week of archery season on Sept. 20. So, I went hunting the following evening.
Jumping in the stand based on that intel was wise.
Temperatures were above 70 degrees, Earhart says, but I got into my stand early that afternoon. My expectations were high since he'd been in during daylight the evening prior. Not long after 5 p.m., I spotted the buck. My stand is along the edge of a swampy thicket, and I caught glimpses of him in the thicket, but he wouldn't come out. Eventually, he turned and walked away, and I thought he was gone.
Fortunately, the evening was just getting started.
Meanwhile, I spotted some other bucks in the thicket moseying around, he said. I knew that once they came out, the big buck would follow. About 45 minutes later, they finally emerged from the thicket. As expected, the big one came out and started pushing the other bucks around. He walked around me within 20 yards for probably 15 minutes. I captured some awesome footage. Then, when he presented me with a good shot opportunity, I took it. He ran probably 75 yards and went down.
During firearms season, Earhart is hoping to get a crack at an even larger buck that has been roaming around his hunting area. But time will tell if that monster will make a daylight appearance. Either way, having sealed the deal on what he started in fall 2019, his season is already made. The incredible tale will air on an episode of Red Rising TV in summer 2021.
(Don't Miss: You Wounded a Buck. Will he Come Back?)
Watch all the latest video episodes