A series of unfortunate events leads to a rutted-up, 200-plus-inch Kansas buck at Hooray Ranch
Rack Report Details
Buck:
209 7/8 inches (green gross score)
Time of Year:
Nov. 7, 2020
Place:
Kansas
Weapon:
Hoyt Carbon RX-4 Ultra Bowhunting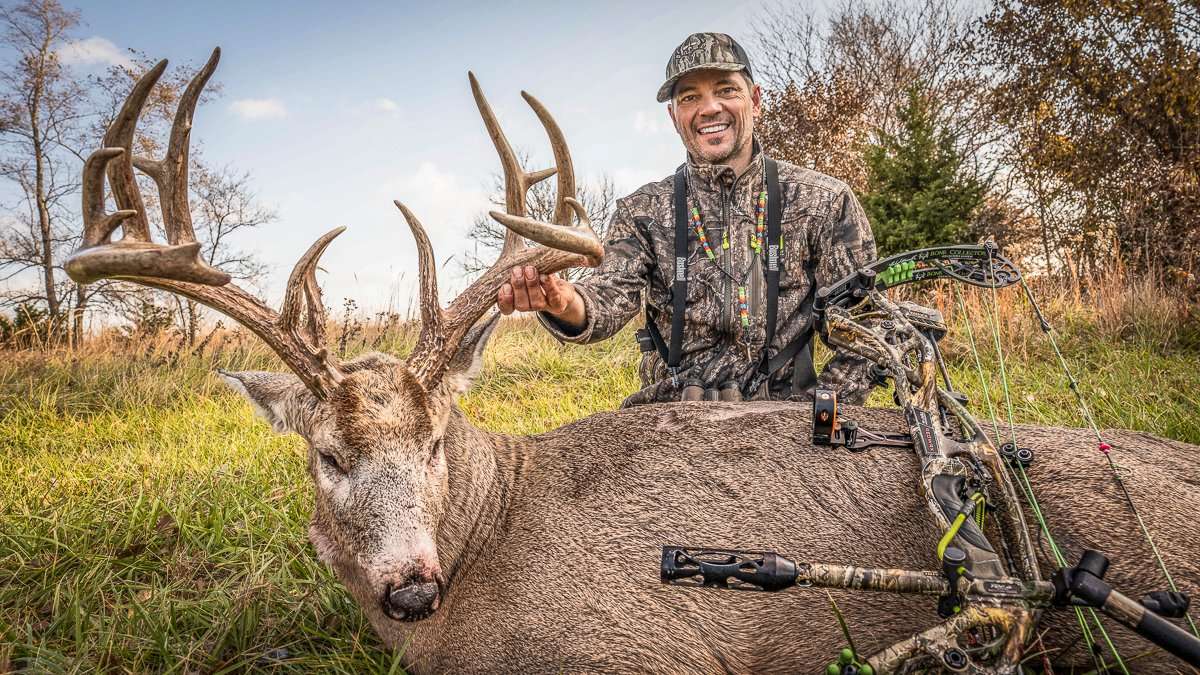 Nick Mundt has been killing big deer for decades, but the coveted 200-inch mark has eluded him all these years. That is, until recently.
The Bone Collector gang took their annual November trip to Hooray Ranch, one of the premier whitetail destinations in the Midwest. Mundt had his heart set on a 6 1/2-year-old monster hanging around an area of the ranch he's been hunting for years, and began formulating a plan.
On Nov. 6, Mundt and his cameraman eased into the deer's core area and had a great hunt, but didn't see the giant.
The next morning, on Nov. 7, they went back to the same spot. In front of the treestand was a thick CRP field surrounded by cedars on three sides and an island of cedars in the middle. And behind it was thick, heavy timber full of ash, sage, cottonwood, and cedar trees.
It's the middle of a major hub, with four patches of cover that come together, Mundt says. It's like a four-way wagon wheel. That's the spot I'd been looking at for four or five years, but there was never really a tree to hang in. Then, last year, Cohen Stone and I found a good tree, but we never really had the right wind to hunt it. This year, we got the right one.
In a spot like that, everything felt right, but a lot was destined to go wrong. For starters, it was hot with clear skies, and temperatures soared to 65 degrees. The morning hunt passed with decent activity, but no filled tags.
After lunch, things got interesting. I'd seen him once already, Mundt says. It was crazy. I lost my rangefinder on the way to the tree. He came in and was somewhere between 45 and 50 yards. I just didn't want to shoot because I didn't know the exact range. So, I let him go.
Then, deja vu.
He ran into another opening, Mundt says. I had a shot, but I didn't want to take it. So, I let him go, again. When he left, I was sick to my stomach that I didn't have my rangefinder.
Disgusted with the outcome, he turned to look over his shoulder to see what the buck was doing.
When I did, my release that was hanging on my bow fell out of the tree, Mundt says. Well, when I did that, a 150-inch 8-pointer that was running out in front of the big deer — they were both chasing a doe — came running back through and ran right underneath my tree.
Knowing the giant wasn't far behind, Mundt let the buck pass. Then he immediately descended the tree, grabbed his release, and climbed back up. He got everything ready, and just as he finished, two more bucks bolted by.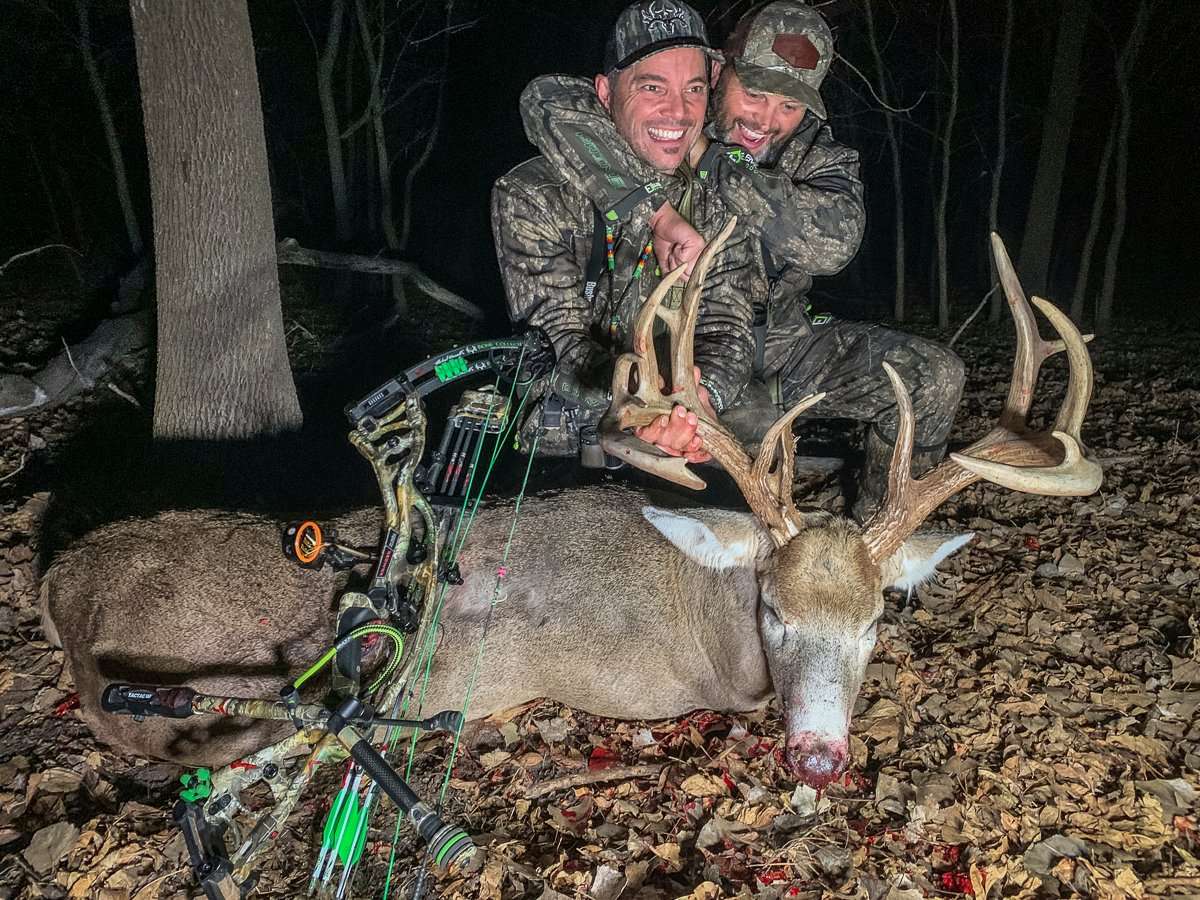 I waited about an hour, and then rattled, Mundt says. No sooner than that, he came out of the thicket and came right to me. I grabbed my bow, looked down, and my arrow had somehow fallen off my rest. It was on the ground. So, I nocked another arrow, and pushed the Tactacam button in my pocket.
The stud walked in, and Mundt held at full draw for 45 seconds while waiting for him to push through a bunch of thick stuff. The deer entered a small window, presenting a quartering-away opportunity, and Mundt took the 20-yard shot.
The buck ran about 100 yards and tipped over. That was that. The celebration began, and quite loudly.
He is freaking humongous, Mundt says. My biggest whitetail ever. I've killed a handful of bucks in the 170s, but I never knew if I'd break that 200-inch mark. Just to be able to put my hands on a buck like this, and to do it with my Hoyt at Hooray Ranch, is special.
Now, he has 209 7/8 more reasons to love the place.
(Don't Miss: Ohio Bowhunter Tags a 200-Incher)
Watch all the latest video episodes