On a property that's been in the family for 30 years, the rut led a gross-Boone whitetail right to this fortunate hunter
Rack Report Details
Buck:
181 5/8 inches (green gross score)
Time of Year:
Nov. 19, 2020
Place:
Fleming County, Kentucky
Weapon:
Browning X-Bolt Pro (.300 Win Mag) Rifle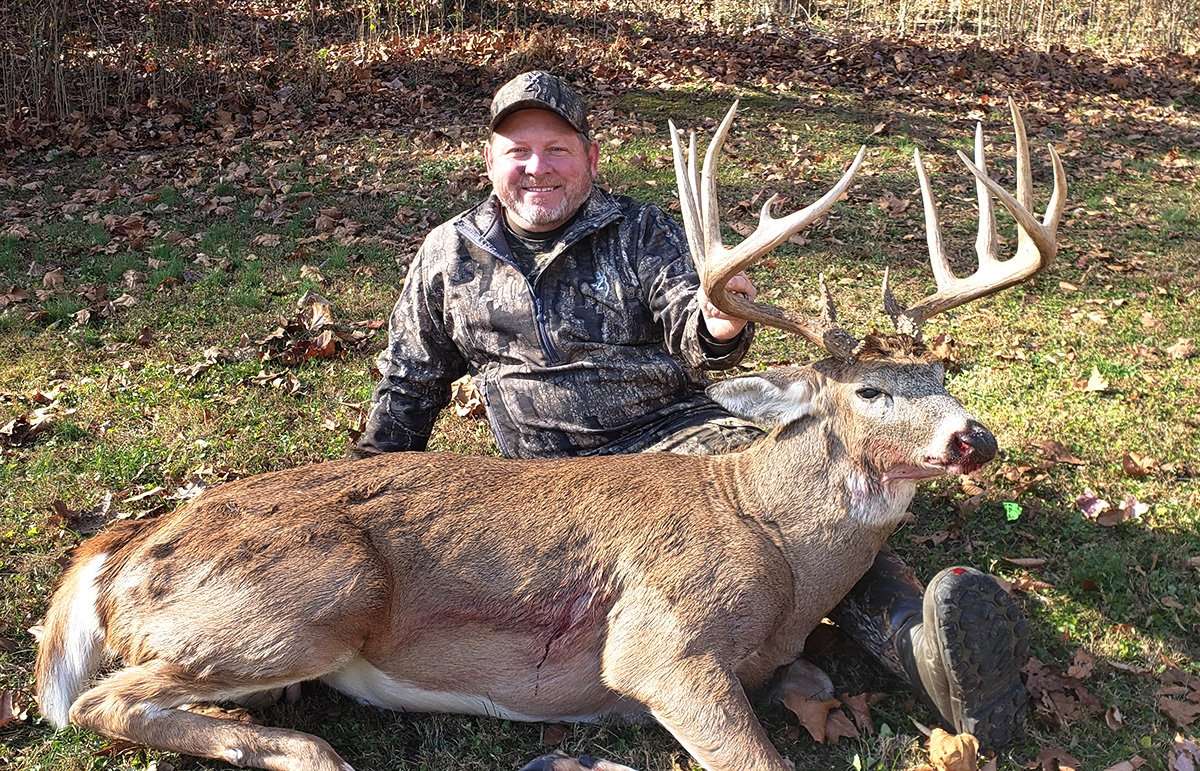 Record book whitetails of any sort are rare, but top-end typicals eclipsing the 180 mark definitely turn heads. Last season, Realtree pro staffer Carl Drake had an opportunity to hunt such a buck.
He first laid eyes on the deer in 2018, when it was a great-looking 3 1/2-year-old. Drake didn't pay much attention given its young age, but he knew it could blossom into something special. In 2019 the buck seemed to disappear, never showing in person or on trail camera. Drake learned that it lived on an adjacent property. But in 2020 the buck returned, as a giant 5 1/2-year-old 12-pointer.
(Don't Miss: First Bow Buck is a 183-Incher)
I had been watching several deer between 135 and 150 via my Browning cell cameras, but the first week of November, four bucks — all over 150 — showed up, Drake says. My management plan is to make sure I have the resources and habitat to hold does on the property. That draws the bucks from these big tracts of timber to my farm.
The 12-pointer was one of those bucks, and so was another big deer Drake had in mind — a 160- to 170-inch deer he calls Stickers. He planned to tag whichever deer gave him a shot first. Drake had been hunting in Indiana, but he quit early to move to his Kentucky farm, a place that's been in his family for more than 30 years.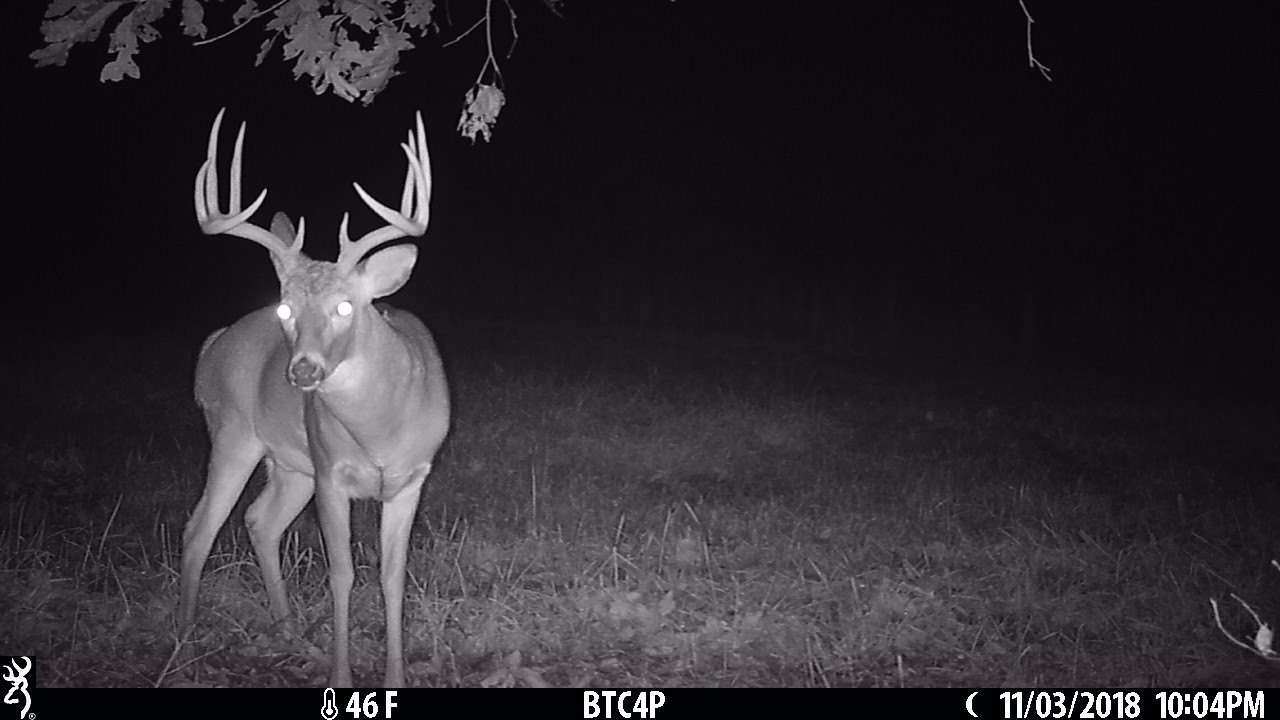 Full of anticipation, Drake prepped his gear and made a game plan. He started out hunting the deer with a bow but never closed the distance. When gun season opened, he switched to his rifle.
On Nov. 19 — the 11th day of the hunt — Drake eased along a low-impact entry route to one of his favorite gun stands. He quietly climbed up and waited for daylight.
It was a cold, frosty morning with partly cloudy skies and 28-degree temps. He scanned the hardwoods and rolling hills around him, hoping to at least catch a glimpse of the big deer. A large valley stretched out below him, providing a heck of a view from the stand.
Other than a platoon of squirrels, the first hours passed without much action. As the sun rose higher, it finally cut loose. A small spike walked through around 8 a.m. Although he wasn't much, the single sighting helped get the blood flowing, which was certainly welcomed on such a chilly day.
(Don't Miss: Jackie Bushman's Monster Montana Buck)
Then, it happened. I heard deer running on the side of the hill, Drake says. I saw two does and two fawns. They were constantly looking behind them. Then, he appeared.
With nose to the ground, the buck dogged the group of antlerless deer. After several tense seconds, the buck hit an opening, turned broadside, and offered an ethical opportunity. Drake steadied his gun, settled the crosshairs, and took the 175-yard shot.
The blast echoed throughout the valley, and the sound of flying leaves and breaking sticks filled the air. Drake watched the buck crash hard through the timber. Then came silence.
After a few minutes, he quietly descended the tree and met up with his son, Josh. They started the search together. A heavy blood trail led to the buck just 60 yards away.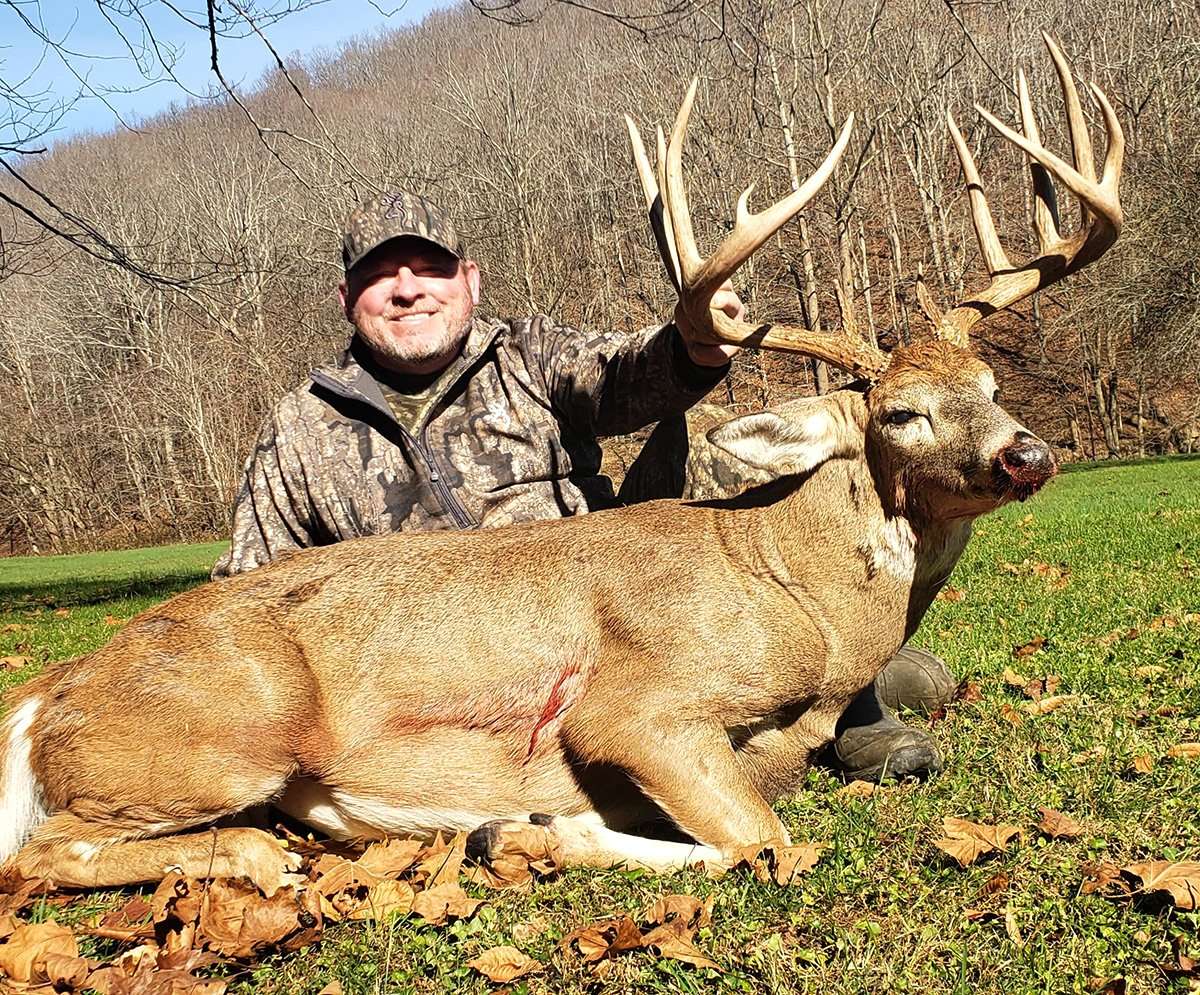 My son saw the deer first, Drake says. Realizing it was the big 12 we had seen on the Browning trail cameras, we started hugging and giving each other high-fives."
Drake was in disbelief, though. This wasn't a super regular deer on the farm, and it'd only recently showed up after being absent for nearly two years.
(Don't Miss: Nick Mundt's Biggest Buck Ever)
It shows how important deer management is, and how unpredictable the rut can be, he says. Listen to your gut and don't be afraid to change up things, or try a new stand set.
Being able to take such a deer off of the family farm is the best feeling in the world, he says. It's the place where he first started hunting, and it's now home to his largest whitetail.
To share that moment with my son is a memory that will last my lifetime, and hopefully his, Drake says. Deer hunting is a tradition I have passed down to my son — and is time we get to share as a family in the outdoors.
It makes that time just a bit sweeter when you have a 181 5/8-inch typical 12-pointer to show for it.
All photos courtesy of Carl Drake.
Watch all the latest video episodes