The crazy bow-killed non-typical was taken on the third day of the special late August velvet season
Rack Report Details
Buck:
N/A
Time of Year:
August 29, 2021
Place:
Williamson County, Tennessee
Weapon:
Compound bow Bowhunting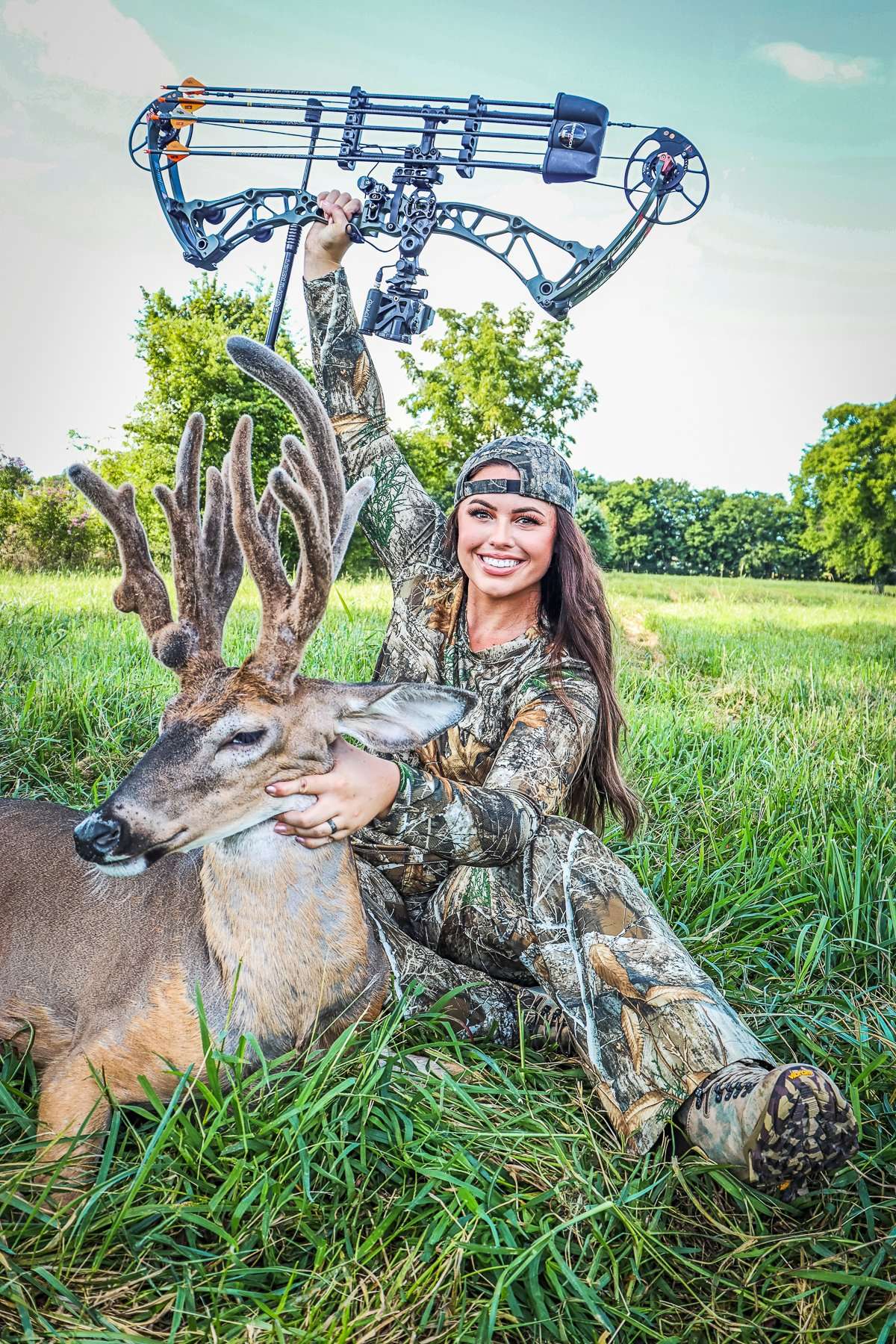 Katie Van Slyke is no stranger to bowhunting, and she spends a good portion of the year working alongside her husband, Jonathan, to prep for deer season on the family farm. This year, all of the hard work led to her first velvet buck, and one with a rack crazy looking enough to draw anyone's attention. Van Slyke calls it her coolest deer to date. Since she hadn't shot a buck with her bow since 2018, she chalked this harvest up as a fitting way to end the dry spell.
Van Slyke had trail camera photos of the buck all last year, but never an in-person encounter. This season, the deer was a regular, and so she made plans to hunt him during the special 3-day Tennessee early season in late August.
With marginal winds, Van Slyke didn't have any luck the first two days, but on the third and final day of velvet season, things were destined to change. The setting was a staging area between some large fields and sections of timber. It was thick cover, just what deer like when moving in daylight. A bunch of producing oak trees around didn't hurt, either. She settled into the treestand and waited for action.
We had planted a small plot around my stand using some fast-growing forage, and they had been going back and forth between that and an alfalfa field a couple hundred yards away, Van Slyke said. I had the small plot and a thick tree line about 30 yards in front of me, the thick wooded area behind me, and a small meadow clearing to my right.
(Don't Miss: Stuck at Full Draw on 184-Inch Velvet Monster)
Shortly after settling in, and while waiting for sunrise, she listened closely to all of nature's sounds around her, including a screech owl. Jonathan was in a lock-on stand above her. Once the sun started to rise, she began surveying her surroundings, hoping the target buck might show up. She had hope, as the woods felt alive.
The wind was still that day, so every little thing was making a sound, Van Slyke said. I could hear the deer coming before I saw them.
It was hot, but still, deer moved well. A doe and fawn fed around for quite a while. Then a smaller 8-pointer emerged and gorged, too. Five other bucks followed. The funky non-typical wasn't far behind. This was my first encounter with this buck in person, Van Slyke says. It stayed on the outskirts of the food plot and in the tree line a lot longer than the rest of the deer.
A nice 8-pointer kept tempting her with broadside shot opportunities at 15 yards, but Van Slyke waited. The funky buck stayed on the tree line for a while before he finally came into the plot and started to graze. He stayed along the tree line and was a lot more hesitant than the rest. He walked around the perimeter and then finally trusted the kill plot after he watched the younger bucks eat for a while. He slowly came into the small clearing in front of me and settled in to eating.
The buck fed around in the food plot for a while, and eventually turned broadside. At 6:25 a.m., Van Slyke took the 22-yard shot and connected. The buck bolted for cover, crossing onto the neighbor's property.
After securing permission to recover the deer, Van Slyke returned with a crew of friends and family to help search. Her arrow looked good, and they immediately found great blood.
(Buy Alert: 23" EZ Hanger + Arrow Puller Combination 2 Pack)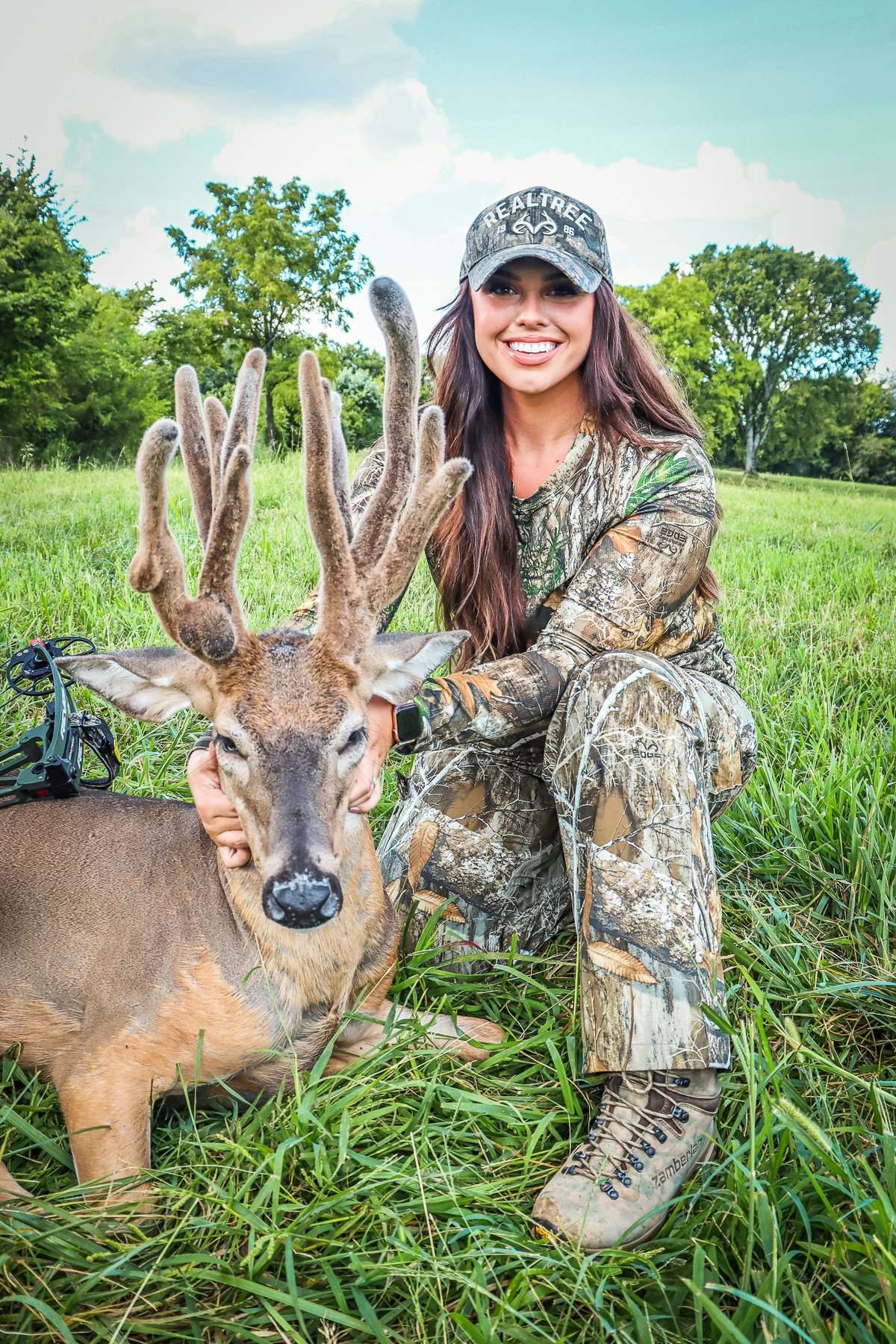 We knew it was a vital hit, and we followed a heavy blood trail onto my buddy's property next door, and stopped at about 150 yards, Van Slyke says. Who knows how this deer went this far, but since it was crazy thick brush, we decided to call a dog to track. Our buddy Charles Miller brought his bloodhound, Dallas, out later that morning, and we found the buck 50 yards from where we pulled out.
Van Slyke doesn't know if she'll ever kill another deer this unique. Still, she was thankful to her husband for being present for the hunt, and to herself for being able to maneuver and draw back with so many deer close to her location. She pulled it off, but keeps things in perspective.
Even if I don't kill anything, I love being able to bask in the wild awesomeness of God's creation, and to be able to share memories with those that I love the most, Van Slyke says. I can't wait to make more with my existing family, and one day, hopefully share this passion with my future children.
I'm so glad to have shared this experience with Jonathan, Van Slyke concluded. We've been talking about (the buck) for two years. He was so much cooler and funkier up close and in person. I'm just incredibly grateful, blessed, and proud.
(Don't Miss: Giant Kentucky Velvet Buck with a Longbow)
Watch all the latest video episodes