10-year-old Micah McCauley bagged this 168-inch buck during the Kansas youth hunt in early September
Rack Report Details
Buck:
168 (nontypical)
Time of Year:
September 6, 2021
Place:
Labette County, Kansas
Weapon:
Bergara Premier .300 PRC Rifle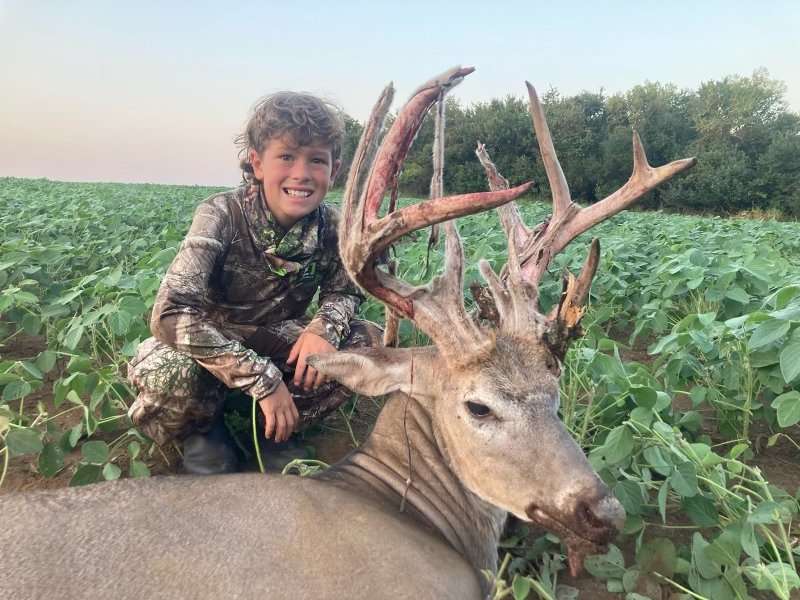 A few weeks ago on the Realtree Rack Report, we posted the story of 12-year-old Westin McCauley's 211-inch Kansas monarch. Westin's 10-year-old brother, Micah, also made the trip from Kentucky for the Sunflower State youth hunt, and he took a Kansas king of his own.
As noted in Westin's Rack Report, the McCauley family runs Whitetail Heaven Outfitters, which has access to more than 60,000 acres in six different states. To that end, the McCauleys' lifestyle revolves around guiding hunters to big whitetails. But they do a lot of hunting themselves, too.
Not surprisingly, Micah McCauley started out hunting at a much younger age than most youth hunters.
(Don't Miss: Buckeye Buck Named Hollywood Wakes Hunter from Catnap)
I took a doe when I was only 4 years old, he says. It was different back then, because I was so young and didn't quite understand what hunting was all about. I've killed quite a few deer since then, and I'm into it so much now. I shake really bad whenever I get the chance to harvest a deer. I love to hunt.
Micah has taken numerous does and small bucks, but he also took a wide 8-pointer in Ohio a couple years ago, and a beautiful 11-pointer during a youth hunt in Kentucky during the 2019 season.
This brings us to his 2021 Kansas youth hunt. The first day there was slow. The river near his hunting spot was high from a heavy downpour the night before. Everything was muddy, and no deer were spotted. Still, the camaraderie was great. Micah hung out with several other kids that evening who were also in camp.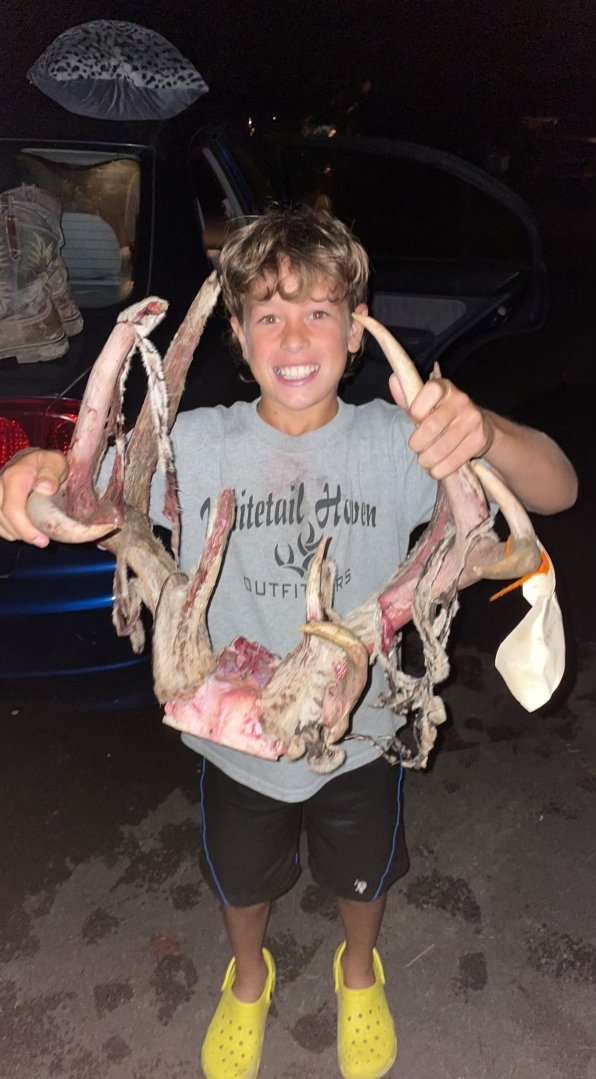 The second evening, we were walking out to hunt and saw some does in the field, Micah tells. We waited for them to move off, and then we headed for our treestand. Once we were settled in for a while, a couple of coyotes came out. I was thinking about shooting, but we were afraid it might ruin our deer hunting. It was getting to be prime time, too, so I let them go.
About 45 minutes later, a little buck stepped out. Then, Micah heard something off to the side, and spotted a buck peeling his velvet off on a tree. I whispered, 'Big buck! Big buck!' Then, he came running in to the corn pile.
(Buy Alert: Realtree Camo Pro Staff Performance Hoodie)
Seconds later, Micah put his Bergara .300 PRC to work. His shot was perfect, and the buck fell right in the field, only about 25 yards away from the impact spot, though it was difficult to see him go down due to a large branch obstructing the view. It was Micah's first deer hunt in Kansas, and we're sure it won't be his last.
Following his successful Kansas hunt, Micah went back home to Kentucky, where he took his first deer, a nice Bluegrass doe, with a compound bow. He's also hoping to fill his Kentucky buck tag this season. Whether or not he does, he's already had a season most hunters only dream about. Congrats, youngster.
Watch all the latest video episodes