Heath Rayfield put his tag on a cool Kansas typical while hunting from the ground during the September muzzleloader season
Rack Report Details
Buck:
164 6/8 inches
Time of Year:
Sept. 16, 2021
Place:
Reno County, Kansas
Weapon:
CVA Paramount HTR muzzleloader .40 cal. Muzzleloader
Just about every deer hunter dreams of Kansas. There's something special about its rich ag ground in the eastern region, and its wide-open spaces in the western part.
Heath Rayfield, who is part of the Buckventures crew, knows what the Land of Oz has to offer. Rayfield has been hunting since he was 12, and he knows how to find and bring down giants. But this 164 6/8-inch buck, his latest whitetail, no doubt got him excited.
They called the 5 1/2-year-old deer High Tower in part due to its tall, tight frame. The giant showed up last summer and seemed to just stick around.
(Don't Miss: Jeff Danker's Flyer Buck Has Triple Drop Tines)
Rayfield is familiar with the area and has been hunting with his friends from Double Nickel outfitters for four years. Located in Reno County, Kansas, it's some expansive, wide-open grasslands and intermittent timber. In fact, some might even consider the wide openness quite daunting, especially when they first experience it.
That said, knowing the area and what the deer do, Rayfield felt confident he could make a solid play on the big buck he was after. It was spending most of its time in a large CRP field. By working together with his friends at Double Nickel, they eventually determined the area where the buck was spending the most time. They patterned the deer exiting a thick area of CRP, working through some shorter grasses, and passing onward toward destination feed fields. It followed the same path rather regularly but occasionally strayed from its typical routes.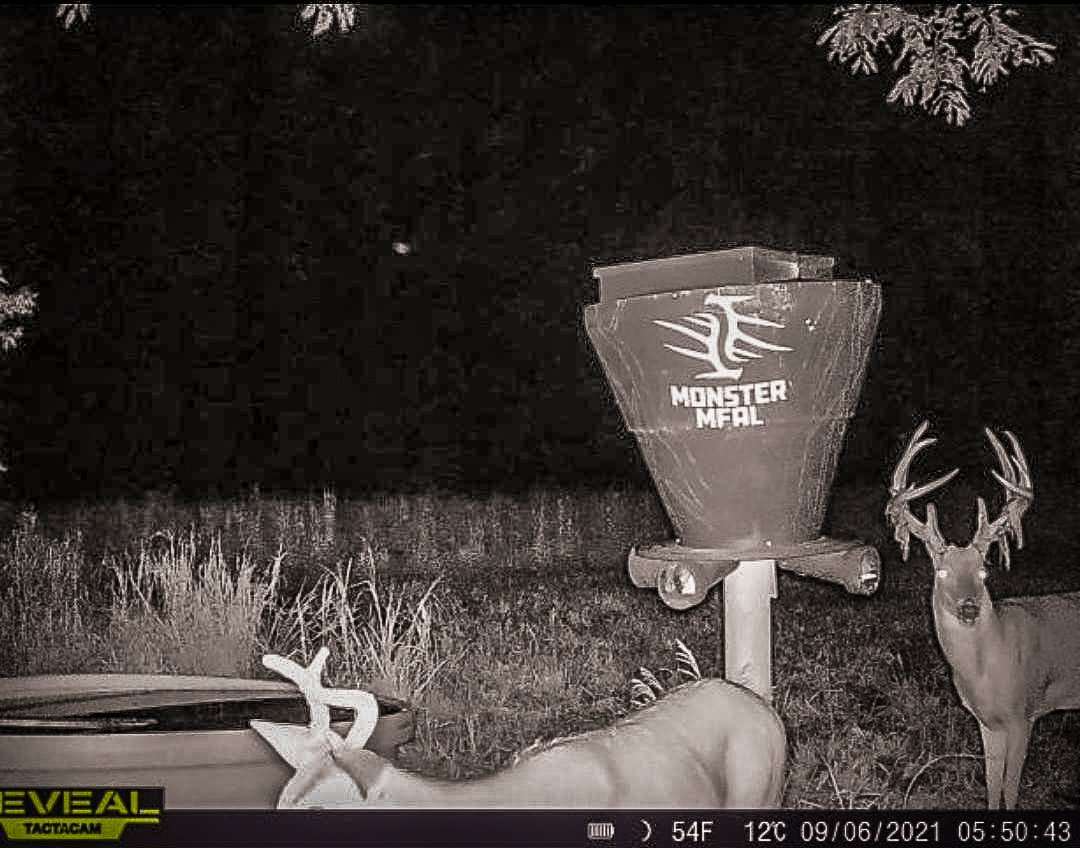 This year, early-season weather was hot, Rayfield said. Every day was around 90 with south winds. Still, with such a great pattern on High Tower, it was only a matter of time before they crossed paths. The buck lived in a large CRP field, and Rayfield had a spot picked out to intercept the giant. He spent three days chasing the deer, but it was a no-show each time. Finally, on the fourth morning of the hunt, he carried a hunting chair with him and set up on a small hill on the western side of the field.
He eventually settled in with a southeast wind working up out of the bottom and past his position. He thought the buck was likely bedded in the lowest area of the CRP. But a stiff 25-mph wind made it difficult to spot movement in the waving grass, let alone a big rack. Yet, he saw High Tower.
I watched High Tower come through the CRP grass and bed down at 200 yards, Rayfield said. After him, I saw a few other deer, but not much after 9 a.m.
(Buy Alert: Men's Realtree Excape Camo Early Dawn Sherpa Shell Jacket)
Knowing exactly where the buck bedded down, he felt confident he could return for the afternoon hunt and see the deer stand back up. So, after a while, Rayfield carefully eased out. That afternoon, he slipped back to his well-placed hunting chair. Around 7:30 p.m., he looked to the left and spotted antlers coming through the grass. He immediately recognized High Tower walking straight to him. The buck had somehow gotten up out of its bed without him knowing it. And now the deer was headed toward Rayfield.
He was self-filming his hunt, and he knew he had to act fast. He got his cameras and gun in place. By this time, he was at 50 yards and starting to come up the hill I was sitting on, Rayfield said. At 40 yards, he turned broadside, and I was able to take the shot. It was perfect, and High Tower only made it about 70 yards before going down.
Rayfield gathered his gear, trudged through the thick CRP, and walked up to his big Kansas buck. It was an even bigger typical than he had thought from the trail-camera photos.
High Tower was more impressive than the pics made him look, Rayfield said. At only 15 inches (inside spread), he was still a 164 6/8-inch 9-pointer with 13-inch G2s, 25-inch main beams, and over 40 inches of mass. Hunting big whitetails from the ground is always fun, but when they are within bow range from the ground, it's a whole different level.
(Don't Miss: Dan Infalt Arrows Another Public-Land Booner)
Reflecting on the hunt, Rayfield said that aside from finding and patterning this deer, glassing effectively and paying close attention to the wind were the biggest factors in his success. Studying hunting apps and using their tools helped in a very big way, too. These aided in selecting the right spot in the middle of the wide-open CRP field.
He also attributes the positive outcome to his hosts. Cody and Kelsy Nickels of Double Nickel LLC have been great friends for a long time, Rayfield said. They were very excited to get the call from me that High Tower was down.
Chasing big, mature whitetails has been a part of my life since I was very young, Rayfield concluded. It's the thrill of growing, watching, and harvesting a deer that you have history with. There is just nothing like it.
Watch all the latest video episodes