A three-year journey comes to an end, thanks to a big Kansas cold front
Rack Report Details
Buck:
181 3/8 inches (non-typical)
Time of Year:
September 21, 2021
Place:
Harper County, Kansas
Weapon:
Bowtech Solution Bowhunting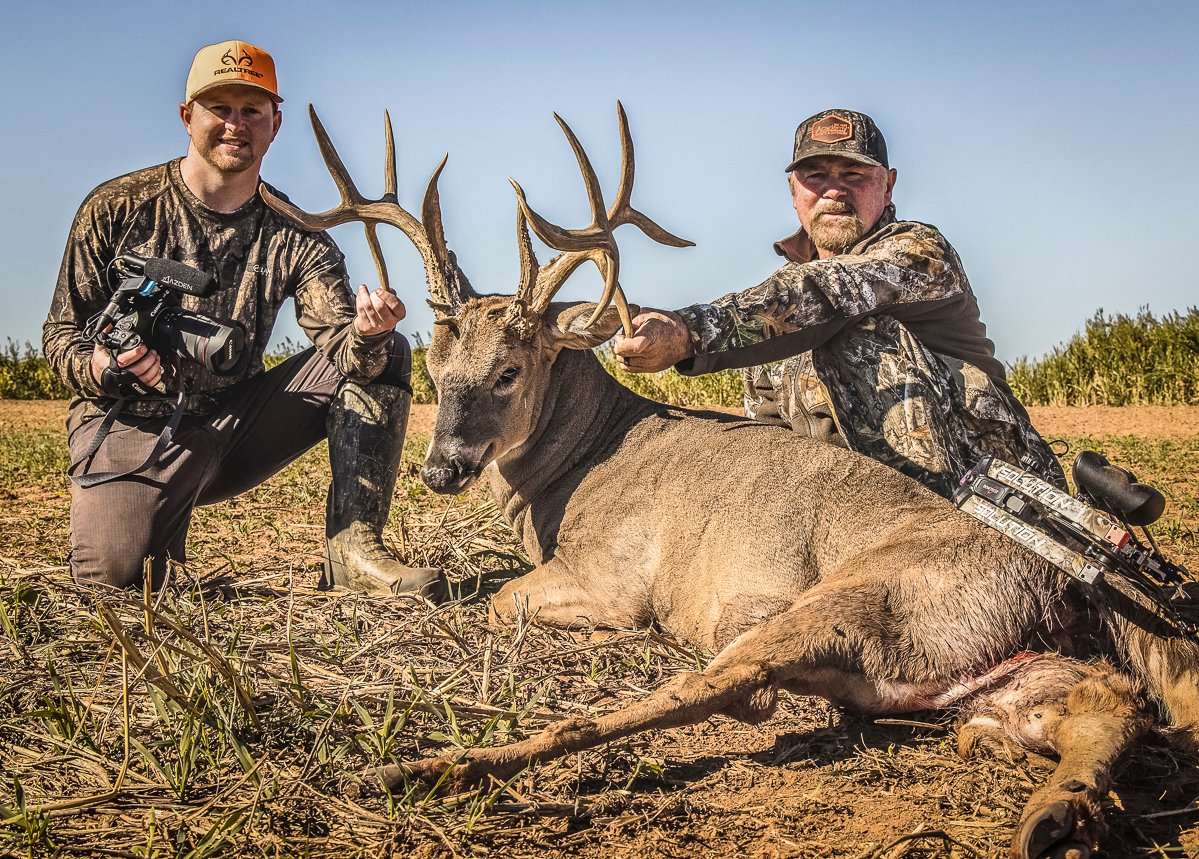 Early season cold fronts have led to the demise of many mature bucks. These weather events and temperature swings have the incredible power of sparking daylight deer activity. When you get them, deer move — even the big ones. It's that simple.
Jeff Danker, host of Buckventures, knows this. On his way home from a New Mexico hunting trip, he saw the front in the forecast that predicted a drop from 96 to 76 degrees in less than 24 hours. That's a gamechanger, and so he hurried to his Kansas farm in hopes of capitalizing on it and tagging a target deer he called The Flyer Buck.
The weatherman also predicted 20-mph winds and a high barometric pressure (30-plus), which Danker likes. You go with that big wind in the early season, Danker said. If you have a 3-5 mph wind, you don't know where your wind is going to go during the last 30 minutes of daylight.
High winds aren't uncommon in the Plains country, though. Danker has hunted a lot in Unit 16. He calls it a dream unit and the best of what Kansas has to offer. So, he purchased a property there in March of 2019. That summer he got pictures of this buck, but it was a mediocre 3 ½-year-old, and not on Danker's radar. In 2020, Danker says, it might've scored in the 130s.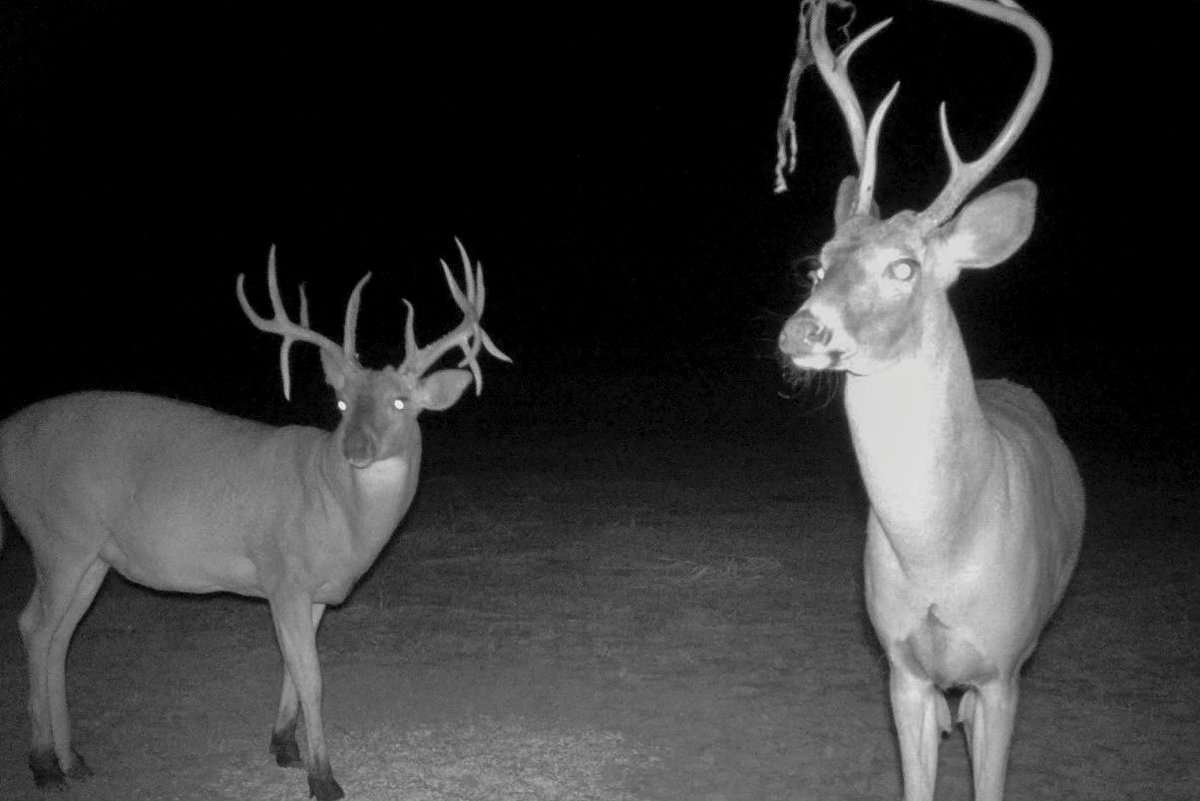 Things changed in 2021, when the buck got a lot bigger and pushed out 16 scoreable points. By then, Danker had been making improvements to the farm, but had yet to shoot anything there. The 375 acres of flat ground was a mix of CRP, timber, alfalfa, soybeans, and milo — all of which is strategically located to encourage deer movement and maximize hunting opportunities. So, when this triple drop-tine buck (with one flyer) bloomed into a 5 ½-year-old mega-giant, the property was laid out perfectly to hunt it. Especially the alfalfa fields.
Alfalfa is king, Danker said. Alfalfa beats any food that there is. If you partner with a farmer, you can do alfalfa and get a return and still see deer use it. Soybeans won't do that.
Everything revolved around that alfalfa. Danker knew the buck to be bedding in timber, which is located at the center of the property. He expected it to work through the CRP grass, into the hourglass-shaped food plot located between the timber and destination alfalfa and soybean fields. The killing spot? Right in front of the 10-foot elevated blind, where Danker planned to hunt. It was positioned in the pinch point of the hourglass food plot.
(Don't Miss: Buckeye Buck Named Hollywood Wakes Hunter from Catnap)
Fortunately, they arrived at the farm in time to hunt the front. They assembled their gear and used a low-impact entry route through tall grasses to get to the blind. He and his cameraman, Cole Cannon, settled in and waited for deer to begin moving, which didn't take long.
The first 40 deer were does. It was a parade, Danker said. They were coming out of that timber. They'd eat, jump the fence, go to the pond, and then appear out in the alfalfa. Each one had mud on its feet after leaving the pond.
After the parade of does ended, the buck parade began. Each of them appeared 120 yards away along the back fence line between the thick cover and food plot. Several young bucks, and even a 3-year-old 160-inch deer walked into the open. They fed and milled around.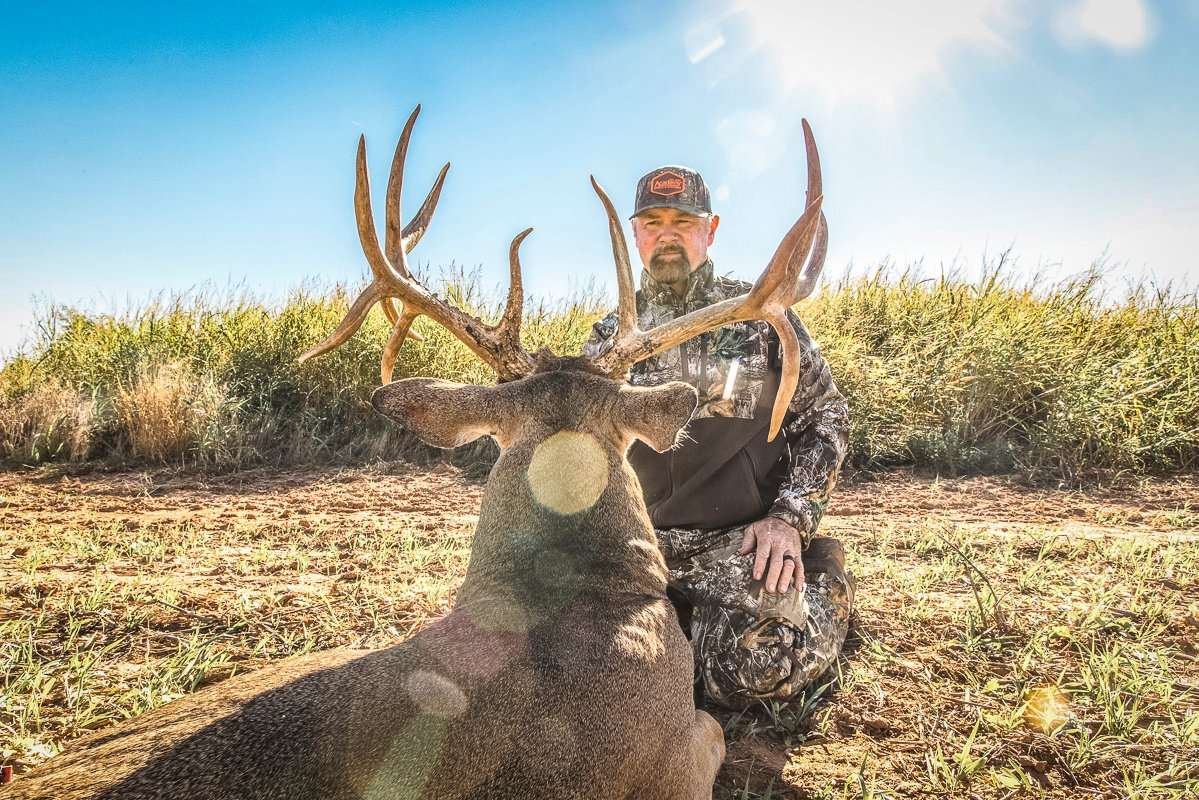 Then, at 7:20 p.m., the giant appeared and started walking toward the blind. Danker raised his bow and got ready for the shot. But just as he did, the Flyer Buck turned to walk toward another deer.
After several tense seconds, Danker drew back and bleated to stop the buck, but rather than stopping, it started trotting instead, right past Danker's primary window. He spun to the next one, waited for the deer to stop on its own, and took the 28-yard shot.
The arrow passed through, but the buck was quartering to Danker just slightly, and the hit was further back than Danker intended. The buck bounded a few leaps, jumped the fence, and stopped 70 yards away beside the pond. Then, the buck just walked off.
(Buy Alert: Realtree Camo Pro Staff Performance Hoodie)
Danker and company went back and looked at the footage on the monitor. They knew the shot was lethal, but maybe not quickly. They waited three hours and returned to start searching.
They blood trailed the buck for an hour, found where it bedded multiple times, and decided to back out. They returned the next morning and found the deer 40 yards from where they stopped, which was 160 yards from the point of impact. It'd likely been dead, but with no way of knowing for sure, Danker was just glad to have recovered the buck.
We get those bucks that are just special, he said. I shot the majority of my bucks on places I leased. But my dream was to own my own property. This is my first buck that was on my own piece of ground. And I'd never shot a droptine deer in my life, and this had three droptines and a flyer. Blood, sweat, and tears really did go into this farm.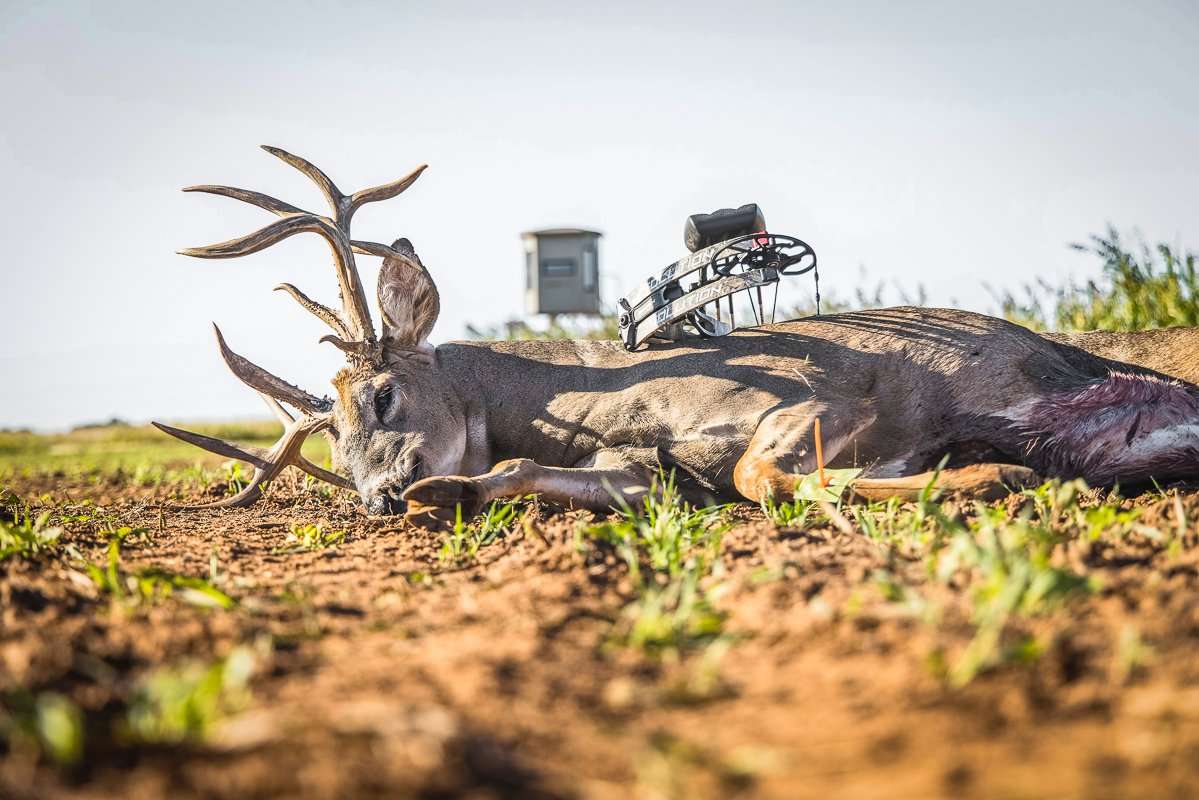 Looking back on his life, Danker reflects on just how much hunting and the outdoors has meant to him and his family, as well as how he's changed as a deer hunter.
I'll be 50 in November, he said. As I look back, I used to shoot any deer that moves. Then, I decided to target specific deer. Just learn who you want to be. If you want to just shoot deer, great. If you want to target trophy bucks, great. Now, I love messing with farms, and making ground great. That's where I'm at now — watching this farm become one of the best places I've ever hunted.
It certainly produced a giant whitetail. While it had a 146-inch 8-point frame, three drop tines, a flyer, and several other scoreable points totaled up to 36 inches of antler for a total non-typical score of 181 3/8 inches.
(Don't Miss: Katie Van Slyke's Freaky Tennessee Buck)
In addition to Danker's giant, Buckventures co-host Daniel McVay shot a 160-inch deer just a few miles away. Thinking back, Danker realizes just how special the day was.
I always mark my arrows, Danker said. The night I shot that deer, I put 'Shoot by Sight. Walk by Faith' on the fletching. The 2 Corinthians 5:7 reference is fitting, and a motto for Danker's life. God has brought me to where I'm at today, he said.
If you want to see more about Danker's life, and maybe even a triple droptine buck, you can view the entire hunt and more here.
Watch all the latest video episodes