Sara Leftwich filled her 2022 Kentucky tag in grand style, just as she did the past two seasons
Rack Report Details
Buck:
175 inches
Time of Year:
September 19, 2022
Place:
Monroe County, Kentucky
Weapon:
Barnett crossbow Bowhunting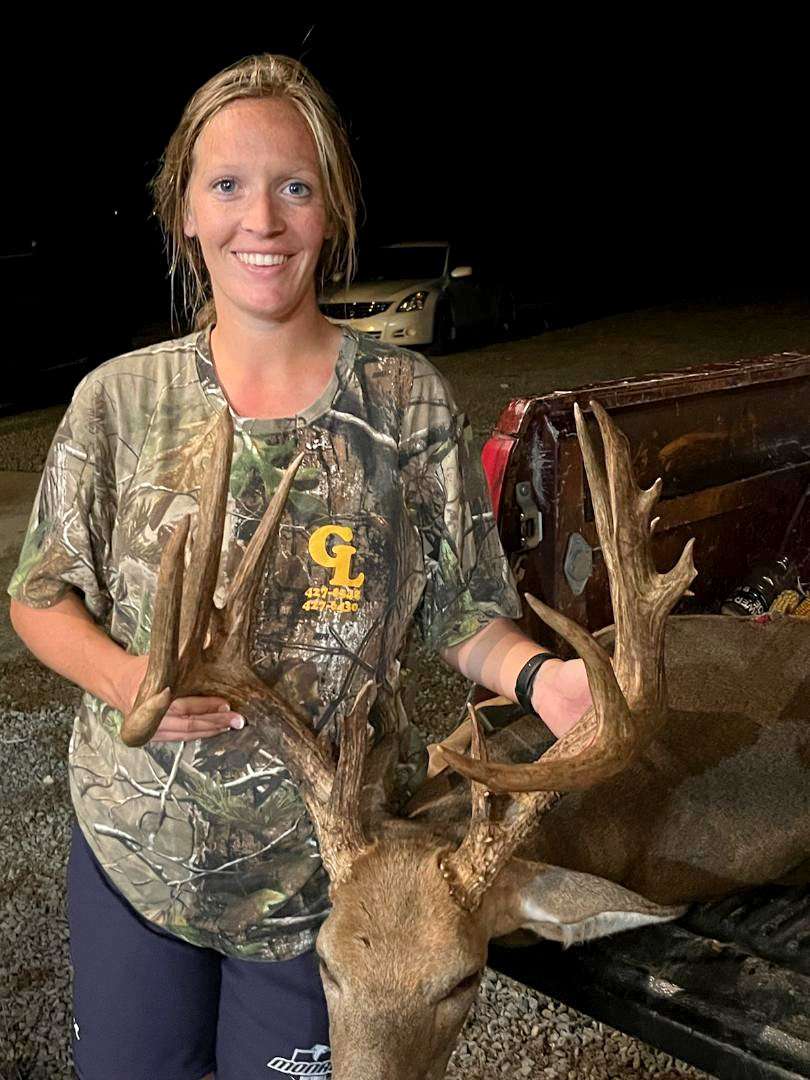 Sara Leftwich is a Kentucky hunter who spends a lot of time chasing whitetails each season. She started hunting in 2016, and for the past three years she's tagged big bucks. The family purchased the farm she usually hunts a few years ago, and they've spent a lot of time on it since then. It's close to her grandfather's farm, and the area is quite sentimental to her.
This year, it didn't take long to fill her buck tag. She crossed paths with a 6 ½-year-old monarch buck in the early season and capitalized on the opportunity. And she did so while being 34 weeks pregnant.
This was my third year watching this deer on camera, Leftwich said. We use a Muddy camera that sends directly to your phone. This deer mainly came out before daylight or after dark.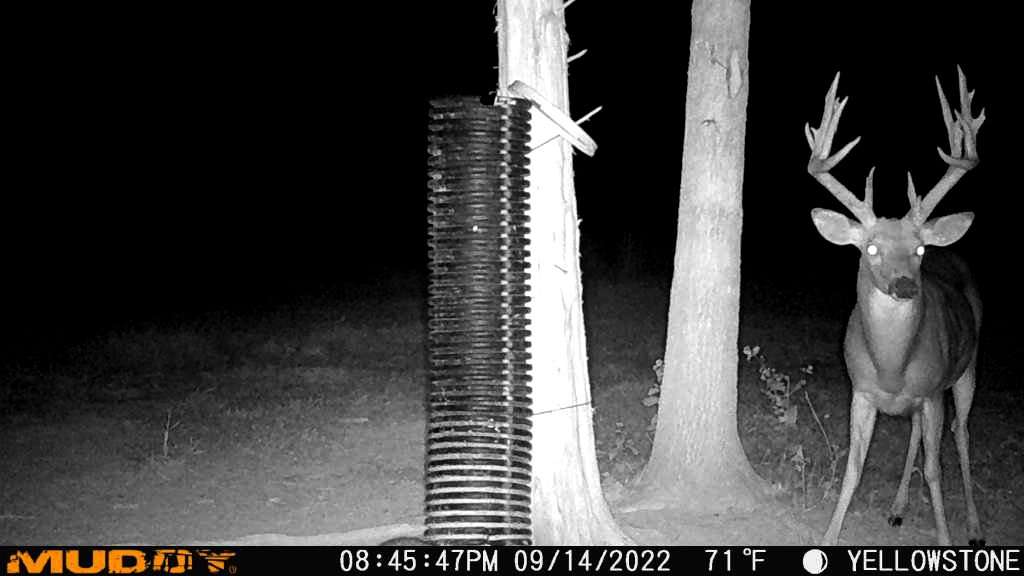 On September 19, it did move in daylight, though. The weather was hot, conditions weren't great, but Leftwich wanted to try it anyway. So, she headed into the property, easing through the hills and hollows to her hunting location. Reaching her destination, she settled in and started scanning the small food plot in front of her, as well as the surrounding woods. Hunting from an elevated, enclosed platform, she hoped the wind wouldn't be much of a factor.
Later in the afternoon, four does fed into the open and grazed in the food plot. After a while, another doe walked into view. After observing it for several seconds, she turned back to her right and spotted the 17-point buck easing into the food plot. After four days of hunting him, she finally saw him standing right there in plain view.
I remember hearing myself breathe loudly because I was nervous and34 weeks pregnant at the time, Leftwich said. I had the window that was facing the corn pile open, which was to my left. When I looked to my right, I saw the big buck in the food plot. I was hoping he would come to the corn pile, but he headed toward the woods. I knew it was now or never to get a shot at him. I opened the window to my right, set my shooting stick against the wall, turned around in my chair, and moved the crossbow to face out the window to my right.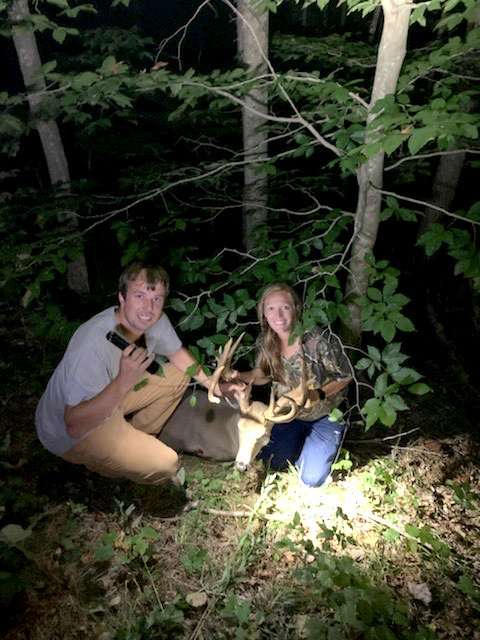 Ready to shoot, she settled the crosshairs and let the crossbow bolt fly. The 40-yard shot connected, and the deer ran off into the timber. Then, silence.
I called my husband to tell him I had shot it, Leftwich said. He told me to stay in the stand until he got there. We had a bad experience a few years back when my husband hit a buck with a bow. We jumped it, but never found it. We did not want to make the same mistake again.
After a while, her husband, Ben, as well as other family members, arrived to help recover the buck. They followed the blood trail about 60 yards and spotted the downed deer. You got him, Ben said. You have got the big one three years in a row.
The buck sported 17 points and scored 175 inches. God has blessed me to be able to get a buck of a lifetime, she said. This deer means so much to me because I was 34 weeks pregnant when I shot it. This is a story that Ben and I can tell our daughter in years to come, Lord willing.
(Don't Miss: Waterhole Sit on 90-Degree Day Yields Super Wide Buck)

Watch all the latest video episodes