Jerry Bowers dedicated the Sooner State buck, taken on a controlled draw hunt, to his late father-in-law and hunting mentor
Rack Report Details
Buck:
202 5/8
Time of Year:
November 12, 2022
Place:
Pittsburg County, Oklahoma
Weapon:
Black Widow SA2 recurve bow Bowhunting, Traditional Bow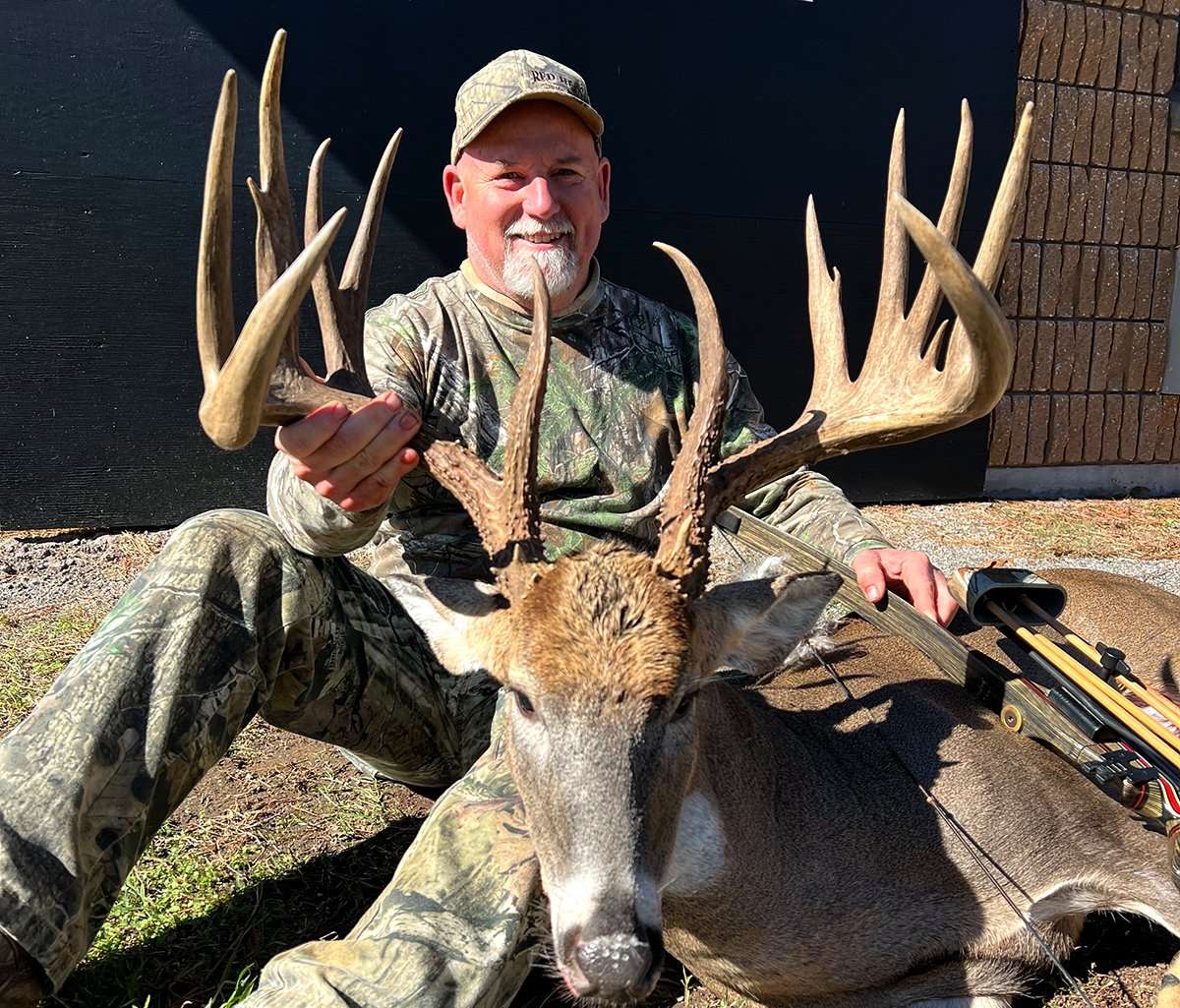 Oklahoma's Jerry Bowers set down his compound bow 12 to 15 years ago and has hunted exclusively with his Black Widow recurve ever since. This November, while hunting at the McAlester Army Ammunition Plant (MCAAP) — a controlled hunt for which deer tags are distributed by drawing — he took a world-class whitetail. But Bowers said the hunt was more to him than just taking a trophy buck.
I started hunting when I was a kid, Bowers explained, but I didn't take up bowhunting until around 1989. At that time, I built a relationship with my father-in-law. He taught me dang near everything that I know about hunting, and about 25 years ago, we started applying together for the MCAAP controlled hunt.
If you don't know, the MCAAP hunt has some strict regulations. Only recurves and longbows are allowed. No accessories are to be attached to the bow other than a quiver. Binoculars and rangefinders are prohibited. Hunters must undergo a pre-hunt briefing, which lasts 1 to 1 1/2 hours. You're allowed about half a day to scout and hang stands or set blinds, and then you only get to hunt during legal hours from Friday morning until noon on Sunday. Plus, the MCAAP is divided into several segments, and you're limited to hunting the area that you draw.
In 2019, Bowers, his father-in-law, Jim Keim, and good friend Paul drew the MCAAP hunt as they had several times before.
He'd (Keim) had a stroke a few years earlier and was struggling to recover, Bowers said. He came to the realization that he wouldn't be able to do the hunt, but he wanted to sit with me while I hunted. We got settled at the campground prior to the hunt, then we went to the store. Tragically, he took a fall and never woke up.
Bowers drew the MCAAP hunt this year, along with Paul, and it tugged at his heartstrings to plan and prepare without his father-in-law. Still, he knew his father-in-law would want him to be excited about the hunt. And Bowers was.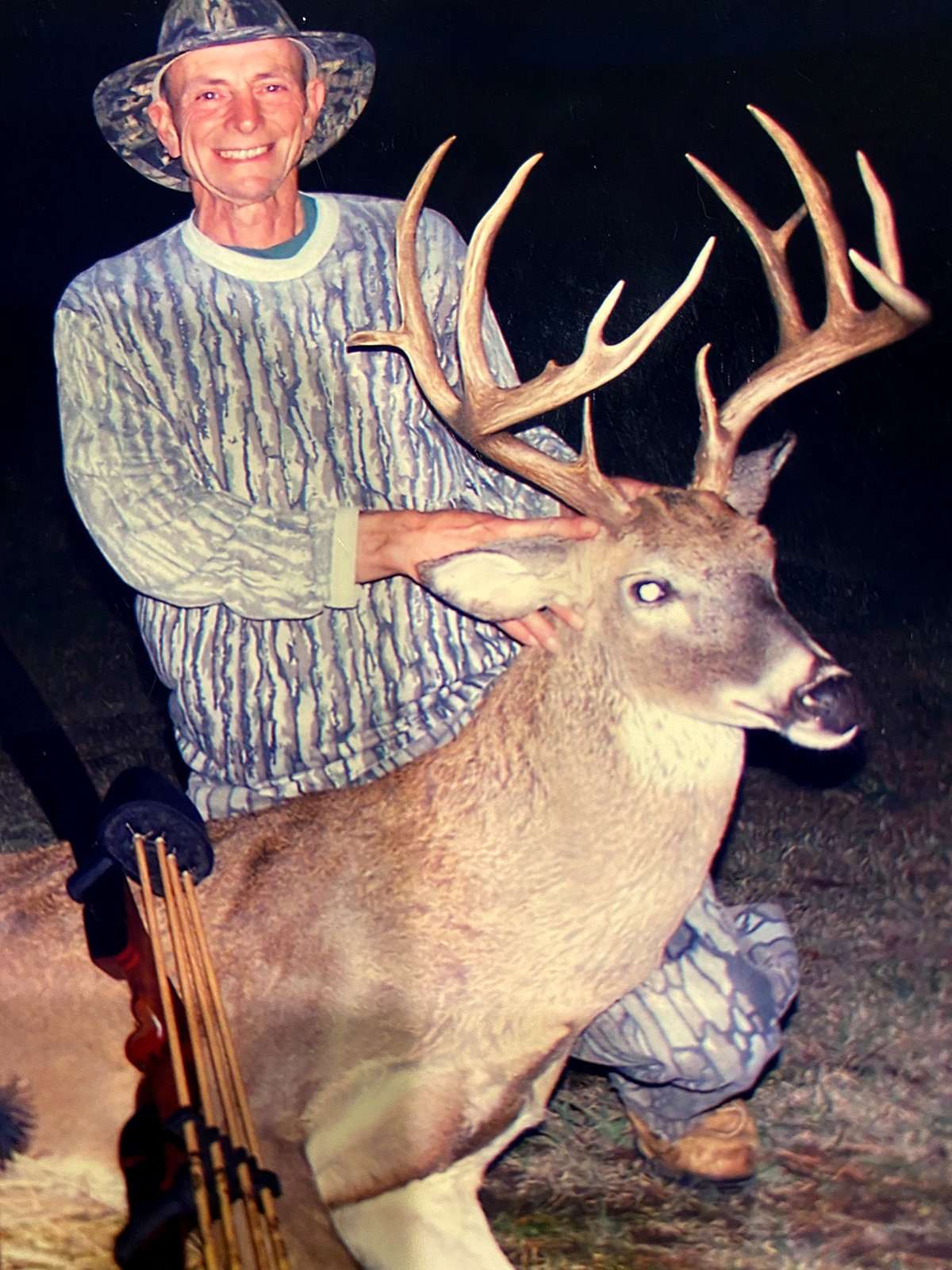 On a previous MCAAP hunt, I'd found a really good spot, he said. I was really excited in July when I learned that I'd drawn a tag for that same area, as I'd seen some really good bucks there. Unfortunately, Oklahoma is in a drought, and the area had no acorn crop and minimal deer activity. I hung my stand there anyway and hunted from it on Friday, November 11. Conditions were cold and windy. I didn't see a single deer.
I became frustrated and pulled my stand down, he continued. I planned to relocate closer to some food plots. However, there were too many folks hunting there. I couldn't hunt the plots without jeopardizing someone else's hunt. I was even more frustrated and headed for the truck.
I discussed the dilemma with my friend, Rodney, who'd hung two stands, Bowers said. I told him that I was unable to find a spot, and he offered for me to hunt one of his stands. He'd set it for a south wind, but the wind was from the north. I hunted it anyway on Saturday. I knew I needed to be in a tree.
From about daylight until 9:45 a.m., Bowers stood and watched upwind toward the field behind his friend's stand. He saw two pretty decent bucks that morning, neither of which responded to his grunts and bleats.
I sat back down and periodically glanced behind me, he said. I eventually spotted a really big buck with another deer about 40 yards away. I stood, grabbed my bow and positioned myself. Here was this huge buck, and I could only think about all of the things that could potentially go wrong. As I watched him for 2-3 minutes, he just kept coming my way while feeding on green grass and greenbrier leaves.
Finally, the buck stepped out in the open about 15 yards away. Unfortunately, he was facing toward Bowers — a poor shot angle. But the buck continued feeding even closer.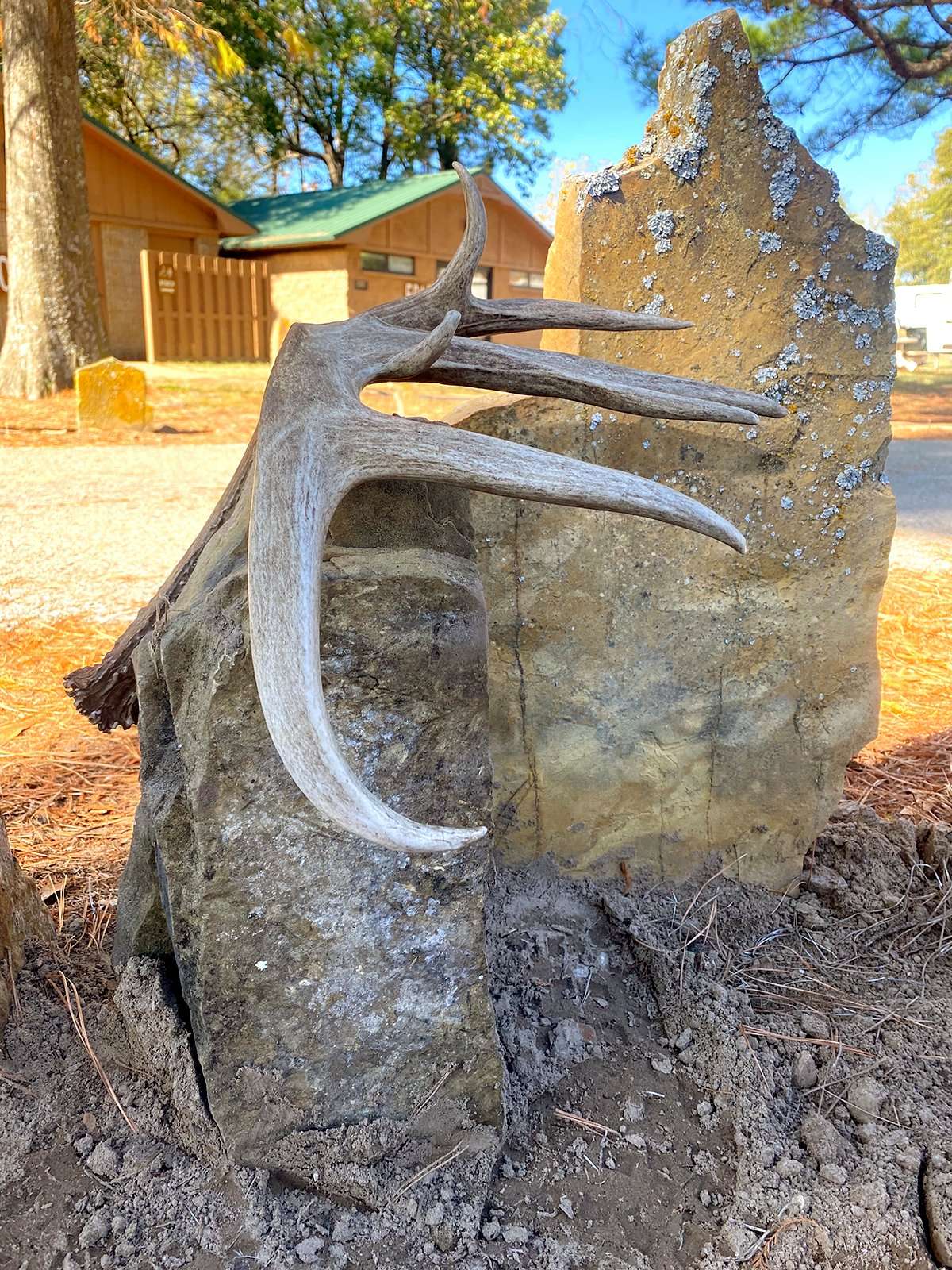 When he was only about 6 yards away, he finally turned and presented a good angle, Bowers said. I took the shot and watched my arrow go down through him. I was a little scared because it looked too far back. He ran around my stand, and I watched him go about 50 yards before he disappeared. I sat down and tried to calm down. Then, I noticed my arrow laying on the ground.
Rodney had been hunting not far away and saw Bowers' buck run by.
He texted me and said that he thought he watched the buck fall, but he wasn't positive, Bowers shared. I texted him to say that I was going to retrieve my arrow. It was soaked in blood from nock to tip. There was some gut matter on it, though. I decided to wait for an hour before starting my search. I went back to the truck and tried to burn off some adrenaline."
The longest hour of his life finally passed by, and Bowers took up the trail. He followed it to where he could see Rodney in his treestand. Of course, Rodney climbed down to help with tracking.
He was showing me where he last saw the buck, Bowers said. Lo and behold, the deer was dead right there. The emotions I felt at that moment were overwhelming. I had no idea he was so huge. To me, though, it's more about the hunt than the kill. My father-in-law instilled that in me long ago, to enjoy the hunt.
Bucks scoring over 125 inches taken at MCAAP are honored with a ritual.
The successful hunter gets to choose a rock and then plant it halfway into the ground, Bowers said. Several years ago, my father-in-law shot a 'rock buck.' The folks at MCAAP were kind enough to let me plant my rock next to his.
(Don't Miss: Bowhunter's First Buck Grosses 213 Inches)

Watch all the latest video episodes