Brock Wilson tagged one of the biggest deer of his life on a small tract of land he manages for deer hunting
Rack Report Details
Buck:
181 5/8 inches (green gross score)
Time of Year:
October 28, 2022
Place:
Moniteau County, Missouri
Weapon:
Mathews bow Bowhunting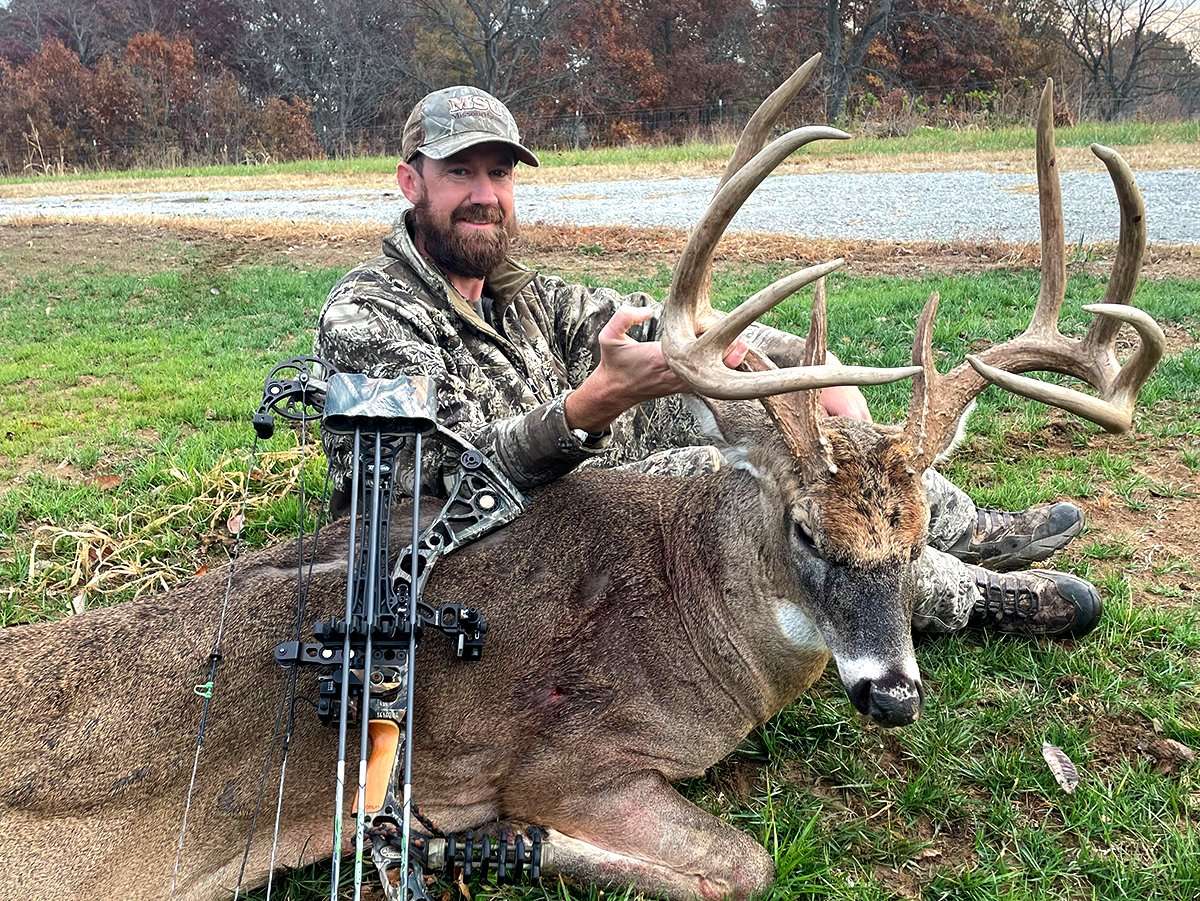 Brock Wilson spends a lot of time chasing whitetails each fall. He's bagged several big ones this year, including a 170-inch Kansas deer taken on September 16. But the largest of the season came out of Moniteau County, Missouri, near his home. It was a 4 ½-year-old whitetail that he followed for multiple seasons — all of which played out on a 20-acre parcel.
I purchased and started hunting the 20-acre property in 2015, Wilson said. In 2017 and 2018, my in-laws and I leased the adjoining 260 acres. But in 2019, we lost the lease. It was back to the 20 acres I owned. I started to ramp up my habitat management projects on this property to make it as inviting as I could for wildlife.
Wilson first received photos of this buck in the summer of 2020. Then, the buck was about 120 inches as a 2 ½-year-old deer. He had three encounters with the deer then, but it wasn't on the shoot list.
In 2021, the deer returned and grew into a 165-inch deer. Wilson received trail camera photos, but didn't encounter the deer except for a brief sighting in a neighboring crop field. Once winter kicked in, the deer spent more time on Wilson's 20 acres. He even picked up the buck's shed in March.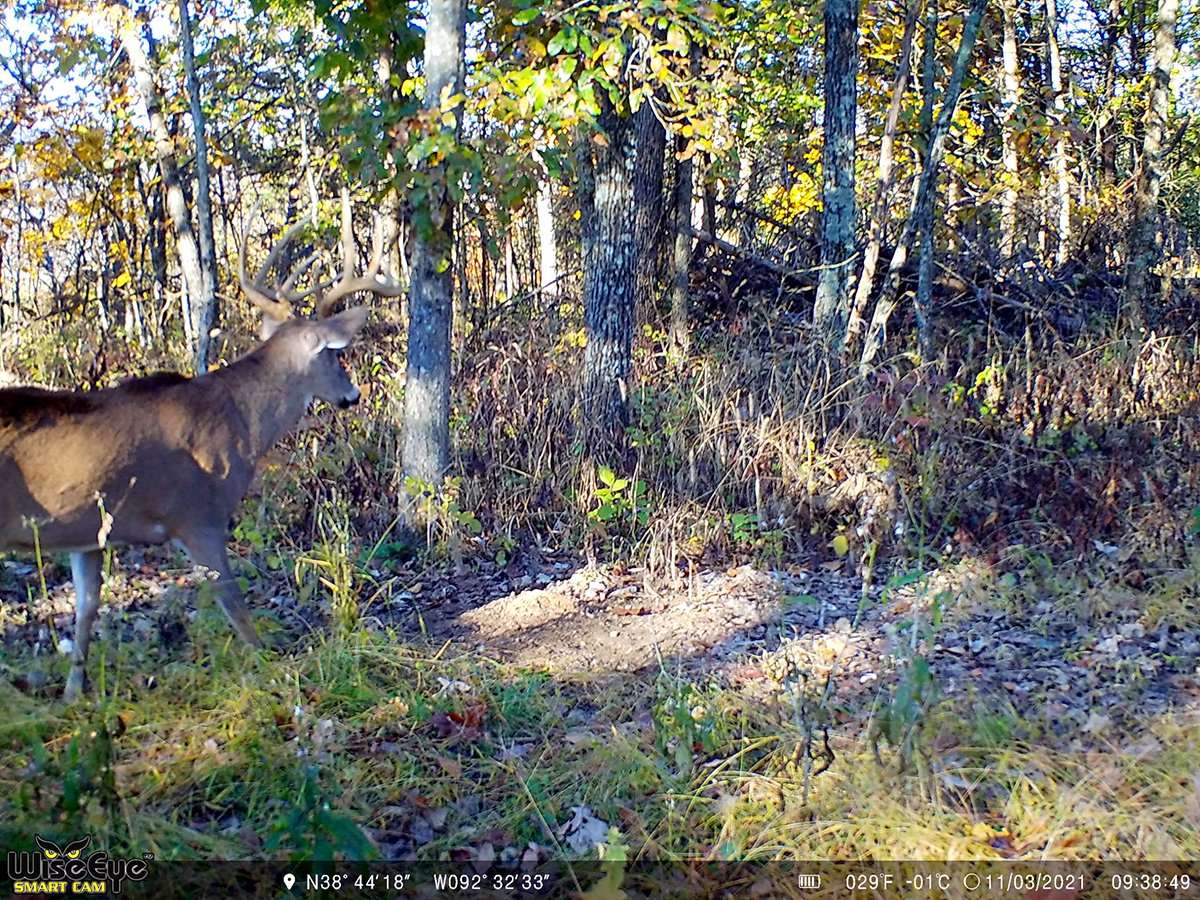 Fast-forward to this summer. The deer returned briefly in July, disappeared for two months, and then showed up again. On September 15, the deer hit a rope scrape and remained in the area after that. It returned to that same scrape almost weekly.
On October 28, his third hunt of the season on the property, Wilson encountered the deer for a final time. The day brought clear skies and 68-degrees, which isn't what you hope for in late October. Still, with winds out of the east-northeast at 5-10 mph, this was the right setup Wilson needed for the small tract of land. Reflecting on the years that he followed this deer, he realized the buck rarely passed through the area except on easterly winds. Even though the deer hadn't been there for a couple of weeks, he thought the buck might pass by due to the wind direction.
The area consists of wooded bluffs with significant elevation changes that run along a creek and agricultural bottomlands. His stand location is situated along the edge of a food plot with clover and chicory. Some cedar, oak, and hickory trees dot the landscape, too.
Shortly after settling in, Wilson saw and heard a lot of activity around him. His brother pulled in his driveway and picked up a ground blind. A neighboring farmer fed his cattle. And it sounded like someone in the distance was sighting in a rifle for the upcoming youth season.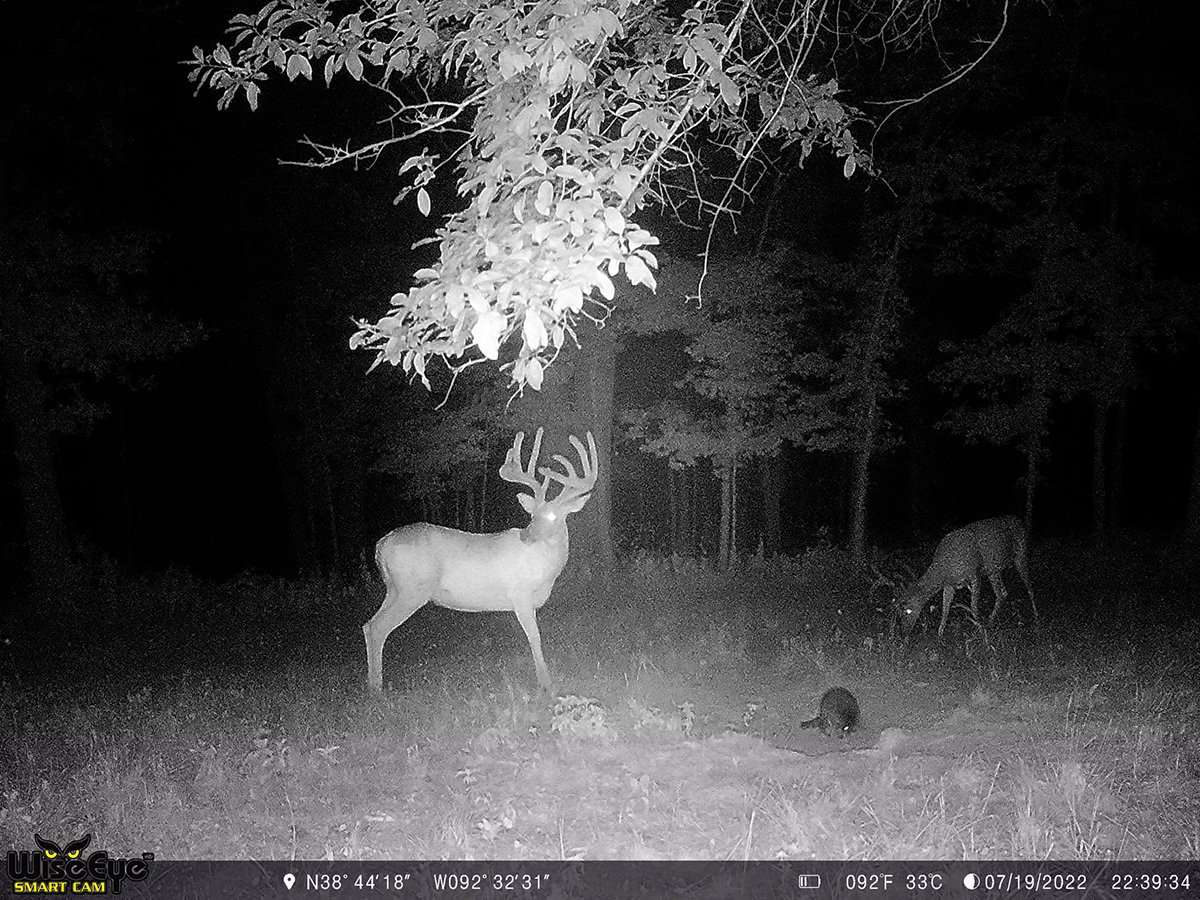 Less than 30 minutes after climbing into the stand, he spotted the buck approaching. When I saw the buck cruising through the cedars south of me, I pulled up my binoculars and realized it was him, he said. He was headed west, and I thought he was going to run over the ridge and down the bluff. Luckily, I had a grunt call at the ready, so I grunted at him to get his attention. The buck stopped and looked my direction. He proceeded west so I hit him with another series of short grunts and got his attention again. This time he was interested. The buck then started trotting right to me.
The buck breached the 60-yard marker, scanned the food plot for the source of the grunt, and continued walking toward Wilson. Once the deer walked behind a tree, Wilson drew back and waited for an opportunity. The deer reappeared, and Wilson took the broadside 35-yard shot. It connected. The deer ran about 50 yards, blew through some downed cedars, rolled off a rock outcropping, and tumbled down a hill.
With the buck down, his brother and father-in-law arrived to help drag the deer back up the hill and to the truck. Of course, Wilson thanks his wife for holding down the fort while he was out chasing whitetails.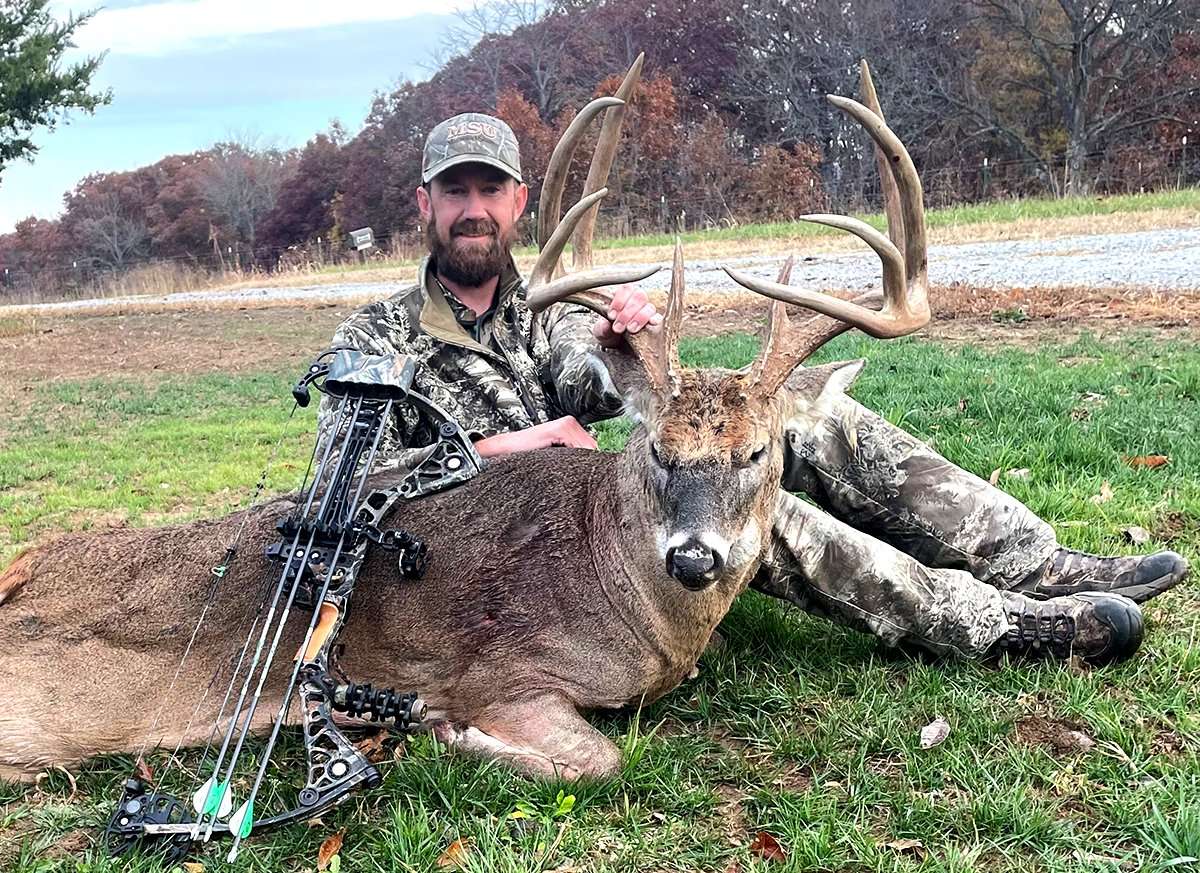 This buck and hunt are a dream come true, Wilson said. Having a successful hunt on your own property that you have dedicated your time, money, and effort into is a wonderful feeling. And to do it with a buck of this caliber and on a small-acreage parcel in a heavily pressured area is even better. It shows that with the right determination and dedication, harvesting a mature buck can be accomplished.
Most were just in shock that I was able to kill a deer of this caliber on my own 20 acres in a stand that's less than 100 yards from my house, Wilson said.
Overall, it resulted in a massive Missouri buck scoring 181 5/8 inches. But the memory of the hunt, and the meaning of it, are even bigger.
(Don't Miss: Massachusetts Bowhunter Shoots 195-Inch Buck While Answering the Call of Nature)

Watch all the latest video episodes