Mountain Lion Hunting: When and Where
Do you have what it takes to kill North America's biggest cat with a bow?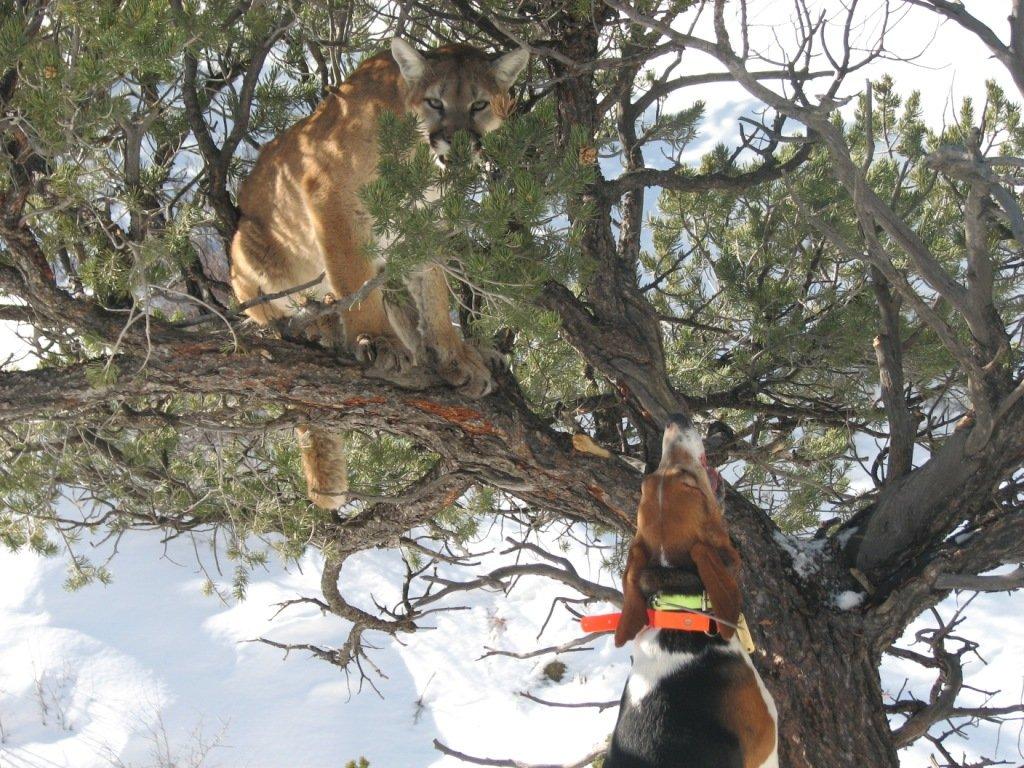 The thought of giving chase to the western cougar or Felis concolor had not always been on my hunting to-do list. I put it in the same maybe someday category as I had other hunts that were either out of my price range or those I lacked the desire to hunt at the present time. But an encounter I had one spring promptly put the lion in the must do category.
My hen decoy was set in a creek bottom that was skirted by a rocky ridge. As a fairly new western hunter at the time, it never dawned on me that a serenade of love-sick yelps could yield more than a strutting tom. But when I caught movement along the ridge some 50 yards away that caused the hair on my neck to stand, I knew something wasn't right. As I dissected the rocky outcropping with some glass a few minutes later and saw the pair of yellow eyes locked on my position, I knew the hunting roles had been reversed. When the eyes failed to flinch as I stood my six-and-a-half-foot frame from the tree and yelled a few choice words in his direction, I knew that I was in trouble. It wasn't until I fired a warning shot at the rocks below his hiding place that he was convinced to head elsewhere. Needless to say, I was relieved to see him effortlessly leap over the ridge in the opposite direction, but at the same time, I was intrigued by his presence. Thus began my obsession to chase a cat.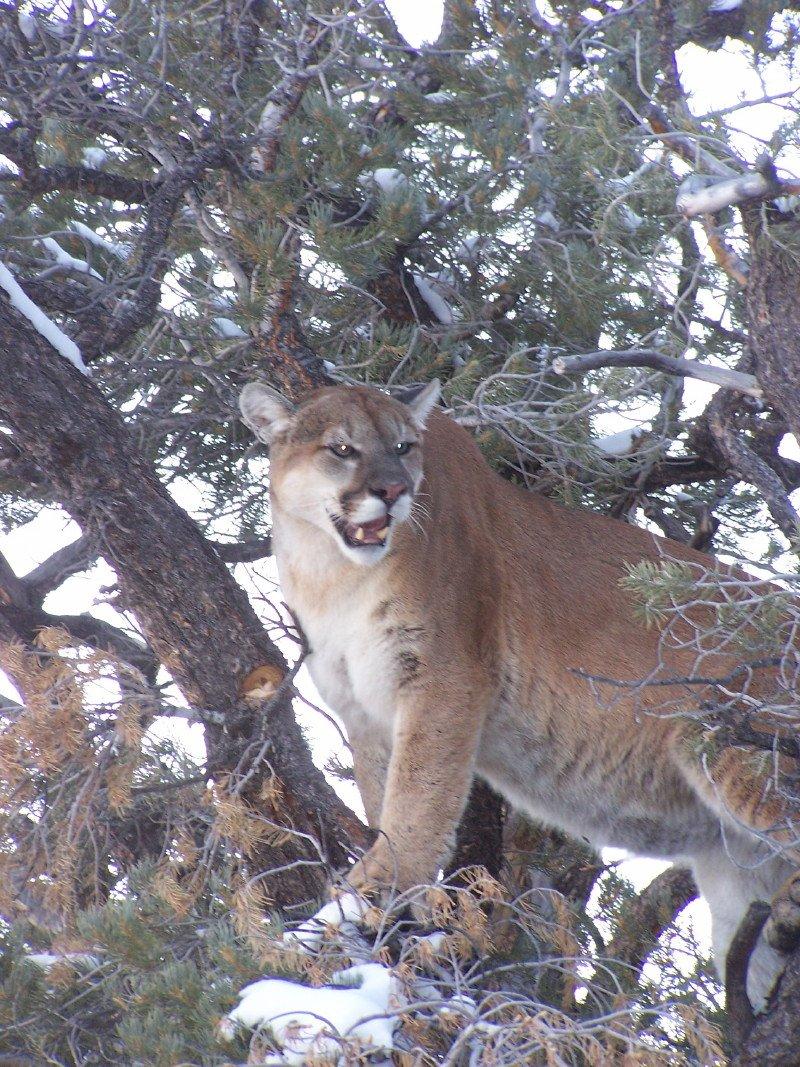 After making a few calls to a guide friend of mine in Colorado (and getting the green light from the Missus), early the next morning found me riding shotgun in Dave Accashian's old, beat-up 4x4. Needless to say, as a first-timer, I was eager to cut my first track, and when Dave slid his truck to a stop in the middle of a logging road, I knew something was up! Escaping the warmth of the cab I stumbled to the front of the truck and with the aid of the headlights began to study the jumble of cloven hoof tracks that crossed the road. It looked more like a 1,000 piece white-on-white jigsaw puzzle to my untrained eyes, but as Dave studied them the expression on his face told me that we weren't the only hunters on the prowl this bone-chilling morning. As he pointed out the crisp edges of the padded tracks that crossed the road sometime during the night, it was obvious to me that the hunter was about to become the hunted.
Three colorful blue-tick hounds jumped from the dog box and bounded across the fresh blanket of snow. As they ran around the truck throwing the powdered sugar-like snow in all directions, Dave studied the ground further and eventually grabbed his best hound and put him on the sharp-edged track. In an instant the business end of the hound went to work, and in no time he was off with the other two in tow. I listened with intensity as their energetic cries melted into the early dawn light of the ponderosa pine landscape. The chase was on!
WHERE TO GO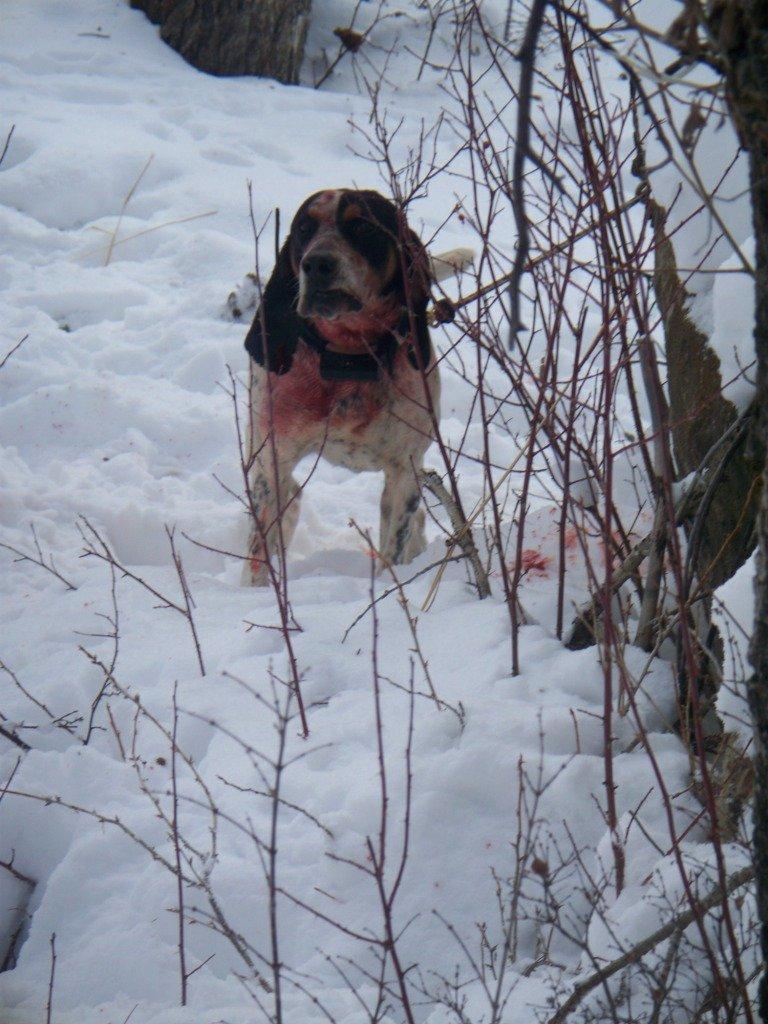 Mountain lions are mainly found in the western U.S. and Canada, and although there are many places to chase a willing tom in knee-deep powder, it's hard to beat what the hills of Colorado have to offer. Annually, about 325 to 350 lions are harvested, with the bulk of them being heavy toms. Furthermore, Colorado boasts a solid number of lions, somewhere around 3,500, and according to recent reports it looks like the population is expanding into some eastern regions of the state as well.
Since Colorado operates on a quota system, getting a tag is easy if the quota has not been filled in a particular area. That being said, quotas rarely are met during the lengthy season, which runs from mid-November to March 31st statewide. Hunters must take an online lion hunter education course. This course is to help would-be lion hunters better identify female lions. This effort is to encourage hunters to let the females walk so populations will continue to be strong for future hunters.
Colorado leads the west for overall trophy numbers, with more than 550 animals making the B&C and P&Y record books. Looking at numbers like this it's easy to see why Colorado should be at the top of any prudent lion hunter's hit list.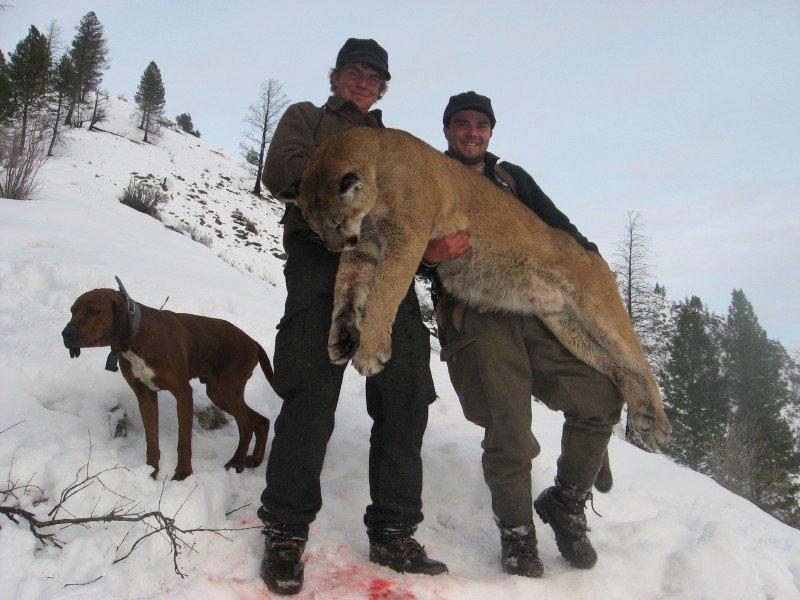 Idaho is another top spot if you're looking for overall success, as well as a real opportunity to kill a cat for the books. Around 450 cougars are harvested here annually, which is more than any other western state, and it also comes in at a close second to Colorado for total record book entries with about 470. But what is even more impressive is that out of the top 50 cougars in both the B&C and P&Y records books, more than half have come from the hills of Idaho.
Population estimates hover around 2,000, with overall numbers stable in most areas. Your best bet for hanging a tag on a Gem State tom is in the Panhandle, Clearwater and Southwest regions, as nearly two-thirds of the harvest comes from these areas annually. And with their liberal season that lasts some six months, it's not hard to find the time to burn some boot leather.
Rounding out the top three trophy producers in the Lower 48 is Utah. More than 410 cats have made the record books with around 100 cats being Booners and more than 315 being P&Y candidates. Utah's top cat measured 16 inches and ranks in the top 10 in the all-time B&C record book. And unlike other states where you can pinpoint the regions of the state from which most of the trophy toms come from, they seem to be scattered across the state.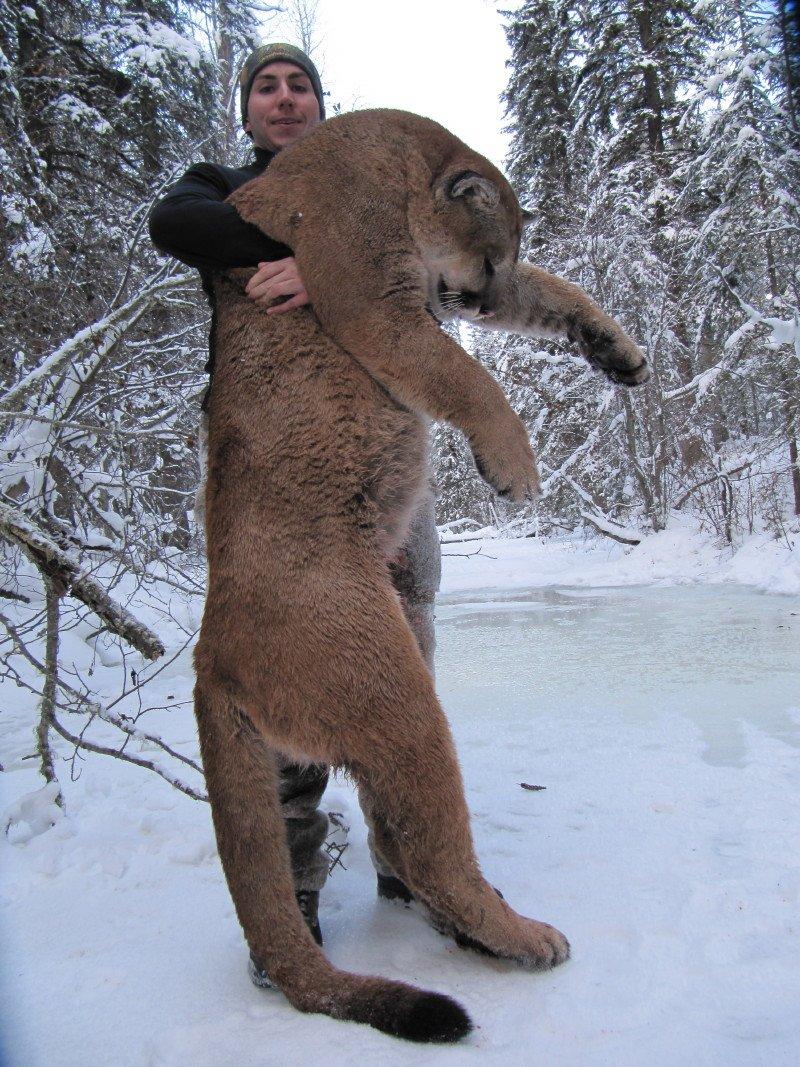 Not only do you have a good chance of killing a tom for the books, but your overall chance for success is high, too. Utah offers both limited-entry and a quota system. This is done to ensure the quality of the lion hunting experience and to make sure they are being well-managed. It goes without saying limited entry tag holders have a higher success rate, but quota tag holders aren't that far behind. And when you consider Utah's long season, which runs from mid-November to the first of June, there's plenty of time to grab your share of time in the woods.

Don't just look to the Lower 48 to tag a head-heavy tom. British Columbia and Alberta also boost solid numbers of cats, and many experienced cat hunters feel it's hard to beat what these wilderness North Woods have to offer.
According to the 12th edition of the B&C record book, the top cat came from Tatlayoko Lake, B.C, and his head taped out at a whopping 16 4/16 inches. What's even more impressive is that five of the top 10 cats came from these Canadian provinces. No wonder hunters who head there usually come home with a tom for the record books.
MOMENT OF TRUTH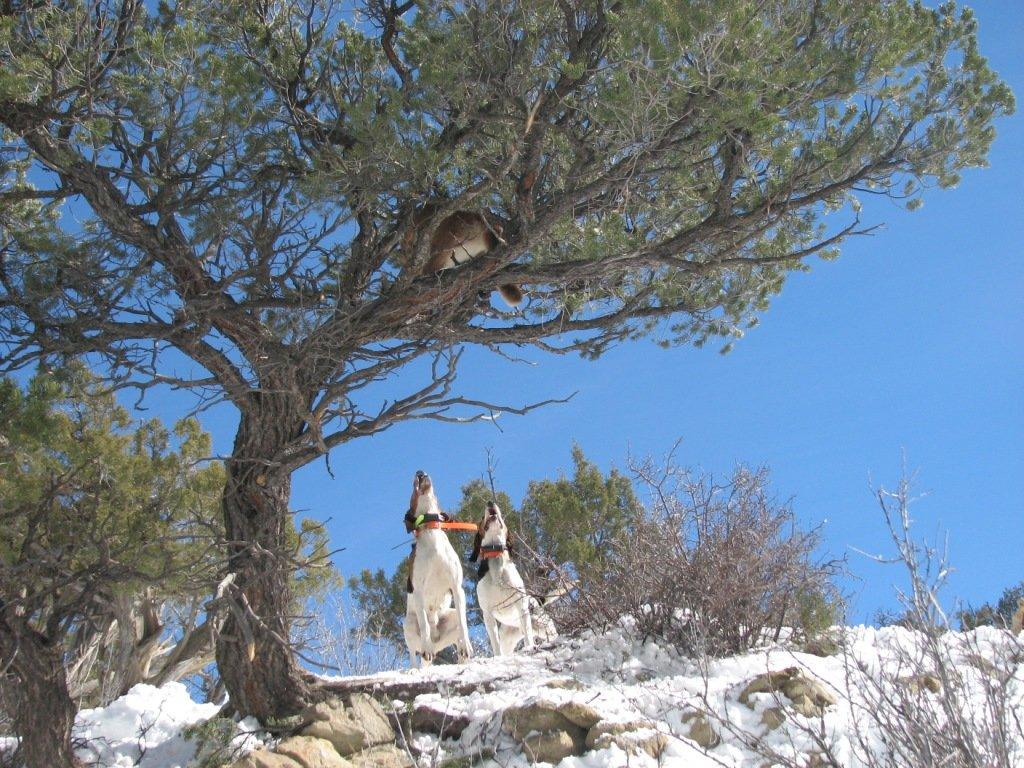 With a wink and a nod, Dave told me to get my bow. In short order we were off, chasing the echoing chorus of distant hounds. After clumsily traversing and crisscrossing countless snow-covered hills, gullies and ridges for several miles, my legs and lungs were spent. It had been a while since we had heard the once constant sound of bellowing hounds, and frankly, I was beginning to wonder if the track had gone cold. But just when the seed of doubt was being planted, we were greeted by the muffled sounds of eager hounds as we rounded the corner of a ridge. This time, however, their pitch had changed, almost becoming more urgent. We both paused for a moment and tilted our heads in their direction to listen, and even for a rookie like me, I could tell the cat was treed!
As the rhythm of bays and barks grew closer, my feet seemed to never hit the ground. Before I knew it I could see my feline prize angrily perched eight feet up in a cedar tree. From my position on the side hill, I was eye-to-eye with over 100 pounds of fur, teeth, claws and anger; I thought my heart was going to pound out of my chest. In an instant, my arrow ripped through his chest and he let out a seething hiss of discontent. Within seconds, his near lifeless body fell out of the tree and he bounded away only a few yards before expiring in a heap.
The ultimate thrill of the hunt wasn't the climatic release of the arrow; it was the whole process—the planning, the tracking, the chase, the sounds, the smells and the end result. Moments after the release I couldn't help but think about this cougar's wild and secretive nature. In admiration I knelt down and stroked his handsome tan coat and could see first-hand why the cougar is North America's most successful big game hunter.