Here's how these hardcore snow goose hunters fool wary spring birds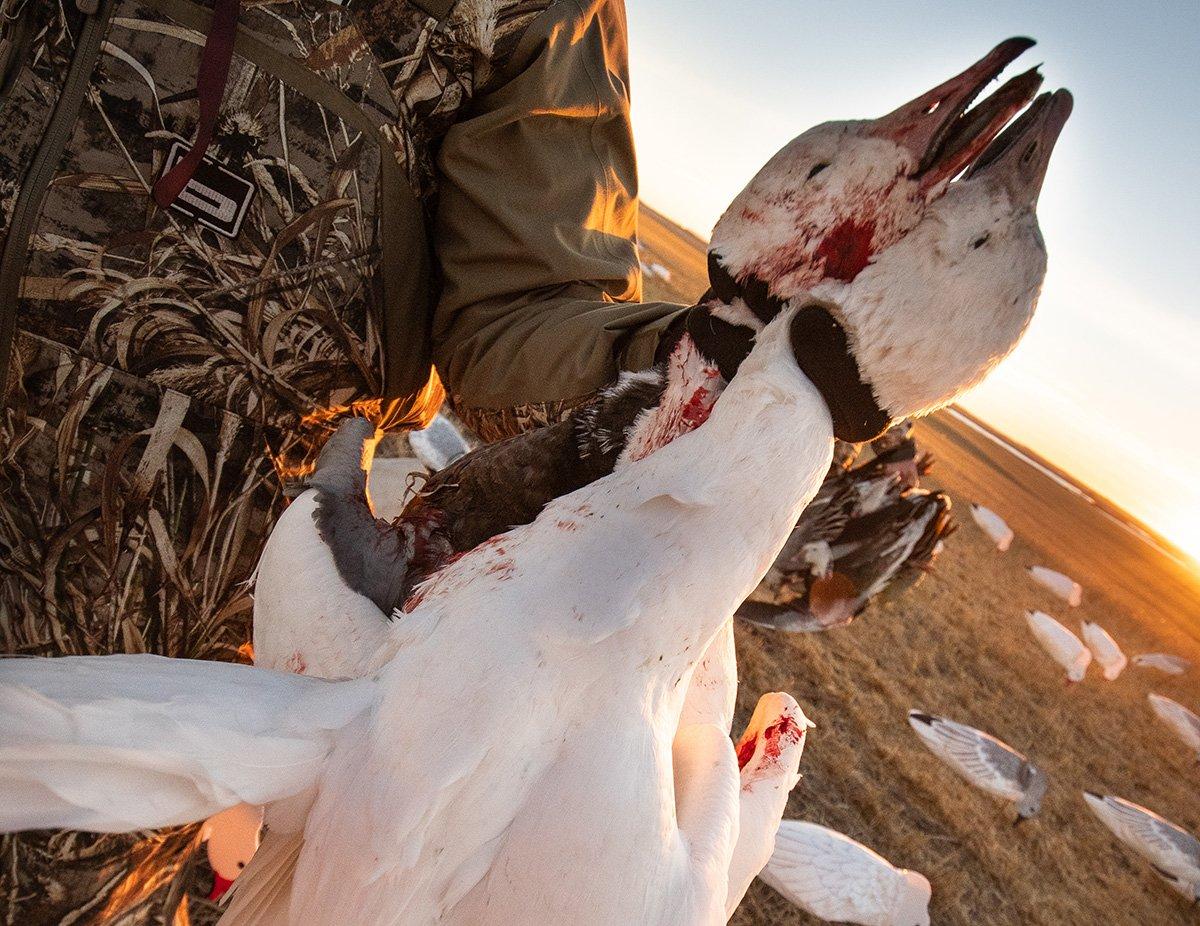 Many waterfowlers have been on a few spring snow goose hunts and know the basics: lots of scouting, decoys and calling. But hardcore guys who chase white birds for months instead of days typically acquire Ph.D.-level chops and a knowledge base built on thousands of experiences.
Their advice can help you during spring light-goose pursuits. Consider these go-to snow goose setups from the pros.
Windy-Day Down Side
Graham Greseth, owner of MaXXed Out Guides, runs spring snow goose hunts in Kansas and South Dakota. He usually targets hot feeds in large ag fields, and he's developed a sneaky setup for windy days.
Often, you'll sit on the back half of the spread and let the birds work over the spread to the hole, he says. On high-wind days, we do the opposite. We sit on the very downwind tip of the spread, pack the decoys in tight to make them super visible and then let the birds crawl into us.
The theory, Greseth says, is simple: Birds fighting to fly against strong winds have lots of time to view a spread, and they often flare when they reach the edge of the decoys and recognize that something's amiss. By sitting on the downwind edge of the rig, hunters enjoy closer, better-quality shots than if they were sitting farther upwind.
By the time they realize those aren't live birds, we're right there and ready to hammer on them, Greseth says.
Consistent Water
Eric Rinehart, of North Delta Outfitters in southeastern Missouri, eschews the standard snow goose protocol of finding feeds and instead prefers to hunt from pits over water.
My go-to is just a permanent spread of about 2,500 to 3,000 full-bodies set up on water, like an 80-acre flooded field, he says. We'll chase feeds every now and then … but most of the time, we're just set up for migrators, and that's the way I learned to hunt.
Most fields that were flooded for ducks the previous fall have been drained by spring, but Rinehart and his friends are farmers, so they can keep a field flooded through the beginning of March. And when most other fields are dry, a large spread on water really stands out. Further, it provides more consistent success than the hit-or-miss game of hunting feeds.
Any time in February when it's really warm, geese seem to really key on and pitch to the water, he says. When they're migrating, they can see that water for a long way. We can go out and kill 30 to 40 geese every day. And it really ups your chances of killing them during mediocre conditions.
Tight Like That
Brandon Martin, creative director for Banded and founder of DayBreak Outdoors, frequently hunts spring snows over water, and he has one requirement for his spread.
One thing we try to do is keep our decoys tight, he says. We hate having our decoys all spread out. In theory, it sounds great to make your 1,500 or 2,000 decoys spread out and look much bigger, but in my opinion, geese are going to at least fly over your spread to see if it's real or not. We don't like decoys spread out because geese always tend to work straight over your decoys.
Martin says incoming snows typically circle the radius of a spread. Loosely packed decoys make birds circle very wide — that is, farther from hunters. But when decoys are packed tightly together, geese will make tighter circles over the spread, especially if there's no wind.
The tighter we make our entire spread, the tighter those geese are going to circle right on top of us, and we always have their attention when they're on top of us, he says. And you have to have their attention when they're huddled up right above you.
Click here for more Realtree waterfowl hunting content. And check us out on Facebook.