How do you hide from all those eyes? Use these sneaky tricks from the pros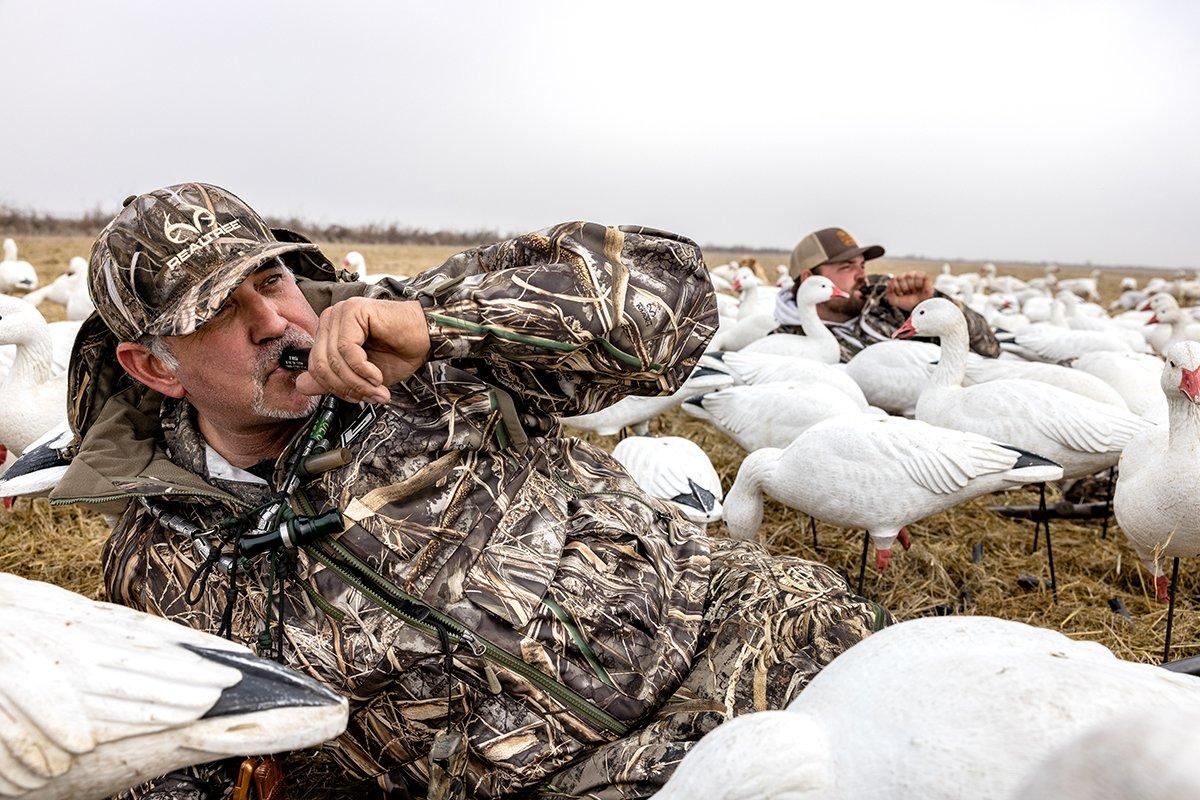 Concealment is the backbone of any waterfowl hunt, whether you're in the woods, on the water, or in a field. But it becomes increasingly critical when pursuing massive flocks of spring snow geese. After all, instead of hiding from a few birds, you're trying to fool hundreds or even thousands of sharp-eyed geese, some of which might have made 20 or more trips up and down the flyway.
Obviously, simply throwing a layout blind in a field won't cut it. Here's how top-level snow goose guides hide big groups of hunters to ensure consistent gunning.
Nowadays, there are so many good options for concealment, and I don't think you have to pick just one method and stick to it, said veteran guide Cooper Olmstead of Habitat Flats. There are a lot of great options for each scenario.
Olmstead said pit blinds are a great choice for snows in dry fields, but they require a big commitment and can be very expensive. Like many goose guides, he believes standard setups with layouts or backboards and white suits still work well. And he also advocates using A-frame blinds.
A-frames have become very popular and are a great way to hide larger groups, he said. With A-frames, in my opinion, it's better to have more — the more the merrier. It kind of goes against every other concealment practice, but it seems birds don't mind larger sets of A-frames as much, and I don't know why. I don't know if it looks more natural to them to have 30 to 40 feet of A-frames instead of just 10 feet. [Maybe] it actually looks more like brush or a hedgerow or something similar.
Graham Greseth, owner of MaXXed Out Guides, which runs snow goose hunts in Kansas and South Dakota, takes a similar concealment approach.
In recent years, we've found that sitting in A-frames or, in our case, our trailer blinds — that is, 26-foot, brushed-in, rolling A-frames on a drop-down trailer — and sitting out of the decoys and away from the sound has been very effective, he said. We typically like to set up for a crossing or quartering shot.
That setup provides two advantages that help work geese closer, Greseth said.
First, we're off the sound and the focal point of the birds by 20 yards or so, he said. Second, when you fully brush in an A-frame blind with grass or other natural cover over the top of the opening of the frame [we call it the trough], it's much easier to hide faces and movement. I like to have good, long grass or even tumbleweed over the trough to give it a nice cantilever to conceal faces and movement. Hunters are then able to stand up through the brush to shoot the unsuspecting snows.
Do more conventional layout setups still work? Sure, Greseth said, but they're more effective with the right clientele, when everyone knows what they're doing.
It's easiest if you have a large group of experienced hunters that all know the importance of staying down and keeping your faces concealed and staying still, he said. As a guide, we rarely have that luxury. Most people sit on backrests and layouts that are typically near the e-caller, and the focus of the birds is typically going to be on the spread first as they approach, and then the sounds as they get closer. Having the hide near their focal point is tough to pull off.
(Don't miss: The 10 Best States for Snow Goose Hunting)

Click here for more Realtree waterfowl hunting content. And check us out on Facebook.