Every year, hunters shoot more light geese in these states than anywhere else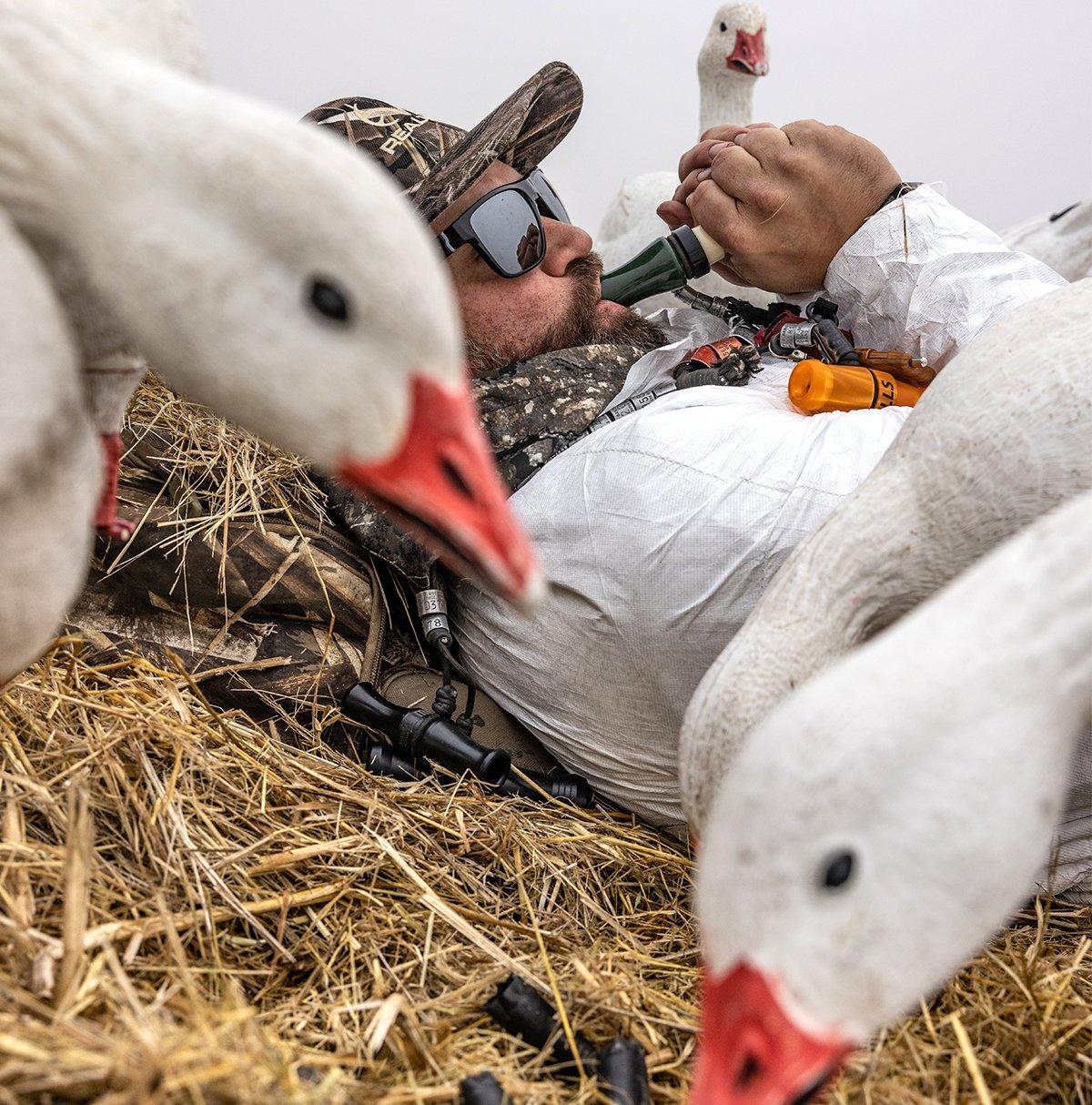 Even if you didn't know much about spring snow goose hunting, fields covered with white decoys and parking lots jammed with muddy trailers would reveal hotspots across the country. And for good reason: Depending on the weather and hatch, many areas typically produce year after year.
Now and then, however, you hear about a spring destination that surprises you, and some might wonder where hunters actually kill the most light geese. A quick review of U.S. Fish and Wildlife Service harvest statistics provides some insight — and a few surprises. Disclaimer: These surveys are estimates and do not differentiate between spring, fall, and winter harvests, and they don't take into account weather conditions or other factors that might influence success. We've compiled a four-season average — 2017-18 through 2020-21 — to get a general trend of recent hunter success. These numbers are likely skewed toward states where geese spend more time during hunting season — that is, wintering or staging areas.
10. Colorado
Yeah, I didn't believe it, either. Then I took off my socks and counted again. From 2017-18 through 2020-21, Colorado hunters shot about 31,973 snows, blues and Ross' geese, for a four-year average of 7,993 per season. That average is skewed by the unbelievable 2017-18 season, when Colorado registered 22,951 light geese.
9. Missouri
The Show-Me State is a perennial hotspot during the spring migration, so I was somewhat surprised it didn't rank higher. Remember, however, that geese can zip through the state fairly quickly in spring, especially when the snow line rapidly progresses north during warm years. Still, Missouri hunters took about 36,091 light geese during the four-year span, an average of about 9,022 per season. The best year was 2017-18, with 15,062 geese; and 2020-21 was the low point, with 4,214.
8. Louisiana
This is no real surprise, as loads of light geese winter in the Sportsman's Paradise. Hunters there shot about 49,528 from 2017-18 through 2020-21, for an average of 12,382 per year. Tops was 2017-18, with 20,170. And 2018-19 marked the low point, with 5,559.
7. Kansas
Another annual spring powerhouse, Kansas represented well. The light goose harvest for the four-year span was about 62,631, or an average of 15,657 per season. Further, the state was very consistent, with a high harvest of 19,930 in 2020-21 and a low of 12,864 in 2018-19.
6. South Dakota
No one should be surprised by this ranking, especially if you've driven past Sand Lake National Wildlife Refuge in late fall or spring. South Dakota hunters took about 101,267 light geese from 2017-18 through 2020-21, or an average of 25,316. The high point was 2020-21, with 37,678, and 2018-19 was the low, with 9,652.
5. Washington
This surprised me a bit, although it really shouldn't. West Coast light goose numbers have surged in recent years, and Washington is a major migration state. Hunters there shot 115,722 birds during the four-year span — an average of 28,930. In the 2018-19 season, there was a mammoth harvest of 46,822, whereas in 2017-18 it reached just 17,524.
4. North Dakota
North Dakota seems to be on every top-whatever waterfowl list, and for good reason. It's simply duck and goose country. Hunters there took about 129,222 light geese during the four-year period for an average of 32,305 per year. Like in Kansas, North Dakota's harvest was consistent, with a high of 40,092 in 2017-18 and a low of just 26,350 in 2018-19.
3. Arkansas
As expected, the Natural State ranks high on this list. Most snow goose geeks start their spring here in February, and it's easy to see why. Arkansas hunters took about 203,708 light geese during the four-year span, an average of 50,927. The high occurred in 2017-18, with 92,886, and the low was 2019-20, with 34,420.
2. Texas
Everything's bigger in the Lone Star State, and the light-goose haul is no different. How about 367,769 birds during the four-year period, for an average of 91,942 per year? Or maybe a high of 157,976 during 2017-18, with a low of 44,651 in 2018-19? Yeehaw!
1. California
This isn't fair, as the West Coast giant seems to win every waterfowl top 10 list. Still, facts are facts. California hunters took 381,198 light geese from 2017-18 through 2020-21, for an average of 95,299 per season. Waterfowlers in 2020-21 saw the highest harvest: 133,316. The low occurred in 2018-19, with 56,981. Clearly, we need to take a trip West next year.

Click here for more Realtree waterfowl hunting content. And check us out on Facebook.