Missouri Trip Provides Eye-Opening Waterfowl Experience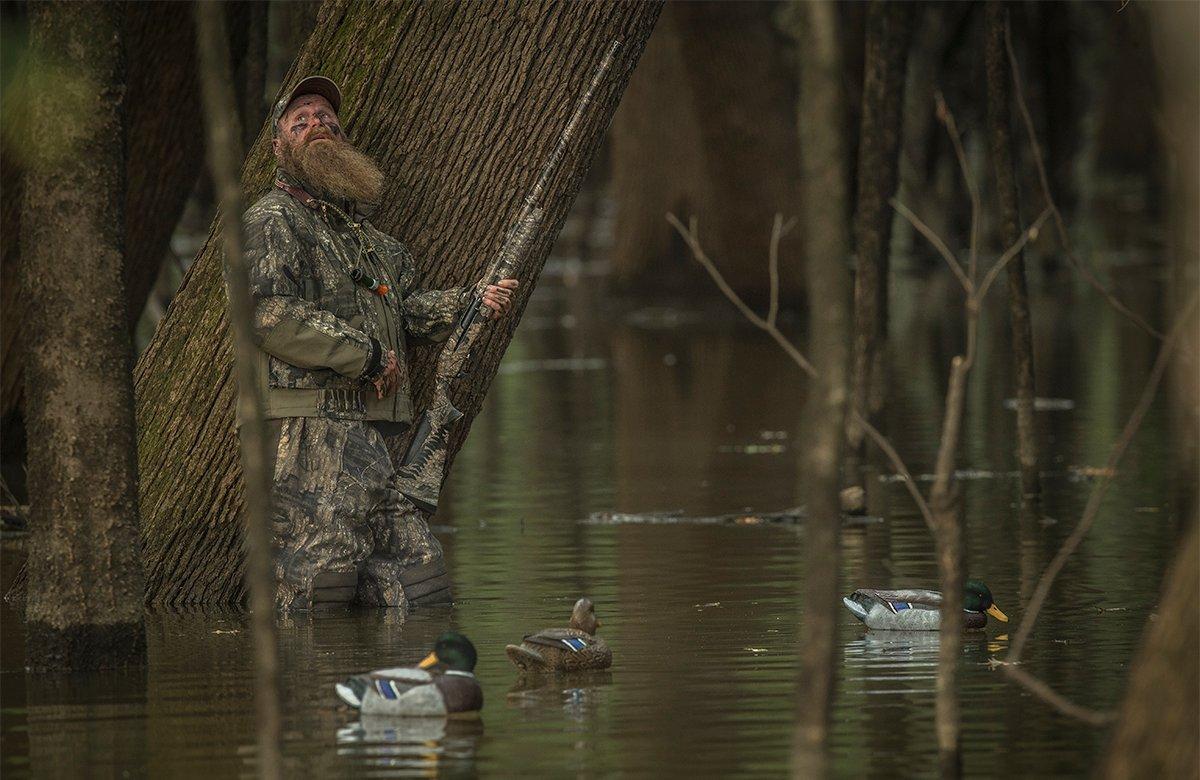 Forty-one years and thousands of waterfowl hunts hadn't prepared me for that December morning.
I'd seen a bit: rice-choked marshes, rolling big water, dry fields of every description, and waterfowl hunting sunrises in several states and Canada. Yet I'd never experienced the zenith; the dream of duck hunters across the country: flooded green timber in the South. Thanks to friends at Realtree, Benelli and Dirty Rice Outfitters, in Gobler, Missouri, that changed in December 2017.
Hop in, said J.D. Driskell, owner of Dirty Rice Outfitters and DRO Calls, while holding his flat-bottomed boat at a small dock. We've got a bit of a ride, so we need to roll.
After we stowed guns and gear, Driskell and his guides fired up two boats and roared off into the pre-dawn darkness of the Missouri Bootheel. Veering off the main river, Driskell probably chuckled when I white-knuckled my seat and gasped as we zipped in and out of thick timber and over beaver dams without slowing down. It topped any rollercoaster I'd experienced.
Finally, the thrill-ride finished, we eased into a large open area of knee-deep water surrounded by broad tupelos and a few cypress trees. I stumbled a bit while leaving the boat but soon gained firm footing on the hard bottom. The guides were already at work placing decoys and setting up jerk strings, and Driskill motioned us toward a line of trees where we'd greet the dawn. I found what seemed like a decent shooting station and tried to hide my nervous anticipation.
What kind of ducks have you been seeing? I whispered to Driskill as he cleaned his call.
He shot me a quizzical look and responded in the fashion of a dyed-in-the-wool timber hunter: Mallards. Period.
I grinned and settled in. And then the show began. Driskill motioned to his guides, and they launched into a three-man calling serenade. Wings and dark forms zipped overhead as passing ducks circled to check out what sounded like a flock below. And then at shooting hours, the eastern sky illuminating the water's surface, a massive flock of mallards slipped down through the treetops, banked and suddenly hovered in front of us, feet down and wings buzzing like hornets.
Shoot 'em, someone shouted, and we obliged. Well, most of the guys did. I was so awed by the decoying flock that I hesitated momentarily before shouldering the Benelli and popping off three rounds.
When the noise ended, mallards littered the decoy spread, and feathers hung in the heavy air. Someone whooped in celebration, and we smiled at each other in appreciation for what we'd experienced — timber perfection.
The remainder of the morning brought more flocks, plus a few singles and pairs. Ultimately, by late morning, the wind died, and the sun blazed down through the trees. Agreeing it had been a great morning, we decided to exchange our tree hides for the warm lodge and a late breakfast. So we snapped photos, helped the guides with decoy pickup and climbed into the boats for another heart-pounding ride. My feet ached from standing in the frigid water for hours, and my cheeks bore red streaks from the river ride, yet I tried to remember every detail from the day. I'd finally seen what all the fuss is about, and I couldn't wait to experience the timber again.
Of course, as most of you know, Realtree just introduced its new Timber camo, which is carved from the Delta to be the most realistic and effective flooded timber pattern ever designed. Rumor has it I'll be privileged to join a few folks testing some Timber duds soon in the flooded green timber of Arkansas. I'll report on the sights and sounds from that event … assuming I don't skip my flight and slip back to the duck woods, eager for one more morning under the treetops.
Click here for more Realtree waterfowl hunting content. And check us out on Facebook.