Brilliant setting provides an unforgettable hunt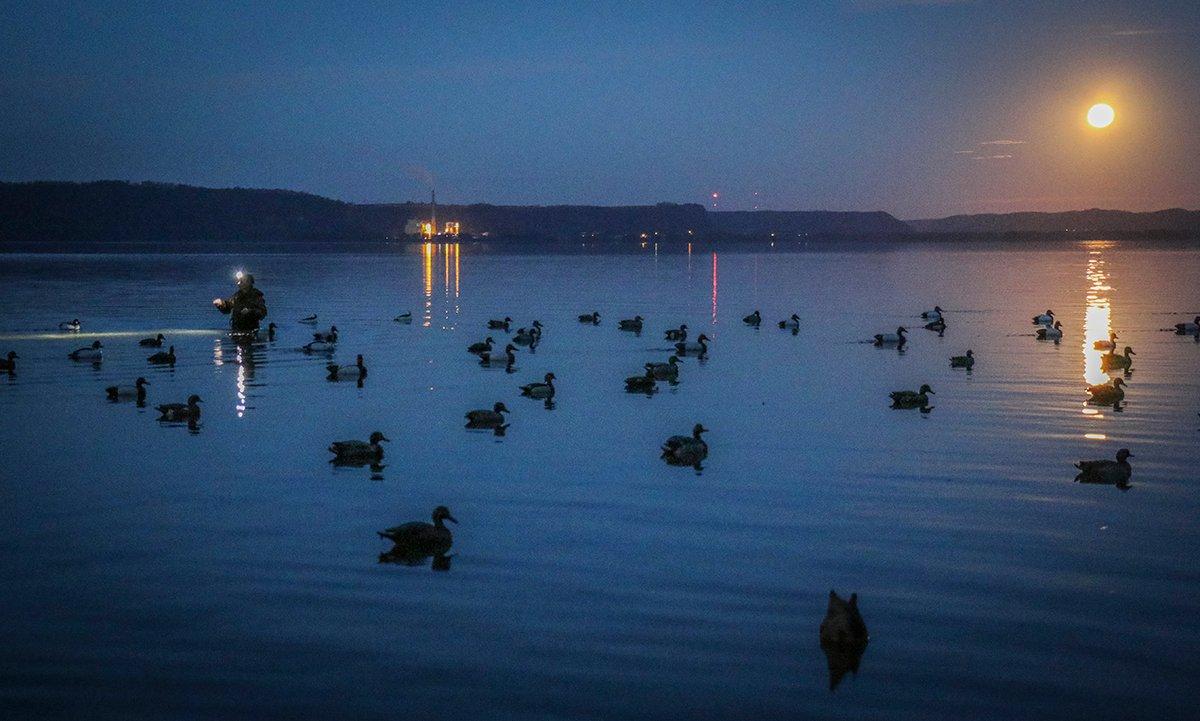 Sunrise was an hour away, yet headlamps spoiled the view, as a brilliant supermoon slowly set over Pool 9 of the Mississippi River, illuminating the vast open water of Lake Winneshiek and the timber-studded bluffs surrounding it.
Astronomers tell us the supermoon is the coincidence of a full or new moon with the Moon's closest approach to Earth along its elliptical orbit. The November 2016 supermoon was the closest since Jan. 26, 1948, and it won't be surpassed until Nov. 25, 2034. And the cosmic phenomenon was pretty cool to see firsthand, especially against a backdrop of duck decoys and anxious dogs.
However, as the moon sank and daylight beckoned, I guessed that the day's other odd circumstances might also be historically significant. After all, it was Nov. 14, which is typically prime time for frigid conditions and migrating diving ducks on the Mississippi, yet the weatherman was calling for 60-degree temperatures and almost no wind — hardly duck hunting weather.
No matter. My buddies Troy Maaser and Jeremy Dersham, owner of Ridge and River Running Outfitters, had arranged a dandy mixed spread of divers and puddlers at an area canvasbacks had been using regularly. Conditions would be difficult, but ducks favored that spot, so Dersham remained optimistic.
Out front, he said at shooting time. From the north.
Sure enough, small waves of canvasbacks wheeled and turned over the river, some flying on but others bee-lining toward us only to land short and lounge in open water. The scene seemed to repeat itself endlessly until probably more than 1,000 birds were loafing to the north — some barely 100 yards distant.
The visual was incredible, but something had to give. Thankfully, almost in answer to our pleas, a can finally zipped across the decoys, and a shot broke the morning's silence. As Maaser's dog retrieved the bird, the swarm of rafted cans dispersed into dozens of small groups as birds relocated to safe areas.
And actually, that was perfect. For the next two hours, singles, doubles and small flocks of cans reacted perfectly to our setup. Despite the still conditions, we enjoyed great decoying shots and quickly collected the rest of our four-can limit. Even afterward, birds continued to a provide wings-cupped, feet-down show, with many swimming through the decoys and collecting the abundant wild celery that floated atop the water.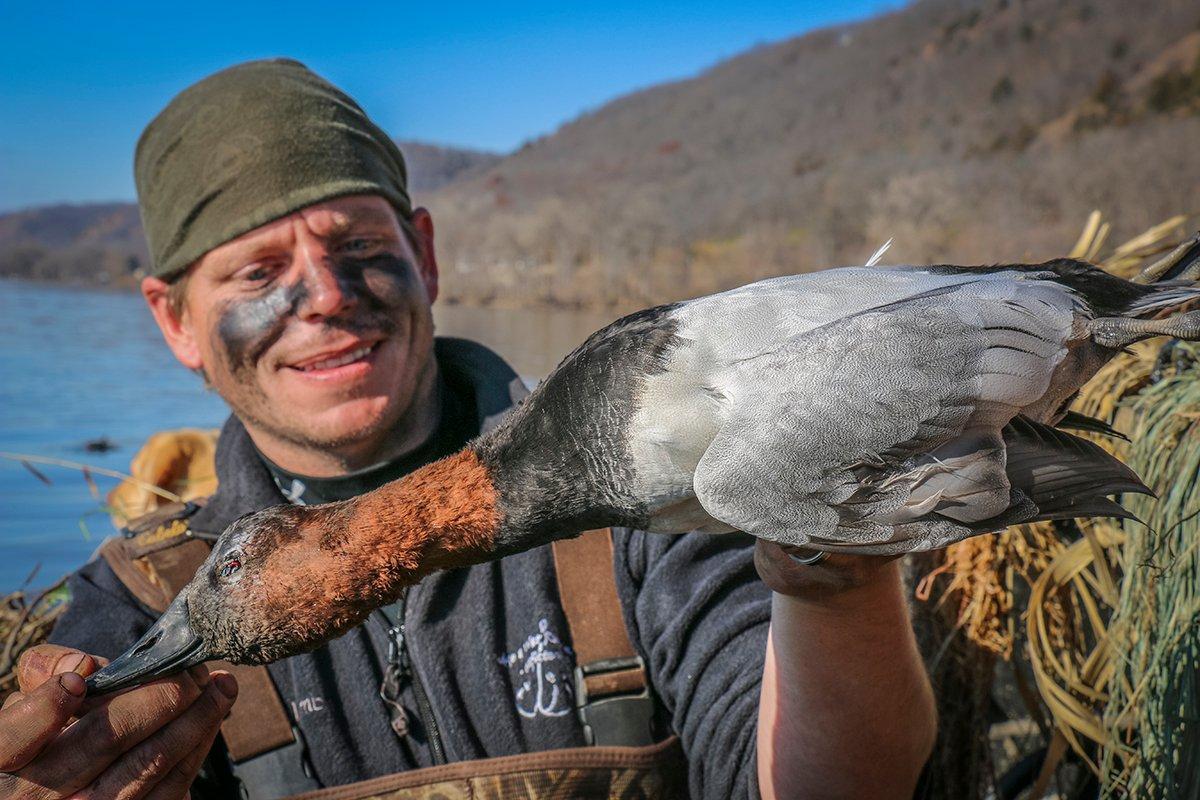 After a while, though, the sun blazed hot, and the flight waned. We collected one bonus drake redhead at midmorning, but as noon neared, we realized our day was likely done. Decoy pickup promised to be a long, hot job, so we decided to get at it. Before we finished, I'd discarded two layers of clothing and almost longed for my waders to leak.
Conditions are what they are, but I think we did all right, considering, Dersham said.
Who could argue? Four canvasbacks — including three prime bulls — and an almost-colored-out redhead constituted a pretty great morning. Yeah, a few bonus birds would have been nice, and sure, a northwest wind and 30-degree temps might have created a more classical waterfowling setting. Still, gorgeous red heads set against a giant yellow moon at one of America's premier duck hunting destinations are nothing short of memorable, no matter the weather.
Click here for more Realtree waterfowl hunting content. And check us out on Facebook.