When you introduce a new hunter, remember how you felt during your first time in the blind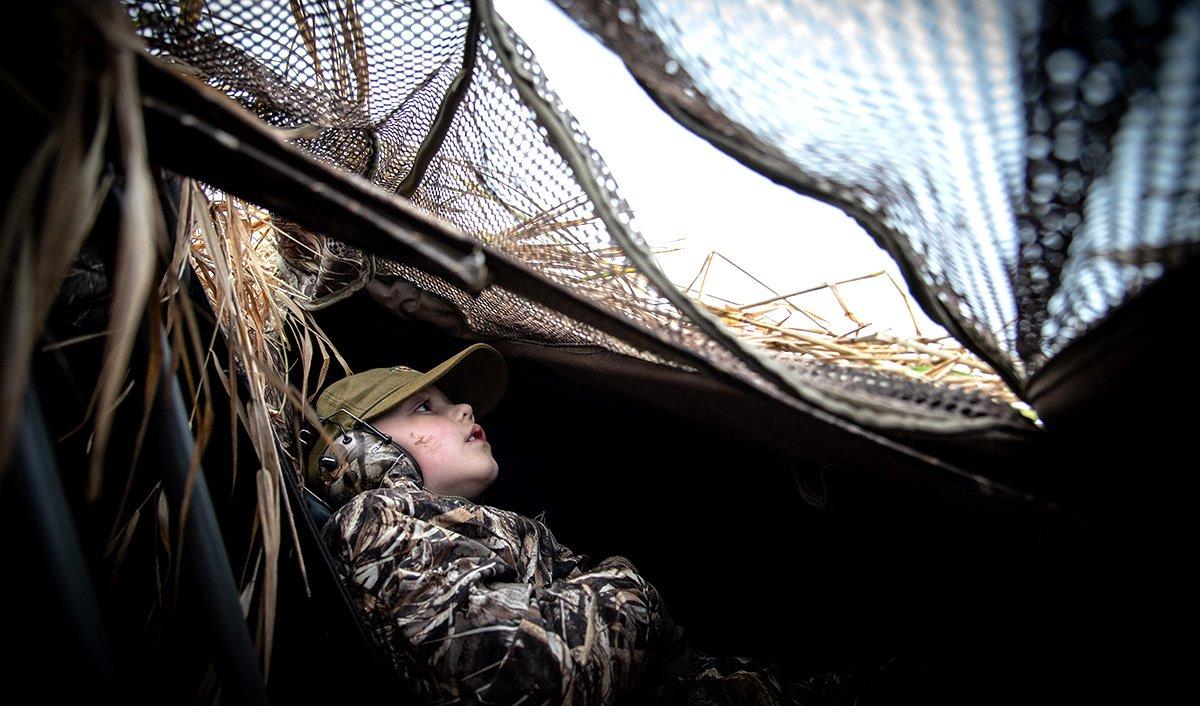 Duck hunters talk a lot about recruiting the next generation of waterfowlers, and rightfully so. But I think we sometimes fail to hit the right formula for generating interest and fostering the development of young hunters.
Too often, I fear, we take newbies hunting but treat the event like another day in the blind with buddies. And that can be a mistake, especially when hosting someone with no frame of reference, who might feel a bit out of place.
I could list the usual clichés as solutions. Instead, I sometimes think it's best to revisit our own first duck hunting trips and consider the waterfowling experience through the eyes of a novice. After all, only a first-timer can relate honest first impressions. So when I take newcomers nowadays, I try to recall my thoughts and emotions from my initial hunt 42 years ago.
October 1978
It's chilly and dark. I have no idea where we're going. Dad seems fine, though, so I continue paddling, following the dim glow of Uncle Lamar's cigar. I wonder when we can start shooting. I've been told how far I should lead ducks at certain ranges, and I'm anxious to try. But I'm nervous about failing, too.
Dad and Lamar throw a few decoys into the water on the river shoreline and paddle into the reeds. Soon, daylight arrives. Dark forms fly everywhere, but I don't know what they are. Shots echo from all corners of the river, and I'm certain every hunter but me has limited out.
When do you think the ducks will come by us? I ask. Dad and Lamar chuckle. I guess they're unsure.
Scores of ducks with white bellies begin flying past our hide, but Dad warns me not to shoot. They're canvasbacks, I guess, and protected. But later, when three ducks with white bellies fly over, Dad and Lamar shoot. Those were wigeon, I'm told, but I can't tell the difference.
Watch their wingbeats, Dad says. I do … but I still can't tell the difference.
Meanwhile, I'm chilly and hungry, so I dig into the sardines Dad and Lamar packed. Actually, I kind of enjoy them more than looking for ducks. But now and then, Dad prompts me to pay attention.
Finally, a bird comes close enough for me to shoot. It's a coot — even I can tell that — and I miss 3 feet behind it. I'm not sure why, as I tried to shoot in front of it. Something about moving my gun, I'm told. Minutes later, I try again, missing that bird by only 1 foot.
The misses embarrass me. I want to be good at duck hunting, but I think I stink. Dad's words about patience and experience fall on stubborn ears. Maybe I should try harder.
As I pout, a brown duck appears from nowhere and lands by our canoe. Without thinking, I raise my gun and shoot it. Dad and Lamar chuckle again, and Dad uses our paddle to retrieve the ground-swatted hen mallard. Finally, a duck. Maybe it wasn't a great shot, but it worked. And I can tell my school friends about it.
The rest of the day is slow, but we have snacks, and Dad and Lamar talk about things I don't ordinarily hear them discuss. They seem in no hurry to leave. Later that day, back at our primitive tent camp, I doze off while thinking about the big flocks of ducks that filled the sky that morning, and I'm really proud of my bird.
And I want to go duck hunting again. I don't realize it then, but that seed of interest will germinate quickly and will never wane — even four decades later.
Takeaways
I'm guessing my first duck trip, at 12 years old, was similar to those experienced by many other children my age. And although the scene has changed markedly, I'm certain the emotions and wonderment I felt that day are much like what 21st-century newbies might experience. So that's how I try to approach every youth hunt, thinking about that kid who couldn't hit a coot and was often more interested in sardines than ducks.
I won't lecture anyone that my philosophy is better than any other. Yet I think it's wise to consider what a kid thinks and feels during formative hunts. A little encouragement, understanding and gentle guidance can go a long way. At least it did with me.
Click here for more Realtree waterfowl hunting content. And check us out on Facebook.