The best combinations for waterfowl can be endlessly debated, but here are a few ideas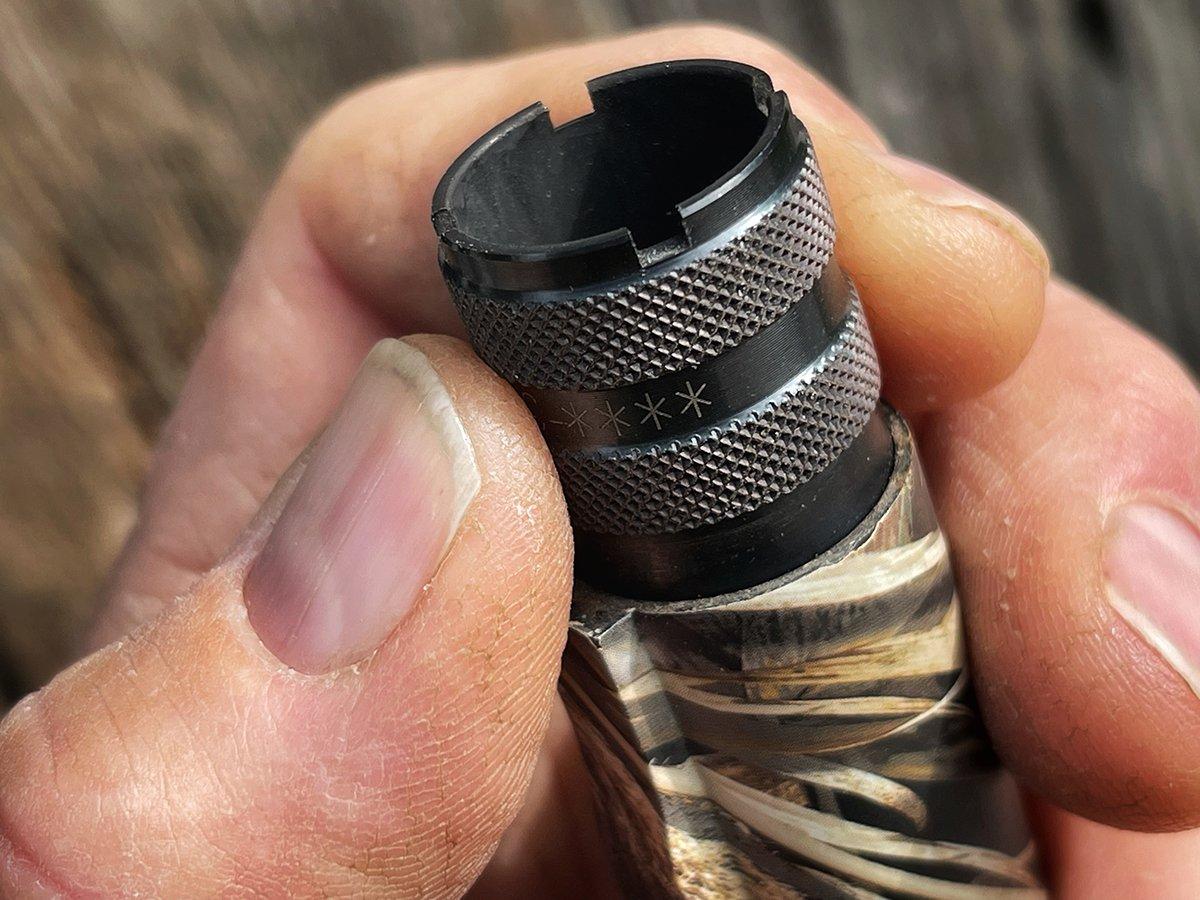 Duck hunters debate many topics, but when it comes to shooting, arguments about the best chokes and loads probably top the list.
One guy likes light, fast loads. Another prefers big payloads of large shot. Your buddy shoots an improved-cylinder choke, but you go with a long-range constriction. Who's right? Maybe everyone, depending on the situation and your shooting style. But to gain a representative sample from folks in the know, we asked several notable duck hunters about their go-to choke-and-load combos. And their answers might surprise some folks.
Brandon Martin
Martin, the creative director of Banded, prefers No. 1 steel loads for ducks.
And not to shoot a duck far but to kill it dead, he said. I think No. 1 steel shot is the happy medium between enough (pellets) and big enough (pellets) to kill a duck dead. I also like a modified choke, as I've seen the best patterns from them.
Cooper Olmstead
The past few years, I've been shooting Boss 3-inch No. 5s and have had very good luck with that load, said Olmstead, who operates Habitat Flats Canada. If I'm shooting straight steel, I usually go with No. 2s.
Olmstead also prefers a tight choke — a Rob Roberts T3 — to put more pellets on target.
You seem to get a lot fewer cripples that way, he said. You either hit them and kill them or miss completely. It's a more humane kill.
Tony Vandemore
Vandemore, the owner of Habitat Flats near Sumner, Missouri, shoots 3-inch loads of No. 6 Hevi-XII in 20- and 28-gauge for ducks. And like Olmstead, he also prefers a Rob Roberts T3 choke.
The lethality is incredible, he said. It allows you to shoot smaller shot sizes (like No. 6s) and still have increased downrange energy and knockdown power. I prefer the 6s because it allows for increased pattern density. And the Rob Roberts T3 is very tight. I shoot it for everything from doves to geese. I'd rather have a clean kill or a clean miss.
Graham Greseth
My go-to load for the past two years has been the BB/No. 2 stack from Migra, said Greseth, owner of MaXXed Out Guides. I shoot that out of a midrange Carlson choke. I've always gravitated toward a bigger load size — BB, traditionally — since I typically am trying to pick off birds the clients have hit and not killed. I prefer the midrange choke to the long-range model. I've found that the long-range chokes for me are simply too tight, especially on ducks. My Carlson midrange and the BB/2 stack have been a very lethal combination for the past couple of years.
Brian Lovett
OK, I really don't deserve to be on this list, but I'll throw in my 2 cents anyway. Lately, I prefer 3-inch loads of No. 2 Federal Speed-Shok steel in 12-gauge and Hevi-Shot No. 6 loads in 20-gauge. And I shoot them out of an improved-cylinder choke. That's too open for many folks, but I prefer shooting ducks over decoys, not testing my limits with long-range stuff. I'd rather pass up 10 ducks than sail one into oblivion.
For years, I shot 3-inch loads of No. 4 Hevi-Shot in 12-gauge. That never really made sense, as I could have used a smaller shot size for greater pattern density while retaining more than enough downrange energy. But the 4s worked for me, so I kept running them.
Maybe that's the ultimate lesson in this debate: If your choke-and-load combo performs, keep shooting it. You can argue with your buddies at night by the campfire, hopefully with full straps of ducks on the porch.
(Buy alert: Men's Realtree Timber Camo Short Sleeve Guide Shirt)
Click here for more Realtree waterfowl hunting content. And check us out on Facebook.