Can't get time off? Take care of business before your shift starts with these four quick options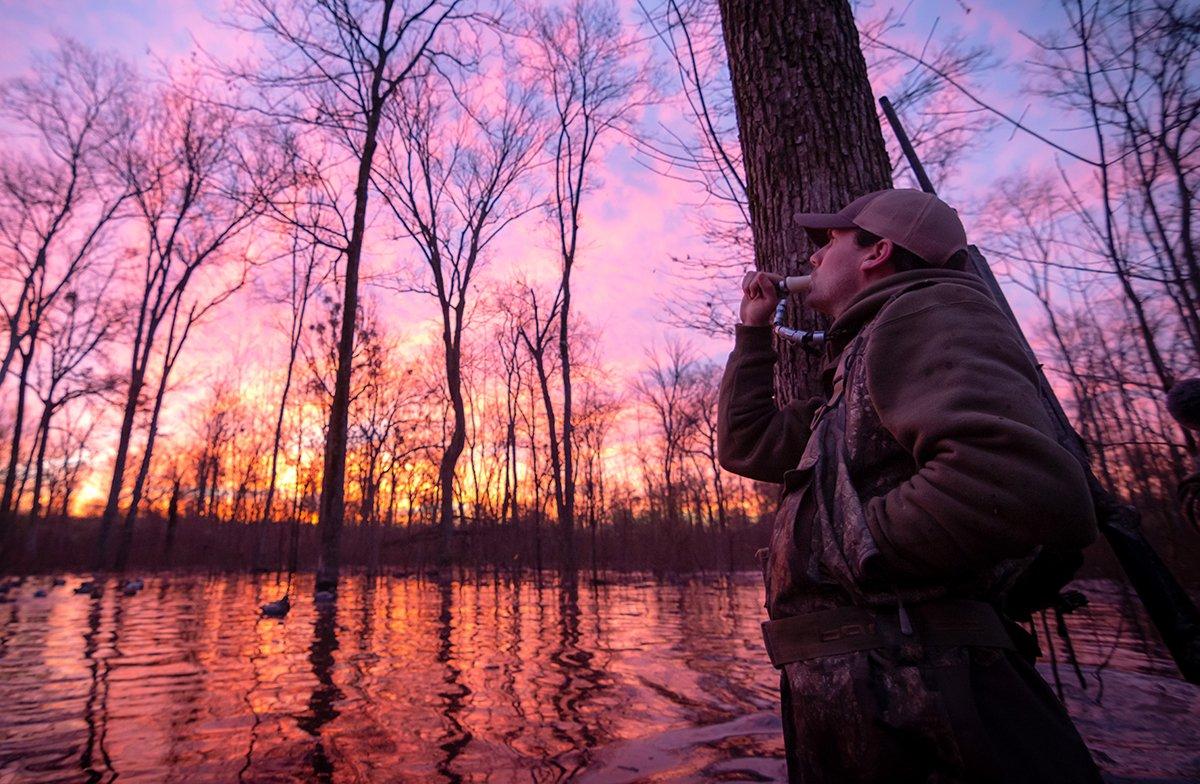 Life is never fair, and that seems especially true during duck season. The stone-cold bottom line? Sometimes, work or life commitments severely limit your time afield. But not to worry. Assuming you're ambitious and have some decent spots within driving distance, you can pull off a great hunt and still get to the office (almost) on time. Consider these quick, easy options this season.
First-Light Wood Ducks
Wood ducks are perfect for fast early morning hunts, as they typically fly well during the first 15 to 30 minutes of daylight. Locate an easily accessible pond, slough or backwater, and get set up in the dark. Then, be ready at shooting hours. If the woodies cooperate and you shoot well, you might even get to work early.
Another option: Take a lunch-hour stroll along a creek or brush-lined pond. Wood ducks love loafing in such spots during the day, and you might get a few shots with a stealthy approach.
Geese on the Rise
Honkers notoriously fly late, sometimes not even leaving the roost until the sun is well above the horizon. Therefore, setting a field trap for geese before work isn't always plausible. However, if you know where some honkers roost and can position yourself accordingly, you might get some decent pass-shooting as the first few birds lift off and head out to feed. I'm not suggesting that you blow up the roost. Simply identify points A (the roost) and B (a hot feeding area), and position yourself between them at a spot where geese will still be low enough for quality shots.
Another option: Jump-shoot a midday loafing pond, where geese lounge along the shoreline between feeding flights.
First-Shift Divers
Like hunting field honkers, diver hunting isn't ideal for quick trips. Trailering a boat and setting several dozen decoys takes time. However, you can still enjoy first-hour action by lugging a couple of dozen blocks onto a point, lee shoreline or small island. Set up in the dark, and take advantage of the first few minutes of daylight. Windy days or changing weather conditions produce best.
Another option: Try the same approach after work, positioning a quick spread in spots where birds travel from open-water feeding areas to roosts.
Cornfield Mallards
Mallards often hit hot fields — corn, beans, wheat, barley or other grains — at first light. Typically, big spreads with several spinners work best in such situations, but you can still pluck a few ducks by setting some decoys on the X, concealing yourself well and taking advantage of the first few flocks. Yeah, you might have to leave for work while the ducks are still flying, but carrying one or two greenheads out beats dreaming about what might have been.
Another option: Watch a hot field before work every day to keep track of duck activity there. Then, go all out Saturday morning, setting up a huge spread with several buddies and reaping the rewards of your efforts.
Click here for more Realtree waterfowl hunting content. And check us out on Facebook.