Carter says he is most upset about missing the last week of turkey season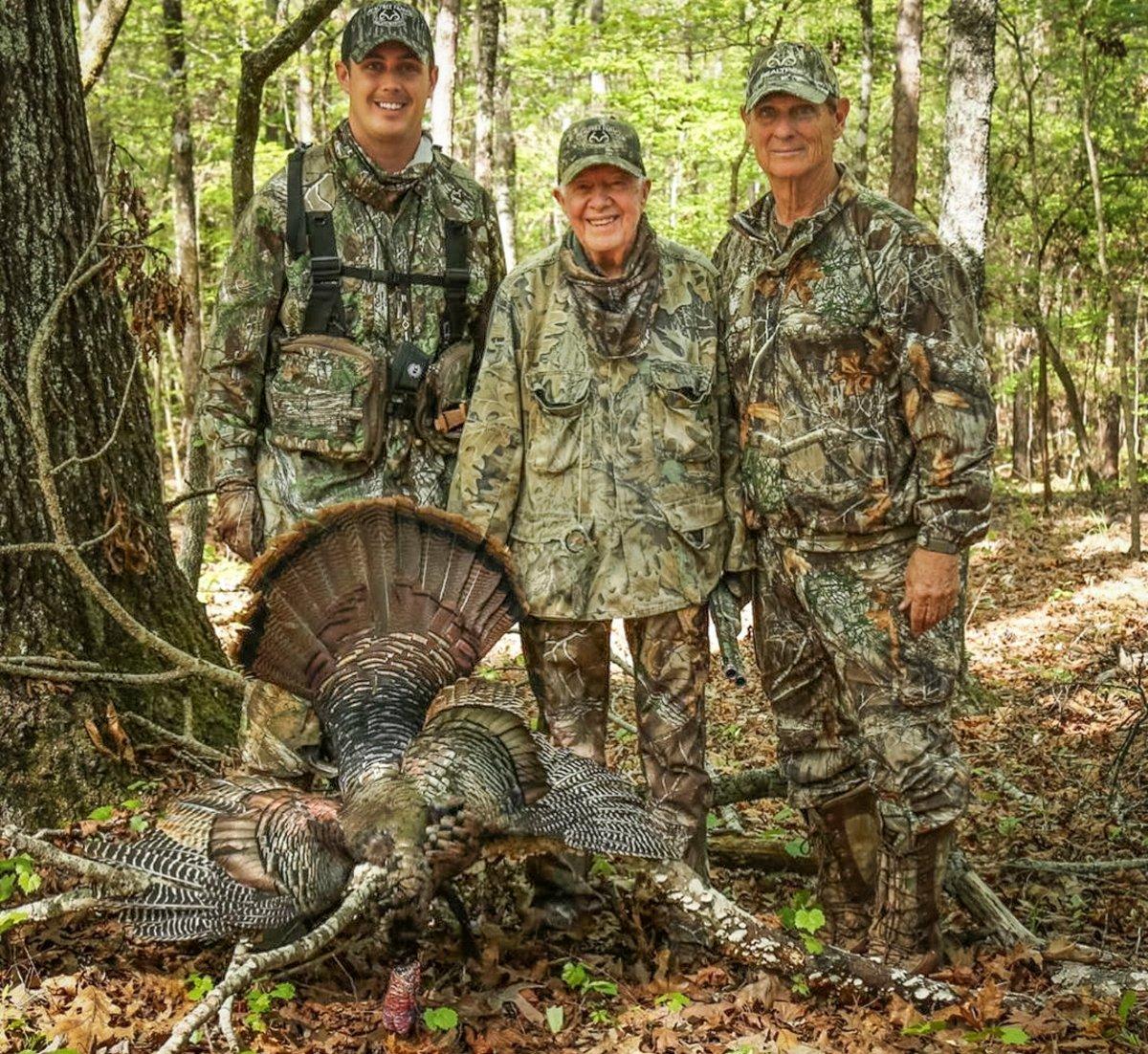 President Jimmy Carter is recovering well after falling and breaking his hip Monday, just as he was about to leave his home for a turkey hunt with Bill and Tyler Jordan at Realtree Farms. But, according to Tyler, it'll take a lot more than a broken hip to keep him down. While Carter won't be returning to the woods this year, he already has plans to hunt with Bill and Tyler next season.
"The Secret Service has already reached out to us about President Carter hunting with us next year," Tyler said. "I'm looking forward to spending more time with him in the woods."
According to The Carter Center, the former president was released on Thursday from the Phoebe Sumter Medical Center where he had surgery to repair the hip. He will continue to recuperate at home and will undergo physical therapy. The active 94-year-old said he still plans to teach Sunday school at Maranatha Baptist Church in his hometown of Plains, Georgia, this Sunday. Tyler said he and Bill hope to attend that class.
Carter's wife, Rosalynn, was also admitted to the hospital on Wednesday for observation and testing after she felt faint, but she left the hospital with the former president Thursday morning.
Carter, a passionate turkey hunter, said his main concern is that turkey season ends this week in Georgia and he has not reached his limit. He joked that he hopes the state of Georgia will allow him to roll over the unused limit to next year. Fortunately, he did tag a nice bird with Bill and Tyler while hunting at Realtree Farms in April.
"We were waiting for him at the lodge on Monday when we received the call from Secret Service that President Carter had fallen and wouldn't be joining us," Tyler said. "I'm praying he has a strong recovery. I'm so happy to hear the surgery was successful. Dad and I look forward to seeing him very soon!"
Tyler says he and his dad have enjoyed hunting with the former president since 2014.
"The Secret Service called Dad and told him that President Carter no longer felt comfortable turkey hunting by himself and would Dad consider hunting with him. He'd always worn Realtree and was a fan of the brand. Of course, Dad was thrilled about the opportunity."
Since then, Carter has killed nine birds at Realtree Farms, including his biggest one in 2017, which weighed 24 1/2 pounds.
"I was sitting against a tree next to him and Dad was 30 yards behind us holding up a decoy to try and fan it in. When the bird got to 40 yards, President Carter shot him. He was so excited about that bird and talked about how he was going to get him mounted."
Tyler said people often ask him who among the famous people he's hunted with is his favorite.
"Hands down, it's President Carter," Tyler said. "He just has the best character. I've enjoyed getting to know him. He's such a kind and humble person. He's the type person I aspire to be like. He knows how to treat people, and he has an amazing drive and passion, especially for turkey hunting. I don't think I know anyone who is as passionate about the sport as he is. He keeps all his hunt notes in a little journal. He also makes box calls. He fixed one of Dad's broken calls and signed it for him. He also did a painting of a turkey for Dad, which he treasures."
Carter served as the nation's 39th president from 1977 to 1981 and is the longest-living president in American history. In 2015, he was diagnosed with melanoma that had spread to his brain, but successful treatment put his cancer into remission.
"He really is an amazing person, and so driven," Tyler said. "Even though he has trouble moving about, he always gets out and walks with us to see if he hears turkeys when we are trying to locate them. I'm really looking forward to spending more time with him in the turkey woods next year."
For more outdoor stories, visit The Realblog and check out Realtree's Facebook page.