If your dad likes to eat, these gifts will be right up his alley.
Just about every dad loves to eat. While kitchen- and cooking-oriented gifts might not immedietely come to mind for Father's Day, these Realtree-partnered gifts are perfect for anyone who loves to cook, grill or enjoy food in the outdoors.
1. Realtree Seafood Boil
It's hard to find someone who doesn't love a good seafood boil. Be it crawdads, shrimp, crabs or all three, the salty, spicy, succulent results are hard to resist. Realtree Camo Graphics has introduced a premium spice blend for your next boil. Easy to use, the 4-pound jar is enough to season 35 pounds of crawdads, 50 pounds of shrimp or 7 dozen crabs. Simply dump it in the boiling water, add the seafood and other ingredients, then follow the cooking times on the included chart. Order at https://www.realtreecamographics.com/realtree-seafood-boil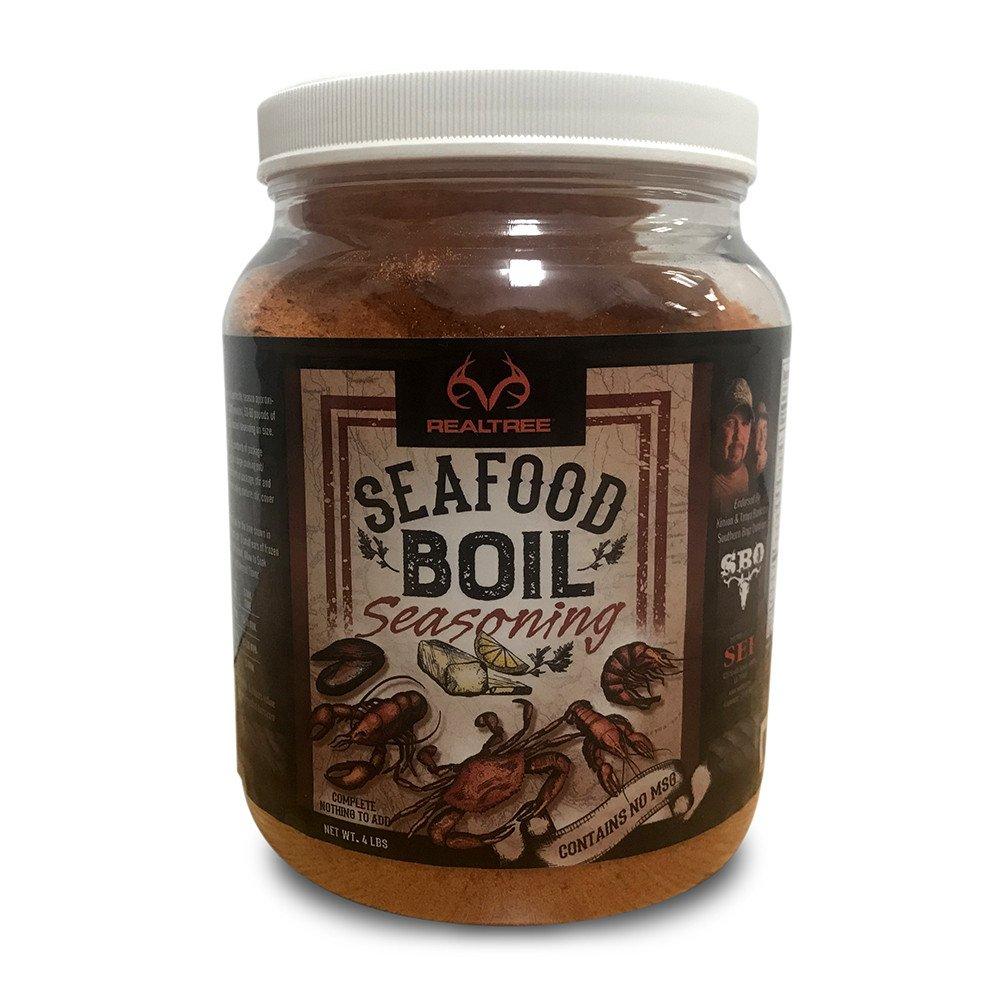 2. Buck Kitchen Cutlery
I admit to being a bit of a kitchen knife snob. I use them daily and I want a knife that feels good in the hand, is well balanced, easy to sharpen and holds an edge. The Buck Knife cutlery line checks all those boxes. With several handle materials to choose from, there will be something for every dad. Find them at Buckknives.com or at Buck dealers worldwide.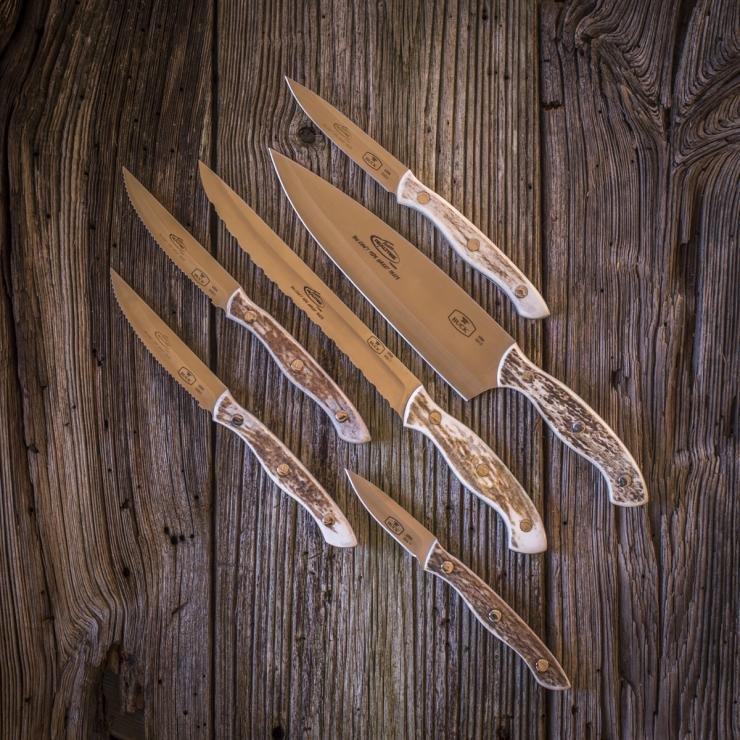 3. Magic Chef Line of Realtree Kitchen Appliances
Long-time leader in kitchen appliances, Magic Chef, teamed up with Realtree in 2017 to offer a line of small kitchen appliences geared with the outdoor enthusiast in mind. From portable freezers that will run off your truck's power port, to meat slicers, deep fryers, grinders, vacuum sealers and one of the best dehydraters I have ever used, there is something in the Magic Chef Realtree line that will be perfect for the dad on your list. There is even a coffee pot and toaster if you want to add a little Realtree Camo to your kitchen counter. Available at Homedepot.com and in select Home Depot stores.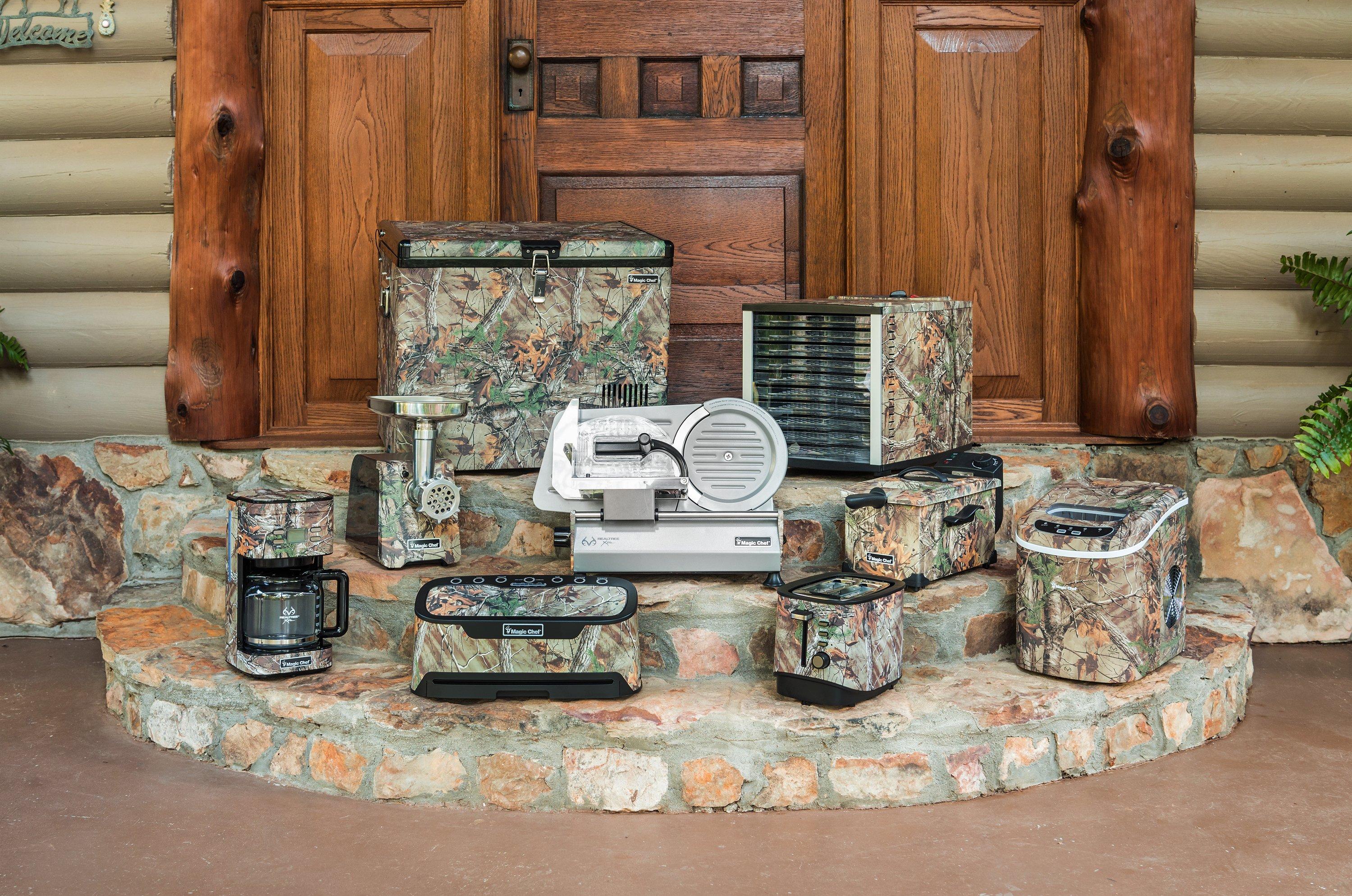 4. Realtree Smokers by Bradley Smokers
Does your dad love BBQ? Smoked fish or cheese? Jerky and sausage (and who doesn't)? Then the Realtree Bradley Smoker might just be perfect. The Bradley Smokers feature a set-it-and-forget-it ease of use. Check out these features
Fully Automatic Smoke -- No need to babysit your smoker, refilling it with chips constantly. Simply load it with Bradley Flavor Bisquettes® and smoke for up to nine hours.
Practical Design -- Stainless-steel interior and a magnetic door seal for easy clean-up, and to keep the smoke where it's supposed to be.
Fully Insulated -- Insulation in the entire cabinet and door keeps heat in, but also lets you use your smoker wherever you like without the risk of heat damage to surrounding surfaces.
Versatile Cooking -- Bradley Smokers have two heat elements: One for the oven heat and one solely to create smoke. Cook with or without smoke, or smoke with or without heat. Your smoker can even become a cold smoker, an oven or a dehydrator.
Easy to use -- Turn it on, load it with wood and set the temperature.
Ideal for Jerky or Sausages -- Comes with four or six non-stick jerky racks and four sausage hooks.
Warranty -- One year warranty included.
5. Otterbox Line of Hard- and Soft-Sided Realtree Coolers
The folks at OtterBox are taking the cooler market by storm with their Realtree line of of feature-packed hard- and soft-sided coolers. No matter your cooler needs, OtterBox has you covered.
The OtterBox Venture 65 premium large-capacity cooler in Realtree Xtra comfortably extends your week in the woods for days. The Venture 65 is designed with a mounting system for accessories that configure to the demands of each of your outdoor obsessions.
The Venture 65 offers superior cooling technology, ice life and trusted OtterBox durability, This cooler features easy-open latches, durable built-in handles, anti-slide rubber feet and 2 inches of refrigeration-grade foam, which makes it essential equipment for any outing. It's also bear-resistant with the locking kit.
A modular system allows you to customize it with accessories that speak to the many different ways people might use their cooler. The cooler design allows you to keep dry and soft items separate and create compartments that keep your meat, veggies and beverages apart. Venture is built sturdy to pack along in your truck, boat and four-wheeler. The rugged structure keeps your contents safe and its rubber feet keep it in the exact spot you put it.
6. Traeger Pellet Grills
Dads love to grill. Even if they don't love it now, get them a new Traeger Pellet Grill and they will from now on. The ultimate in easy to use meets perfect results, Traeger Pellet Grills feature ovens-tyle controls, real wood smoke for real BBQ flavor, and come in a wide variety of sizes and options to customize your grilling experience.
Check out the new Timberline Series for double-walled insulation, digital controls, the easy WiFire phone app that allows you to control your grill from anywhere, and the supersmoke function for full BBQ flavor.
To go along with his Traeger Grill, outfit Dad with Traeger accessories like their custom rubs and seasonings, grill covers in Realtree Xtra, heavy-duty spatulas and other grilling equipment. You can find it all at www.traegergrills.com